Love is beautiful. Love is difficult. Occasionally, love can also be somewhat creepy, but in a good way! Developed by the masters of "cute girls doing cute things" anime, Doga Kobo's Wataten! An Angel Flew Down to Me is the newest entry in a surprisingly stacked sub-genre centering around an unconventional yuri relationship between an adult and a child.
Putting aside a potent nightmare fuel supplement like Happy Sugar Life, these type of series tend to adopt the uncomfortable core pairing as a source of humor. Whether the older protagonist possesses enough self-awareness to recognize their behavior as inappropriate or not, entertainment can be had watching the unlikely pair toe the line between hilarity and felony!
Playing it slightly safer than other similar shows, Wataten! An Angel Flew Down to Me is a slice of life shoujo-ai anime packed with cute interactions and witty one-liners. A clumsy college student, Miyako Hoshino's shy nature means the girl struggles to talk around strangers. One random afternoon, Miyako's life is forever changed when her little sister invites a classmate, Hana Shirosaki, over to their house. Suddenly, Miyako finds herself inadvertently enamored with the child, leading to many awkward but charming encounters!
What defines Wataten? First things first, Doga Kobo's anime adheres to the studio's trademark "cute girls doing cute things" blueprint. Unlike explicit shoujo-ai anime in the vein of Citrus, Wataten is not exclusively interested in the primary pairing and almost qualifies as an ensemble comedy. At best, any sexual themes are implied and even that is a stretch.
Love Watashi ni Tenshi ga Maiorita!'s wicked adorableness and unorthodox central dynamic? The following six anime should hit the spot!
Similar Anime to Watashi ni Tenshi ga Maiorita! / Similar Anime to Wataten! An Angel Flew Down to Me
1. Kobayashi-san Chi no Maid Dragon (Miss Kobayashi's Dragon Maid)

Episodes: 13
Aired: January 2017 – April 2017
Somehow, Kobayashi-san Chi no Maid Dragon qualifies as the most and least obvious recommendation on this list. What is the premise? Working as a programmer, Kobayashi is a relatively average adult. When not spending 12 hours at the office, she can be found drinking at the local pub or inviting homeless dragons to crash at her place. A perfectly ordinary Tuesday for an anime protagonist.
Kobayashi's drunken act of kindness causes the dragon in question, Tooru, to fall helplessly in love with the programmer. Taking the human up on her offer, Tooru moves in and starts to work as a maid to repay Kobayashi. Before long, other mystical beasts start to crash the party, including the undisputed cutest anime character of all time in Kanna Kamui.
Featuring a consenting adult and a dragon, Miss Kobayashi's Dragon Maid's principal relationship is quite a departure from Wataten's Miyako and Hana. Even if that happens to be the case, Kyoto Animation's series boasts similar humor, animation, and relationships to Doga Kobo's currently airing anime. Also, Kanna is super adorable. Have we already mentioned that?
Kobayashi-san Chi no Maid Dragon Official Trailer
---
2. Kanamemo

Episodes: 13
Aired: July 2009 – September 2009
Tragedy can strike at any time and greatly upheave a person's life in the process. After her grandmother's passing, Kana Nakamachi is left with nowhere to live or any means to survive. Eventually, the 13-year-old girl winds up working and living at a newspaper carrier station, albeit one slightly out of the ordinary.
Employing a host of quirky female workers and primarily managed by a grade school student, the station makes delivering newspapers seem like a ton of fun. Kana's future promises many things but boredom is not among them! Kanamemo is a quintessential "cute girls doing cute things" anime. Running the gamut in terms of personality and designs, there is a girl to suit everyone's fancy.
Kana's name may hog half of the title, but Kanamemo is definitely an ensemble comedy. Lastly, Haruka Nishida loves underage children and spends the majority of the series trying to get close to Kana and anyone else who fits the mold. While this dynamic is solely played for laughs, Kanamemo earnestly explores a few other shoujo-ai pairings. Unlike Wataten!, Kanamemo has some light ecchi.
---
3. Tonari no Kyuuketsuki-san (Ms. Vampire Who Lives in My Neighborhood)

Episodes: 12
Aired: October 2018 – December 2018
Sophie Twilight is a vampire, albeit a modern representative who buys blood online and never feasts on humans. Crucially, she also happens to look like a child, despite being older than the United States of America. A chance encounter reveals Sophie's existence to Akari Amano, a high school student with a doll fetish and a dismissive attitude regarding personal boundaries. Obsessed over the vampire's doll-like features, Akari pesters Sophie until she relents and allows to human to move in with her.
Technically, Sophie is a 360-year-old creature of the night who merely happens to look like a gothic child. Physically, Akari Amon seems the older of the two, but she is actually the underaged member in this friendship. Ms. Vampire Who Lives in My Neighborhood plays around with expectations, presenting the seemingly normal human as the creepier half of a pairing involving a literal monster. Along with Sophie and Akari, the anime introduces a couple of other girls who tend to fall in love with each other.
Tonari no Kyuuketsuki-san shines the brightest when focusing on the humorous interactions between humans and vampires, with both serving as fish out of water in the other's respective cultures. The shoujo-ai element is quite strong, but the humor primarily consists of parodying vampire-themed cliches.
Tonari no Kyuuketsuki-san Official PV
---
Any Anime Like Wataten! An Angel Flew Down to Me / Any Anime Like Watashi ni Tenshi ga Maiorita! ?
4. Yuru Yuri (YuruYuri: Happy Go Lily)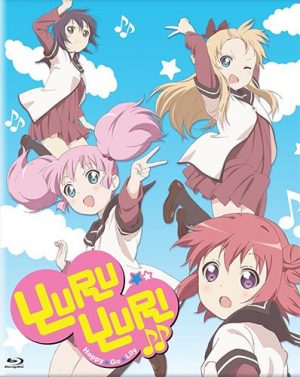 Episodes: 12
Aired: July 2011 – September 2011
Spawning three seasons and multiple OVAs, Yuru Yuri belongs firmly among the slice of life genre's leading recent representatives. Taking into account the anime's title, it should come as no surprise to learn that yuri plays a tremendous role, although relationships seldom go beyond casual crushes.
Yuru Yuri centers around a middle school Amusement Club's four members; Yui Funami, Kyouko Toshinou, Akari Akaza, and Chinatsu Yoshikawa. An energetic but quickly bored second-year student, Kyouko develops a fondness for the usually sweet but occasionally obscene Chinatsu; unfortunately for Kyouko, Chinatsu is crazy about the calm and collected Yui. The polite Akari is mainly kept around for her incredible talent to spout terrible puns. Suffice to say, Akari is the best girl.
In terms of prospective couples, Yuru Yuri offers way more options than just the four main girls, as the anime boasts a massive roster stacked with funny and memorable characters. Created by the same studio behind Wataten!, Yuru Yuri is a must watch for fans of "cute girls doing cute things" anime!
Yuru Yuri San☆Hai! Official PV
---
5. Ichigo Mashimaro (Strawberry Marshmallow)

Episodes: 12
Aired: July 2018 – September 2018
Released in 2005, Strawberry Marshmallow helped set the standard to which the majority of Doga Kobo's productions are held. The word "cute" is uttered repeatedly throughout this article, but no other entry embodies this descriptor better than Daume's classic slice of life comedy. Temporarily putting aside the girls, Ichigo Mashimaro oozes CUTE out of each and every frame. Opting for a soft palette color scheme that is soothing to the eyes and heart, Daume perfected the "cute girls doing cute things" formula.
As an unabashed slice of life anime, Strawberry Marshmallow does not truly have a plot. The series follows four elementary school students and one older sister as they lead their everyday lives. With the exception of the purposefully comedic Miu Matsuoka, the characters are fairly laid-back and realistic. The entertainment factor springs out of the way these children manage to find something special in even the most mundane of activities.
---
6. Uchi no Maid ga Uzasugiru! (UzaMaid!)

Episodes: 12
Aired: October 2018 – December 2018
Created by Doga Kobo and focusing on an adult who falls in love with a child, UzaMaid! is almost too obvious of a recommendation! Even though some notable differences exist between the two anime, Wataten! fans are likelier than not to enjoy 2018's comedy. Give UzaMaid! a try, it is a no-brainer.
While walking the streets of Japan, a ripped military officer named Tsubame Kamoi stumbles across a blonde second grader, Misha Takanashi, playing with her mother in the family's backyard. It was love at first sight. A year and one deceased mother later, Tsubame quits her job with the air force and convinces Misha's father to hire her as a maid.
Kamoi is a huge lolicon. While Wataten!'s Miyako tries to suppress her feelings, Kamoi embraces similar desires with reckless abandon! Misha is basically terrified of the maid during the opening few episodes; however, their relationship eventually improves. Wataten! is cute, but UzaMaid! is madness.
Uchi no Maid ga Uzasugiru! Official PV
---
Final Thoughts
Putting aside the whole pedophilia thing, Watashi ni Tenshi ga Maiorita! is an anime about cute girls doing cute things. Sure, the premise may be riskier than the genre's typical output, but the tone is not significantly different from your standard slice of life anime. These six series should keep this adorable train rolling!
Is there any other anime that you would recommend for fans of Watashi ni Tenshi ga Maiorita!? If so, please leave us a comment below with your recommendations.
---