Yagate Kimi ni Naru is a beautiful new shoujo-ai anime that is already getting a positive response despite only beginning to air recently. It follows the story of a girl named Yuu Koito who had always been a fan of shoujo romance stories. She spends her days daydreaming of when someone will confess to her and she can feel the same way the girls in the manga do. But then a boy in junior high school does confess to her - and she feels absolutely nothing. What is wrong with her? Why isn't she like the girls in the stories? When she enters high school, Yuu sees the beautiful student council president Nanami Touko also turn down a suitor, and approaches her for help. Yuu never expects that her next confession will come from Nanami!
Yagate Kimi ni Naru is a light-hearted love story about two classmates that unexpectedly fall for one another. Standing apart from the other shoujo school love stories this season, Yagate Kimi ni Naru is the tale of two girls. It follows Yuu's realisation that her happy ending isn't going to come from a boy like she always thought, but from another girl. Because Yagate Kimi ni Naru is currently airing, it's easy to be left wanting more (or if you're reading this after it's finished, it was only 13 episodes long, so you still want more!). Luckily, the world of shoujo-ai school anime is actually quite large. We have chosen 6 that we feel are the most similar to Yagate Kimi ni Naru in their story and tone, and hope you can enjoy them just as much!
Similar Anime to Yagate Kimi ni Naru / Similar Anime to Bloom Into You
1. Asagao to Kase-san.

Episodes: 1
Aired: June 2018
Asagao to Kase-san follows a timid and cute girl named Yui Yamada, who loves gardening and is quite feminine. Yui finds herself falling for her tomboyish classmate Tomoka Kase, who serves as her opposite. The two eventually begin to date, though it's not always easy. Asagao to Kase-san is the story of the challenges that they face in their relationship, along with the happy moments that make it all worth it. It may only be a one-hour movie, but Asagao to Kase-san manages to take everyone on a roller-coaster ride of emotions with these girls' relationship.
The theme of Asagao to Kase-san and Yagate Kimi ni Naru is the same - two girls start a relationship together unexpectedly, and they have to deal with exactly what that means. Both of these shoujo-ai explore the ups and downs of this new relationship, highlight both the good and the bad, and showing the girls as they overcome their struggles. Both also have beautiful animation and are sure to make you both laugh and cry if you love a good shoujo-ai story. Asagao to Kase-san is only a movie, so it can only satisfy you so long, but you can definitely have a good hour spent with Yui and Tomoka!
Morning Glory and Kase-san Trailer:
---
2. Aoi Hana (Sweet Blue Flowers)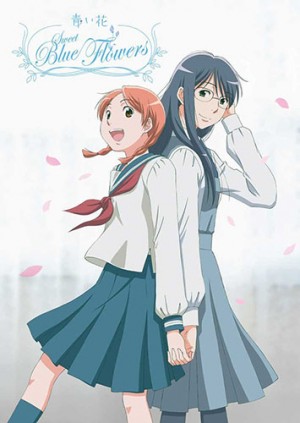 Episodes: 11
Aired: July 2009 – September 2009
Fumi Manjoume is the main character of Aoi Hana. She's the first-year high school student at an all-girls' school and begins the new chapter of her life tragically heartbroken from a failed relationship. Around the same time as starting school, she unexpectedly rekindles her friendship with Akira Okudaira, her friend from over ten years ago. Akira is also a first-year high school student, though at a different all girls' school. As the two become fast friends again, they help each other deal with their past romantic troubles - and all the while, become closer and closer to one another.
Aoi Hana and Yagate Kimi ni Naru both take place during a girl's first year of high school, showing her struggles to adjust to a new and exciting, but challenging, chapter of her life. Both of these shoujo-ai anime are stories about how that main girl, be it Fumi or Yuu, are able to face these challenges thanks to another girl that they become very close to. Aoi Hana and Yagate Kimi ni Naru show the value of female companionship over male and set the stage for the girls to become closer than just best friends along the way. If you liked the coming of age elements of Yagate Kimi ni Naru, you're going to love Aoi Hana.
Sweet Blue Flowers Clip:
---
3. Sasameki Koto (Whispered Words)

Episodes: 13
Aired: October 2009 – December 2009
Fumika Murasame is a popular girl in her school in Sasameki Koto. She is smart and she good marks, and she also excels at sports. What she isn't good at, however, is relationships. She has had a crush on her classmate Ushio Kazama for some time now but is too afraid to actually tell the other girl. Meanwhile, Ushio has a feeling that Fumika might like her. But she is also afraid to act on her feeling because she has always been rejected by girls in the past. Will the two ever overcome their fear and shyness and accept that they both want to be together?
Sasameki Koto and Yagate Kimi ni Naru are both stories about a developing relationship between two classmates. Yagate Kimi ni Naru has the relationship happening faster while Sasameki Koto is more of a slow burn, but both still show how the relationship builds and becomes stronger. They both create a light-hearted and fun relationship between two girls, one of which is cuter and more childish, and the other more mature and beautiful. Thus the relationships in both Sasameki Koto and Yagate Kimi ni Naru are well-balanced between the two different kinds of characters.
---
Any Anime Like Yagate Kimi ni Naru / Any Anime Like Bloom Into You?
4. Sakura Trick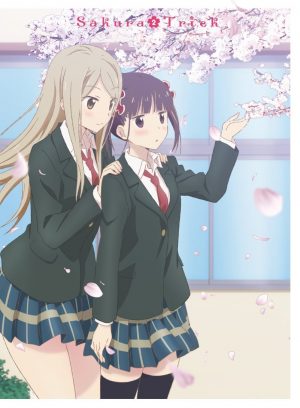 Episodes: 12
Aired: January 2014 – March 2014
Best friends Haruka Takayama and Yuu Sonoda have just started high school together, and though they are assigned seats on the opposite side of the room, they are determined to have a fun time in school. As the year starts to progress, though, they begin to make new friends as well. For the old friendship, this creates some jealousy, especially from Haruka. When she asks Yuu to do something with her that she wouldn't do with any other girl to prove they are best friends, the two share a kiss. And then one kiss leads to more kisses. And suddenly, Yuu and Haruka realise that they have become more than just best friends somewhere along the line.
Like Yagate Kimi ni Naru, Sakura Trick has the leading ladies in a relationship near the start of the story. That makes both of these shoujo-ai anime not about flirting and teasing and foreplay, but actually about an established relationship. Yagate Kimi ni Naru and Sakura Trick can both explore the ups and downs of a relationship, what makes it happy and fun, and what also can make it challenging. They both especially show the challenge of being two girls in a relationship together that no one expected, and the odds that they have to face against people that may not be as accepting of that.
Sakura Trick Trailer:
---
5. Citrus

Episodes: 12
Aired: January 2018 – March 2018
Citrus begins right before fashionable Yuzu Aihara is about to start high school, with her mother's remarriage and Yuzu transferring to a new school. While she at first hopes for the adventure of a relationship and a first kiss, she quickly learns that her style and mannerisms don't fit in with the rest of the strict all-girls' school she is now attending. And then she meets the beautiful bit intimidating student council president Mei Aihara, who confiscates her mobile phone on their first meeting. Things only get more complicated when Yuzu goes home only to discover that Mei is her new step-sister! And when Mei pins Yuzu to the ground and kisses her, then gives her the cold shoulder, well. You could say that things just keep getting more complicated for Yuzu!
Citrus and Yagate Kimi ni Naru both have shoujo-ai relationships with a common central core - they are initiated by a beautiful student council president upon a younger girl who has just started high school with dreams of a romantic first relationship. And neither of those first-year girls ever expected that their suitor would be another girl! Citrus and Yagate Kimi ni Naru have different stories from there, but it's interesting to see how the same beginning idea can develop into two different shoujo-ai romances. And both anime do a great job of creating a light-hearted relationship full of ups and downs and unexpected turns as the story progresses.
Citrus Trailer:
---
6. Yuru Yuri (YuruYuri: Happy Go Lily)

Episodes: 12
Aired: July 2011 – September 2011
Akari Akaza, Yui Funami, and Kyouko Toshino are all best friends at an all-girls' middle school in Yuru Yuri. Yui and Kyouko had taken advantage of the disbanded tea club's empty room to start their own club, the Amusement Club, in their first year. The whole point of the club is just to do things that are fun. Akari joins when she enters the school, and shortly after, another girl named Chinatsu Yoshikawa joined as well. Chinatsu thought it was the tea club, though, but ends up staying anyway. The four girls spend their time drinking tea and complimenting one another, which leads to quite a lot of flirting and fun between them.
Yuru Yuri is meant to just be a light and fun shoujo-ai, and it's very successful at being exactly that. It never gets too intense or deep and is just entertaining to watch as the girls unabashedly fawn over one another. Their relationship is something between friendship and a little bit more while retaining innocent and playful. Like Yagate Kimi ni Naru, it shows a kind of awakening for the girls that they don't need boys to have fun and can be happy to flirt with their friends instead. Shoujo-ai is both light and fluffy, with cute girls that are all in the same school as the main characters. Yuru Yuri has less of a solid plot and relationship than Yagate Kimi ni Naru, but the feeling is very similar.
YURUYURI Season 2 Trailer
---
Final Thoughts
Luckily for shoujo-ai fans, there are quite a few beautiful love stories out there in anime. But that doesn't make new stories like Yagate Kimi ni Naru any less special; it's always great to have something new. But fortunately, when these short anime finish, there's still more to watch out there to keep enjoying the love! We hope that our list of 6 Anime like Yagate Kimi ni Naru can help keep you satisfied when you're waiting for the next new episode, or have finished the show and ready for something more.
Have you watched any of the anime on this list? Is there another shoujo-ai like Yagate Kimi ni Naru that you think we missed? Are you going to try any of these anime out now? What is your favourite thing about shoujo-ai? Let us know in the comments below!
---