Characters overcoming their flaws, collaborating with their team, and finally winning it all - those are the kind we love to see in our favorite anime shows. There's something special about beating the odds when you've played your cards right. Shounen sports shows have always gotten us pumped at just the right time. Yowamushi Pedal is definitely a series that fits the bill.
Centering around Sakamichi Onoda, Yowamushi Pedal introduces us to a diehard otaku fanboy who begins a passionate journey into cycling. He begins the new school year searching for members to revive the now defunct anime club he so desperately wanted to join. On his quest, he encounters avid cyclist Shunsuke Imaizumi who challenges him to a race with the provision that he himself will join the anime club, if he loses. A rivalry begins between the two, and soon Onoda is now set on growing further in the sport.
Throughout the course of the show, Sakamichi challenges what an otaku is supposed to be capable of. We love series where characters push for more from where they start out. Here are six series that have this trait in common.
Similar Anime to Yowamushi Pedal
1. Long Riders!

Episodes: 12
Aired: Oct. 2016 – Feb. 2017
Almost everyone has a moment where they see something they just absolutely must have. For Long Riders! protagonist Ami Kurata, that must-have item is a collapsible road bike she sees on sale one day. Her new purchase puts her on the path to becoming an avid cyclist alongside her childhood friend and senpai from university.
Long Riders! has a diverse cast of cute characters who are devoted to their sport and growing in it. As a slice of life show with a focus on sports, it showcases the various challenges of the girls who help each other grow as cyclists. At the start, Ami finds herself completely overwhelmed by the new path set before her, but towards the end, she is keeping up and learning more. Like any good shounen series, both Long Riders! and Yowamushi Pedal have this aspect in common.
While the show was originally slated to end in December 2016, production delays caused the final two episodes to air in February 2017. If you missed out on these, be sure to catch them now, and new viewers can watch the entire series without slowing down.
Long Riders! (PV)
---
2. Minami Kamakura Koukou Joshi Jitensha-bu (Minami Kamakura High School Girls Cycling Club)

Episodes: 12
Aired: Jan. 2017 – Mar. 2017
In Minami Cycling Club, main character Maiharu Hiromi has just recently moved from her home in Nagasaki to the city of Kamakura. The area is very scenic and she is instantly swept up in the passion of exploring and sightseeing. To make traveling easier, she decides to get a bike. Unfortunately, she has a difficult time with riding a bicycle, but quickly encounters classmate Tomoe Akizuki and begins her path to improvement.
Distinguishing itself from Long Riders!, Minami Cycling Club focuses on the pleasure and fun elements of cycling versus its competitive aspects. Like in Yowamushi Pedal however, both main characters are driven to grow and learn in the aspects of the cycling sport. Maiharu is naturally a bit clumsy, but is eager to visit her dream destinations, and to do that she must learn to cycle. The art style of the show also showcases richly detailed backgrounds which add to the immersion.
Both shows feature a varied cast of characters that help change and affect the protagonists' outlooks and goals. Dialogue and interactions are laced with comedy, and you can feel a growing closeness to the characters after each episode.
Minami Kamakura Koukou Joshi Jitensha-bu (PV)
---
3. Over Drive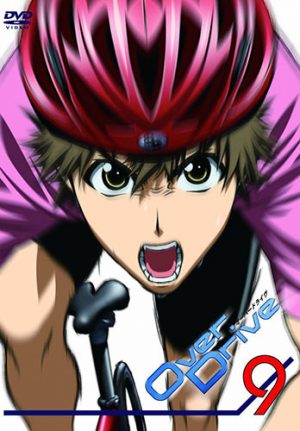 Episodes: 26
Aired: Apr. 2007 – Sept. 2007
Shinozaki Mikoto never really excelled at anything his whole life. He's often bullied at his high school due to his small size and meek nature. Despite that however, Fukazawa Yuki takes an interest in him. When she invites him to become a member of the school cycling club, he accepts as he has a crush on her. This sets him on a path that will take him towards the very pinnacle of cycling, the Tour de France.
While both Over Drive and Yowamushi Pedal share many competitive aspects, one key difference is a romantic subplot element. Shinozaki balances out his desire to get closer to Yuki with a burning passion for cycling that he never knew he had. In true shounen fashion, he faces obstacles and meets new rivals and allies to further compete. He himself is not well versed at all at riding, but his inner resolve pushes him forward to his goal of winning Yuki's heart and winning races.
---
Any Anime Like Yowamushi Pedal ?
4. Baby Steps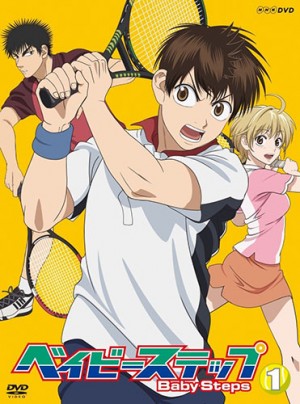 Episodes: 25
Aired: Apr. 2014 – Sept. 2014
Everyone in his freshmen class knows that Eiichirou Maruo is an excellent student who takes impressive notes. Fearing that he is becoming too inactive physically, he decides to enroll in a tennis club trial. There, he sees schoolmate Natsu Takasaki, an aspiring professional tennis player. He becomes fascinated with tennis as a sport, and begins shifting his goals from being top student to beginning a career in tennis of his own.
Baby Steps and Yowamushi Pedal certainly do not share the same sport, however the passion and similarities of their main characters are remarkably similar. Eiichirou and Sakamichi both fall outside of normal in their respective hobbies. One an aggressive student, the other a hardcore otaku. They use their tendencies and inquisitive nature to stand on equal footing in their sports. Eiichirou uses his aggressive note-taking habits to analyze himself and his opponents' movements to improve.
However, like Over Drive, Baby Steps has an element of romance, even more at the forefront in Baby Steps. Eiichirou and Natsu push each other forward, and the more they realize each other's strengths and weaknesses, the closer they grow. Fans of Yowamushi Pedal will definitely like seeing how Eiichirou handles himself going from essentially zero to competitive, all from his analysis and training techniques. While the activities are different, both shows are highly enjoyable shounen sports series.
Baby Steps (Trailer)
---
5. Kuroko no Basket (Kuroko's Basketball)

Episodes: 25
Aired: Apr. 2012 – Sept. 2012
Five star athletes, dubbed the "Generation of Miracles", paved the way for Teikou Junior High School's three consecutive basketball championships. However, whenever these five are mentioned, rumors also arise of the phantom sixth man who made it possible. This mysterious figure is Tetsuya Kuroko. When the rising star Taiga Kagami discovers his immense potential as a support player, he recruits him to their high school's team to take down his former teammates.
Yowamushi Pedal and Kuroko no Basket both feature weak to strong plot elements. Kuroko may have been useful in junior high, but he needs to become a good basketball player in order to compete in high school. Featuring a diverse cast from teammates to rivals, the series rarely slows down. At more than a few times it chooses to forgo realism to establish more excitement.
When people discuss their favorite sports shounen anime, many list Kuroko no Basket, and for good reason. It captures the essentials of exciting storytelling that make shounen a popular genre and keeps viewers enthralled week to week. These same similarities are what drives both this series and Yowamushi Pedal, so it's a sure bet that fans will come to enjoy aspects of both.
Kuroko no Basket (PV)
---
6. Initial D First Stage

Episodes: 26
Aired: Apr. 1998 – Dec. 1998
Initial D First Stage protagonist Takumi Fujiwara is surrounded by his car enthusiast friends, yet he himself remains completely uninterested in becoming one. However, traversing the dangerous and unyielding terrain of his mountain home has become second nature to Takumi. This is all thanks to driving his father's car on deliveries daily and picking up techniques he's learned over the years. His latent potential eventually leads him to challenging other racers in his region, proving that he is the best time and time again.
Both Takumi and Sakamichi of Yowamushi Pedal have an acute familiarity with their vehicles from spending so much time with them. In each series, there's a flow of excitement surrounding each race and new opponents lying in wait. During these competitive scenes, details about the mechanics of the sport are revealed to both the characters and the audience. It makes for an engaging way of revealing some interesting information while not overwhelming or boring viewers.
As the oldest selection on this list, Initial D is also far more mature in nature. Being in the seinen category as opposed to shounen, it deals with events that the younger characters may not face for years to come. Still, at its core, it delivers thrilling sports action. Races are fast-paced, the competition is fierce, and there's always a new challenger on the horizon.
Initial D First Stage (Trailer)
---
Final Thoughts
We love watching characters who start out close to ourselves and tackle feats that we at first deemed impossible. Feeling as if we ourselves can do more, we watch them, time and time again, rise to each new challenge in order to prove themselves. Even when they don't always win, they learn from their mistakes and get back up. The connection that the audience feels to those we watch is what truly makes us love this genre.
Do you love Yowamushi Pedal and have other suggestions for competitive sports series? Let us know in the comments, we'd love to hear them!
---