También puedes leer este artículo en:Español
A mix of shoujo innocence and perseverance, light fantasy, and luscious pastries, Yumeiro Patissiere is a kids cooking anime that breathes sweetness into our everyday lives.
For those unfamiliar with or just starting to watch the show, Yumeiro Patissiere, an anime adaptation of the popular shoujo manga with the same name, follows the journey of 14-year-old Ichigo Amano as she trains to become a patissiere (a female pastry chief). To fulfill her dream, Ichigo attends St. Marie Academy, a famed pastry school. Becoming a patissiere is not an easy path. But with help of the three Sweet Princes, the top patisseries (male pastry chiefs) at St. Marie Academy, and Sweets Spirits, tiny spirits of pastries and sweets, Ichigo improves her skills and prepares to become a professional.
Charmed by the lovable treats offered by this saccharine anime? The following recommendations are for those still ravenous for anime like Yumeiro Patissiere. These recommendations draw from Yumeiro Patissiere's shoujo anime qualities along with the reverse harem, school setting, cooking, and hard working sprit also blended in this show.
Similar Anime to Yumeiro Patissiere / Similar Anime to Dream-Colored Pastry Chef
1. BONJOUR Sweet Love Patisserie

Episodes: 24
Aired: October 2014-March 2015
Similar to Yumeiro Patissiere, BONJOUR Sweet Love Patisserie melds a story about a hardworking female protagonist surrounded by handsome men with beautiful pastries. Though slightly older, BONJOUR Sweet Love Patisserie's main character, Sayuri Haruno, resembles Ichigo due to her good-natured personality in the face of adversity and her possession of a reverse harem. Each BONJOUR Sweet Love Patisserie episode is roughly five minutes long since it is an original net animation (ONA). Despite the brevity of each episode, BONJOUR Sweet Love Patisserie is jam packed with romance and sweets.
BONJOUR Sweet Love Patisserie depicts the story of Sayuri as she attends on scholarship Fleurir, an elite confectionary school. While studying the art of making pastries and sweets to fulfill her dream of opening a pastry shop, she encounters several bishounen who seem to have interest in her rooted in an attraction going beyond her pastry making abilities.
BONJOUR Sweet Love Patisserie Trailer
---
2. Gauken Alice (Alice Academy)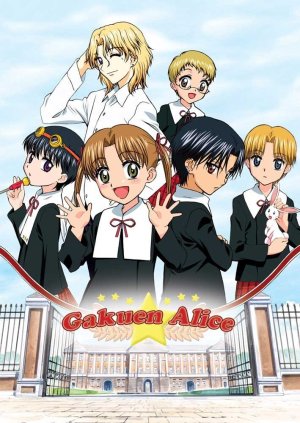 Episodes: 26
Aired: October 2004–May 2005
Though not a cooking anime, Sakurai Mikan of Gakuen Alice emanates a positive, happy go lucky shoujo anime vibe reminiscent of Yumeiro Patissiere. Both twin-tailed protagonists of these series exhibit analogous exuberance and charisma, a day-brightening quality to say the least.
Gauken Alice, a comedy shoujo anime with plentiful dashes of magic, focuses on Mikan as she enrolls in the elite Alice Academy, a school for people with unique abilities, as she searches for best friend Hotaru Imai. Yet, Mikan discovers Alice Academy is more than it seems and soon uncovers the school's dark secrets.
Gauken Alice Trailer
---
3. Koufuku Graffiti (Gourmet Girl Graffiti)

Episodes: 12
Aired: January 2015-March 2015
Much less about desserts than it is about Japanese cooking, Koufuku Graffitti is a slice-of-life anime for those who likes cute girls and delicious food. With regards to the show's attention to food, Koufuku Graffitti is very much like Yumeiro Patissiere, a show that hired a professional patisserie to advise the animation staff on the depictions of the pastries. However, it should be noted that this series is geared for a slightly older audience had has some elements of fan service.
Koufuku Graffiti is about the everyday life of Ryo Machiko, a second-year middle school student living by herself following the death of her grandmother, and her second cousin Kirin Morino, Kirin stays with Machiko in Tokyo on the weekends for school. Throughout the show, Kirin enjoys Machiko's great cooking and shows her the joy of family and friends.
Koufuku Graffiti Trailer
---
Any Animes Like Dream-Colored Pastry Chef / Any Animes Like Yumeiro Patissiere ?
4. Chibi☆Devi!

Episodes: 75
Aired: October 2011-February 2014
Although it is a series that could be called the female version of shounen anime series Beelzeebud, Chibi☆Devi! portrays a hard working female protagonist much like Yumeiro Patissiere. Additionally, this comedy shoujo anime echoes notes of innocence and freshness despite its representation of young girls in grown up situations like Yumeiro Patissiere does. With each episode roughly five minutes long, Chibi☆Devi! will give you a compact punch of simple and sweet pleasure.
Chibi☆Devi! is about 14 year old Sawada Honoka, a shy girl who one day finds a devil baby named Mao in her room. Lost and confused, Honoka takes it upon herself to raise the baby devil with the help of her friends.
*** SIMILAR ANIME TITLE *** Official Trailer / Fan Video / OP
---
5. Working!! (Wagnaria!!)

Episodes: 13
Aired: April 2010– July 2010
Much in line with the previous anime recommended based on their depictions of hardworking, cute female protagonists like Ichigo, Working!! portrays a wide variety of characters trying their best. For those particularly interested in characters like Ichigo, Popura Taneshima, the short but industrious high school student part-timer, might be up your alley. It should be noted that like Koufuku Gormet, this show is for slightly older audiences and may have a more mature sense of humor than Yumeiro Patissiere.
Working!!, an anime based off the 4-panel comic strip with the same name, centers about the working environment of a certain family restaurant called Wagnaria located in Hokkaido. A popular anime series, the third season is set to air in Summer 2015.
Working!! Trailer
---
6. Antique Bakery

Episodes: 12
Aired: July 2008– September 2008
Last but not least, Antique Bakery is for those attracted to Yumeiro Patissiere because of the sweets and themes of baking and cooking. Set in a popular bakery oriented to female customers, Antique Bakery perhaps shows the future of the male students attending the pastry school depicted Yumeiro Patissiere. As a small note of warning, Antique Bakery has hints of shounen'ai and is an adaptation of the manga under the same name by Fumi Yoshinaga, famed mangaka who made her debut in the Boys Love genre.
Antique Bakery concentrates on the everyday lives of four men, Keisuke Tachibana, Yusuke Ono, Eiji Kanda, and Chikage Kobayashi, working at a small bakery owned by Tachibana, a man who cannot stand eating sweets. Though the anime may seem dull on the outset, beneath the façade is a drama of emotions, unrequited love, and kidnapping ingeniously packaged within the genre of silice-of-life and comedy.
Antique Bakery Trailer
---
Hopefully these recommendations are useful in the search for quality anime like Yumeiro Patissiere. Spanning across genres and years, these anime represents the plentitude of anime currently available. Have any comments, questions, complaints, or concerns on this list? Feel free to leave a comment below.