The Night is Short, Walk on Girl is a modern-day odyssey, as Kurokami no Otome is on a quest to find her beloved childhood storybook. On her journey, we are tuned into her dreamlike adventure of partying and drinking. Two steps behind her is Senpai, an older classmate who is infatuated with her, taking viewers into his wild fantasies as well.
Is this what it's like when adults are having a "crazy night on the town"? Stumbling here, falling there, acting on impulse and emotions? Whether or not we've been there, done that, The Night is Short, Walk on Girl is an anime film that will have you calling "SHOTS!" without the nasty hangover. Entertaining, hilarious, and a feast for the eyes and soul, we give you 6 anime movies like The Night is Short, Walk on Girl, and hope you stick around for last call! KANPAI!
Similar Anime to Yoru wa Mijikashi Arukeyo Otome / Similar Anime to The Night is Short, Walk on Girl
1. Summer Wars

Aired: Aired: August 1, 2009
OZ, a virtual reality game, has grown extremely popular worldwide for folks to interact with one another in a variety of different activities, such as sports or shopping, all by using personalized avatars. OZ is in a league of its own with impassable network security, as its secured encryption guarantees personal data transmitted will be kept safe. Due to its convenience, OZ allows many real-life tasks to be completed through various applications and many gamers have grown dependent on this, entrusting the system entirely. We are introduced to Kenji Koiso, a 17-year-old student and part-time OZ moderator. His crush Natsuki Shinohara approaches Kenji on a summer trip proposing to hang out with him on the condition that he acts as her fiancé. When Kenji arrives at the Natsuki's family's home for a birthday party, he receives a strange message on his cell phone. The text, sent from an unknown sender, challenges Kenji to solve a coded signal. A mathematical genius, Kenji can crack the code, but his math expertise has just put planet Earth in massive danger.
The adventures are just getting started with Summer Wars and The Night is Short, Walk on Girl. Both are exciting anime films that take viewers on an epic venture. With romance being a tiny portion of a more significant plot, our main characters, Kenji and Kurokami no Otome, are pulled out of their comfort zones and thrust into different occurrences. With bright and sharp animation that is eye-catching, Summer Wars and The Night is Short, Walk on Girl are both fantastic films.
Summer Wars Trailer
---
2. Mimi wo Sumaseba (Whisper of the Heart)

Whisper of the Heart is a coming-of-age tale centered on the lives of Shizuku Tsukishima and Seiji Amasawa as they journey to find themselves and their presence in life. These two teens are pretty talented for their age. Shizuku aspires to become a writer and Seiji's ambition is to become an accomplished violinist. The two run across one another on several occasions before finally meeting by chance. Shared interests bond Shizuku and Seiji, and soon they become good friends. However, after seeing Seiji's dedication to music, Shizuku falters on her talents, wondering if her approach to achieving her dreams can equate to that of Seiji's.
Whisper of the Heart and The Night is Short, Walk on Girl are two fantastic slice of life films that are relatable, especially when it comes to making our destiny instead of waiting for something remarkable to happen. In both films, Shizuku and Kurokami no Otome are two strong-willed young ladies who surround themselves with an array of eccentric characters. These characters influence the girls to make choices that will later guide them in their lives. Overall, both Whisper of the Heart and the Night is Short, Walk on Girl are fun and enjoyable viewing experiences.
Whisper of the Heart Trailer
---
3. Paprika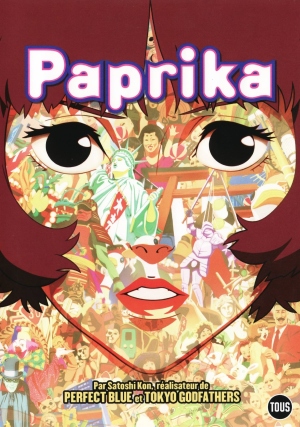 In the film Paprika, the act of dreaming is just as impacting in the subconscious as it is in the waking world. Experimentation and one aspiring technological firm have led developments to a device called the "DC Mini," allowing others to pass into the dreams of whomever they desire. Atsuko Chiba and Kosaku Tokita have been tirelessly working to develop this technology with the hopes of using it to analyze further and cure patients with psychological disorders. A powerful and dangerous weapon, this technology can advance society in many areas, but in the wrong hands, the DC Mini is a dangerous and incredibly treacherous weapon. When Atsuko and Kosaku notice people acting strangely, they know that the stolen technology must be recovered, employing both the dream reality and real life. So dare to "dream a little dream of me"?
Paprika and The Night is Short, Walk on Girl are strikingly similar in that they are both adult-centric dealing with issues not typically addressed in public without much criticism, such as psychological disorders and substance abuse. Nevertheless, these subjects lay root in adulthood and are dealt with in some ways, but mainly here, is repressed as a dreamlike escape. The animation for Paprika and The Night is Short, Walk on Girl is surreal, vibrant, and dramatic, drawing us into more than just the story. Moreover, our characters face an array of individuals and atmospheres, always thinking on their feet and met with the unexpected.
Paprika Trailer
---
Any Anime Like The Night is Short, Walk on Girl / Any Anime Like Yoru wa Mijikashi Arukeyo Otome ?
4. Mind Game

Mind Game follows the story of Nishi. For a very long time, Nishi has had his eye on Myon. Now, as an adult, Nishi aspires to be a manga artist and still holds on to the dream of marrying Myon. However, she does not feel the same way about Nishi, believing he is below her standards and too much of a wimp. Also, Myon is already spoken for, now recently engaged. Having met Myon's fiancé at her family's diner, their encounter is jolted when they encounter several Yakuza. As Nishi's meeting with Myon's fiancé brings him back into reality, accepting that they will never be together, he, Myon, and her sister Yan must escape the Yakuza, giving these villains the runaround on a very wild escapade.
Mind Game and The Night is Short, Walk on Girl are directed by Masaaki Yuasa. Both filled with youthful romantic comedy, these films tangle viewers into the storyline, leading us through the myriad of mishaps and shenanigans. Detailed, colorful, and distinctively animated, the themes in Mind Game and The Night is Short, Walk on Girl are Masaaki Yuasa's trademark.
Mind Game Trailer
---
5. Yoake Tsugeru Lu no Uta (Lu Over the Wall)

The story of Lu Over the Wall centers on a young middle school boy named Kai. Kai recently suffered a tremendous loss when his parents divorced. In his grief, his life is altered when he moves from Tokyo to Hinashi Town. Unable to sort out his thoughts and emotions regarding all that concerns the divorce, move, and everything else that follows, Kai's spirit does improve when he composes and uploads his songs online. With a steady passion for music, his new classmates invite him to play music together. Reluctantly, he goes to practice with them at their regular spot on Merfolk Island. A place rumored for mermaid sightings, it's been said that once you see one, bad luck will follow. However, a chance encounter with the mermaid Lu changes Kai's outlook on life completely, and on a larger scale, the townspeople's perception of these mythical beings.
Lu Over the Wall and The Night is Short, Walk on Girl share the message of how possibilities are endless when people open their mind and thoughts to new experiences. As our primary characters immerse themselves in a fresh and vibrant environment, they are presented with much fun and excitement along the way. Furthermore, music is a common theme in both films, as scenes grow livelier with each passing moment.
Yoake Tsugeru Lu no Uta Trailer
---
6. Uchuu Show e Youkoso (Welcome to THE SPACE SHOW)

Welcome to THE SPACE SHOW documents the lives of five kids ranging widely in age, who have gathered at their present location for summer camping. They are all enjoying their time away from home, away from studies, and most importantly, away from grown-ups! However, the kids' summer day takes a drastic turn when they come across what they believe to be a small dog in need of help. As they approach the animal, they see it is not a dog, but an alien creature named Pochi sent to the planet on an important mission. Thanks to the children's aid, Pochi rewards them by granting them a wish. "Where would you most like to travel?" Pochi bestows them their desire, going to the moon, marking the beginning of a fantastic summer vacation they can ever imagine!
Welcome to THE SPACE SHOW and The Night is Short, Walk on Girl are two funny and peculiar films filled with fantasy, creativeness, and ecstasy. Both stories are unique, filled with imagination, uncertainty, and suspense, drawing viewers with intense intrigue. Although The Night is Short, Walk on Girl is more adult themed than Welcome to THE SPACE SHOW, the tales of adventures demonstrated in each will leave us excitable for similar journeys of our own.
Welcome to The Space Show Trailer
---
Final Thoughts
We hope you enjoyed our recommendations for 6 anime movies like the Night is Short, Walk on Girl. If you haven't already, make sure to check out all of these great titles, as the night is still young and they are ones that will not disappoint! Even though these are only a few of many in circulation, let us know if we've missed any! Do you agree or disagree with our recommendations? Additionally, what other anime films can you suggest to other readers and us? Leave your comments below! Until next time!