También puedes leer este artículo en:Español
Moon Princess here, reporting from the kingdom of Wistalia. It has been a while since our favorite pharmacist (Shirayuki) was forced to leave her birth country of Tanbarun. Her adventures to aid prince Zen in protecting the kingdom of Wistalia have entertained us, leaving us wondering if they will have their happy ever after or not. While we wait for the answer, let's take a look at some manga like Akagami no Shirayukihime, where fantasy, romance and self-sufficient heroines await us. Let's get our favorite traveling cloak, our book of herbs and let's go!
Similar Manga to Akagami no Shirayukihime
1. Blue Ramun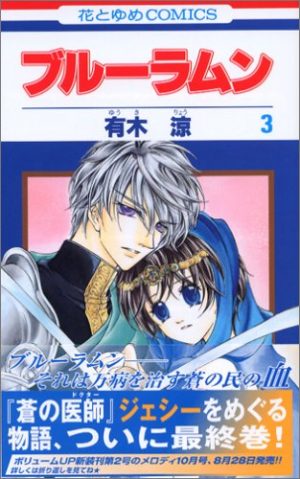 Authors: Ryou Yuuki
Genres: Adventure, Drama, Fantasy, Romance, Shoujo
Volumes: 3
Published: Aug 5 to Jul 5, 2006
Ryou Yuuki is a relatively newcomer in the manga world, as she released two other titles before Blue Ramun. She has a focus on shoujo and romance, featuring diverse locations. Blue Ramun 14 features a special race of people (Ramuns) with blue blood running through their veins. This blood is said to be able to cure any illness, so the Ramuns are appreciated as healers in their world. Jessie Jackson is one of the Ramuns, who by coming of age, has to leave her tribe to serve in another community. In this place, she will meet two guys who will fall in love with her.
We have a protagonist who knows how to use herbs and cure people in both Blue Ramun and Akagami no Shirayukihime. They also get involved with guys who will eventually become their love interests. The main difference between both stories is that Blue Ramun is inspired in middle eastern cultures, while Akagami no Shirayukihime reminds us of Europe. Also, although the drawing is somewhat similar, the shading is softer in Akagami no Shirayukihime. If you ever wondered how would Shirayuki's adventures be in a warmer and dried climate, you might like to check this manga.
---
2. Apothecarius Argentum

Authors: Tomomi Yamashita
Genres: Romance, Shoujo
Volumes: 11
Published: May 2, 2005 to Oct 16, 2009
Tomomi Yamashita is also a relatively new author. She has other three stories centered on adventure in several historical settings, which have been published recently. In a kingdom called Beazol, a little heiress to the throne has been born. To protect her, the king hires a special food taster slave called Argent. Since his childhood, Argent has been fed different types of poison to become invulnerable. Unfortunately, the side effect is that nobody can't touch him. With time, Princess Primula and Argent grow close, to the point that he is fred and becomes a pharmacist, but far from being the end of their story, it is the beginning.
Pharmacist alert! Both protagonists for these mangas study how to cure people. They also start in a low level of society and serving royalty. On the other side, both Zen and Primula might be consider slightly arrogant, but we end up understanding that they want to take matters on their own hands. Thus, they grow on us! So, if what you like about Akagami no Shirayukihime is the cross star love, here you have an option with reversed genders!
---
3. Reimei no Arcana

Authors: Rei Touma
Genres: Drama, Fantasy, Romance, Shoujo
Volumes: 13
Published: Jan 24, 2009 to Jun 24, 2013
Rei Touma is a shoujo mangaka who has dedicated most of her works to the shoujo and school realm. She has experimented with several time periods and the slice of life as well. This time, Touma tells us the story of a princess from an island which has had a long conflict with another island for 200 years. In order to make amends, Princess Nakaba is sent as bride for Caesar, the prince of Belquat. Needless to say that they hate each other at the beginning. Nakaba is discriminated in Belquat due to her strange red hair, but what she will do if Caesar becomes the target of a conspiration? Will she let him die or save him? We are not going to tell you 🙂
Watching Nakaba and Caesar will remind us of Shirayuki and Zen, although in harsher terms. Caesar starts as an arrogant guy, while Nakaba tries to make the best of the difficult situation she is in. Plus, her red hair remembers us of someone… 😉 The main difference is the story's setting in the islands. Also, the art style is a bit more detailed in Akagami no Shirayukihime, but that does not make Reimei no Arcana less enjoyable, as it has enough action to leave you intrigued.
---
Any Manga Like Akagami no Shirayukihime ?
4. Arte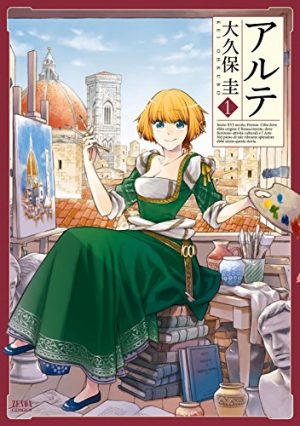 Authors: Kei Ookubo
Genres: Historical, Seinen
Volumes: 6
Published: Oct 25, 2013 to present
Arte is the debut of Kei Ookubo, who chose an historical setting for her story. Oh, the Renaissance… which place was better in Europe to live those enlightened years than Italy? Most specifically, Florence was the place where science, culture and arts were waking up the senses and the mind of the citizens. It is in this fruitful environment that Arte, our protagonist, fights for her dream of becoming an artist. That is why, against the opposition of her noble family and the society, she becomes apprentice of a genius artist named Leo.
Renaissance was not a bad time to be a woman in Europe, despite of what is mostly shown on this manga. Several female artists became able to earn money and sign up their works for the first time, especially among rich merchants and the nobility. This does not mean that Arte's vocation and will, which are similar to Shirayuki's, are any less meritorious. There is also some comedy that contrasts with the silent, beautiful and tranquil mood of the artist at work. Besides the classical fairy tale vibe, we also have romance here like in Akagami no Shirayukihime. So, if you love all things Renaissance, this is the manga for you.
---
5. Colette wa Shinu Koto ni Shita

Authors: Alto Yukimura
Genres: Comedy, Fantasy, Romance, Shoujo
Volumes: 6
Published: Nov 5, 2013 to present
This manga is the fourth work of Yukimura, who has specialized in shoujo and fairy tale like atmospheres, both in one shots and complete volumes. In old times, it was not uncommon to have only one qualified doctor per town. For Colette, our protagonist, this situation is getting irritating. Tired and overworked, she ends up jumping into a well one day… arriving to the underworld. Now Colette will serve as personal physician for Lord Hades, but this will be only the beginning of her adventures.
So, be ready to forget everything you ever thought you knew about the underworld, because it is not scary at all. Yes, is a bit dark, but there are cute spirits everywhere and fat, black cats. Who can say no to cute cats? Plus, the underworld looks like an old European country. What else can you wish? Oh, right, a handsome and kind master like Lord Hades… Thus, we have a fairy tale environment and a love story similar to Akagami no Shirayukihime, with two people in different social levels and a protagonist with healing skills. This manga is highly recommendable for all sweet shoujo lovers and unadvisable if you are sensitive to sugary stories.
---
6. Mahoutsukai no Yome

Authors: Kore Yamazaki
Genres: Fantasy, Magic, Shounen, Slice of Life
Volumes: 7
Published: Nov 30, 2013 to present
Kore Yamazaki has other two manga on her portfolio, which revolve around books, love and mystery. However, her most successful work to date is Mahoutsukai no yome. This story became an OVA in 2016 and is scheduled for an anime version later this year. Chise Hatori is an orphan child that has been passed around her reluctant relatives. Unwanted and haunted by incomprehensible visions, Chise ends up in a supernatural auction when she grows up. In an unusual turn of events, the mage Elias Ainsworth buys her to become his apprentice and eventually, his bride. Therefore, Chise moves out to Elias' house, a lovely cottage full with fairies, dragons and magical books.
So, welcome to Diagon Alley!... Oops, sorry, wrong story. Here we have the magical, fairy like setting again in Mahoutsukai no Yome. We also have a red haired protagonist and a capable person (Elias) in command who is curious about human nature. Nevertheless, Chise's personality is quite different from Shirayuki's. The pace of the story is also slower and the male lead is a literal bonehead instead of a handsome, young guy :p
---
Final words
It looks like fairy tale and historically based manga with strong protagonists will not dry out in the near future. It is all about girl power on our times after all! However, we also have to take a close look to the romantic partners of our protagonists. They range from the apparently jerk type to the social outcasts, but they all have something in common: they protect and cherish the one they love, eventually giving them their space to become whoever they want to be! Tell us, which manga like Akagami no Shirayukihime have you read? What do you think about our recommendations? Don't forget that we are open to all your comments and suggestions. See you soon!
---