También puedes leer este artículo en:Español
6 anime like Akagami no Shirayuki Hime
Sakura_Moonprincess here, directly reporting from the Kingdom of Clarines! If you are a fan of fairy tale style anime, you will be cheering out loud already. Akagami no Shirayuki Hime (Snow White with the Red Hair) is an ongoing manga by Sorata Akizuki. The protagonist (Shirayuki) is a strong, independent girl who eventually fell in love with the second prince Zen. Their enchanting story uses the classic European-style tale with an energetic heroine who traps you into her world since the very beginning.
But wait, there are several anime out there that play with the same assumptions. We did an article on anime similar to Shirayuki Hime around a year ago, but… there's still more! So, let's grab our cloaks and swords to find 6 more anime like Akagami no Shirayuki Hime! We will list the old recommendations at the end, so that you can have a complete list. Anyway, let's go!
Animes similar to Akagami no Shirayuki Hime
1. Romeo X Juliet

Episodes: 24
Aired: Apr 5 to Sep 26, 2007
Let's start with an anime by Studio Gonzo, based on a classic, shall we? Romeo X Juliet takes us to the world of Neo Verona, where the Montagues reign with an iron fist. They have exterminated their rivals, the Capulet family… or so they believe. The mysterious "Red Whirlwind" patrols the streets of Neo Verona, waiting for an uprising. What almost nobody knows is that this hero is Juliet, the Capulet's daughter, seeking revenge for her family's demise.
Here we have two strong, independent leading characters (Shirayuki and Juliet), who happen to also be redheads! But the similarities don't end there. Their partners (Zen and Romeo) are the perfect gentlemen. So yeap, they are the best compliments to give balance to animes that would be very boring if the couples were simply lovey-dovey, because while the guys are well behaved, the girls are bubbly and active. With a good dose of adventure, Romeo X Juliet is a great anime version of the English theatrical play.
---
2. Oukami to Koushinryou (Spice & Wolf)

Episodes: 13
Aired: Jan 8 to May 30, 2008
What happens when a Kami (God spirit) is not required anymore? Apparently, they go back to the place where they were born. This is the case for Holo, a female wolf spirit who strikes a deal with the merchant, Kraft Lawrence. They will travel together to the north, facing several dangers until they finally reach Holo's birthplace.
If Akagami no Shirayuki Hime is about herbalism, Ookami to Koushinryou is about economics. We also have a very interesting and self sufficient couple leading here, although they are more into the mischievous side of things. Also, both Shirayuki and Holo are seeking for a place to belong, using the best of their abilities and courage. Originally written as a light novel by Isuna Hasekura, this world full of fantastic and magical adventures was later adapted to manga, anime, ovas and games. If you like a bit of Japanese traditional flavor on your fairy tales, this anime by the studio Imagin is just for you.
---
3. Hakushaku to Yousei (Earl and Fairy)

Episodes: 12
Aired: Sep 29 to Dec 24, 2008
So far, our recommendations are about anime with a lot of travelling involved, but how about checking out an anime set in Victorian England next? A certain Earl Edgar is in great need of an expert on fairies. So, Earl Edgar finds a beautiful and capable young lady under the name of Lydia. Together, they will go into a quest to find a sword that is supposed to be a heirloom of Edgard´s family.
Here we also have a noble and servant relationship that transforms in romance, just like in the case of Akagami no Shirayuki Hime. Our heroine is also quiet capable herself, although the Earl is more interested in seduction. There is also a talking cat thrown in the mix. Written by Mizue Tani as a light novel, Hakushaku to Yousei was later adapted into a manga, an anime by Studio Artland, and a game. What is better than a story inspired on England, the land of fairies? It's worth checking it out!
---
Any Anime Like Akagami no Shirayuki Hime?
4. Kemono no Souja Erin (The Beast Player Erin)

Episodes: 50
Aired: Jan 10 to Dec 26, 2009
So maybe romance is not your thing. Don't worry, because we have you covered. Let's try an action and adventure anime. Yes, if you are fond of self sufficient heroines like Shirayuki, we give you Kemono no Souja Erin. This story originally was a series of novels by Nahoko Uehashi, later adapted as manga and the anime by Production I.G. and Trans Arts.
The protagonist is Erin, a girl who is fascinated with animals and wishes to become a beast keeper. Erin is a girl who takes matters into her own hands and seeks her own place in the world while trying to stop the war, just like Shirayuki. She lives in a fantastical world submerged in war, so she ends up being sent to help protect the ruler Shin-Oh along with her beast friend Lilan. Now that is what I would call a bestie (bad joke, I know). The anime art style brings to mind very old shows from the eighties, with rather angular human characters. It could look plain and boring, but believe me, the epicness of the war and Erin's adventures compensate the old style look.
---
5. Maoyuu Maou Yuusha (Archenemy and Hero)

Episodes: 12
Aired: Jan 5 to Mar 30, 2013
This story was born as a play posted by Mamare Touno in 2chann. It later became a light novel, a manga series… and an anime of course! Brought to you by Studio Arms, we have a world torn by a war between humans and demons. The greatest Hero goes to slay the Demon Queen, who ends up convincing him to help with a complicated plan in order to bring a peaceful resolution to all the conflicts. Thus, the talented Demon Queen ventures forth to the human world disguised as a scholar, protected by her knight (the Hero).
The style of this anime is epic and kawaii at the same time. There are enough tender moments between the two leading characters. But the most important part is the strategy of the talented Demon Queen, who comes from a long lineage of wise Demons and doesn't hesitate to help those in need (like Shirayuki Hime). This is a great anime with a big lesson: instead of fighting against your enemy, find what you have in common and join forces for the greater good!
---
6. Kidou senshi Gundam Unicorn: Re 0096 (Mobile Suit Gundam UC RE:0096)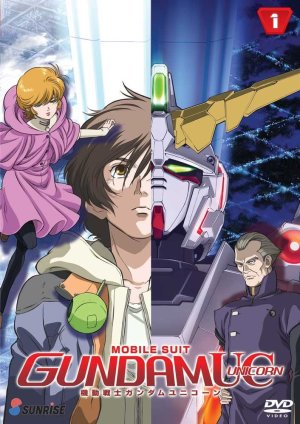 Episodes: Unknown
Aired: Apr 3, 2016 to present
Let's go to outer space! We have an interesting couple of strong individuals working for the greater good here as well! However, instead of a noble guy and a civilian girl, here we have the opposite. Our protagonist's name is Banagher Links, from the Anaheim Industrial College. He encounters the legendary Gundam Unicorn and aims to protect the mysterious Audrey Burne, who is trying to stop the imminent war between the Earth and the Colonies.
This anime by Sunrise is everything you would expect from a Gundam story. Great space opera sequences, interesting plot twists, the best in technology to recreate the beauty of the universe, a character design that reminds classicals like Galaxy Express 999, superb music… In sum, the best of the old and the new anime world. We also have a love story linked to the old European legends of the unicorn. So, you can expect a combination of space opera with fantasy which will remind you of the world of Shirayuki Hime and its protagonists. Don't miss it out!
---
Final thoughts
There you go! 6 more recommendations with all the epicness of Akagami no Shirayuki Hime. The dynamics of the protagonists of each recommendation are quite interesting. These people are no doormats! Plus, they have a healthy dose of abilities and brains. They will do what they have to do to reach their objectives! We could take a leaf from their book, right? Especially on matters like finding your own place in the world and find solutions to complex problems.
So, time for questions, everyone! Do you have other recommendations similar to Akagami no Shirayuki Hime? Did you watch any of our aforementioned animes? Did you like them? Why yes or why no? Remember that we are open to all your comments and questions. See you soon!
---
---
Today we're taking a look at one of summer's hottest anime! Akagami no Shirayuki Hime (literally, Akagami no Shirayuki Hime with the Red Hair), tells the story of Shirayuki, a beautiful girl of common birth from the kingdom of Tanbarun. When she attracts the unwelcome attention of Prince Raji, who tries to force her to become his concubine, Shirayuki flees the kingdom to find a new life. As she tries to escape Raji's henchmen she meets the dashing Prince Zen, and finds hope of a new life in the kingdom of Clarines.
Akagami no Shirayuki Hime (from now on Akagami no Shirayuki Hime) is a shoujo anime about a strong willed girl, with elements of adventure, romance and slice-of-life. It contains a lot of similarities to other anime, particularly the fact that it's set in a feudal era, and has a lead who has to flee their home, so you're in luck if you just can't get enough! Starting the list is Akatsuki no Yona!
Similar Anime to Akagami no Shirayuki-hime / Similar Anime to Snow White with the Red Hair
1. Akatsuki no Yona (Yona of the Dawn)

Episodes: 24
Aired: Oct 2014 - Mar 2015
Yona is a princess of the Kingdom of Kouka who has lived a sheltered life. When the love of her life murders her father and steals his throne, Princess Yona's life changes forever. Forced to flee her home with only her faithful bodyguard Hak, Yona embarks on a quest to reclaim her throne.
Akatsuki no Yona takes place in a setting reminiscent of feudal China, and follows Yona as she struggles to relate to a people she's desperately out of touch with. It bears many similarities to Akagami no Shirayuki Hime, particularly the lead character! Both Yona and Shirayuki are thrust into uncomfortable situations, but as is suggested by their red hair, both leads are strong-willed and determined enough to overcome any obstacle.
The two series differ in that Akatsuki has much more action and politics, whereas Akagami no Shirayuki Hime settles down into a slice of life anime with romantic and comedy elements.
---
2. Saiunkoku Monogatari (The Story of Saiunkoku)

Episodes: 39
Aired: Apr 2006 - Feb 2007
Shuurei Kou comes from a respected family, but unfortunately not a rich one. Her dreams of becoming a court official seem beyond reach, especially because women are forbidden from such a post. However when she is invited to mentor the Emperor, who is irresponsible and uninterested in matters of ruling, it gives her hope of making change and following her dreams!
Saiunkoku Monogatari follows Shuurei's hardships as she attempts to break traditions. Though different in the respect that Shuurei stays with the Emperor (where Shirayuki escapes Prince Raji), both characters have a special gift and influence on others around them, with Shirayuki being a talented healer, and Shuurei being a brilliant teacher.
Saiunkoku Monogatari is a little more politically oriented than Akagami no Shirayuki Hime, but fans of Shirayuki as a character should definitely give this anime a go!
---
3. Soredemo Sekai wa Utsukushii (The World is Still Beautiful)

Episodes: 12
Aired: Apr 2014 - Jun 2014
After losing a game of rock, paper, scissors to her sisters, Nike, the youngest princess of the Rain Dukedom, is sent to marry the Sun King Livius. Though this will allow her land to keep its autonomy, she is reluctant to marry, especially when she finds that Livius is just a boy!
The World is Still Beautiful features another character which bears similarities to Shirayuki. Nike has the power to call forth the rain, and through her power she influences King Livius, in the same way that Shirayuki's talent for healing (literally) changes the life of Prince Zen.
Fans of Akagami no Shirayuki Hime will appreciate the romance which blossoms between Nike and Livius, as well as the similarities between the female leads.
---
Any Animes Like Snow White with the Red Hair / Any Animes Like Akagami no Shirayuki hime ?
4. Escha & Logy no Atelier: Tasogare no Sora no Renkinjutsushi (Atelier Escha & Logy: Alchemists of the Dusk Sky)

Episodes: 12
Aired: Apr 2014 - Jun 2014
In a world where the end is gradually approaching, a nation is devoting all of its efforts to stop the end from coming, by researching lost alchemic techniques. The story follows Logy, a talented scientist in the Development Department who moves to a border town to conduct his research. Here he meets Escha, a girl dedicated to using her alchemic talents to helping others. When she is also assigned to the Development Department it marks the beginning of a beautiful friendship.
As well as having one of the longest anime names ever, Tasogare no Sora no Renkinjutsushi also has a lot of elements similar to Akagami no Shirayuki Hime. Both tell the story of a heroine who dedicates their life to helping others, and are set in a medieval setting. Fans of Akagami no Shirayuki Hime will also enjoy this anime's tone, with its mix of comedy, romance and slice of life.
---
5. Juuni Kokuki (The Twelve Kingdoms)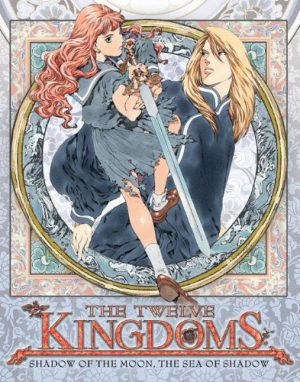 Episodes: 45
Aired: Apr 2002 - Aug 2003
Set in a magical world resembling ancient China, Juuni Kokuki follows Youko as she is teleported there from present day Japan. At first struggling to survive, Youko finds her feet in this strange land, thus beginning a tale of action and political intrigue.
Juuni Kokuki features a similar protagonist to Akagami no Shirayuki Hime. Both Youko and Shirayuki are initially weak, but emerge as strong, determined characters (as well as both having uncommon red hair). Both characters experience being a peasant in a land where this kind of thing matters, though as we near the end of the list, admittedly the selections get a little less similar.
Juuni Kokuki is a much more serious anime than Akagami no Shirayuki Hime, and features a lot of politics and action scenes.
---
6. Arslan Senki (The Heroic Legend of Arslan)

Episodes: 25
Aired: Apr 2015 (currently airing)
Prince Arslan is the son of the fearsome King of Pars. Young and innocent, he barely escapes with his life when his father's trusted retainers turn against him. At the same time, the neighbouring kingdom of Lusitania invades with a huge army, led by the mysterious warrior Silvermask. The story follows Arslan as he tries to rally his people and liberate his kingdom.
Arslan and Shirayuki are both soft-hearted and are a little ignorant of the world around them. They are always kind to those around them, even though it could mean them harm. This is where the similarities end really, but if you liked Akagami no Shirayuki Hime and were looking for something with a similar character and more action, then definitely check out Arslan Senki!
---
So there we have it! As the series continues to air, one can only hope how everything turns out with Shirayuki and her inevitable rise in the kingdom. Thanks for reading, and stick any more recommendations you have down in the comments!
PS. Fans of the series will be happy to find out that a second series is already in production for next year!
---