Ballroom e Youkoso – Welcome to the Ballroom is a manga created by the skilled hands of Tomo Takeuchi, and started its serialization in 2011. In spite its main theme of the ballroom dancing, this is a non-conventional shounen manga and it was able to attract both, boys and girls, equally. It revolves around Tatara Fujita, a middle school boy who is bullied because of his lacking of personality and confidence. Tatara is, among other things, a boy without a particular passion, nor a peculiar dream to follow wholeheartedly; and that's what he is searching for.
One day, he is saved from some delinquents by a dance instructor, Kaname Sengoku. Believing that Tatara was looking for the Ogasawara Dance Studio's flyer, he takes him there. That's the moment when Tatara's life changes; in fact, he accepts a trial lesson, starts to hope that dancing will change his image, and, maybe, make him gain some self-esteem. His life as a ballroom dancer begins, and that new world will teach him a lot of things about himself, and about life!
This manga gained so much popularity, that he received an anime adaption for this season and next. We are sure those of you who are enjoying the manga, or enjoying the show, would love to know six other series that are similar to Ballroom e Youkoso! Here's the list meant for you; stick with us until the end, then!
Similar Manga to Ballroom e Youkoso / Similar Manga to Welcome to the Ballroom
1. Haikyuu!!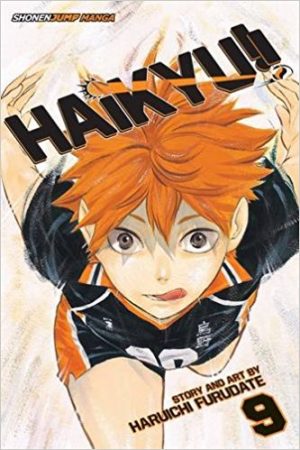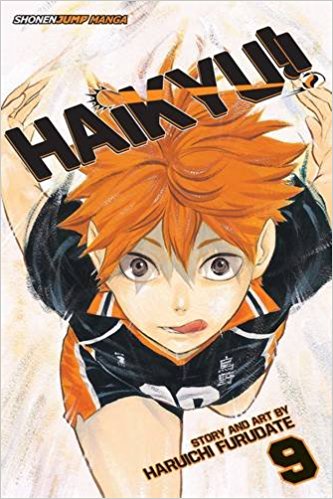 Mangaka: Furudate, Haruichi
Genre: Comedy, Drama, Shounen, Sports, School life
Volumes: 27
Published: February 2012 – ongoing
Let's get this list started with a super popular manga! Haikyuu!! revolves around a shorty, Shouyo Hinata, who fell in love with volley when he came to know the "Little Giant", a 170 cm tall volley player who managed to overcome both the net and blockers. When Hinata realizes his dream to have a volleyball team, he is brutally defeated during a tournament by Kageyama and his team. So he enters the Karasuno High School, with revenge against Kageyama on his mind, only to realize that they are now teammates?!
Haikyuu!! and Ballroom e Youkoso may not look similar at a first glance, but we think they share some important traits. For starters, they are both shounen manga focusing on a sport, with characters who are very enthusiastic and fired up toward the sports. Then, we find in both of them a lot of adrenaline given by the matches or the competitions. These two stories share a protagonist who is determined to change his situation, and follow his dream. While it's true that Haikyuu!! is about volleyball and Ballroom e Youkoso is about ballroom dancing, it's even true that you'll get the same good feelings while reading both!
---
2. Tetsugaku Letra

Mangaka: Yumeca, Sumomo
Genre: Drama, School life, Shounen, Slice of life
Volumes: 6
Published: April 2011 – December 2014
Kimitaka Ichinose taught his friends how to play basketball, only to see them outmatch him in skills. His frustration grows, and he is totally disappointed when he hears those same friends badmouth him. It's more than he can take: he decides to throw away his basketball shoes, but on the way to do it, he meets a girl. She is Hana Kikuchi, a girl just as frustrated as him, about to throw her Spanish dancing shoes away. The fated meeting will change both of their lives. In fact, they will exchange shoes and will try to find another dream to pursue.
With Tetsugaku Letra, we are yet in front of another shounen manga with the main theme of dancing. In both, Tetsugaku Letra and Ballroom e Youkoso, we have a male lead who doesn't have a real purpose for the future. For both, it's the fated meeting with someone to change their lives. We see two boys approaching dance and, at the same time, competing with someone more skilled than them. All in all, these two series share the exact same vibes; we see how the main characters grow and change, from being weaklings, or bullied and unable to fight back, to being willing to change, finding the strength to face life head on.
---
3. I-Revo: Ice Revolution

Mangaka: Takemura, Youhei (Art) Tsutsumi, Aya (Story)
Genre: Comedy, Drama, Romance, Shounen, Sports, Gender Bender
Volumes: 3
Published: November 2008 – November 2009
Let's go on with I-Revo: Ice Revolution, a shounen manga set on the ice with figure skating! Our protagonist is Masaki Oosawa. Raised with three brothers, practicing karate, using her brother's uniform, she is a full-fledged tomboy. Therefore, she's never been seen as a real girl. When Masaki starts middle school, her desire to be acknowledged as a girl grows up. Her life changes when she is about to be hit by a truck, but is saved instead by Saaya, a cold classmate who turns into a wonderful vision while figure skating. Drawn to figure skating and willing to change, will Masaki be able to finally turn into a sweet girl?
I-Revo: Ice Revolution and Ballroom e Youkoso have a lot in common. They're both shounen manga revolving around unexpected sports, like ballroom dancing and figure skating. While it's true that the premises may differ, it's even true that we find both focus on the same main theme of change. We see the characters grow up through hardships and obstacles, willing to change themselves. Then, if you want to read a story which is similar to Ballroom e Youkoso, but with a female lead, give I-Revo a try!
---
Any Manga Like Ballroom e Youkoso / Similar Manga to Welcome to the Ballroom ?
4. Waltz no Ojikan (Let's Dance a Waltz)

Mangaka: Ando, Natsumi
Genre: Romance, Shoujo
Volumes: 3
Published: December 2012 – December 2013
Thanks to her mother, Hime Makimura grew up with the idea that she could become a princess and live a fairy tale with a Prince Charming. That's why, she crashes badly against reality when she finds herself in middle school, and overweight. Not only that, as one would expect, she is totally unpopular and ugly. She then meets Tango Minami, a super popular high school boy with a secret: he is a ballroom instructor. Some circumstances bring the two of them to interact, and Hime's life will be turned upside down, on the ballroom floor...
Both Waltz no Ojikan and Ballroom e Youkoso revolve around the ballroom dancing. We have two main characters, Hime and Tatara, that move their first steps into that new world and discover something they really do love doing. It's true, Waltz no Ojikan is a shoujo manga, while Ballroom e Youkoso is a shounen. Yet, both these series shout an important message from the start: even someone who could seem unremarkable, inept, or awkward at a first glance, can be determined and willing to change. Moreover, they have the strength to face things head on. What else is left to say? If you're into ballroom dancing... you know what to do.
---
5. Over Drive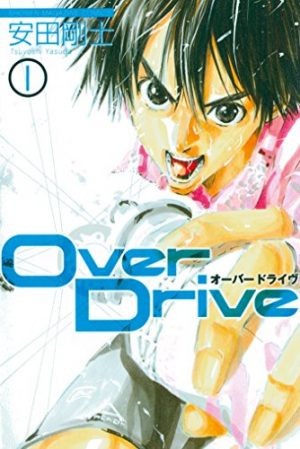 Mangaka: Yasuda, Tsuyoshi
Genre: Comedy, Romance, Shounen, Sports
Volumes: 17
Published: May 2005 – May 2008
Let's go on with another sports manga, revolving around cycling! Our protagonist is Mikoto Shinozaki, a 15-year-old high school boy. Mikoto is very timid and introverted, and his behavior causes him to be frequently picked on at school. Yuki Fukazawa is the girl Mikoto admires. Yuki happens to see an inner strength into Mikoto so, in order to promote the school's cycling club, she tries to persuade him to join in... will it mean a change in Mikoto's life? And will he overcome his shyness?
Over Drive and Ballroom e Youkoso are both shounen manga featuring two boys and their growth. The premises are the same: we find Mikoto and Tatara who are bullied. They cannot fight back, they cannot stand up for themselves, and both don't seem to have any high expectation for the future, in spite being so young. But then something happens, and their lives change, and both of them gain the strength and the willing to change themselves, in order to improve, and learn how to fight for something you really care about. It's ballroom dancing or cycling, but the feels are the same!
---
6. Sesuji wo Pin! to: Shikakou Kyougi Dance-bu e Youkoso (Strighten Up! Welcome to the Shika High's Competitive Dance Club)

Mangaka: Yokota, Takuma
Genre: Drama, School life, Shounen, Sports
Volumes: 10
Published: May 2015 – February 2017
Masaharu Tsuchiya is about to face his first day of high school. Seeing how his middle school experience went, and being a bit dorky and unpopular, he only has one dream: that his high school years may go by safely and without incident. But he is clumsy, so he manages to ruin his own plans right from the start. If things could get worse, he decides to join a club... the dance club! Will Tsuchiya survive his high school life unharmed?
Both SujiPin and Ballroom e Youkoso are shounen manga revolving around a dance theme, with a male protagonist. Both Tsuchiya and Tatara, step by step, develop a big talent for dancing, and are willing to improve their skills. We see them interacting with the other characters, and building a strong relationship with their dance partners, who play an important role in the growth of our protagonists. What's more, both these stories have a lighthearted nature and the right amount of romance and adrenaline, when it's needed. If you liked Ballroom e Youkoso so far, you'll love SujiPin, as well!
---
Final Thoughts
That's it! As you can see, we gave you six other manga that share with Ballroom e Youkoso the main themes: friendship, competition, chasing a dream, and so on. We went from shounen, to shoujo, so that everyone's tastes will be satisfied. Since Ballroom e Youkoso is still ongoing, why don't you try picking one of these manga, while you wait for the next volume to get out? We can guarantee you'll feel the same good vibes you felt while reading it! Of course, if you know other manga that belongs to this list, please don't forget to let us know in the comments below!
---