También puedes leer este artículo en:Español
Ballroom e Youkoso takes its viewers into the competitive world of dancing and beautifully presents the intensity and rigorousness of the sport. One may think, 'Ballroom dancing? Really? Why is this an anime?', however, this anime shows fans how exciting this sport can truly be. Welcome to the Ballroom consists of many exciting moments, great laughs, and relatable characters; and with so many sports anime out there, it's always interesting when something different, like ballroom dancing, appears. If you are a fan of not only sports, but of anime that keeps you at the edge of your seat, makes you bite your nails, and has you rooting for the characters; we hope this recommendations list is for you. Here are 6 other anime like Welcome to the Ballroom.
Similar Anime to Ballroom E Youkoso / Similar Anime to Welcome to the Ballroom
1. Days (TV)

Episodes: 24
Aired: Jul 2016 - Dec 2016
Tsukushi Tsukamoto is weak, clumsy, shy, and usually a main target for bullies, however, Tsukamoto simply brushes it off and lives his own life. After running into a group of bullies, Tsukamoto is saved by Jin Kazama, a soccer prodigy. Kazama is in need of a player for a futsal match and decides to invite Tsukamoto. Unfortunately, Tsukamoto isn't the best of players, but still passionately runs around the field on an injured foot. Kazama has lost much of his passion for soccer, but seeing Tsukamoto's persistence, he becomes motivated and inspired. Inspired by Kazama, Tsukamoto decides to try out for the soccer club at his school, Seiseki. To Tsukamoto's surprise, Seiseki is a nationwide powerhouse and a player like himself may not even make the first cut. Tsukamoto understands his situation, so instead of throwing the towel, he does what he does best, he keeps running.
A big similarity between Welcome to the Ballroom and Days, is that both main protagonists, Tatara and Tsukamoto, are new to their sport. With no prior experience, one may think that neither character will make it far. However, surrounded by great teammates and mentors, both Tatara and Tsukamoto slowly get better and start making an impact in the sport they have grown to love. Their patience and hard work begins to pay off, and they begin to be recognized by those around them. At first, one may think that Tatara and Tsukamoto have many rivals to compete with, however, throughout the anime, one realizes that the only person they are competing with is themselves. Tatara and Tsukamoto are striving to be better than they were yesterday, and they know that the only person that can stop them is the person starring in the mirror.
Days PV
---
2. Baby Steps

Episodes: 25
Aired: Apr 2014 - Sep 2014
Eiichirou Maruo is a freshman who decides to join the Southern Tennis Club. His reason behind joining isn't that he has an interest in tennis but figures that he should exercise in the little extra time he has. Through the Tennis Club, Eiichirou meets Natsu Takasaki, another first year, who dreams of becoming a professional tennis player. At first, Eiichirou doesn't understand why Natsu loves playing tennis so much, however, the more he plays tennis, the more invested and fascinated he becomes. And now, what used to be just Natsu's dream becomes Eiichirou dream as well.
Baby Steps takes its viewers into the sport of Tennis. Same as Tatara from Welcome to the Ballroom, Eiichirou is new to his respective sport, tennis. Through hard work, diligence, patience, and tons of practice, Eiichirou begins to improve at tennis. We could say that Tatara and Eiichirou are spitting images of each other, because both are very likable characters and like in many sports anime, we are able to relate to the main characters easily. Tatara and Eiichirou aren't the best at first nor are they the most confident people, but as we see them fall in love with their sport, they begin to rub off on us. And inevitably, one can't help themselves but root for them to overcome their challenges and obstacles they begin to face.
Baby Steps Trailer
---
3. Haikyuu!! (Haikyu!!)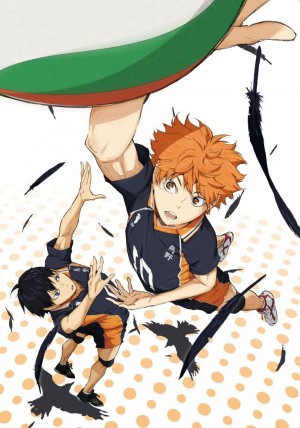 Episodes: 25
Aired: Apr 2014 - Sep 2014
After watching a volleyball ace nicknamed "Little Giant", Shouyou Hinata is inspired and revives his middle school's volleyball club. The newly-formed team enters a tournament but are relentlessly defeated by the opposing team, who has Tobio Kageyama, known as "King of the Court." Hinata vows to surpass Kageyama and joins Karasuno High School's volleyball team, where the Little Giant attended. However, Hinata soon finds out that his sworn rival, Kageyama, as his teammate as well. Hinata initially struggles with the team due to his short height and tries to find his place on the team. Kageyama, on the other hand, tries to overcome his own problems and get rid of his title "King of the Court." Hinata and Kageyama soon realize that the only way to be useful to their team is working together. And now working as a team, Hinata, Kageyama, and the rest of the Karasuno team attempt to become the best volleyball team in Japan.
Welcome to the Ballroom and Haikyuu!! have many similarities. One of them is that they are actually created by the same studio, but the resemblance doesn't stop there. Tatara and Hinata struggle at first to leave a mark in their competitive fields. However, Tatara possesses the ability to quickly memorize dance steps and then do them himself, while Hinata can jump incredibly high and Kageyama has a keen talent to setup passes. All of these characters use their skills to excel in their sport and team. Another similarity between Welcome to the Ballroom and Haikyuu!! is that Tatara and Hinata have their own rivals that help them strive to be better. Tatara sees Hyoudou as his rival and hopes to be on par with him in dancing. Hinata's rival and teammate, Kageyama, ends up being the piece Hinata needs to become a lethal volleyball player.
Haikyuu!! Trailer
---
Any Anime Like Welcome to the Ballroom / Any Anime Like Ballroom E Youkoso ?
4. Kuroko no Basket (Kuroko's Basketball)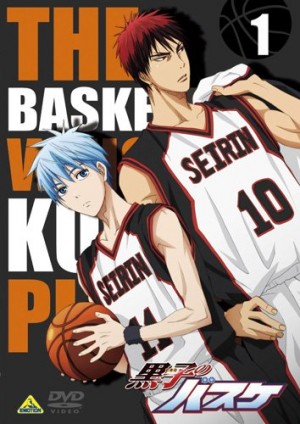 Episodes: 25
Aired: Apr 2012 - Sep 2012
Thanks to five outstanding players, known as "The Generation of Miracles," Teikou Junior High School's basketball team won the championship three years in a row. However, once they graduated middle school, they all went their separate ways. At Seirin High School, two freshmen join the team. Taiga Kagami is a promising player coming from the US and Tetsuya Kuroko is an ordinary student who, for whatever reason, lacks a sense of presence. To everyone's surprise, Kuroko was a member of the Teikou basketball team, where he was known as the "Phantom Sixth Man," due to his ability to pass and assist his teammates. Kagami, Kuroko, and the rest of Seirin hope to become the best team in Japan, however, in order to be the best, they must defeat the "The Generation of Miracles" players and their teams.
Even though ballroom dancing and basketball are very different sports, it doesn't mean that competition isn't fierce amongst its competitors. Like in any sport, there are those who are just born talented and destined to be geniuses. However, despite this reality, Tatara doesn't stop practicing ballroom dancing and competing against Hyoudou, and Kagami and Kuroko don't stop trying to beat the best players in Japan. Instead of accepting their immediate defeats, Tatara, Kagami, and Kuroko decide to face their opponents head on. Tatara is aware of the talent gap between himself and other competitors, but that doesn't stop him from practicing and dancing. Kagami and Kuroko are far from being the best players in Japan, but as they keep practicing, playing against star-studded teams, and working together, they get closer to reaching their goal.
Kuroko's Basketball CM
---
5. Diamond no Ace (Ace of Diamond)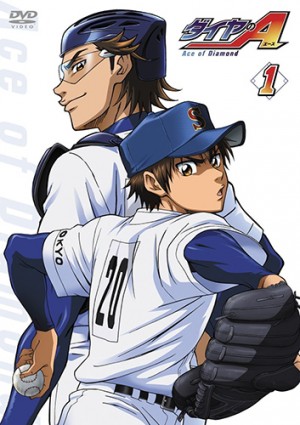 Episodes: 75
Aired: Oct 2013 - Mar 2015
Eijun Sawamura is on the mound in the bottom of the ninth and the score's tied. There are two outs, bases loaded, and the count is three balls, two strikes. As Sawamura winds up for his last pitch and releases the ball, the pitch goes wide and Sawamura loses the game. Devastated from the loss, Sawamura and his teammates make a vow to become a better team and reach the finals in high school. However, Sawamura is scouted by one of Tokyo's prestigious baseball schools, Seidou High School. Here, Sawamura is introduced to a different level of baseball he never knew existed. And surrounded by talented new players and returnees, Sawamura joins the Seidou baseball team and their journey in becoming the best team in Japan.
After a long day of practice, one can't imagine taking one more dance step or throwing one more ball. However, when someone falls in love with what they are doing, they forget that they are tired and keep working hard. This is the kind of situation Tatara and Sawamura find themselves as they dive deeper into the sport they've grown to love. Tatara gains a lot of help from those around him and, little by little, begins to improve. Tatara realizes his potential and now his only desire is to stay on the dance floor as long as he can. The same applies to Sawamura. At first, Sawamura is seen as just any baseball player who wants to be a part of his team but lacks the skill or determination to make it. But, with the help of his teammates and opponents, Sawamura slowly climbs the team ladder and finally makes the roster. Now Sawamura's only dream is to become the ace and stay on the mound as long as he can.
Diamond no Ace PV
---
6. All Out!!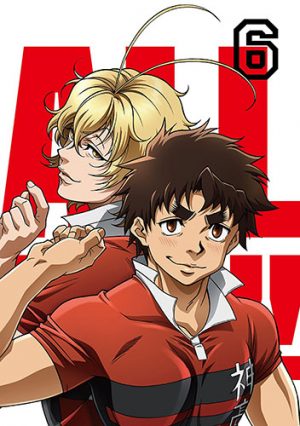 Episodes: 25
Aired: Oct 2016 - Mar 2017
In rugby, there are no ace strikers, there is no number four batter, and there is no star player. Kenji Gion, is a small hustler who joins the rugby club at his school, Kanagawa High School. The rugby team consists of his classmate, Sumiaki Iwashimizu, who has a complicated past; and Mutsumi Hachiouji, who makes sure to take good care of his club members. Lastly, there is Captain Takuya Sekizan, who has an overwhelming power but has a couple of trump cards hidden.The Kanagawa rugby team is filled with dynamic players, all with different personalities and physiques. Now they must learn how to work and grow together in order to be the best they can be.
There is a saying, "Hard work beats talent when talent doesn't work hard," and both Welcome to the Ballroom and All Out!! are prime examples. Both anime provide a realistic approach to the sport, and show how hard work and dedication will eventually pay off. Welcome to the Ballroom and All Out!! have the same plot of 'Go try, fail, train, and win' but what makes their stories even more entertaining are the characters who are part of this plot. Tatara gets help and encouragement from his teachers, mentors, and partners, while Gion finds reassurance from his teammates. And when everyone works together, whether it is two people or a full rugby team, their hard work shows.
All Out!! PV
---
Final Thoughts
One interesting thing about sports anime is that after one is done watching an episode or a season, one suddenly gets the urge to play the sport they just watched. If you have the opportunity to try out ballroom dancing, why not? And another thing that is intriguing about sports anime is that many have similar plots. However, Welcome to the Ballroom distinguishes itself from the rest with its great story, character development, and obviously different sport. If you can't go ballroom dancing, then we hope this recommendations list satisfies the same craving Welcome to the Ballroom left you with. If there are any other anime you believe should be on this list, please leave a comment below.
---