Humankind has come a long way in technological advances, but still have a ways to go when it concerns owning personal robots to do various tasks for us. Robots and androids are seen in many manga, programmed to do our bidding. Don't want to do dishes or fold laundry? No problem! Robots can handle it! Depending on how the robot is programmed, don't expect everything to be completely flawless, as machines can often lead to malfunctions and errors. As we observe Chobits, Chi brings about chaos and conflicts with her owner, Hideki Motosuwa. Breakdown or perfection, Chobits is absolute hilarity in both manga and anime adaptation!
With that said, if you enjoyed Chobits, we give you our recommendation of 6 similar manga that will get your gears going! Now, let's get right to it!
Similar Manga to Chobits
1. Karakuri Odette

Authors: Suzuki, Julietta
Genres: Comedy, Romance, School, Sci-Fi, Shoujo
Volumes: 6
Published: September 2005 – December 2007
Karakuri Odette follows the story of a great android created by the young and talented, Dr. Yoshizawa. The android Odette is very inquisitive and persuades Dr. Yoshizawa to enroll her in a local high school to learn the difference between humankind and androids. Karakuri Odette is a manga that takes readers on an adventure, as Odette navigates the challenges and triumphs of high school life, searching for the meaning of life.
Odette and Chi are two adorably curious artificial girls who traverse their existence with the help of their male, human mentor. Dr. Yoshizawa and Hideki acquire their robotic girls through different channels, learning more than expected from them. Additionally, Karakuri Odette and Chobits share many similar qualities such as fitting into the Rom-com and Sci-Fi genres.
---
2. Zettai Kareshi. (Absolute Boyfriend)

Authors: Watase, Yuu
Genres: Comedy, Drama, Romance, School, Sci-Fi, Shoujo
Volumes: 6
Published: May 2003 – October 2004
Riiko Izawa has zero luck in the dating department. She's faced rejection more times than she'd like and finally had enough. To remedy her spirit, Riiko goes online and signs up for a free trial of a "Nightly Lover Figure." The next day, Riiko receives a cute naked man delivered to her, wanting to be her boyfriend. Too good to be true, Riiko feels like she's hit the jackpot, but as it's commonly said, "There's no such thing as a free lunch."
Zettai Kareshi and Chobits share the common factor of a robot and human love story. Although the gender roles have reversed, the pair is united by unusual circumstances, ultimately bonding with one another. Riiko and Night, and Hideki and Chi learn and grow from each other's company. Zettai Kareshi and Chobits offer a dose of everything for viewers: drama, comedy, romance, sci-fi, and erotica.
---
3. Ai-Ren

Authors: Tanaka, Yutaka
Genres: Drama, Ecchi, Romance, Sci-Fi, Seinen
Volumes: 5
Published: June 1999 – May 2002
Ai-Ren is the story of Ikuru, a boy whose life is tragically getting cut short. An unfortunate circumstance, his concern grows more disheartening as he questions his life purpose and why he must pass on so soon. Constantly confused and alone, with little time left, Ikuru requests the company of an android, Ai, engineered to ease and heal the burdens of someone who does not have that long to live. Will Ai provide him with enough nourishment and fulfillment?
Ai-Ren and Chobits reveal the story of a romance between a human boy falling in love with a female robot. The theme for each plot vastly differs with one being more dramatic and the other lighthearted, but altogether share a similar quality. With a little fanservice to keep readers engaged, we notice that this little extra detail does not take away from the overall uplifting charm.
---
Any Manga Like Chobits ?
4. Zettai Renai Program

Authors: Kayoru
Genres: Comedy, Romance, Sci-Fi, Shoujo
Volumes: 2
Published: July 2012 – October 2012
Zettai Renai Program is a romance manga following the adventures of Mariko Takagi and Kouta. On one unusual day, Mariko stumbles upon a handsome boy lying in a pile of trash. This supposed boy is an android who declares Mariko his mistress because it was she who woke him up. What insanity follows these two beings? Let chaos ensue!
When reading Zettai Renai Program, readers can quickly identify the similar trait that is shared with Chobits where the existence of androids is very commonplace. The couples Mariko and Kouta, and Hideki and Chi are like peas in a pod, unalike in many cases, and dynamically become dependent on each other. Both the stories are pleasant, bursting with moments of high anticipation as our characters reach instances of clarity. Even though they differ in length, you'll get a sense of familiarity when reading Zettai Renai Program and Chobits.
---
5. AI ga Tomaranai! (A.I. Love you)

Authors: Akamatsu, Ken
Genres: Comedy, Ecchi, Romance, School, Sci-Fi, Shounen, Harem
Volumes: 9
Published: April 1994 – August 1997
AI ga Tomaranai! is a story about a guy named Hitoshi Kobe, your average Joe who doesn't go out of his way to stand out in a crowd. However, what Hitoshi is above average in is robotics, creating artificial programs on his computer. Hitoshi's latest achievement is his work, number 30, a program that accurately simulates an ordinary conversation with a real-life girl. One night, a freakish storm envelops his town, and lightning strikes his computer to bring number 30 to life. Startled and speechless, Hitoshi is about to experience his latest creation!
The stories of AI ga Tomaranai! and Chobits have almost identical ideas that capture a so-so male character whose life is drastically altered by a naïve, hopeless, yet adorable robot girl. Hitoshi and Hideki are sexually regressive guys who learn a thing or two about the opposite gender through their female robot companions, Eko and Chi. Through their learning experiences, readers become exposed to a ton of comical moments as well as reflective, relationship themes.
---
6. 090: Eko to Issho

Authors: Asakura, Maru
Genres: Comedy, Romance, School, Shounen
Volumes: 4
Published: August 2005 – November 2006
"Finders keepers, losers weepers!", as the saying goes. Hiroshi Chanomizu incidentally finds a broken cellphone on the ground and brings it to a repair shop to get it fixed. When the repairs are complete, the cellphone is delivered to his home. Hiroshi retrieves the package from his front door only to discover that the item is restored as a life-sized girl and somehow is still his cellphone. Wishing that his discovery was just an ordinary cellphone, Hiroshi has to deal with the advantages and disadvantages of owning a cellphone-girl, which he named Eko because the cost to return her is too steep for him to afford. No hotline bling here!
090: Eko to Issho and Chobits are both passionate and hysterical romances that center on a robot and human (master) relationship. The animation styles of each are eye-catching and vibrant, portraying various moments and emotions with exquisite detail. 090: Eko to Issho and Chobits present a diverse range of characters that bring the story and entertainment factor to an all-time high.
---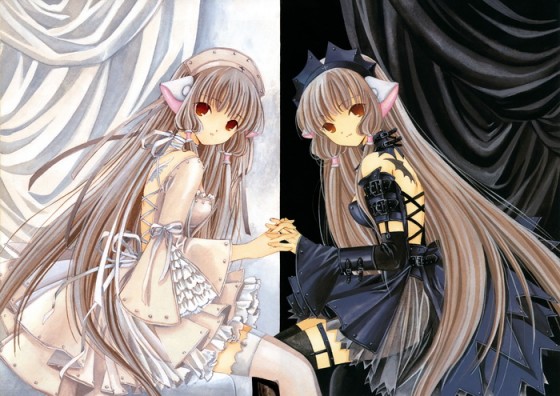 Final Thoughts
We hope you enjoyed our recommendations for 6 manga like Chobits! No doubt all of the series mentioned draw close similarities to Chobits and are ones that will not disappoint! Because we know these are only a few of many in existence, let us know if we've missed any! What other manga similar to Chobits can you suggest to other readers and us? Leave your comments below! See ya!