También puedes leer este artículo en:Español
INTRODUCTION
As they say music soothes the soul and in many ways that is exactly what Fukumenkei Noise does to the letter. Releasing in 2013, Fukumenkei noise has become successful as a music, romance, and shoujo manga. Recently an airing anime, it seems as if our main character Nino Arisugawa has found her voice and is slowly rising in popularity. However, today we at Honey's Anime have listened around and heard the masses to bring you another list. With this list we look at 6 manga like Fukumenkei Noise.
Music in manga has a tough job indeed. Via word and images it must make sound while being completely mute. Fukumenkei Noise has in many ways done this allowing the sounds of Nino to burst from each page as if she is indeed rocking out. We feel that the following manga have in turned done something in equal measure. Stories of men and women yearning to earn the limelight only music can bring them. Thus with that we hope you enjoy this list and can find something that sets your souls free. Let us begin this rock session!
Similar Manga to Fukumenkei Noise (Anonymous Noise)
1. Angel Voice

Mangaka: Makimura, Kumi
Genre: Drama, Romance, Shoujo
Volumes: 9
Published Date: 1997
A great story always begins with an epic chance encounter. Kurashiki Yuya is dealing with depression and is feeling his life is falling apart around him. One day however he meets a young woman named Mayu who, unlike him, is happy and lives by the beat of her own drum. As quickly as she enters Kurashiki's life, she disappears. Time passes and he meets a band called Dessert who has a new performer; to his utter amazement it happens to be Mayu. Kurashiki doesn't want to let Maya go from his life now that she's back, but Deserts's main man Natsume Tougo won't let that happen. A story of romance and drama begins when two lives get reunited once more.
Angel Voice plays by the tune of Fukumenkei Noise in many ways. Not only do both have similar genres, but like Nino Arisugawa, Kurashiki lost the one he wanted to be close to. When he once again meets Mayu, he fights to keep her by his side. Music plays a slightly less role in Angel Voice in comparison to Fukumenkei Noise but they share enough that fans of Fukumenkei Noise will enjoy it greatly. Mangaka Makimura Kumi does an amazing job bringing some cute art and strong story that really empowers Mayu and Kurashiki's story. You'll want to see the struggles of these two and hope that the music will allow them to dance once more and maybe forevermore.
---
2. Mashikaku Rock

Mangaka: Watanabe, Kana
Genre: Romance, School, Shoujo
Volumes: 1
Published Date: 2010-2011
Mashikaku Rock might be a short story, but like some great musical hits, you'll want to re-live it over and over. Miyako is a prim and proper girl. She attends school rigorously, she does her best in her studies and she follows the rules to the letter. Miyako does do one thing that goes against her appearance; she plays the guitar. One day Miyako plays in the music room, a fellow student named Azuma overhears her playing and asks her one thing; Azuma wants Miyako to join his band.
The reality of music is that it is all about taking a leap. Miyako's journey and Nino both take chances in the world of music and it leads to different effects. Boasting a short but sweet story, fans of Fukumenkei Noise will enjoy greatly the story of Miyako's change from normal girl to a lead guitarist. Mangaka Watanabe Kana does a fantastic job given the short manga allowing a strong story to form with a ferocious that makes the Miyako's tale feel like a solo during a great song. Sure it only lasts for maybe a moment, but it is what someone goes back to over and over again.
---
3. Hallelujah Overdrive

Mangaka: Takata, Koutarou
Genre: Comedy, Music, Romance, Shounen
Volumes: 15
Published Date: 2009-2015
The hardest step in music is the first one. Kosame, a first year student has two dilemmas hitting him at the moment. The first is him dealing with a tough break up in junior high school. The second is that despite him wanting to join the music club to heal his soul, he can't find the club itself. In Hallelujah Overdrive, Kosame will deal with many new problems that face most in the world of music. However, equally he might find a new love and how will he deal with that? Indeed the world of music is a harsh cure at times.
Fukumenkei Noise and Hallelujah Overdrive have so much in common. At heart they are both romance tales surrounded with the musical elements. One of the coolest concepts that we at Honey's Anime notice is the style Takata Koutarou brings to the table. Characters have a unique design and there a nice variety of characters that you can choose from to make as your favorite. The tale of Hallelujah Overdrive is a fun story and you'll definitely enjoy seeing the rise of their band named Metarika-chan as it starts from a hidden beginning to a much more known name group.
---
Any Manga Like Fukumenkei Noise (Anonymous Noise) ?
4. Dragon Voice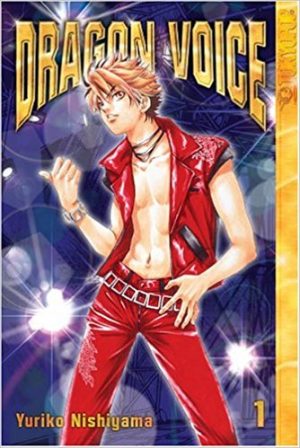 Mangaka: Nishiyama, Yuriko
Genre: Music, Shounen
Volumes: 11
Published Date: 2001-2003
Rin Amami can dance, that much is known about him. However, Rin's dream is to be a singer like his mother but due to his voice sounding less like a professional and more like a frog, it seems Rin will never obtain his dream. Then comes along the idol group known as Beatmen led by the small agency known as RedShoes. The members notice that Rin's voice may be what is considered the Dragon Voice, a legendary power that can be harnessed if used correctly. Rin Amami will now get his chance, but can the band Beatmen and the agency RedShoes go to the top?
Dragon Voice is a cool story of no names getting a shot at the top. In many ways Rin's voice, which is seen as more like an annoyance at first, seems to mirror Nino Arisugawa from Fukumenkei Noise as her voice is more akin to screaming if she removes her mask, the only thing stopping her from doing so. Dragon Voice will impress you from beginning to end thanks to Mangaka Nishiyama Yuriko work with a fun story of a group rising against a sea of other voices to stand out. Overall we highly recommend this wonderful manga and you'll agree from page one on to the conclusion.
---
5. Kanojo wa Uso wo Aishisugiteru

Mangaka: Aoki, Kotomi
Genre: Drama, Romance, Shoujo
Volumes: 22
Published Date: 2009-2017
Ogasawara Aki, at the age of twenty five, is a recluse who composes music for the band named Crude Play. On a whim, he runs into Riko who he asks to be his girlfriend with no rhyme or reason. Riko who still lacks maturity seeing as how she is only sixteen agrees without question at first. However, she begins to wonder why Ogasawara decided to choose her and she believes that maybe she was a rebound after a previous break up. What is Ogasawara's plan and will Riko stay with a guy she barely knows? Kanojo wa Uso wo Aishisugiteru by Aoki Kotomi will answer these questions and more.
Some of the best elements of Fukumenkei Noise come from the shoujo ideal it relies on. Kanojo wa Uso wo Aishisugiteru uses a lot of the shoujo tropes while blending them nicely with a musical theme in the form of Ogasawara Aki character. Characters have a cool look and the romance from beginning to end is a rollercoaster of emotions. Fans of Fukumenkei Noise's romance and shoujo themes will enjoy Kanojo wa Uso wo Aishisugiteru thoroughly. However, we do advise, maybe, don't always accept a strangers love confession…seems kind of dangerous.
---
6. Nousatsu Rock Shounen

Mangaka: Kikuchi, Kamaro
Genre: Comedy, Music, Romance, Shoujo
Volumes: 4
Published Date: 2005-2013
Ending this list we look at Nousatsu Rock Shounen. Fujisaki Maki sees her classmate by the name of Nobitani being harassed. Stepping in to help him has a side effect in the form of her now being a target for the same harassment Nobitani is facing. As a way of making her feel better he invites her to a local band named East Robo who is gaining popularity. Accepting Fujisaki goes and listens to this band but notices an interesting thing, the lead singer, as he plays a ballad, is staring directly at her. Fujisaki will soon learn the identity of this singer and from there a tale of comedy, romance and music will play strongly.
As we see in Fukumenkei Noise, music can heal the soul and lead to amazing discoveries. Nousatsu Rock Shounen by Mangaka Kikuchi, Kamaro allows the similar feeling to occur and it does it in a fantastic way. The cool art style that looks straight off an old 80's rock covers makes for impressive art theme in the manga and allows for some cool scenes to play out in an original manner. You'll enjoy seeing Fujisaki and Nobitani's reactions past their first meeting and the comedy is really funny. Overall Nousatsu Rock Shounen definitely has earned it rights to be in this all-star list of great manga similar to Fukumenkei Noise. The moral of this story, don't always judge a book by its cover indeed.
---
Final Thoughts
The power of the voice allows for a world of possibilities indeed. All these manga have Mangaka who have attempted to make sounds via their art and stories and they have succeeded greatly. Though we here at Honey's Anime know that music is subjective, just like manga is. Feel free to leave a comment below telling us if we missed a wicked manga that could have been on this list. As always we hope you stick around for an encore of more articles and lists just like this one. Make sure you let us hear your voice!
---