También puedes leer este artículo en:Español
Warning: there are a few spoilers and anime not suitable for all years in this article. If you are a minor, you can read another of our articles instead 🙂
Musical anime is in da house, otakus! The interesting triangle between a girl and two boys spices up when we add rhythm and a thirst for self expression. Who hasn't got a tender love story in their memory box? What happens when the drawer is opened a few years later? Worse, what happens when there are two? That is what Nino will have to find out in Fukumenkei Noise, while she chases after her inspiration (Momo) through her singing voice. However, this ongoing series is the newest result of a legacy of great anime that we should not ignore. Let's remember a few of the great anime like Fukumenkei Noise!
Similar Anime to Fukumenkei Noise / Similar Anime to Anonymous Noise
1. Nana

Episodes: 47
Aired: Apr 5, 2006 to Mar 28, 2007
This is one of the most famous musical anime, and for good reason. The story of two girls who share the same name and age was full of warm and fuzzy moments, sharply contrasted with the crude reality of fame depicted in the dramatic scenes. Nana Osaki and Nana Komatsu met on a train bound to Tokyo and end up living together. While one is determined to triumph in her musical career, the other wants to have a happy life with her boyfriend. Although quite distinct in their objectives, the two Nanas become the best friends they could have ever dreamt of amid a world full of glamour and music. With the participation of the awesome singers Anna Tsuchiya and OLIVIA, Nana is one of those memorable anime that happens once in awhile.
Nana Osaki and Nino have a lot in common. They both have hard pasts and are trying to deal with their presents, while developing their music. The musical genres they work on are not your usual mainstream rock either, as both have a dab of originality. The main difference between the two stories is that Fukumenkei Noise is about teenagers, while Nana is about adults.
---
2. Nodame Cantabile

Episodes: 23
Aired: Jan 12, 2007 to Jun 15, 2007
If you prefer classical music, this might be your anime of choice. The story mainly follows two characters. The first one is Shinichi Chiaki, a handsome, clever and arrogant young pianist who dreams of becoming an orchestra director. The second one is the messy but adorable Megumi Noda "Nodame", a talented pianist who falls in love with the rather cold Chiaki. So, how will these two manage a relationship in the demanding world of classical music? Apparently, well enough to have two anime seasons, OVAs and several live action movies :p
Despite the fact that Nodame's and Nino's personalities are rather different, there are some parallels between their relationships with the male protagonists. Both Chiaki and Momo tend to be the cool guys, focusing on perfection. Meanwhile, the ladies are trying their best to win their attention, which sometimes can be frustrating to watch. Nino and Nodame use mainly their music as a way of expressing themselves and their feelings. The main difference is that, once more, we have a story about teenagers and a story about adults.
---
3. Sakamichi no Apollon (Kids on the slope)

Episodes: 12
Aired: Apr 13, 2012 to Jun 29, 2012
Perhaps you are not a fan of rock music nor of classical music. How about jazz? The introverted Kaoru Nishimi has spent most of his life in isolation, as his family moves constantly from town to town. However, when he starts High School, he meets the delinquent Sentarou Kawabuchi, who introduces Kaoru to the incredible world of jazz. Kaoru also meets Ritsuko Mukae through Sentarou, building a friendship which does not qualify as fleeting. And what is better than the masterful musicalization by Yoko Kanno in an anime? Sakamichi no Apollon really deserves a try!
We can immediately see several similar points between Fukumenkei Noise and Sakamichi no Apollon. Nino and Kaoru are rather lonely kids who suddenly encounter a more upbeat musician (Yuzu and Sentarou). From that point on, their lives change. There is also a triangle in the two stories, although it is plainly romantic at the very beginning of Fukumenkei Noise. The main difference between the stories is just the type of music.
---
Any Anime Like Anonymous Noise / Any Anime Like Fukumenkei Noise ?
4. White Album 2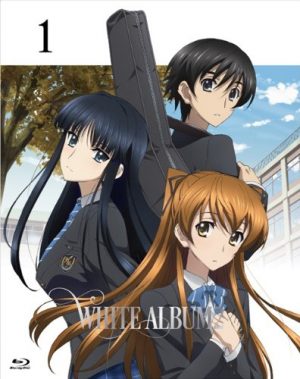 Episodes: 13
Aired: Oct 6, 2013 to Dec 29, 2013
Haruki Kitahara is a talented boy in his final year at High School. We mean talented with his studies, because his music still needs to be tuned. One day, a piano and a voice join his solitary guitar practice. That is how he falls in love with Kazusa Touma. However, there is another girl who is in love with Haruki: the school idol Setsuna Ogiso. The lives of these three teenagers get entangled in more than one complicated ways.
In White Album 2, we have a love triangle story in the school, just like Fukumenkei Noise. The protagonist is also in the Light Music Club and dreams of becoming a better musician. Although the girls are not that serious about music, they display talent as well. The main difference between both stories is that White Album 2 is more centered on the relationship dynamics of the three teenagers. Thus, the drama is slightly less driven by music than in the case of Fukumenkei Noise. Also, White Album 2 is some sort of sequel for another anime called White Album, while Fukumenkei Noise is a stand alone.
---
5. Shigatsu wa Kimi no Uso

Episodes: 22
Aired: Oct 10, 2014 to Mar 20, 2015
Kousei Arima is a talented pianist at the young age of five. However, due to his complicate relationship with his mother, once she dies, he is unable to play the piano anymore. A few years later, Kousei meets the free spirited violinist Kaori Miyazono. From that day on, his colorless life will have a change for good, as he gradually recovers his ability to play the piano. However, there still is a blow that he might not be able to recover from...
There are several similarities between Fukumenkei Noise and Shigatsu wa Kimi no Uso. The ages of the protagonists are similar. Both Nino and Kousei suffered traumas that interfere with their musical abilities. Also, they meet a person who loves them unconditionally (Yuzu and Kaori), but who is hiding an important secret from them. Both "couples" bond through their music as well. A difference might be that the tragedy in Shigatsu wa Kimi no Uso seems bigger. Also, the type of music in both series is different. In those regards, Shigatsu wa Kimi no Uso has more to do with Nodame Cantabile.
---
6. Fuuka

Episodes: 12
Aired: Jan 6, 2017 to Mar 24, 2017
Fuuka is the sequel of a romantic anime released in 2005 called Suzuka. When Haruna Yuu moves to Tokyo to attend High School, he never imagined he was going to have an upbeat life. A fan of Twitter, Haruna suddenly finds his phone broken by a blue haired girl called Fuuka Akitsuki, who thought he was a pervert aiming to take panty pictures. They end up going to the same school and trying to live their teenage lives side by side. There also is a musical love triangle thrown in the story 😉
Teenage love? Check. Musical love triangle? Of course. Some tragedy added to the mix? You bet it! The main difference between Fuuka and Fukumenkei Noise is that the plot concentrates much more in the relationship interactions between the three main characters. In Fukumenkei Noise, the story is more music driven, while in Fuuka, music wins the center stage sloooowly. Therefore, Fuuka is a bit on the lines of White Album 2. The advantage is that this anime ended already, so you won't have to be anxiously waiting for new chapters as in the case of Fukumenkei Noise.
---
Final thoughts
The main question is, how do you like your musical anime? With more music? With more romance? With more drama? You decide! Fukumenkei Noise is doing a good job in mixing these three concepts, but we can't help to wonder if it will try to use some tragedy to move (or end) the plot. The world of fame is already bittersweet enough u.uU Anyway, tell us, which other anime like Fukumenkei Noise do you know? Have you seen any of our recommendations? Which is your favorite song from these anime and why? Don't forget that we are open to all your comments and suggestions. See you soon!
---