In the manga world, relationships can be pretty daunting for our main characters. Usually there is some drama or issue with their respected partners that keeps their relationship from building like a normal one. The prime example of this can be seen in Hajimete no Gal where our main character Junichi Hashiba has to deal with his new girlfriend Yukana Yame who just so happens to be a gal. This predicament leads to some very interesting relationship woes and headaches for Junichi but tons of comedy and ecchi for us the audience. Juichi and Yukana may have a weird romance going on but so far it's shaping into a great romance story with tons of heart and obviously tons of fanservice as well.
Since we here at Honey's Anime are enjoying Hajimete no Gal so much—both the manga and awesome anime by studio NAZ—we got to wondering what other manga reminded us of Hajimete no Gal. After talking to one another here at Honey's Anime, we were able to write down several manga like Hajimete no Gal that mirror the concepts found in Hajimete no Gal all while being quite different in their own rights. Thus we decided to share our manga knowledge with you amazing people of the internet by creating this 6 Manga Like Hajimete no Gal list. If you're ready for odd relationships abound—as well as plenty of cute girls and tons of fanservice in equal measure—then let us jump into our list just like the new relationship Junichi jumped into. Though in our list there won't be as many worries or awkward moments to arise…hopefully.
Similar Manga to Hajimete no Gal
1. Peach Girl

Mangaka: Ueda, Miwa
Genre: Drama, Romance, Shoujo
Volumes: 18
Published Date: Sept. 1997- Dec, 2003
Life for Momo Adachi isn't easy. Most of her peer's think she's just an over glamorized gal. However, the truth is far from that as Momo is just very shy and extremely tan thanks to her easily tanned skin. Making matters even worse for poor Momo is that her crush Toji isn't into gals like Momo. Can the shy Momo somehow convince Toji she's the girl for him all while keeping another girl named Sae from stealing Toji away? Find out in this adorable shoujo manga called Peach Girl.
For our the first manga on our 6 Manga Like Hajimete no Gal list, we examine Peach Girl. Obviously, Peach Girl makes the list for not only having our main girl be seen as a gal—even though she's really not—as well as the awkward relationships that occur within Peach Girl. We really loved Peach Girl seeing as how it's a fun story with beautiful art and a really touching story. If you love Hajimete no Gal then we're sure you're going to find Peach Girl irresistible. Plus like Hajimete no Gal once you finish the manga there is a great anime adaptation waiting for you to enjoy.
---
2. Gal Gohan

Mangaka: Taiyou, Marii
Genre: Comedy, School, Seinen
Volumes: 1
Published Date: Dec, 2016- Present
Gyaru Miku Okazaki is told by the principal to bake cookies since she failed all of her classes. Seeking help, Miku goes towards Home Ec. Teacher Shinji Yabe to help bake cookies. While Miku messes up several times in her cooking endeavors, Shinji doesn't give up on her and helps Miku finally bake some cookies. Later on Shinji decides to create a cooking club and Miku decides to join immediately seeing as Shinji was one of the few people who had faith in her. Get ready for an interesting romance comedy in Gal Gohan.
We here at Honey's Anime could only imagine it must be tough being a gyaru or better known as gal. That's why we love Gal Gohan as this story shows that gals are just normal girls who wanted to be seen in a positive light no matter what. Filled to the brim with comedy—and plenty of fanservice—Gal Gohan may have only just recently released but we have high hopes for it. The only problem we have at the moment recommending Gal Gohan is that once you read the first volume you're going to be wanting more. However, we're sure that the end result of Gal Gohan will be a work that not only harkens to the best of Hajimete no Gal but contains its own identity as a story about one girl's attempt at showing she's good for something.
---
3. Otomegokoro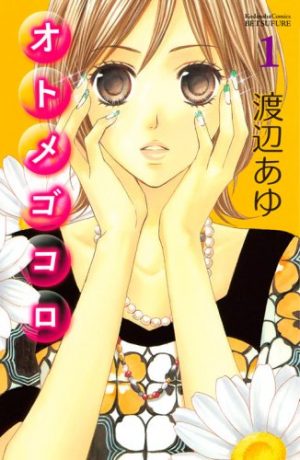 Mangaka: Watanabe, Ayu
Genre: Romance, School, Shoujo
Volumes: 2
Published Date: Jun, 2008- Oct, 2008
Nene Kashiwagi wasn't very popular back in junior high. Despite her being on the volleyball team, she had no presence. However, things are about to change as Nene is about to reintroduce herself once she enters high school. Now with a new stylish hairstyle and pretty makeup, Nene should be seen but ends up being teased by the guy she likes named Jun. Then if the situation couldn't get any worse, Jun is in love with his first love! How will Nene make Jun see that she's not just a wannabe pretty girl but the girl he needs in his life?
The reality of life is that we all undergo some drastic change at one point or another. That's why we loved Otomegokoro which shows that reality in a cute drama filled romance story. In this 2 volume work by Watanabe Ayu, Otomegokoro shows a girl willing to change herself to be seen in the world and be seen by her love. In many ways this reminds us of Hajimete no Gal which has Yukana showing that there's more to her gal transformation then meets the eye. We fully recommend checking out Otomegokoro as it's a quick read but filled to the brim with awesome art and a story that will resonate with girls who may be facing this real world issue.
---
Any Manga Like Hajimete no Gal ?
4. Yandere Kanojo

Mangaka: Shinobi
Genre: Comedy, Romance, School, Shounen
Volumes: 17
Published Date: Jun, 2008- Apr, 2015
For Tanaka Manabu and Ryuuzaki Reina love is about to hit hard and fast. Bumping into each other one day both fall head over heels for each other despite some very different personalities. Reina is a leader of a delinquent group of girls who are quick to cause mayhem wherever they go on school ground. Meanwhile Tanaka is just a quiet smart geek who seems to have an odd outlook on life. Can these two new lovebirds make this romance work or will their friends and random life issues stop their romance dead in its tracks?
While Yandere Kanojo may not have a focus on gals like Hajimete no Gal, it has plenty of comedy and a cute—but very different—romance story that is all too similar. This 4-koma—short 4 panel manga panels per chapter—is a nonstop romance comedy that at times deals with some interesting elements that can stem from a couple who are so very different. Here at Honey's Anime we found ourselves knowing immediately that Yandere Kanojo was a must for our 6 Manga Like Hajimete no Gal list and once you pick up this story you'll fully agree we're sure. Now then why not find out what happens to Reina and Tanaka in their romance story while you wait for more Hajimete no Gal to release. Just be warned, Yandere Kanojo will make you laugh sometimes uncontrollably for large lengths of time as well as fill you with heartwarming romance in equal measure.
---
5. Tomo-chan wa Onnanoko!

Mangaka: Yanagida, Fumita
Genre: Comedy, Romance, School
Volumes: 5
Published Date: Apr, 2015- Present
One of the greatest feelings in the world is being able to confess to your love interest. That experience was just felt by Tomo Aizawa. Somehow she was able to muster up the necessary courage to tell her longtime crush Junichirou Kubota how she felt about him. However, Junichirou doesn't feel the same way about Tomo and just sees her as a close friend. Then shocking Tomo, Junichirou tells her that he always thought she was just a boy and not a girl. Now Tomo has to prove that she can be more than just a buddy to Junichirou in this romance comedy known as Tomo-chan wa Onnanoko!
As we said earlier it's a great feeling to be able to confess your love to someone close. Though in equal measure it's a terrible feeling to be shut down. Poor Tomo though has it ten times worse as she was basically friend zoned by her crush. Tomo in many ways reminds us of Junichi from Hajimete no Gal as both of them have to prove they have the means to be worthy partners to their significant others. While Tomo-chan wa Onnanoko! hasn't come to a close yet—so far it's only 5 volumes long—we would take a nice bet that this will be a manga to remember.
---
6. Gals!

Mangaka: Fujii, Mihona
Genre: Comedy, Drama, Romance, School, Shoujo, Slice of Life
Volumes: 10
Published Date: Aug, 1999- Jul, 2002
Ren Kotobuki and her friends are just like any other group of girlfriends. They love to shop and love to hang out after school. However, these gals are tired of their area within Shibuya being troubled by weird old perverts, street gangs and various other lowlifes. That's why Ren decides to use her family's cop toughness to take down those who threaten her place. Can these gals take down the threats before them all while still having a good time?
Well folks, with our last entry it means we're soon to wrap up our 6 Manga Like Hajimete no Gal list. Thus we decided to end this great list with another great manga like Hajimete no Gal in the form of Gals! by mangaka Fujii Mihona. We really enjoyed this comedic story focused on gals showing that they can be both tough and glamorous. Gals! is filled with great comedy, excellent shoujo themed art and a story that never takes itself too seriously. If you're in love with the girls that fill the world of Hajimete no Gal then we recommend checking out Ren and her gal friends in Gals!
---
Final Thoughts
Sometimes we here at Honey's Anime like to use this moment to think one last thought about our article we wrote. In this case we go deep in thought in realizing that gals and delinquent girls may seem scary on the outside—and sometimes on the inside—but are just like any other girl, they need someone to love them. That's why all the stories above are great romance works and we know you'll enjoy them as much as we did while waiting for more Hajimete no Gal to release. As always folks, we also need some love here at Honey's Anime and would appreciate hearing from you in the comments below. If you want to show us the ultimate sign of affection, keep returning to our site for more articles to read and enjoy.
---
---