También puedes leer este artículo en:Español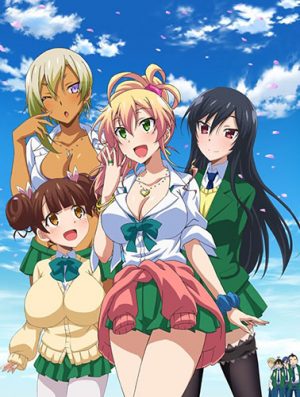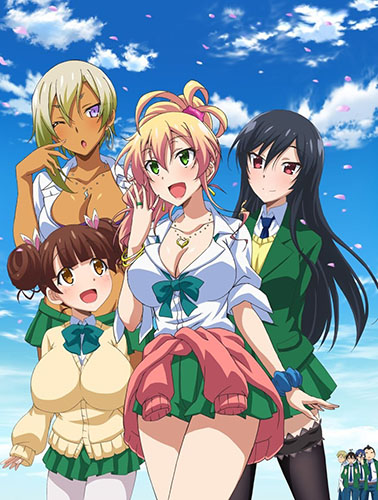 Getting your first girlfriend is a very interesting experience. On the one hand, you feel absolutely euphoric; here you are destroying your singles image and finding a girl to be with. However, on the other hand, your first girlfriend can be a very arduous and sometimes scary event. You don't want to mess it up and you feel that there are various issues you must get past to find that happiness only being in a relationship can give you. In Hajimete no Gal, the idea of a first girlfriend is explored but in this case, in a very comical and sometimes extremely revealing way. As we await more episodes to this insanely funny anime, we started wondering what to watch that was like Hajimete no Gal.
Welcome ladies and gentlemen to our 6 Anime Like Hajimete no Gal list. Today we will bring you various romances that will help you find some joy after Hajimete no Gal concludes or while you wait for its weekly releases. These various titles will mix comedy, romance and obviously some semi questionable themes to make you laugh out loud or just have your jaw drop from surprise. Now as always folks let us dive into this 6 anime like Hajimete no Gal list without any more delay. Try to not get too many nosebleeds on your keyboard as you check out these series though.
Similar Anime to Hajimete no Gal
1. B-gata H-kei

Episodes: 12
Aired: Apr 2, 2010- Jun 18, 2010
Beautiful Yamada has just started her life at Takizawa High School. Yamada is what most guys would consider beautiful and Yamada should believe that as well. Though for Yamada she feels that her body is great except for one specific part…the female part down below. Regardless, Yamada wishes to fulfill her dream of having sex with over 100 males despite how what men may think when they see what's down below. Yamada then targets a virgin male student by the name of Kosuda Takashi and claims to take his virginity…that would work but despite Yamada's dream, she too is a virgin.
What better way to start off our list of anime similar to Hajimete no Gal then with the funny and all too pervy show B-gata H-Kei? While on paper, B-gata H-kei seems to be just a raunchy anime, we're always happy to report that this romance has a lot of heart. Viewers will get to witness Yamada as she begins to actually fall in love with Kousada and the comedy that ensues as the two get naturally closer. If you love the more ecchi element side of Hajimete no Gal then you're also in luck as B-gata H-Kei is filled to the brim with girls and various awkward situations that will reveal nosebleed images galore. We knew when we were developing this 6 Anime Like Hajimete no Gal list that we had to include B-gata H-kei and had to start with it.
---
2. Rosario to Vampire

Episodes: 13
Aired: Jan 3, 2008- Mar 27, 2008
Tsukune Aono is a really poor student despite being a genuinely nice guy. Tsukune's poor grades make most schools not want him as potential student and for that reason, his parents are forced to enroll Tsukune in an odd school. After taking a bus trip into a very odd place, Tsukune quickly learns that his new school is far from normal. All the students are monsters hiding in the bodies of humans! Can Tsukune deal with this school and in particular with the cute vampire girl named Moka who seems all to driven to suck Tsukune's blood?
Now you might be reading the summary and going, wait this is about monster girls how can this be like Hajimete no Gal? Well folks, as always we here at Honey's Anime know what we're doing as Rosario to Vampire captures a lot of the elements found in Hajimete no Gal that will make it extremely appealing. Tons of cute and very well endowed girls and a romance comedy that seems all to surreal, these themes make Rosario to Vampire work so well and make it quite reminiscent of Hajimete no Gal's plot. Word of warning to those who dive into this 2 season show, have tissues ready for the nosebleeds that will most certainly occur. Also if you love Rosario to Vampire, you'll be happy to know there is a second season so you can continue seeing all the lovely ladies and great plot.
---
3. Prison School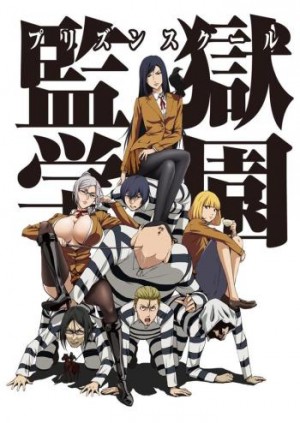 Episodes: 12
Aired: Jul 11, 2015- Sept 26, 2015
Once an all-girls school, Hachimitsu Private Academy has finally decided to take male students in. For Fujino Kiyoshi and his friends, this seems like a dream come true. However, little did they realize that there were the only 5 males accepted into a school with over 205 students, them included. Then when they decided to peek on the girls during their bathing session, they are quickly caught red handed and sent to the school's prison. Now the five guys must survive against odd and deadly girls all while trying to figure out a means to survive their imprisonment.
Prison School and Hajimete no Gal share a lot of similar themes but one of the most prominent is easily the very ecchi scenes. Folks, be prepared for large bosoms and tons of fan service courtesy of studio J.C. Staff. Equally the various situations that befall our 5 man team is so outlandish and ridiculous that you can't help but to laugh at their suffering. Our only issue with Prison School is that it's only 12 episodes long which we could have taken a hundred and never gotten tired of the comedy this show throws at its audience almost non-stop. If you're in need of something to watch after or during Hajimete no Gal, we 100% recommend checking out Prison School.
Prison School PV
---
Any Anime Like Hajimete no Gal ?
4. Ore no Kanojo Osananajimi ga Shuraba Sugiru (Oreshura)

Episodes: 13
Aired: Jan 6, 2013- Mar 31, 2013
When Eita Kidou learned a horrible truth about his parents. It caused his ideas of love to be nothing more than lies and wasted time. Thus Eita decides to forgo love and only focuses on his dream of becoming a doctor. Ironically, Eita isn't alone in his thoughts of love being pointless as this is a shared feeling by his classmate Masuzu Natsukawa. However, Masuzu begs Eita to pretend he's her boyfriend as she's tired of thinking about love. When Eita flat out refuses, Masuzu uses a journal she found of Eita's and threatens to launch it online if he doesn't do what she wants. Eita is about to find that this fake love will change his life forever.
Ore no Kanojo Osananajimi created by A-1 Pictures is easily one of the funniest and best harems we ever gotten the opportunity to enjoy. From the very first episode we were laughing at poor Eita's random issues thanks to his new fake girlfriend and you'll be dying from laughter in equal measure. We also really enjoyed the amazing animation which was a great trait seen in Hajimete no Gal as well. If you've ever wonder what a fake romance story could become, then why not watch Ore no Kanojo Osananajimi for an interesting twist on the romance harem genre? Who knew fake love could be so tough?
---
5. Sora no Otoshimono (Heaven's Lost Property)

Episodes: 13
Aired: Oct 5, 2009- Dec 28, 2009
Sohara Mitsuki worries about her childhood friend Tomoki Sakurai. As far back as Tomoki could remember, he dreams every night of an angel and he doesn't know why. With no one else to go to, the friends seek out the New World Discovery Club's leader named Eishirou Sugata who claims that he knows why Tomoki is having these dreams. Apparently there exists a strange glowing object which Eishirou claims to be the New World and somehow Tomoki is linked to this. When Tomoki decides to witness the glowing object, he finds a strange well-endowed angel hurtling towards him. This event will forever change Tomoki as he gains not only an angel who wants to serve him but who can also grant his any wish…though with sometimes unforeseen consequences.
We won't lie, Hajimete no Gal has sometimes blown us away in the humor department. That's when we realized Sora no Otoshimono—also known as Heaven's Lost Property—seemed to be a perfect fit for anime similar to Hajimete no Gal. This quirky comedy will give viewers a lot to enjoy as we watch Tomoki wish for things that end up leading to plenty of perverted moments that cause him joy and pain in equal measure. With several seasons and a movie that wraps up the series, Sora no Otoshimono will be a great show to watch while you anxiously wait for more episodes of Hajimete no Gal. How awesome would it be to have a wish granting angel by the way?
Sora no Otoshimono PV
---
6. Peach Girl

Episodes: 25
Aired: Jan 8, 2005- Jun 25, 2005
Momo Adachi is seen by her peers as nothing more than a slut or hussy because of her overly tanned skin. This however isn't true as Momo just tans very easily thanks to her role on the swim team. To make matters worse, Momo had a huge crush on Toji—a boy she knows—but he doesn't particularly like girls who are as tanned as Momo. Now Momo must try to win Toji's heart by recreating her image and dealing with various others who seem to want to stand in their way of being a couple. Can Momo deal with all this drama or will she stay labeled as a Gal forever and be unable to win Toji's heart?
Wrapping up our list, we look at the excellent anime by Studio Comet known as Peach Girl. Echoing Hajimete no Gal, both of our main girls here deal with the issues of being seen as Gals and having to prove that there is more to them that meets the eye. While Peach Girl is less prone to random amounts of fan service in comparison to Hajimete no Gal, we really loved the slice of life and romance elements in Peach Girl. While it may have released over ten years ago, Peach Girl is still a very good looking anime with an equally strong story that will make you feel for girls who are seen in the wrong light. We fully recommend Peach Girl and trust us folks you'll thank us later for putting it on our list.
---
Final Thoughts
There are many elements that make Hajimete no Gal so enjoyable. Not only is the romance cute and different from other stories but the series knows how to make you laugh. Plus for the men out there you'll probably love the various girls seen in Hajimete no Gal, don't worry we're with you there. Though we know if you're digging Hajimete no Gal as much as we are here at Honey's Anime then the above titles will be shows you'll enjoy thoroughly if you haven't already seen them. Let us know in the comments below what shows you may have seen that are like Hajimete no Gal or shows that now you want to because of us. As always folks make sure to show us some love too as we are working around the clock to make more articles for your reading pleasure.
---