For those who consider themselves connoisseurs of the harem manga genre, we presume you've most likely heard of the series known as Love Hina. Crafted by famous mangaka Ken Akamatsu, Love Hina for many was an extremely loved manga series. Seeing the college hopeful student Keitaro land himself in funny situations surrounded by beautiful girls put a smile on all who partook in reading his tale through Love Hina. After Love Hina would end in both manga and anime format, Ken Akamatsu would go onto make several other manga such as Negima, though Love Hina for most would always be considered one of his best works ever. That sentiment is felt also by us here at Honey's Anime and when we love a series like Love Hina, we feel it only wise to make a list of great works like it.
That's why we welcome all of you beautiful fans of Love Hina to our list of 6 Manga Like Love Hina. These harem titles are infused with comedy, romance and of course the beautiful ecchi we all know and love from works like Love Hina. With this manga like Love Hina list, we tried our best to find manga that not only we loved here at Honey's Anime HQ but you as well would fall in love with once you read it for yourselves. Get ready folks, the nosebleeds are about to get heavy as we're about to hit you with fan service from manga that truly mirror the greatness seen in Love Hina. Prepare the tissues and get ready as our list of 6 Manga Like Love Hina begins once you scroll down.
Similar Manga to Love Hina
1. AI ga Tomaranai! (A.I. Love You)

Authors: Akamatsu, Ken
Genres: Comedy, Ecchi, Romance, School, Sci-Fi, Shounen, Harem
Volumes: 9
Published: Apr, 1994- Aug, 1997
Some people are born with athleticism. Then others are born with good lucks and are just naturally popular. For Hitoshi Kobe, none of these of gifts were given to him upon birth. However, Kobe does have one skill and that is the ability to craft highly intelligent AI. One of Kobe's masterpieces known as number 30 acts like a girl and even reacts like one. However, during a lightning storm Kobe finds number 30 has disappeared off his computer and has become flesh and blood! Now with a real-life girl, what new adventures await Kobe and number 30?
For our list of 6 Manga Like Love Hina, we figured the best way to start would be to talk about one of Ken Akamatsu's original manga works known as AI ga Tomaranai. This sci-fi themed rom com is filled with all the elements you would later see in Ken Akamatsu's later creations such as Love Hina and Negima. Though we here at Honey's Anime are always surprised to see how few manga readers actually knew about AI ga Tomaranai and hope our article sheds some fame on it. If you want a story that is funny, filled with ecchi and things that most could wish would happen to them, then you need to read AI ga Tomaranai. Also do us a favor and comment down below if you as well wished something like this would happen in real life.
---
2. Inaba Rabbits

Authors: Chiaki, Tarou
Genres: Comedy, Ecchi, Romance, Shounen, Harem
Volumes: 2
Published: May, 2013- Feb, 2014
It has been ten long years since Ookuni Kenichi stepped foot on his family's Inaba Shrine. Kenichi decides to return to the shrine in order to succeed his grandfather and follow in his footsteps. Upon arriving at the shrine, Kenichi bumps into a slew of shrine maiden and it's not too long before misunderstandings fly about. Though Kenichi remembers that long ago he actually made a promise to one of these girls. Now Kenichi must try to figure out what girl that promise was linked to all while surviving in a domain populated by beautiful women.
Many fans of the Love Hina manga have come to love the random ecchi found thanks to main man Keitaro usually ending up in an awkward situation such as Naru undressing behind or walking into the open bath when the girls were showering. If you loved that comedy element of Love Hina may we direct your attention mangaka Chiaki Tarou's work titled Inaba Rabbits. While Inaba Rabbits is a short read—lasting only 2 volumes—each page will bring a smile to your face seeing Kenichi deal with situations that seem to be all too similar to Keitaro's mishaps. Inaba Rabbits truly will please the fan of Love Hina within you and that's why it was an all too necessary manga to have on our list of 6 Manga Like Love Hina. Before we also forget, did we happen to mention all of the girls of Inaba Rabbits are indeed rabbit girls? That alone should be a reason to check this short manga series out, don't you think?
---
3. Maga-Tsuki

Authors: Taguchi, Hoshino
Genres: Comedy, Ecchi, Romance, School, Shounen, Harem, Supernatural
Volumes: 13
Published: Feb, 2011- Feb, 2017
Yasuke has finally found the courage to confess to the girl of his dreams, Akari. With the perfect situation ahead—in the form of them being able to eat dinner alone and uninterrupted—Yasuke rushes for the shrine to spill his heart out. Though misfortune strikes Yasuke when he ends up smashing a mirror that was in the shrine. From the mirror, a cute girl comes out and curses Yasuke that if he wishes to never die, they must never separate from each other. It doesn't take too long for Yasuke to realize this cute girl is actually a goddess of misfortune and if he wishes to live he must adhere to her demands.
Yasuke is truly one of those protagonists you want to envy and equally you want to pity. Sure, Yasuke now has a cute girl that he's basically stuck to but the girl in question also happens to be a bit of an oddity with a slew of misfortune surrounding her. That's what makes Maga-Tsuki such an interesting manga to read. Like Love Hina, Yasuke is now going to live a life that most men would wish for but equally probably find just a tad inconvenient at times. Though for all of us, we don't have to worry about Yasuke's pain and can just laugh as we read 13 volumes—which is a funny number when you think of the theme of Maga-Tsuki—of pure fun and fanservice. Definitely check out Maga-Tsuki if you love stories like Love Hina but with some added supernatural themes to keep things interesting.
---
Any Manga Like Love Hina ?
4. Kimi-iro Focus

Authors: Chiaki, Tarou
Genres: Comedy, Ecchi, Romance, School, Shounen, Harem
Volumes: 10
Published: Jul, 2009- Oct, 2012
Oji has always wished to become a photographer. The ability to capture history and capture what is seen right before him as always made Oji pursue his dream despite what others have said. One day when Oji shows off his work to his photography club, Ran—a member of the club—says Oji has the talent but should try a different approach by taking pictures of someone like his childhood friend Sumire. With Sumire's hesitant permission, Oji begins capturing pictures and before long ends up winning an award thanks to his pictures! Ran then realizes that Oji can indeed become a great photographer and begins shaping his skills.
Here at Honey's Anime, one of our favorite themes from Love Hina was the fanservice. Sure, there was a great romance plot and tons of comedy, but a lot of those moments we're helped thanks to beautiful artwork and glorious amounts of ecchi. Thus, when we thought of a similar fanservice/ecchi filled manga we remembered Kimi-iro Focus, which happens to be another creation from mangaka Chiaki Tarou. Each chapter and volume of Kimi-iro Focus will fill you with tons of 2D beauties and equally will make you laugh out loud at the overly ridiculous plot. Thus, why we give Kimi-iro Focus a solid recommendation if you loved Love Hina's more visually focused themes at times.
---
5. Gou-Dere Bishoujo Nagihara Sora

Authors: Minazuki, Suu
Genres: Comedy, Ecchi, Romance, Harem, Supernatural, Seinen
Volumes: 4
Published: Aug, 2008- Mar, 2014
Wouldn't everybody love having a girl who would do absolutely anything for you? All you would have to do is wish for something and it would be granted just because that girl loves you so much. Well, for Shouta this happy dream has become a horrible living nightmare when his wish for a girl from his favorite manga Nagihara Sora becomes real. A violent goudere, Sora will do anything for her master Shouta but it doesn't usually go as planned. Enter the world of Gou-Dere Bishoujo Nagihara Sora where Shouta will soon learn the meaning of being careful for you wish for…
Do you love large oppai, random moments of questionable fanservice and tons of comedy that will be sure to make your sides hurt as you laugh till you cry? If you said yes, then you're going to want to read mangaka Minazuki Suu's manga Gou-Dere Bishoujo Nagihara Sora. Watch as every chapter poor Shouta gets launched into a volley of odd sexual situations with random girls thanks to his new wish granter Sora. At only 4 volumes long, you're going to find yourself wishing Gou-Dere Bishoujo Nagihara Sora was longer. Though, equally you would then wonder if you could take anymore laughter and loss of blood from the nosebleeds you're sure to have while reading.
---
6. Ai Kora

Authors: Inoue, Kazurou
Genres: Comedy, Drama, Ecchi, Romance, School, Shounen, Harem
Volumes: 12
Published: Jul, 2005- Feb, 2008
Every man and woman on earth likes a particular part of another. Some guys love a woman's intellect and some women love a man's maturity. Maeda Hachibei though isn't like most as his desires usually are things most wouldn't think of loving. Maeda loves girls with deep dulcet voices and girls with anime-like legs. Thankfully when Maeda attends a new school in Tokyo and the dorms there, he discovers 5 girls who fit these odd desires. Now Maeda just needs to do one thing, keep these girls around him no matter the cost!
With our 6 Manga Like Love Hina coming to a close we decided to end on a very odd but all too hilarious manga called Ai Kora. Created by mangaka Inoue Kazurou, Ai Kora digs into a world of odd fetishes and even odder desires. With 12 volumes of pure comedy and a heaping ton of fanservice—though some of which is very odd—Ai Kora will delight fans of Love Hina but also those who want something that truly feels different in some way. We applaud you Inoue Kazurou, Ai Kora is truly something that is very unique and we're sure many others who will read it—or have read it—will feel the same.
---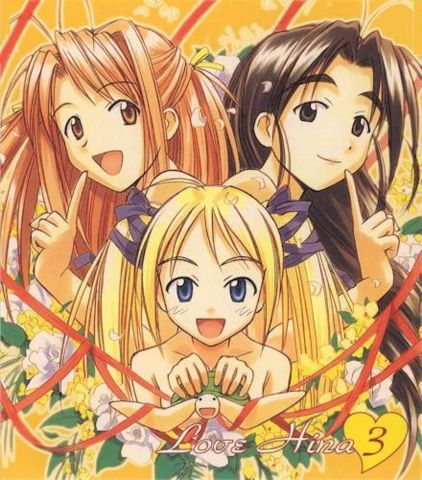 Final Thoughts
The beauty of manga like Love Hina is that readers get to enjoy multiple genres in one work. Need some comedy and fanservice, the manga above have that in droves for you. That's why we hope you liked this list of 6 Manga Like Love Hina as much as we liked writing it for you all. Now we open the forum to you folks out there in the world of the internet. Comment down below what are some of your all-time favorite manga like Love Hina either from this list and or manga you think could have made it on our list. While you're at it, if you loved our article then why not check out more or our site here at Honey's Anime for even more lists for manga and anime alike. Now we need to go rest as we're feeling a bit faint from all the nosebleeds during our research for this list…
---