También puedes leer este artículo en:Español
Romance is a genre that anyone can enjoy. After all, we have already experienced being in love at some point in our life right? As saying goes, "Love works in mysterious ways", we usually don't expect when love will come knocking on our door or who will we fall for. Here at Honey's Anime, we would like you to join us as we list the top 10 romance manga that will warm your cold mornings this upcoming winter season. The list ranges from heart-warming titles to heart-wrenching ones so take your pick based on your preference. But all in all, the listed manga are worth the read. Read on and enjoy!
10. Inari, Konkon, Koi Iroha (Inari Konkon)

Mangaka: Yoshida, Morohe
Genre: Comedy, Romance, School Life, Supernatural, Seinen
Volumes: 10
Published Date: Jul. 2010 - Apr. 2015
Inari Fushimi is a clumsy girl who is very much in love with her classmate Tanbabashi Kouji. Unfortunately, on a certain day, she accidentally humiliates him. Thankfully, Inari might have a chance to redeem herself when Uka no Mitama no kami shows up to grant just one wish to thank Inari for saving the goddess' familiar fox. Inari wishes to become her classmate Sumizome and it is immediately granted. The problem is, when Inari returns to the goddess to ask to bring her back to her original form, she was told by Uka that she cannot do another wish for Inari as that would be unfair to all humans. Uka then decides to give half of her power to Inari to help her once more.
Inari, Konkon, Koi Iroha is a wonderful romance manga that you would enjoy taking up, especially so if you're into the supernatural genre. The series doesn't only boast one pairing, as we also get to see Uka's love life too. For the first half of the series, readers get to see the lovely friendship between Inari and Uka and how it develops. Both characters are lovable and the way they help and support each other is one of the best features of this series. Halfway in the manga, readers are presented with the romance aspect of it. Inari and Uka's paths start to diverge as they tackle their own feelings with the man they love. Their friendship is put to the test and becomes even stronger after the issues are resolved.
The series as a whole is simply funny and adorable. It deals with friendship, family, and romance. The manga is very refreshing to read and the pacing of it is just right. If you want to remember the feeling of having that first love again, then go ahead and read this manga, as it will absolutely give it to you.
---
9. GE: Good Ending

Mangaka: Sasuga, Kei
Genre: Drama, Ecchi, Romance, School Life, Shounen, Sports
Volumes: 16
Published Date: Aug. 2009 - Jan. 2013
GE: Good Ending revolves around Utsumi Seiji as he tries to confess to Iketani Shou with the help of Kurokawa Yuki. GE: Good Ending isn't just your average ecchi romance manga, despite its very simple premise. What makes this manga shine among others is that the realism behind each character's reaction towards a certain situation is astounding. You either love them or hate them at certain times, but readers will absolutely see that each of the characters slowly changes as they continue to grow from their former selves. They feel so real and relatable, hence the reason why this manga is such a good pick. That's why you shouldn't get discouraged with our protagonist, Seiji, during the first half of the series.
Seiji does start off lame, but with his special encounter with Yuki, he changes into one of the best male protagonists in a romance manga. He faces his insecurities little by little and begins to open up to other people. He even becomes more upfront with his feelings, especially with Yuki and Shou. Love is a complicated thing and you bet GE: Good Ending will show you why. Past traumas, love triangles, break ups, requited love, and misunderstandings are only some of the things that you can expect in this series. The manga still does have some funny moments, but also make sure to expect a lot of angst along the way as the series progresses.
---
8. Koukou Debut (High School Debut)

Mangaka: Kawamura, Kazune
Genre: Comedy, Drama, Romance, School, Shoujo, Slice of Life
Volumes: 15
Published Date: Aug. 2013 - May 2013
Haruna Nagashima is finally in high school and is ready to explore and experience love! Sadly, during her middle school years, she dedicated herself to sports and doesn't have any knowledge at all to attract the opposite gender. Luckily, she meets You Komiyama who happens to know the latest trends. Haruna asks You to help her with her dilemma, but You has a condition that Haruna must honor at all cost: She must not fall in love with him! With that easy condition, can Haruna finally find love?
From the moment You told Haruna not to fall for him, we can surely expect that she will fall in love with him, right? After all, the chemistry between them is impeccable. For the first two volumes of the manga, readers get to see how You and Haruna's relationship blooms into love. However, after that, it starts to focus more on how they maintain their relationship as a couple. We don't usually see manga like this that tells the story after the "happy ending".
Since being in a relationship is a new experience to them, You and Haruna face problems that you would normally expect with an average couple. It is a given that in some relationships, there are some misunderstandings between the couple. But with You and Haruna, they at least try to talk it out and solve whatever problem they are facing together. They always think about what is best for their significant other and make the most out of everything with each other. They both mature and grow in the process and no one can deny that the love between Yoh and Haruna is very sincere and real. Koukou Debut is a nice romcom that you will like immensely. It doesn't have an anime adaptation, but it has a live-action adaptation that was released in April 2011.
---
7. Beauty Pop

Mangaka: Arai, Kiyoko
Genre: Comedy, Romance, School Life, Shoujo
Volumes: 10
Published Date: Sept. 2003 - Feb 2008
Kiri Koshiba is a very talented hairstylist that anonymously helps other people to make them prettier. But because of a certain incident that happened in the past, she decides not to make it her career in the future. Meanwhile, Scissors Project is a group of 3 well-known boys that aims to give fabulous makeovers to specially selected people. Kiri unknowingly clashes with Scissors Project and is dragged into the group.
Beauty Pop is another marvelous romcom that charms its readers with its intriguing characters. Although Beauty Pop is a romance manga, it doesn't entirely focus on that as it tackles more about each character's dreams, aspirations, and personal growth. Kiri and Narumi are two talented people who share the love of making others pretty. Other than that, these two people contrast in anyway possible. They started off as being rivals and slowly became close as friends which then develops into love.
The beauty of this manga is that despite having different personalities and mindsets, Kiri and Narumi grew to naturally accept each other and support one another at every turn of the way. Both individuals became each other's inspiration and emerged stronger and better than they were before.
---
6. Kimi wa Pet (Tramps Like Us)

Mangaka: Ogawa, Yayoi
Genre: Comedy, Drama, Romance, Josei
Volumes: 14
Published Date: May 2000 - Oct. 2005
Kimi wa Pet tells the story of Iwaya Sumire as she takes in a younger man as her pet. Kimi wa Pet is a manga that touches the unexpectedness of love and relationships. It also proves to us that sometimes, we just can't help but fall in love with someone who is not our ideal type.
The series starts off very slowly at first, building the sweet relationship between Sumire and Takeshi (Momo). Their interactions are really nice to see as it ranges from funny ones to really romantic ones. The manga is a long one with 82 chapters but with the drama being in every nook and cranny in the series, there are no boring moments in it and it will surely keep your attention. Kimi wa Pet also has its live-action adaptation starring Koyuki as Sumire and Jun Matsumoto as Takeshi.
---
5. Seven Days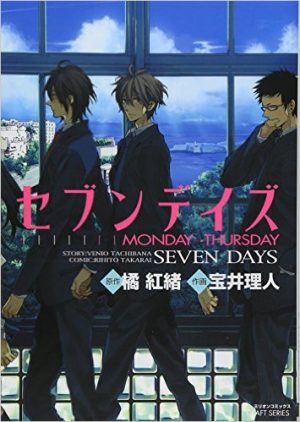 Mangaka: Takarai, Rihito (Art) & Tachibana, Venio (Story)
Genre: Romance, School Life, Shounen-ai, Slice of Life
Volumes: 2
Published Date: Sept. 2007 - Jun. 2009
It is known around the school that on Mondays, the first person who confesses to Seryou Touji will be his date for the whole week. Though, after a week, he would break up with the person and say "I'm sorry, I cannot fall in love with you. Let's break up"; but even knowing this, many still try to go out with Seryou as he is a dependable boyfriend once he is being dated. Yuzuru, who knew this rumor, jokingly confesses to Seryou on a certain Monday and to his shock, Seryou takes the joke seriously.
If you want some heart-warming manga that you would want to read again and again, then Seven Days is the right one for you. Some may shy away from Seven Days because of its shounen-ai tag, but this manga is genuinely good at portraying what true, pure love is. Many might think that seven days is too short to fall in love, but for Seryou and Yuzuru, that is quite enough.
Despite both of our main characters falling in love in a short amount of time, the overall story doesn't feel rushed nor is it slow. Seryou and Yuzuru's relationship develops beautifully. Each day for them is essential, as these are the moments when they get to know more about each other. The manga is filled with adorable and bittersweet moments which are further highlighted by Takarai's neat and gentle art. Seven Days is definitely a must read that will not disappoint!
---
4. Dengeki Daisy

Mangaka: Motomi, Kyousuke
Genre: Comedy, Drama, Romance, Shoujo
Volumes: 16
Published Date: May 2007 - Dec. 2013
After the death of Kurebayashi Teru's brother, Teru's only source of comfort and support is the cell phone that her brother left her. With that cell phone, she can contact "Daisy" so there is never a lonely time for Teru. In her school, she works under a rude school janitor named Kurosaki Tasuku who likes bullying her and teasing her. She passes each day peacefully without even realizing that "Daisy" is right beside her.
Motomi Kyousuke is known for writing funny stories with an interesting plot and strong female leads; of course, Dengeki Daisy is not an exception. Teru and Kurosaki's relationship is indeed funny to look at. They often clash and tease each other, but still remain very close nonetheless. Despite Dengeki Daisy's extreme comedy aspect, it never fails to give its readers some serious moments.
Throughout the whole manga, Teru and Kurosaki's pasts are often explored. With each new chapter, we get to know who "Daisy" really is and what his purpose is, as well as why Teru's brother has such a big impact in the lives of the people who surround Teru. Each revelation brings Teru and Kurosaki closer together, and as the distance between them lessens, readers can't help but melt and blush because of the romantic tension between them. Give Dengeki Daisy a read and see if Teru manages to make Kurosaki go bald.
---
3. Horimiya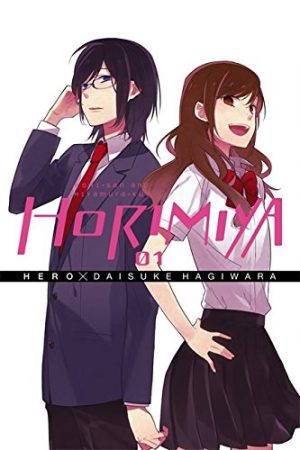 Mangaka: Hagiwara, Daisuke (Art) & HERO (Story)
Genre: Comedy, Romance, School Life, Shounen, Slice of Life
Volumes: 9 ongoing
Published Date: October 2011 - Present
Hori and Miyamura have another side to them that they keep hidden. Most people view Hori as an average popular girl in school while others see Miyamura as some quiet otaku guy who is good at studying. In fact, Hori is the type of person who immediately goes home to take care of her brother and do household chores while Miyamura is just an ordinary guy who has a lot of piercings and is not good in academics. Because of their similarity, the two become friends and depend on one another.
Reading Horimiya is like remembering your good old high school days. Horimiya basically tells the adorable relationship of Hori and Miyamura along with the friends and family that surround them. For the first few chapters of the manga, Hori and Miyamura unexpectedly form a friendship when both realize that they are somehow similar. As the series steadily progresses, they start to like each other and a sweet relationship forms.
The everyday life of Hori and Miyamura is very fun to read because their connection is full of laughs and fluff. Every time these two are together, readers can't help but feel butterflies in their stomach. Horimiya is fun to read especially when you are craving some good romance manga. The light-hearted feeling of the series will precisely cleanse your soul after a busy day.
---
2. Cat Street

Mangaka: Kamio, Yoko
Genre: Drama, Romance, Shoujo
Volumes: 8
Published Date: Jul. 2004 - Sept. 2007
Aoyama Keito was a famous actress that quit after a traumatic incident from her past. She currently locks herself up, away from society and doesn't have any plans for the future. But fate has other plans for her when she is introduced to El Liston -a school that accepts people with nowhere to go. Keito goes to the school and learns the true meaning of friendship, self-worth, and love.
Cat Street is one roller-coaster ride that you don't want to miss. Besides its nice art style and proper execution of the plot, the main highlight of this manga are the characters. Readers can immediately empathize with some of the characters as most of the issues being addressed by this manga can also be found in real life. Just like with some of our selections here, Cat Street doesn't fully focus on the romance aspect of it. The manga is more about personal growth in general. The romance part of this manga is like the icing on top, but still, Kamio-sensei did an excellent job of writing a manga that is both romantic and inspirational at the same time. Cat Street is a manga that is absolutely unforgettable once you have read it.
---
1. Watashitachi no Shiawase na Jikan

Mangaka: Yumeka, Sumomo (Art) Gong Ji-young (Story)
Genre: Drama, Romance, Music, Slice of Life, Psychological, Seinen
Volumes: 1
Published Date: Mar. 2008 - Aug. 2008
Watashitachi no Shiwase na Jikan was originally a novel written by Gong Ji-young. It revolves around Juri and Yuu who are both desperate to kill themselves. Juri Mutou was born from a famous pianist who had to stop playing after she was born. An incident from the past still haunts her to this day, thus why she wants to end her life. Similarly, Yuu attempted to commit suicide after being charged with killing a man, a woman, and a child. Yuu is currently a convict on death row. Their paths cross with the help of Juri's aunt, Monica.
Watashitachi no Shiwase na Jikan is exactly the right definition of phenomenal. It simply tells the story of two unfortunate people who found solace in each other's presence. Juri and Yuu's story doesn't only revolve around them falling in love, their story is more focused on how they accept their past and fully face their future. By spending time together, they start to slowly know that they have some similarities and realize that they are not alone. If there is one word that best describes their story, then that would be "heart-wrenching".
Most of Yumeka Sumomo's works are astounding and spectacular because of her deep and touching storylines. For this manga, even though she only did the art, every emotion, and the atmosphere from the original novel were perfectly captured by her. The manga is short, with only 8 chapters in total, but the flow of the story is great and the characters are well fleshed out. So you don't blame us for your tears, we would like to give a small warning that this manga will make you cry hard so make sure to prepare some tissues.
---
Final Thoughts
Love is truly a magical feeling, but at the same time it can hurt us when things go bad. Overall, even if our love results in a happy ending or a devastating breaking up, the memories and the feeling when we were in love will always stay with us. Did a manga manage to pique your interest? What other romance manga can you suggest and share with us? Write it all down in the comment section below! Till next time again my fellow anime and manga lovers! Now signing off~
---