While the 4-koma manga world is filled to the brim with weird and quirky stories, none come close to the brilliance that is Lucky Star. Released in 2004 by mangaka Yoshimizu Kagami, Lucky Star continues today making readers laugh at the hijinks of a bunch of school girls who just live life almost similar to real people. Lucky Star has truly been an inspiration to the manga world and various mangaka have mirrored the style seen within this random series. However, waiting for new chapters to release for Lucky Star can be quite tough to do and that's why we here at Honey's Anime have a solution for you. If you plan on fighting off the woes of waiting for Lucky Star's newest chapter then you need manga similar to it.
Today here at Honey's Anime we have bought you a list of manga similar to Lucky Star. If you need comedy, romance and even drama our list will be sure to appeal to you in numerous ways. These manga might not be all about high school girls dealing with how to stave off boredom and aren't all 4-koma, but they will often have random acts of both real life antics and sometimes overly exaggerated situations probably never possible in the real world. We hope you're ready for some laughs folks as this list is about to deliver a slew of manga full of humor. Welcome everyone to our list of 6 Manga Like Lucky Star.
Similar Manga to Lucky Star
1. Azumanga Daioh

Authors: Azuma, Kiyohiko
Genres: Comedy, School, Slice of Life
Volumes: 4
Published: Jan, 1999- Mar, 2002
High School life is filled with its various joys, sorrows, victories and defeats. That's why no matter what, you have to make school life interesting in whatever way possible. Just take the examples of friends Ayumu, Tomo, Chiyo, Koyomi and Sakaki. These girls all are trying their best to pass tests and equally have fun in a setting that can sometimes be pretty weird. Welcome to the zany world of Azumanga Daioh where school life—in these girls eyes—is anything but normal.
Possibly the inspiration for Lucky Star must come in the form of Azumanga Daioh. Released way back in 1999 by mangaka Azuma Kiyohiko Azumanga Daioh paved the way for having school girls seeing the world in rather bizarre but funny ways. While Azumanga Daioh was a short-lived series—only releasing 4 volumes—it really made waves by having an anime adaptation that was funny and pretty popular back in 2002. We loved Lucky Star but equally, we love Azumanga Daioh and we think you guys and girls will too. Check out a less crazed version of Lucky Star—though at times it's pretty outlandish—in the form of Azumanga Daioh.
---
2. Aharen-san wa Hakarenai (Aharen Is Indecipherable)

Authors: Mizu, Asato
Genres: Comedy, School, Shounen
Volumes: 3
Published: Jan, 2017-Present
Everyone in school knows that one strange but interesting individual; You have to constantly wonder why they are so quiet or how come they seem so distant. Student Raidou is about to encounter a person like that named Aharen Reina. As Raidou will soon learn, Aharen isn't cruel or stoic but instead just unable to understand how to talk with people and what is the appropriate distance that should be maintained between classmates/friends. Raidou's school days are about to become very interesting thanks to Aharen-san…
Back in 2017, Aharen-san wa Hakarenai released and we were genuinely surprised it was so under noticed by manga readers. While Aharen-san wa Hakarenai isn't a 4-koma about just school girls doing goofy things, it does capture a cute and funny theme thanks to the relationship between Raidou and his stoic friend Aharen. Cute, simple and often very hilarious, we personally love Aharen-san wa Hakarenai and are following it rather closely. If you like the cuteness factor of Lucky Star we recommend Aharen-san wa Hakarenai. We dare you to not smile when Aharen acts bashful and shy but then embraces Raidou randomly.
---
3. Hitoribocchi no OO Seikatsu

Authors: Katsuwo
Genres: Comedy, School, Shounen, Slice of Life
Volumes: 4
Published: Sept, 2013- Present
Hitori Bocchi is a rather unique girl. Unable to interact with most people normally, for most of Hitori's life she has only one friend in the form of Yawara Kai. Unfortunately, Hitori's friend Kai isn't going to her middle school and that is going to leave this socially strange girl alone in a new class filled with new people. Can Hitori make friends with the others? Find out as Hitori's life gets rather hectic in Hitoribocchi no OO Seikatsu!
Once, many of us were students in middle school and while that life wasn't anything in comparison to our high school days it was still a rather tough world to deal with. That's why we can relate with Hitori in many ways. Seeing Hitori deal with her randomness and trying to make friends is semi-relatable in Hitoribocchi no OO Seikatsu even though sometimes it pulls off Lucky Star levels of randomness. If you need a more grounded manga filled with cute and laughable scenes, then check out the ongoing series Hitoribocchi no OO Seikatsu. We feel so bad for Hitori, she reminds us sometimes of ourselves…just minus some of the stranger ailments she has in life.
---
Any Manga Like Lucky Star ?
4. Yandere Kanojo

Authors: Shinobi
Genres: Comedy, Romance, School, Shounen
Volumes: 17
Published: Sept, 2013- Present
Yandere Kanojo tells the story of a peculiar romance that brews between two very different individuals. Delinquent Reina Ryuuzaki has just bumped into nerdy and socially awkward Manabu Tanaka. Where most would think a fight might ensue, something else amazing occurs. The two fall in love with each other instantly and begin to date one another! Can a straight A student truly make a romance work with a girl who couldn't be bothered to take school seriously? Let us find out in Yandere Kanojo!
Lucky Star appeals to the fans by being random most of the time with its storytelling. That's why in many ways Yandere Kanojo can be considered so strangely similar to Lucky Star. With a mixture of random moments of romance between several couples—Yandere Kanojo does have other characters that are introduced as the series progresses--and the added randomness of school, we think those who fancy Lucky Star will like Yandere Kanojo. We kind of wish our school life was like either Yandere Kanojo or Lucky Star…would have been less boring and stressful.
---
5. Ojojojo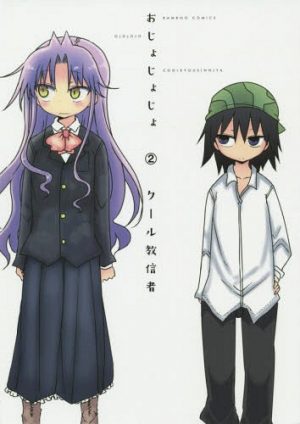 Authors: Cool-kyou Shinja
Genres: Comedy, Romance, School, Slice of Life
Volumes: 4
Published: Jun, 2012- Apr, 2017
Heiress to a huge empire in Japan, Haru Jigokumeguri is rich and well aware of it. Though for Haru, this leads to her school life being anything but fun and kind to her. Treated poorly and seen as arrogant—though sometimes this is Haru's fault—every school Haru goes to leads to the same experience. Thankfully, school life changes for Haru when she befriends strange classmate Kawayanagi Tsurezure. These two are about to become friends and Haru will learn how friendship changes the school landscape for the better.
What makes Lucky Star so incredible is the cast of characters. Konata, Kagami and Miyuki—to name a few of them—are so full of personality and comedy which makes us love them. While Ojojojo might contain less characters, the two main protagonists—Haru and Tsurezure—truly are something special. They are so awkward and strange that the situations they deal with make us crack up from laughter. Go check out Ojojojo if you need some romantic comedy but in a rather unusual way.
---
6. Hazuki Kanon wa Amakunai. (Kanon is not Sweet)

Authors: Kobashiko
Genres: Comedy, Romance, School
Volumes: 3
Published: May, 2013- Apr, 2016
Tamaki Daichi is a dude who loves to film things and capture the moment on his camera. However, Tamaki's friend Kihou Tomoka warns him of his antics as filming things he shouldn't could cause problems. Then as if proving Tomoka right, Tamaki ends up seeing delinquent girl Hazuki Kanon in a nurse's office and rushes to film her. As he watches her sleep, Tamaki films Kanon sucking her thumb! When Kanon wakes up furious that a dude is filming her, she decides to let Tamaki keep the film only if he promises to not out her sleeping issue to anyone else…
We conclude our 6 Manga Like Lucky Star list with Kazuki Kanon wa Amakunai. What's interesting about 4-Koma manga like Kazuki Kanon wa Amakunai. is that it truly captures the comedy aspects of romance between two people who meet in rather peculiar ways. Equally, seeing the various characters deal with life's problems—usually because of their own personal issues—reminds us of Lucky Star's cast who usually are the enablers of randomness. Kazuki Kanon wa Amakunai. might not be as random as Lucky Star but we still found ourselves laughing while reading it and loved the romance elements too. Definitely check out Kazuki Kanon wa Amakunai. if you need a short 4-Koma that will keep you preoccupied for a while.
---
Final Thoughts
Lucky Star is one of those series that just can't be truly compared to another manga. In many ways its revolutionized the manga world and while it didn't start the trend of girls and comedy, it did make it more popular in the early 2000s. Are you a fan of Lucky Star and want to check out some of the manga on our list of 6 Manga Like Lucky Star to hopefully find some other funny work? Tell us in the comments below as we love hearing from you about all things manga. Remember to keep coming back to our hive here at Honey's Anime for more recommendation articles just like this one.
---