INTRODUCTION
When most first read or see Made in Abyss, they formulate an interesting judgment based on the art. They believe that because it has cute little characters and bright vibrant environments it must be a whimsical fantasy manga. However, the reality is that while Made in Abyss may be a beautiful fantasy world, there are a lot of dark themes within like death, risk and adventure all blended together. Made in Abyss is one of those manga that once you realize what lies beneath the cute exterior, makes you forget all that you know of your typical fantasy story. Made in Abyss is a deceptive fantasy that will hook you into a world of dangers and adventure alike.
As we here at Honey's Anime are still currently reading Made in Abyss—it hasn't yet completed—there are times where we collectively sigh. We reach the end of a new chapter and must wait for another to release, forced to endure wondering what happens next to Riko and Reg in their journey through the abyss. Then it hit us that we're probably not alone in this pain and we knew we needed to formulate a plan. Gathering our hive together, we compiled a list of manga like Made in Abyss and decided to write this article to share our knowledge. Welcome to our 6 Manga Like Made in Abyss. If you're ready to find some other great adventure filled manga like Made in Abyss, then climb down the list alongside us as we guide you.
Similar Manga to Made in Abyss
1. Kuro

Mangaka: Soumatou: Soumatou
Genre: Demons, Mystery, Slice of Life, Supernatural
mangaka
Published Date: May, 2011- Jun, 2016
Coco is a young girl who lives alongside her cat friend named Kuro. Despite being the only residents of their giant mansion, Coco and Kuro make the most out of it. The duo find ways to keep themselves busy by making adventures and just enjoy each other's company. However, outside the giant mansion the outlying town is suffering from a horrible life of worry and fear. Coco and Kuro's peaceful days will soon come to a shattering end when the outside world makes its presence known to the two.
Made in Abyss and Kuro share a lot of similarities in their presentations. Kuro seems like a fun filled tale of nothing but happy adventures and good times for the two main characters. Ironically the same can be said when Made in Abyss begins. However, as readers of Made in Abyss learn quickly, there is a dark tale of adventure hidden behind a cute art style and the same theme can be found in Kuro. Kuro will be a story you'll want to read if you love Made in Abyss and thus why we knew it was the best way to start off our manga like Made in Abyss list.
---
2. Godspeed

Mangaka: Takabatake, Enaga: Takabatake, Enaga
Genre: Action, Fantasy, Seinen
mangaka
Published Date: Aug, 2014- May, 2015
Ages ago, demons and angels started a war and humanity was caught in the crossfire. The demons tormented the humans but the angels vowed to save the human race somehow. Using their powers, the angels created a safe haven in the form of Ilvia to help keep the humans alive and happy. The angels warn the children of Ilvia that leaving will cause the demons to hunt them as their souls are too pure and make them beacons for the demons outside. However, when the children reach the age of 14 they are told to leave and head for paradise. Why are they told to leave and what is this so called paradise?
In Made in Abyss the world of the abyss, which lies underneath the main town, is a dark and dreadful world. Echoing that ideal is the manga Godspeed from mangaka Takabatake Enaga. This action packed manga not only has an amazing art style but a pretty cool tale of mystery and intrigue that you won't want to have spoiled. Godspeed is only 2 volumes long but the journey is just right to enjoy for a quick read while waiting for more Made in Abyss. We fully recommend Godspeed if you want your fantasy world to be dark but also very interesting.
---
3. Somali to Mori no Kamisama (Somali and the Forest Spirit)

Mangaka: Gureishi, Yako: Gureishi, Yako
Genre: Fantasy, Slice of Life
mangaka
Published Date: Apr, 2015- Present
In this fantasy world, humans are the lesser of the beings. Driven to near extinction from various threats, humanity is barely hanging on. However, our story isn't focused on these events but rather the tale of a young girl named Somali. During her travels, Somali runs into a golem and the two decide to travel together henceforth. These two souls will set forth on a journey that will change their lives and bring closer to then just being mere strangers.
It should be no surprise why Somali to Mori no Kamisama made our list of 6 Manga Like Made in Abyss. Similar to Reg and Riko's journey, Somali and the Golem share an adventure of their own. Somali and the Golem will learn to rely each other and find that their hearts begin to resonate as their journey continues on. Somali to Mori no Kamisama also features some incredible art that screams the feeling of being in a whimsical world. The story of Somali to Mori no Kamisama still continues—seeing how it's still being published—but we're excited to see what's in store for our adventures.
---
Any Manga Like Made in Abyss ?
4. Totsukuni no Shoujo

Mangaka: Nagabe: Nagabe
Genre: Shounen, Supernatural, Fantasy, Drama
mangaka
Published Date: Sept, 2015- Present
Shiva is a young girl who resides in a small village with her Sensei. While Sensei isn't exactly human—he's akin to a wendigo—Shiva stills loves to be by his side. However, Shiva constantly wonders about the world outside her small village. Despite Shiva's desire to venture out, Sensei warns her that the world outside her peaceful village is filled with dangers. What will happen to these two souls who live in a world of peace and calm while something sinister may or may not loom not too far off?
The old saying curiosity killed the cat seems like a fitting tag for the characters of Totsukuni no Shoujo. Like Made in Abyss, the world of Totsukuni no Shoujo is filled with wonders but also dangers that haven't all yet been revealed. Mangaka Nagabe has so far done a terrific job keeping us hooked with not only beautiful art that mirrors old fairy tales but equally has crafted a story that keeps us hooked. If you love adventure and if you love supernatural fantasies, then you'll highly enjoy Totsukuni no Shoujo. Let that curiosity take you over so you can dive into the world of Totsukuni no Shoujo.
---
5. Niehime to Kemono no Ou

Mangaka: Tomofuji, Yuu: Tomofuji, Yuu
Genre: Fantasy, Romance, Shoujo
mangaka
Published Date: Nov, 2015- Present
Like 99 humans female humans before her, Saliphie's life will be a short one. Saliphie is destined to be eaten by the King of Beasts when her time approaches. However, Saliphie has no fear of her impending death as she has nothing anchoring her to this world. Having no family and no home have made Saliphie realize death would be a meaningless worry. The King of Beasts notices this and finds Saliphie to be very interesting, asking her to then stay by his side till the day of her end. However, soon the Demon King will learn that Saliphie has more of a purpose than just being a meal and decides to make her a queen.
Niehime to Kemono no Ou is both very similar to Made in Abyss and very different. While less heavy on adventure—in comparison to the other works on this list—the fantasy and romance theme is what propels it forward. Like Made in Abyss, Niehime to Kemono no Ou is brimming with lore to really keep fans glued to the pages. What also helps is the terrific art style that jumps at the reader with beauty and detail. While the story of Niehime to Kemono no Ou hasn't been completed yet, we think it would go great for those who need to read something alongside Made in Abyss. Niehime to Kemono no Ou definitely deserves a place on our 6 Manga Like Made in Abyss and you'll thank us when you finally decide to read it yourself.
---
6. Yakusoku no Neverland (The Promise Neverland)

Mangaka: Demizu, Posuka- Shirai, Kaiu
Genre: Mystery, Horror, Sci-Fi, Shounen
Volumes: 4
Published Date: Aug, 2016- Present
Growing up in an orphanage such as the Grace Field House isn't very easy. Despite the issues though, Emma, Conny, Norman and Ray have made life happy by being together. However, there is always one rule that must be adhered to without question: to never leave for the outside world. The reality of why comes out when Conny is adopted but leaves behind her favorite rabbit toy. Deciding to find her before it's too late Emma, Norman and Ray rush out of the compound to discover that something has happened to Conny and the so called home they knew is actually something horrifying. The peaceful lives of these three young kids are about to come to a screeching halt in Yakusoku no Neverland.
Here at Honey's Anime we like to always end our lists on a nice note. Thus why for our 6 Manga Like Made in Abyss we decided to end on the very popular Yakusoku no Neverland or The Promise Neverland. Folks, there is an endless amount of good things we can say about Yakusoku no Neverland—such as the amazing art from Demizu Posuka or the great story from Shirai Kaiu—but we also don't want to spoil too much of the surprise. If you're in love with Made in Abyss's dark fantasy world then you're going to fall for Yakusoku no Neverland without a doubt in our minds. Just be prepared to join us in waiting anxiously for more chapters to release once you do catch up.
---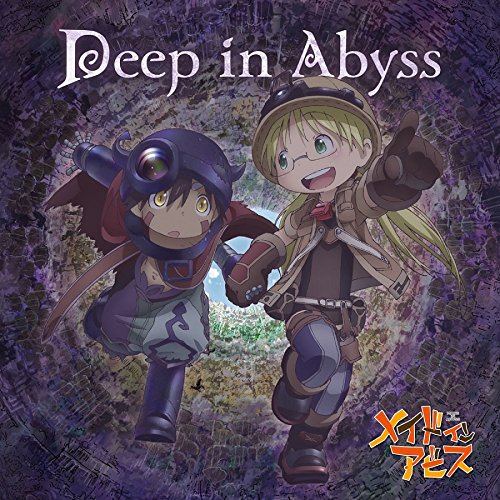 Final Thoughts
Fantasy adventures like Made in Abyss don't come around too often. That's why we're glad the authors above have crafted excellent adventures of their own and can fill our hearts as we wait for more Made in Abyss to release to the world. Now that we rest from our long journey we would love to hear your thoughts about our list. Have you read any of these manga like Made in Abyss titles or do you know of any other manga like Made in Abyss? Let us know in the comments below so you can share your knowledge with not only us but your fellow traveler of the internet. As always make sure to keep returning to Honey's Anime to restock on new lists and other articles as we're always working hard for you beautiful travelers of our site.
---