Every time we here at Honey's Anime think the shounen world can't surprise us more, it somehow does. Mx0—which is easily one of the more interesting manga titles out there—told us of a story that fused school life with magic and wrapped everything up with some comedy and shounen themes. Created by mangaka Kano Yasuhiro, Mx0 was a truly enjoyable ride despite its untimely cancellation. If you're like us here at Honey's Anime HQ, you occasionally wish there was more manga out there like Mx0 and need to read it to make the pains of losing such a great series go away. Well, don't worry everyone, we're here to the rescue!
Utilizing our hive of manga readers, we have crafted a list of manga like Mx0 to help all the fans of the Mx0. This list of manga like Mx0 will give you manga that deals with stories that echo the feeling of Mx0 but have their own individuality. Our aim is to remind you that while the pain of having Mx0 out of your life may still sting there are other manga that are waiting for you to enjoy and take your mind off of Mx0. With that we welcome all of you beautiful readers out there to our list of 6 Manga Like Mx0! Let's dive right into this list without any more delay!
Similar Manga to Mx0
1. Angel Densetsu

Authors: Yagi, Norihiro
Genres: Action, Comedy, Martial Arts, Romance, School, Shounen
Volumes: 15
Published: May, 1992- Feb, 2000
What does a devil look like? Some might say Seiichirou Kitano. What does an angel look like? Yet again, some might point you towards Seiichirou Kitano. While Kitano might look tough and is also the leader of a group of thugs in his school, that still doesn't stop him from treating people with kindness and compassion. Can Kitaon keep his heart of gold while surrounded by thugs who want him for his harsh looks and tough appearance?
Starting off our list of 6 Manga Like Mx0, we look at Angel Densetsu by mangaka Yagi Norihiro. While Mx0 might be more magical based, it doesn't stop the series from being about school and having plenty of comedy with Taiga and his friends. Angel Densetsu accomplishes a similar task by having Kitano deal with various odd events thanks to misunderstandings and his own naïve thought process. However, we love Kitano as he just seems like a guy who you want to treat kindly once you began to know him. Angel Densetsu might have comedy and school themes but don't fret if you need some action as there's plenty to be had thanks to the martial arts genre being an important crux to making Angel Densetsu so enjoyable. Most don't talk about Angel Densetsu so we're hoping you guys and girls can fix that by checking it out and spreading some love.
---
2. Iris Zero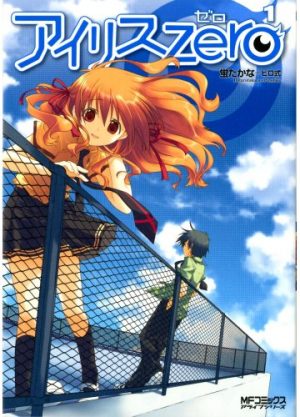 Authors: Hotaru, Takana- Piro, Shiki
Genres: Mystery, Drama, Fantasy, Romance, School, Supernatural, Psychological, Seinen
Volumes: 7
Published: Apr, 2009- Present
Mizushima Tooru has always tried his best to not stand out from anyone around him. The reason for this isolation is that unlike everyone in the world who has the power of Iris—a special kind of supernatural force—Tooru is without any powers. Born like that, Tooru has decided that avoiding people would keep his lack of Iris a secret. However, things change one day when the most popular girl in school named Sasamori Koyuki approaches Tooru with an odd confession. Now, Tooru's isolated world is about to become a whole lot more public.
Second on our list of 6 Manga Like Mx0 is Iris Zero a 7-volume mystery, supernatural and seinen series. Created by mangakas Hotaru Takana and Piro Shiki, Iris Zero follows a loner who ends up becoming quite popular without much warning. In many ways, Tooru and Taiga share a brotherhood of sorts as they find themselves becoming the talk of the school and then having strange incidents befall them as both series progress. Though in the case of Tooru, he didn't exactly want all the eyes on him while Taiga basically shouted out to the world a very bold claim. Nevertheless, so far we're really loving Iris Zero with it's interesting world of supernatural proportion and we know it's a perfect read if you miss the entertaining story of Mx0.
---
3. Aphorism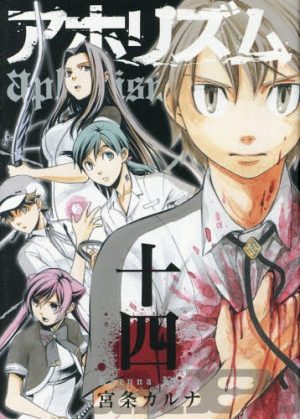 Authors: Kujo, Karuna
Genres: Action, Fantasy, Horror, School, Supernatural, Psychological
Volumes: 14
Published: May, 2010- Jan, 2016
School is supposed to be a safe world filled with education, fun and friendship from your fellow classmates. However, in the halls of Naraka High School, this couldn't be any further from the truth. Students like Momiji Rokudou—a new transfer student—and his friends are forced to participate in a deadly game where losing means possible death. Armed with magical abilities, Momiji and his friends must somehow find a means of teaming up to survive the hell that awaits in Naraka High School.
In many ways, it's ironic that Naraka means hell in Hindi. Fitting that each event that transpires in Aphorism is pretty hellish to say the least. While Aphorism might be more serious than Mx0, they both mirror the themes of school, magic and action. That's why if you felt Mx0 wasn't mature enough for your taste but you still loved the story, then you might want to try out Aphorism. Great artwork and a great story from mangaka Kujo Karuna makes Aphorism an enjoyable read from volume 1 to 14.
---
Any Manga Like Mx0 ?
4. Psyren

Authors: Iwashiro, Toshiaki
Genres: Action, Adventure, Game, Romance, Sci-Fi, Shounen, Super Power, Supernatural Psychological
Volumes: 16
Published: 2007-2010
Do you need help and or a "hero"? If you said yes, you could always ask for the help of Ageha Yoshina but don't expect that help to come free as Ageha charges for his service. Though one day on his way back home, Ageha finds a strange card showing the words PSYREN. Within moments of this, a classmate from his school named Sakurako Amamiya begs Ageha to save her. When the next day arrives and Sakurako doesn't show up to class Ageha realizes the card must have something to do with her disappearance and decides to call the number on the card. Suddenly, Ageha is taken from his world and placed with the world of PSYREN where he will begin a deadly game…
One element of Mx0 that truly stood out with us was the action and magical elements. Each battle Taiga and his friends went into was truly exciting and engaging. That's why we recommend to those who loved Mx0 to check out Psyren by mangaka Iwashiro Toshiaki. While Psyren suffered a similar fate, being forced to end prematurely, that didn't stop us from loving the characters, art and story within the 16 volumes we got our hands on. With elements of an adventure game, Psyren will keep you glued to each scene as the action intensifies with each passing chapter. If you haven't yet read Psyren then you're missing out one of the better shounen manga out there and that would be a shame.
---
5. Double Arts

Authors: Komi, Naoshi
Genres: Action, Adventure, Comedy, Fantasy, Martial Arts, Romance, Shounen
Volumes: 3
Published: Mar, 2008- Sept, 2008
In a strange world, there exists a deadly epidemic spreading known simply as Troy. The strange disease causes those who are afflicted to have life threatening seizures. Those who are affected have some relief thanks to Sisters who are able to cast a temporary healing spell diluting Troy. Though one Sister by the name of Elraine is infected by Troy despite having a high resistance! Now with the disease, Elraine faces a possible death but is saved when a young boy named Kiri grabs her hand by accident. If Kiri and Elraine hold hands, the disease is muted, but if they separate Elraine could die…
Just like Mx0, Double Arts is a manga that ended quite early and only lasted 3 volumes. However, those 3 volumes still gave us manga readers and enjoyable shounen story that reminded us of Mx0. Filled with some rather comedic action and a fun—albeit short—adventure. The art and character development keep Double Arts a fun quick read to remove the woes of no more Mx0. Though when Double Arts ended we felt a similar pain and wish it would have kept going…
---
6. Kuzumoto-san Chi no Yonkyoudai

Authors: Kinoshita, Satoshi
Genres: Action, Comedy, Romance, Shounen, Supernatural
Volumes: 3
Published: 2008- 2009
Sora Kuzumoto and his three brothers come from a long line of supernatural warriors. Recently, the 4 Kuzumoto brothers have been chosen to be part of a newly formed Supernatural Management Team to keep their city safe. They must use their powers to fight back those who will harm the town and those who can't fight back. Can they work together to keep their city safe?
We conclude our list of 6 Manga Like Mx0 with Kuzumoto-san Chi no Yonkyoudai. Kuzumoto-san Chi no Yonkyoudai mixes shounen and magic together to be an action based story that follows the 14-year-old Sora and his family. While Kuzumoto-san Chi no Yonkyoudai only lasts 3 volumes, it still has a nice story that was expertly crafted by mangaka Kinoshita Satoshi. Though if you want a cool magical shounen like Mx0, we fully recommend Kuzumoto-san Chi no Yonkyoudai. When you do read it, let us know in the comments below as we don't hear too much talk about Kuzumoto-san Chi no Yonkyoudai and that really is a shame.
---
Final Thoughts
When shounen series get canned in favor of newer works, all the fans feel a stabbing pain in their hearts. Luckily though, when one manga ends there are tons more to enjoy and that's why we know those who loved Mx0 as much as we did will love the list above. Have you read other works that you think could have made our list of 6 Manga Like Mx0? Comment down below and let us know! Remember to return to our great anime hive here at Honey's Anime for more articles and lists just like this one.
---