Action can come in a variety of different forms, from massive explosions, acrobatic martial arts, to godlike enemies who wield incredible power. Whatever your addition is action manga is sure to cover every area magnificently, while providing you with a compelling story to reel you right back into it all. What's great about action manga is that there's an unlimited amount of direction in which it can take you, and it's that very journey that leaves a lasting imprint in our minds because it does such a good job of making us feel like we're apart of it all. We'll be taking a look at some of the best action manga out there that makes us all wish that we too had superpowers of our own, and someday save the world, so let's dive right into it!
10. Murciélago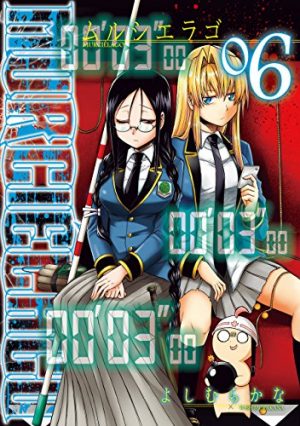 Mangaka: Yoshimura, Kana
Genres: Action, Horror, Yuri, Seinen
Volumes: 7
Published: April 2013 - Present
There's simply no running from danger in the crime riddled city, but it seems that only two people have what it takes to put a stop to it all. You have Kuroko, a notorious hitwoman with a deadly track record, along with Hinako who's a complete maniac and will stop at nothing to get a thrill. Their objective is very simple, take care of the murderers that are swarming the streets before they gain a stranglehold on the city, and ensure that they get a fair share of cash for their efforts.
So two women who have this passion for thrills and flirting with other women just for the luxury of it all, must now put their skills to the test to make sure these sick maniacs don't make a mess of things. There's a lot of wild action that takes place all throughout the series, not just in heads getting bashed in and people getting assassinated one by one, but in all of the sexual activity that happens around Kuroko. Her lust for womanizing is just as strong as her lust to kill anything that moves, and you simply don't want to close the book because every page escalates to something even more epic.
---
9. UQ Holder!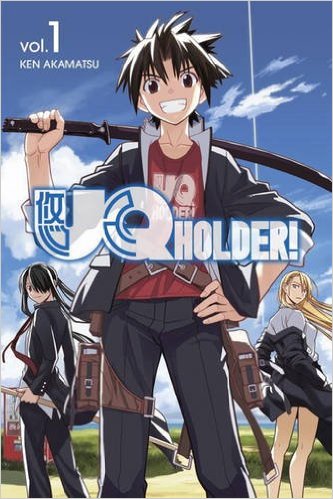 Mangaka: Akamatsu, Ken
Genres: Action, Fantasy, Magic, Sci-Fi, Shounen
Volumes: 11
Published: August 2013 - Present
The world has evolved dramatically ever since magic had been introduced to society, and Touta isn't aware of these changes due to living very far from the main city. His small rural town hasn't received much influence from the more urbanized areas except for his magic wielding teacher and close friends, but when an incident abruptly interrupts his laid back lifestyle, Touta now finds himself in the midst of a chaotic struggle and must now protect the world he lives in.
Touta's life changes once he becomes an immortal but that's exactly when all of the fun really begins because now you don't have this regular boisterous child just wandering around but rather a badass with a sword to chop through anything that moves. His journey with Yukihime and joining up with other immortal freelancers in UQ Holder are full of excitement as each encounter is full of edge of your seat entertainment, much like the Fairy Tail series. The artwork is another selling point as all of the action looks seamless as Touta progresses through constant battles, along with his friends to take down enemies and ensure that his dreams are fulfilled.
---
8. Übel Blatt

Mangaka: Shiono, Etorouji
Genres: Action, Adventure, Ecchi, Fantasy, Seinen
Volumes: 17
Published: July 2005 - Present
Koinzell is the young swordsman who wields the notorious black blade, that is known to tear through anything and leave even the most powerful of enemies crying in pain. However the life and desires behind Koinzell are a mystery as the fight against the lances has begun, and the answer can only be found once Koinzell obliterates everything and leaves pools of red blood in his wake.
Blood and guts are on the menu in this incredibly violent and action packed manga, that follows Koinzell on his mission to seek out the truth behind his past and to destroy the lances as soon as possible. Fans have compared this series to that of Berserk, where it's nothing but remorseless fighting and a deep ingrained hatred for the enemy that keep you glued every time you embark on a new chapter. There are some sex scenes that help to balance things out, but this book is not for those who don't enjoy bones being broken and heads flying.
---
7. Sun-Ken Rock

Mangaka: Boichi
Genres: Action, Adult, Comedy, Drama, Ecchi, Seinen
Volumes: 25
Published: April 2006 - February 2016
Ken just can't seem to stop thinking about Yumin, a young Korean girl who he met during his travels. His powerful love for her can't be broken and so he follows her to Korea, and much like Yumin, he desires to fight for justice as a policeman. However things don't go as planned as he now finds himself at the head of a local gang, and things are about to take a turn for the worse in this powerful series.
This manga is definitely very adult themed as there's a lot of sex that's tainted all throughout each chapter, and perhaps that's what Boichi was aiming for. It dives into areas of the underground syndicates pertaining to mafia, and really shows you just how unforgiving that lifestyle can be at anytime. The story is dark, gritty, and at times somewhat random as gags are thrown into the mix. While the gags do take you away from the feeling at times, your connection with Ken and his friend Tae-Soo grow fonder as you're eagerly awaiting to see what their outcomes are in this crazy blood soaked world.
---
6. Dogs: Bullets & Carnage

Mangaka: Miwa, Shirou
Genres: Action, Drama, Mature, Sci-Fi, Seinen
Volumes: 10
Published: June 2005 - Present
Badou has found himself in hot water yet again, when he stumbles across this rare genetic experiment known as the "Lost Children," which were left behind in the past, but now the mafia is in on the discovery as well. Now, one of his comrades, Heina must bail him out of this situation, but the head honcho of the mafia, Giovanni has reemerged on the scene. Another individual named Naoto, races to the underground in search for a killer who supposedly wields the very same sword as hers, and so now the paths of these three will converge in this dark and gritty series.
Just as a heads up, no dogs were harmed in this series but there's most definitely a lot of bullets and carnage to have you licking your lips for more. Much of the world is desolate and left to rot as this post apocalyptic society is dealing with corruption. Gangs are out to occupy turf, and these three are caught in it all as they try to uncover their dark pasts in a film-noir stylized approach that's sure to entice any fan of the action genre. We do recommend that before you dive deep into Dogs: Bullets & Carnage, that you check out the prequel to truly relish in all the greatness.
---
5. Akumetsu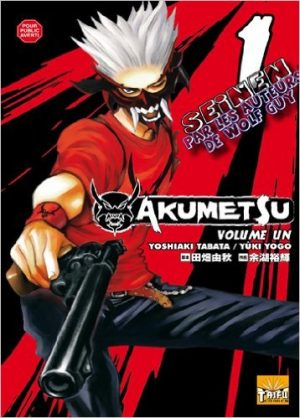 Mangaka: Tabata, Yoshiaki
Genres: Action, Drama, Police, Psychological, Seinen, Thriller
Volumes: 18
Published: October 2002 - April 2006
Shiina's life was going as smoothly as she intended, but the moment her family's business goes under her life takes a dramatic turn for the worse. At the brink of desperation Shiina decides that the only way to ensure a streamline of income is to become a prostitute. Unfortunately a masked man enters the fray and it turns out that it's someone that she knows quite well. Akumetsu looks at the life of Shou, a rebellious individual that's out to clean up the dirty and corrupt government doing whatever it takes, using extreme methods to ensure his success.
Politics, assassinations, corruption, with an added touch of satire and you have a story that truly stands out on its own. Akumetsu is the man of justice and despite knowing that killing is wrong, he knows in his heart that he's doing it for the sake of humanity and not for his own sick pleasure. So many twists in the plot keep you guessing as to just who's on Akumetsu's side, with even the more serious antagonists totally leaving you surprised over time. The plot generally places much of its focus towards the political structure of Japan and the dark philosophies that engineer it, and it's Akumetsu's mission to break those barriers as soon as possible.
---
4. Nanatsu No Taizai

Mangaka: Suzuki, Nakaba
Genres: Action, Adventure, Drama, Fantasy, Shounen, Supernatural
Volumes: 22
Published: October 2012 - Present
If the first season of Nanatsu no Taizai didn't arouse you enough, then the recently announced 'official' second season is sure to blow us all away. Meliodas and his crew were sealed away by the kingdom after a series of events put them under fire, and were blamed for brutal murders that they clearly didn't commit. With all hell breaking loose it was about time to set them free, and none other than Meliodas is the one along with Elizabeth and Hawk to regather the team for an action packed adventure.
What makes the manga so epic is that you're never entirely sure how each chapter will end. Every moment puts your mind into this state of anticipation, as you eagerly await the fate of Meliodas and his band of friends but it's that very feeling that hooks you in. While the anime certainly has its perks, the manga has the absolute advantage because so much more backstory can be found through every volume, which encourages you to always seek out more details and just what could possibly happen next. The latest volume 23 just released, so if you're hungry to know the most recent outcomes then be sure to check it out!
---
3. Hoshi no Samidare

Mangaka: Mizukami, Satoshi
Genres: Action, Adventure, Comedy, Drama, Psychological, Seinen
Volumes: 10
Published: June 2005 - August 2010
The entire world is in shambles and it needs the aid of great warriors to restore harmony as soon as possible. Sir Noi Crezant, also known as the Lizard King, has been sent on a mission to work alongside Yuuhi in order to protect the beautiful and innocent Princess Samidare. The enemy known as Biscuit Hammer is about to slam its biscuit down and turn the world into crumbs, and it's up to these heroes to prevent that at all costs.
Hoshi no Samidare at times likes to poke fun at the cliche of 'heros out to save the world' with its very sarcastic moments, but then it brings the action right when you need it to keep you glued to your seat. There's plenty of romance between the main lead and other characters, with surprising deaths to throw you off and provide a sense of sadness to balance out the emotional experience. Where this manga really shines is in the character interactions as you truly get a feel for their motivations. The story just felt very seamless the deeper you dived. It's truly a classic plot style that is galvanized in such a way that you'll never want to let go.
---
2. Vinland Saga

Mangaka: Yukimura, Makoto
Genres: Action, Adventure, Drama, Historical, Seinen
Volumes: 18
Published: July 2005 - Present
Thorfinn had dreams and aspirations to travel to the far west in search for adventure, but all of that was cut short when a mercenary raid came into his kingdom to shake things up. Thorfinn is no slouch though, as he is a merciless killer with the blood of fierce Vikings running through him, and his mission is now to take out the mercenary leader Askeladd by any means necessary for the sake of his father. All Thorfinn desires in his heart is to see the world he lives in free of slavery and war, so he'll stop at nothing to ensure that.
Vinland Saga is an epic tale of a man with a personal vendetta that must be quelled, and slaves that must be saved in a land that's flooded with bloodthirsty mercenaries. It's essentially Thorfinn seeking to find meaning in his life after his father was slain right in front of him, using incredibly tactful approaches to take out the enemy one by one. There's certainly more to Vinland than what we currently know, and with this series still currently ongoing, the fate of Thorfinn and his homeland is still yet to be seen.
---
1. One Punch Man

Mangaka: Murata, Yusuke
Genres: Action, Comedy, Drama, Parody, Sci-Fi, Superpower, Supernatural
Volumes: 11
Published: July 2012 - Present
Saitama just wasn't feeling his regular salaryman lifestyle, as he felt it wasn't really helping to change the world which was something he always dreamed of. One day he finally decides to give up that life and dedicates his life to becoming a superhero for the people, and to protect the world from impending evil. He worked so hard that his full lock of hair dissipated and all that was left was a lustrous bald head along with a punch that would kill any beast with one hit. And thus the One Punch Man was born with his yellow suit and red gloves, Saitama is now the hero he always wanted to be and must now hold his own in fierce battles that await him.
This action comedy is beyond godlike in every possible way because every action scene just blows you away, and leaves you salivating like a wild dog wanting another bite of what's next. One Punch Man serves up a nice side dish of non-stop, mind blowing delight, that hits your palette with a spicy kick of thrills, then brings you a main dish of explosive punchlines to keep you laughing well after Saitama and Genos have left a gaping hole in the chest of their enemies..
---
Closing Statement
Many may consider action manga to follow a cliche storyline that starts off with the main character showing extreme weakness, but then is blessed with celestial powers to combat against evil beings in a world marred with chaos. Be that as it may, the genre takes us on a wild expedition that totally stimulates the fantasy molecules of our imagination and in some way, provides hope that perhaps out there in this present world full of crime and negativity, there lies a group of superheros that can help restore the world back to its peaceful ways. Tokyo Ghoul, Jojo's Bizarre Adventure, Dragonball, Btooom!!, One Piece, Berserk, Hokuto no Ken, Accel World, these are just some of the more known titles out there, but we'd like to hear what action mangas you loved as well so leave your list down below!
As always, if you want to know about all the latest buzz straight from the bee's nest in Japan, be sure to keep it locked here at Honey's Anime.
---