También puedes leer este artículo en:Español
Manga has grown to become a worldwide phenomenon over the last couple decades, cementing a path for many mangaka to make waves. There are so many fantastic manga out there that really represent supreme quality and artistic direction, but we can only bring the list down to the highest grade of quality manga for you all. So if we missed one that you think should've made the list, don't worry, we'll be sure to have many more top 10 manga lists coming your way. In the meantime let's take a closer look at crème de la crème of the shounen category!
10. Bleach

Mangaka: Tite Kubo
Genres:
Volumes: 73
Published: August 2001 - Ongoing
Ichigo told us that he deserved a spot on the list and we had to listen otherwise we'd probably be confronted by his Zangetsu. The story of Bleach follows the life of Ichigo, as he embarks on a journey through the soul society as a shinagami, in search for the traitor who plans to destroy all of soul society. Teaming together with several other powerful shinagami, Ichigo finds himself in more than he bargained for, with each battle he encounters being more deadlier than the last. We follow him as he discovers more about his inner powers, while building close relationships, and uncovering the dark truths about the world around him.
Bleach really took off in a massive way when it released its first volume back in August of 2001, leading many to believe that the manga would become worldwide phenomenon. These enthusiasts weren't wrong as the manga grew into a series that helped to evolve the shounen genre. Bleach really stood out due to its intense action scenes in which Ichigo must deal with his shortcomings in battle, while learning more about his inner power through experience. With every encounter growing more intense leading up to the famed Aizen saga, Bleach never disappoints as its story resonates with the reader, with every challenge growing larger in gap and Ichigo's fiery passion igniting him to seek more.
---
9. Dragonball Z

Mangaka: Toriyama Akira
Genres:
Volumes: 42
Published: November 1984 - May 1995
If you look closely at our top ten, it's full of heavy hitters that we just can't seem to ignore. Toriyama's masterpiece has lasted for well over two decades which is a remarkable feat for any mangaka in Japan. Not only has his Dragonball franchise skyrocketed to success, but much of Toriyama's triumphs can be attributed to the Dragon Quest franchise as well (he definitely loves dragons). Dragonball Z takes us on the continuous journey of Goku, his family, and friends as they band together to put a stop to all of the evil that tries to destroy the world.
We placed Dragonball Z on the list because it really shines with Goku. Goku is one of the reasons why manga and anime became such a blockbuster hit worldwide. Despite the manga being finished, the anime still shines on with its latest hit Dragonball Super, so there's plenty of action to tune into. We can shed a tear that we no longer can enjoy this greatness through a manga, but Toriyama's impressive portfolio will shine on for many more years to come.
---
8. Seven Deadly Sins

Mangaka: Suzuki Nakaba
Genres:
Volumes: 20
Published: October 2012 - ongoing
Smashing its way to number is Meliodas and his team of knights from Seven Deadly Sins. Meliodas and his team are framed for a crime they didn't commit, and now they must reunite to search for the dastardly individual who is about to bring harm to the entire kingdom. Seven Deadly Sins deserves the number eight spot on our top ten manga because there's just too much action to ignore. Right off the bat you're introduced to a very dark plot that creates a lot of suspense for the reader, and keeps you absorbed for a very long time.
Each time Meliodas encounters a new enemy, he must always come up with strategic plans to first protect Elizabeth, but ensure that Ban and the rest of his team come out of it all alive. The manga has a lot more twists and turns than the anime, which is one very good reason why we highly recommend picking up a copy of the popular franchise to see more. If you thought the anime had a lot of blood, sweat, and tears to keep you on the edge of your seat, the manga will have you yelling and screaming because of how big of an impact each volume creates. Put the anime on pause for while, and catch up with the team in the popular manga.
---
7. Shingeki no Kyojin (Attack on Titan)

Mangaka: Hajime Isayama
Genres:
Volumes: 19
Published: September 2009 - ongoing
Attack on Titan is a series that snowballed its way to the top spot of many manga rankings for several months. The world has been taken over by man eating giants, and because of this large walls have been created to block them out. Unfortunately that plan didn't turn out so well as the wall came crashing down as one of the giants managed to make its way in, causing havoc everywhere. After suffering a tragic loss at the hands of one of the beasts, Eren joins forces with the Survey Corps in order to eradicate the enemy before it's too late.
While the story is very gripping and unforgiving, it's the fantastic level of design and uncertainty that give it so much merit. The major selling point was that it wasn't just about brain dead creatures with a purpose to only seek out human flesh, but that these enemies also shared the ability to think, move, and behave like the protagonists which created more fear as you never knew what to expect. Every encounter leaves you thinking that certain characters are in fact monsters themselves, but are then thrown a curve ball to discover that it was entirely a disguise to mask the real truth behind what was really transpiring.
---
6. Shokugeki no Soma (Food Wars)

Mangaka: Tsukuda Yuuto
Genres:
Volumes: 19
Published: November 2012
Yukihira's journey to become the greatest chef always evolves, with new dishes always being created on the fly, and innovative dishes that his enemies throw at him. His father taught him from a young age at their restaurant on how to prepare various meals, encouraging Yukihira to always think outside of the box of the normal cuisine. This led him to enrolling into the prestigious Tootsuki Culinary Academy, where he meets many fantastic friends, and encounters a wide array of food wars that challenge his methods.
Food manga will always continue to shine because of how many recipes you tend to learn just from reading them. In Shokugeki no Soma, there are so many crazy ideas thrown at you that it becomes a challenge to keep up with all of it. Every battle that Yukihira and his friends encounter are more lethal than the next, with every dish being pushed to the limit and taste buds overwhelmed with flavor. The anime has grown to be a very popular hit among many fans of the series, but we assure you that if you read into the manga just a little bit more, you'll find some hidden treats waiting in each volume.
---
5. Fairy Tail

Mangaka: Mashima Hiro
Genres:
Volumes: 56
Published: August 2006 - ongoing
The story stars Lucy Heartfilia, who desires to join the Fairy Tail Guild, one that is well known for having powerful wizards. Her dreams are put on hold however, as a band of evil pirates led by an evil magician are hungry to kill anyone in their path. She soon finds hope in Natsu Dragoneel, a fiery individual who only wants to seek peace, and to put a stop to all of the terror that threatens his friends. The two must embark on a journey in hopes to find the answer to why this is all transpiring, while building strong bonds with other wizards to topple evil.
Story is full of non-stop explosive action, as each adversary that Natsu and Lucy approach grow in intensity, keeping you glued to each page that you turn. Every volume sends us down a different path, providing us with more details pertaining to the corruption that plagues many guilds, and an excellent dialogue between characters to keep you engaged, but having you guessing as to which faction these characters are siding with .It's the constant rush that truly sells this manga because there's never a time to stop and gather information. One shocking event happens after the other which creates pivotal plot changes that throw the reader off course, which is why we absolutely suggest picking this one up.
---
4. D.Gray Man

Mangaka: Hoshino Katsura
Genres:
Volumes: 25
Published: May 2004 - ongoing
The D.Gray Man manga released in 2004 with Millennium Earl coming up with plans to destroy the world with his akuma. Fast forward to where we are now, and the manga has catapulted itself into the high ranks of many manga shops because now the story has evolved into something much greater. Millennium Earl is back with a lot more up his sleeve, Allen has matured, and his entire team of Exorcists have developed far stronger abilities. There's a deeper truth that Allen must learn in his turbulent journey to become a great exorcist, and so great leaps must be made to put an end to the terror before it swells up into something far more sinister.
While the anime is the icing on the cake, the manga is where the core of all the action takes place. With so much anticipation as to what evil schemes Earl has cooking up, we sit here with excitement wondering what will happen next. With new enemies showing up from Allen's past, and mysterious allies making their appearance, it's hard not to turn every page of each chapter just to know the outcome. This is one manga that we highly recommend reading because it will truly reel you in slowly, while pushing your imagination well beyond its limits.
---
3. One Punch Man

Mangaka: urata Yusuke
Genres:
Volumes: 11
Published: June 2012 - ongoing
When One Punch Man dropped its first ever volume here in Japan back in 2014, Honey's Anime made sure to be one of the early birds to grab a copy. We knew right away from glancing at the cover that this would be a hit, and now fast forward two years to where it has become a global sensation. Saitama's heroic story of wanting to save the world was one that many could relate to, and that attributed to its overall success. Saitama was just your ordinary salaryman at first, who didn't really have much going for him in life, and wanted to be a hero to children everywhere. This sparked a feeling inside of him that transformed him into the bald headed, one punch hero that we all know and love.
There's so much to each battle that Saitama and pupil Genos go through, that it's so hard not to read into every detail. Each chapter introduces a new opponent, one that is incredibly stronger than the one before it, and causes even more threat to the city. Saitama just nonchalantly approaches them, shares a few crude remarks before sending his enemy off to the next dimension. This sheer excitement and energy is what really makes the manga stand out, because everything is unexpected and unforgiving.
---
2. Naruto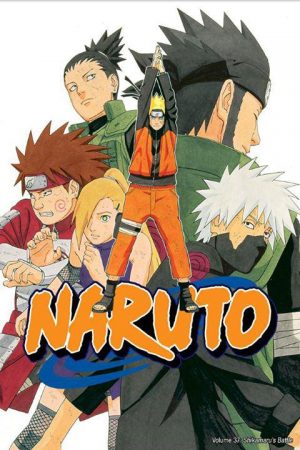 Mangaka: Kishimoto Masahi
Genres:
Volumes: 72
Published: September 1999 – November 2014
It's always a sad moment when you have to finally say goodbye to something you hold so dear to your heart, and that's how many felt when the Naruto manga came to a close on such a heart wrenching series. His village was torn apart by Nine-Tails, which now lives inside of him after it was placed inside of him by the Fourth Hokage in order to save what was left of his hometown. Naruto now follows his heart in order to band together with new friends in order to stop the evil that threatens his homeland, but to also embark on new territory that will take him to places he never expected to see.
Each chapter of the manga that you read leads you in a different direction every time, with every battle Naruto encountering leaving you on the edge of your seat in excitement. You're never bored when you find yourself deep into the volumes of the series, since there are so many surprises that lie ahead, which all end up creating more drama down the road. Naruto is an emotional roller coaster of excitement and sorrow that we highly recommend you pick up and read. You'll have more than enough time to read now since the series is over, but his legacy will continue to live on for ages.
---
1. One Piece

Mangaka: Oda Eiichiro
Genres:
Volumes: 82
Published: July 1997
There's clearly no denying that One Piece surely deserves the number one spot on the shounen manga list simply because, over its longevity it has managed to surpass well over 100 volumes which is something unheard of in Japan. There are only a few series to have done that and that's An-pan Man, and Doraemon. One Piece has reached a status that even the most well revered mangaka can't obtain with just one manga, and the remarkable thing is how it's still ongoing. Here in Japan the latest One Piece film, One Piece Gold released with a positive reception, and perhaps we here at Honey's can write up our impressions on it since it was a fantastic piece of work.
We could go on for days as to why One Piece is so epic, but the numbers and popularity speak for itself. Luffy and his team of devoted pirate comrades are always searching for new adventure, and perhaps that's why it resonates so much with a large audience. The way that it speaks to you is truly captivating, as the story not only provides you with a memorable adventure, but it teaches us the values of friendship, love, and creating long lasting relationships that leave a legacy. One Piece is not just a manga, it's a work of art that comes to life to teach us the very truths about life, which not many can express so elegantly as this one.
---
Shounen Manga is constantly evolving, with new and more exciting titles making their official release. With an enormous library to choose from, shounen manga will always continue to leave its mark in the world. We simply couldn't throw every popular shounen manga on our list, but we know that there are a ton of great manga out there. So let us know which ones you loved and post them down in the comments section below! As always, for your sweet manga fill, always be sure to stay updated at Honey's Anime. See you again soon!
---