There's always been a fear associated with being trapped on an island and forced to somehow survive. We can't blame people for having that fear though. Surviving day to day life already can be quite tough but add the element of being on an unfamiliar area surrounded by deadly forces and survival becomes a whole different game. That's why we'll stick to reading manga like Jisatsutou. Crafted by mangaka Mori Kouji, Jisatsutou—which translates to Suicide Island in English—gives us that survival story we fear and makes an interesting manga that for 17 volumes made us constantly wonder how far a person could go in order to live.
Manga like Jisatsutou truly don't come around often and we here at Honey's Anime make it our mission to find stories that echo the themes in this psychological survival story. That's why we set off on our own survival mission—that took place from the comforts of our homes—to scour the net and find similar manga to Jisatsutou. It didn't take us long and we now wish to share with you readers out there our findings. These manga will grab your emotion and equally hold your attention as you watch various characters go through literal hell to find a way out of the situations they have ended up in. If you're ready to read such great manga then continue below as we present 6 Manga Like Jisatsutou!
Similar Manga to Jisatsutou
1. Battle Royale

Authors: Takami, Koushun- Taguchi, Masayuki
Genres: Action, Drama, Horror, Psychological, Seinen
Volumes: 15
Published: 2000-2005
Shuuya Nanahara and his fellow classmates are about to enter a horrible survival game when they are selected to be participants in "The Program". Against their will, B Class of Shiroiwa Junior High are thrown onto an island and given random tools to kill one another until only one student remains. Who will ultimately stand as the last surviving soul of Class B and be granted a chance to return to their lives they now are fighting desperately to keep? Find out in Battle Royale where the rules are simple. Survive at all costs!
There can never be a survival-based recommendation list without Battle Royale. Originally a novel penned by author Takami Koushun in 1999, a year later Battle Royale would become a manga series that would last 15 volumes and even in 2018 be considered the quintessential survival manga stories. Just like Jisatsutou, Battle Royale looks at what humans are capable of doing when they know their lives are on the line. With beautiful art, an engaging story and truly amazing levels of detail, Battle Royale is a manga that if you somehow haven't read you are missing out. If you love Jisatsutou, then you're going to adore Battle Royale!
---
2. Eden no Ori (Cage of Eden)

Authors: Yamada, Yoshinobu
Genres: Action, Adventure, Ecchi, Fantasy, Shounen
Volumes: 21
Published: Nov, 2008- Jan, 2013
When a plane filled with students crash lands on an uncharted island, you know things will be rough. However, for Akira and his friends, the crash was just the beginning. It doesn't take long for the students to realize there is something very off about this island. Can Akira—the so-called class clown—somehow rise up to become a leader and guide his friends to find safety and a possible way home? Enter this crazy survival tale in Eden no Ori and witness Akira's journey for yourself!
Now if you read Eden no Ori and notice the strange monsters and extinct beasts then you might wonder how is it similar to Jisatsutou? While Jisatsutou might not have monsters from prehistoric time periods running around the monsters come in the form of humans. Eden no Ori deals with a similar theme as Akira's class aren't all heroes and kind warriors like he is. In fact, several characters, who start off on Akira's side initially, become villainous later because this world has changed their psyche and made survival take control. Eden no Ori will make you remember that while monsters might be like dinosaurs or other creatures, they can sometimes take the form of people too…
---
3. Let's Lagoon

Authors: Okazaki, Takeshi
Genres: Mystery, Drama, Ecchi, Romance, Supernatural, Seinen
Volumes: 5
Published: Oct, 2007- Present
Yamada Sota has awoken in a place that is certainly not his home. Stranded on some random island with no one else besides himself, Sota begins to question how he got here and why no ships seem to pass by the island at all. Immediately, Sota begins to try and salvage food and supplies but learns he isn't actually alone on this mysterious island. A young woman named Imaise Chika appears and decides to cooperate with her to survive. What adventures and perils await Sota and Chika? Only time will tell as the two struggle to survive on this island together in Let's Lagoon.
One thing we know here at Honey's Anime HQ is that survival stories don't always need to be filled with psychological issues and horror. Survival stories can—at times—be adventure tales where characters unite to fight for their lives but equally enjoy what they can during this struggle. That's why Let's Lagoon might be less intense than Jisatsutou but equally, still has that survival adventure we love so much. If you need a break from overly intense manga then check out Let's Lagoon by mangaka Okazaki Takeshi. Now we just need to survive waiting for this series to keep continuing and release a new chapter!
---
Any Manga Like Jisatsutou ?
4. 7 Seeds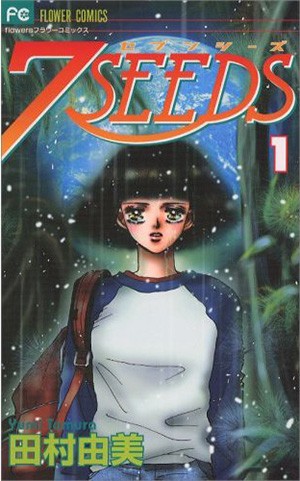 Authors: Tamura, Yumi
Genres: Action, Adventure, Mystery, Drama, Horror, Romance, Sci-Fi, Shoujo, Psychological
Volumes: 35
Published: Oct, 2001- May, 2017
Earth should have been destroyed when a giant meteorite slammed into the planet wiping out all of humanity. However, unknown to most the government realized that this was a possible outcome and froze seven pairs of men and women to be awoken sometime in the future. The hope was that these selected individuals would repopulate the Earth and ensure that mankind's story didn't end after the meteor hit. When the cryo pods open though, the men and women arise in an unfamiliar setting fraught with dangers in numerous ways. Welcome to the dark future where survival has a whole different meaning then in our time…
Survival stories like Jisatsutou might take place in a more modern setting but sometimes you want more from your manga. That's where 7 Seeds comes in, folks. 7 Seeds is an intense blend of numerous genres that takes the survival story into a whole new realm. Not only do the character face off against each other and their whirlwind of emotions but they also face off against the Earth which isn't like it once was. Plants and animals have changed dramatically leaving our survivors in a world that is rougher than anything seen before. 7 Seeds just ended last year in 2017 and we endured the survival of waiting for each new volume to release. However, you folks at home don't need to worry as you can now binge easily one of the coolest and most unique survival manga known as 7 Seeds.
---
5. Hoozuki no Shima (Hoozuki Island)

Authors: Sanbe, Kei
Genres: Action, Mystery, Drama, Ecchi, Horror, Psychological, Seinen, Thriller
Volumes: 4
Published: Dec, 2007- Jul, 2009
Brother and sister Kokoro and Yume—who happen to be blind—Suzuhara have just been abandoned by their parents. What's worse is that they are sent to an isolated island called Hoozuki Island where they will now live and go to school at. It doesn't take long for Kokoro to realize there is something dark about this island and begins to question why him, his sister and others have been sent here. Deeper and deeper, Kokoro will go as he discovers Hoozuki Island's hidden mysteries. However, the closer Kokoro gets to the truth, the more he doesn't realize how much danger puts not only himself in but all of the residents of this island.
Survival stories with a creepy mystery focus always get our blood pumping here at Honey's Anime. Jisatsutou was like that in many ways using its great characters who tended to be dangerous and thus made their every action unpredictable at times. Hoozuki no Shima by mangaka Sanbe Kei is also like this but with an added twist of pure horror from elements we won't spoil. Don't you feel your curiosity rising as you wonder what horrors await as Kokoro and his blind sister Yume try to survive on this weird Hoozuki Island? We know the answer is a resounding yes and that's why we think you better get to reading Hoozuki no Shima as soon as you can to find the answers for yourself.
---
6. EX: Shounen Hyouryuu (EX: Young Castaways)

Authors: Yamada, Yoshinobu
Genres: Action, Shounen, Psychological, Thriller
Volumes: 5
Published: Jul, 1999- Aug, 2001
Satoshi and his friends were enjoying a nice boat ride to Kijijima before the world ended abruptly right before their eyes. A 500-meter tsunami hits their small boat and slams Satoshi and his pals onto an island forcing them to figure out how to survive. With no options other than learning about their new home, Satoshi joins his friends on seeing if other passengers aboard the vessel also made it to the shore. However, Satoshi will soon learn that survival changes people and it's not always in the best way…
Mangaka Yamada Yoshinobu—who wrote our earlier entry of Eden no Ori—created a manga series called EX: Shounen Hyouryuu which is where we will wrap up our 6 Manga Like Jisatsutou recommendation list. EX: Shounen Hyouryuu might be a short series at only 5 volumes long but don't let it deceive you as this is one survival story that hits all the right notes. EX: Shounen Hyouryuu mirrors Jisatsutou in numerous ways as you witness people going from one mindset to another as they now face their own possible demise. Also like Jisatsutou, EX: Shounen Hyouryuu is a beautiful manga with awesome old-school art but with a nice addition of that shounen adventure theme we always love here at Honey's Anime. We fully recommend reading EX: Shounen Hyouryuu even if it's a bit old in comparison to some of the titles on our list. Sometimes classic manga like EX: Shounen Hyouryuu can impress and we assure you folks, this series does that very well if you like survival tales.
---
Final Thoughts
Since the birth of humans, we have struggled to survive anything life throws out us. Though the beauty of that struggle is that we learn and see new things unfold before us and eventually get our rewards for enduring. Many of the characters above in the various manga like Jisatsutou endure that same struggle and while some fail, others succeed. We loved these manga works above and we're sure that you'll love them too if you loved Jisatsutou. Have you read or do you plan on reading any of the manga we mentioned in our list of 6 Manga Like Jisatsutou? Let us know in the comments below, and for more recommendation articles like this one, be sure to continue returning to our hive here at Honey's Anime.
---