If a person were to ask for the meaning of survival, the actual answer would vary from person to person. Some would claim that survival means to fight against something that threatens your life or another. Another may claim survival means to run away to avoid a danger ahead. Survival essentially can mean more than one concept and in many ways it's why that same idea allows for a great theme to be used in manga. Here at Honey's Anime have fought and run through many trials and tribulations to bring you another best recommendation list. Today we look at the top 10 survival manga.
The theme of survival in manga is amazing since it allows mangaka a wide berth in terms of creation. As you'll notice from our list we went through stories that follow end of the world scenarios to game that cause people to show their true colors. Our list will ensure you can find a good survival story regardless if you prefer fantasy over, let's say, something like horror. The question we have for you though is simply: "are you ready to survive our gauntlet of ten survival manga dealing with pushing a man or woman to the brink in order for self-preservation?" If you answered yes we ask that you continue reading on for our list of survival manga to truly begin.
10. Dragon Head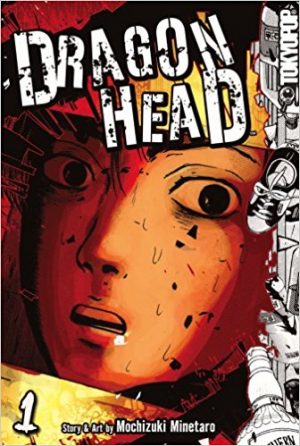 Mangaka: Mochizuki, Minetaro
Genre: Action, Drama, Horror, Psychological, Seinen
Volumes: 10
Published Date: Sep, 1994- Dec, 1999
Teru has just survived a horrible train wreck. As he looks upon the carnage, he finds his heart overjoyed to see that at least two other people were spared. Teaming up with Ako and Nobuo, Teru begins breaking out from the wreck to reach the salvation that is fresh air. However, the team begins to deal with various issues both externally and internally and it will cause their minds to deteriorate. Suddenly the earthquakes hit leading Teru and his allies to realize the horrors within the wreck may not be the only issue they will have to deal with if they break out.
Dragon Head by Mangaka Mochizuki Minetaro really brings out the true essence of survival. Mochizuki's creation shows the reality when terror hits a person's mind and starts to challenge their sanity. Each page really makes the reader feel Teru's struggle thanks to good pacing and a strong art style that shows some wonderful expressions. Another really well done element comes in the form of the other characters. Ako and Nobuo are main characters just as Teru is, and you'll begin to really delve into their stories as the manga progresses. Overall we highly recommend Dragon's Head if you love to see a true survival story that could be a very real thing in some cases.
---
9. Survival

Mangaka: Saitou, Takao
Genre: Drama, Shounen
Volumes: 22
Published Date: 1976- 1978
Did you ever realize Japan is surrounded on all sides by water? Unfortunately our main character of Survival is about to become very aware of this when a sudden incident causes Japan to sink to the bottom of the ocean. Having barely survived, the young boy now faces a scary reality. All around him the once booming land of Japan has become nothing more than an island. The young boy will have to use all the skills he's acquired in his life if he wishes to even have a chance at surviving.
The title of Mangaka Saitou Takao's work is called Survival, obviously it was going to be on this list. While Survival may be an older manga series don't let that keep you from reading it. Some classic but strong art allows readers to get a nice glimpse of a different time of manga stylings. The real life issues the boy deals with in the story give readers a lot of drama as you watch him struggle against the harsh world he's been thrusted into. Survival is a great example of a story that besides having the name of our list, uses very minimal amount of concepts to make an interesting read.
---
8. Let's Lagoon

Mangaka: Okazaki, Takeshi
Genre: Mystery, Drama, Ecchi, Romance, Supernatural, Seinen
Volumes: 4
Published Date: Oct, 2007- Present
A young man named Yamada looks around to see himself on an island surrounded by water and trees. As Yamada ponders what happened he realizes he has no memories leading up to his current predicament. Several clues Yamada finds among what looks like debris show that Yamada most likely was on a school trip. With a minimal amount of food, he is even more shocked to see it dwindle to less as a young girl shows up by the name if Imaise Chika. Now the two will have to work together if they wish to survive on this seemingly deserted island.
Okay yes Yamada may be lucky he has a cute girl alongside him so he's not completely alone, but their predicaments aren't exactly great for a first date. Let's Lagoon by mangaka Okazaki Takeshi shows a good romance story but with a true survival tale being the main theme. Besides having some amazing art that really shines thanks to some impressive backgrounds and character models, Let's Lagoon in general is just a lot of fun to read. Yes, at its heart we are dealing with surviving with food running low and the harsh environments of an island life. However, needless to say Okazaki really knows how to mitigate the terrors of survival with some great romance elements and a tinge of ecchi to balance it all out. We highly recommend Let's Lagoon if you want a survival story that isn't too disturbing.
---
7. Metro Survive

Mangaka: Fujisawa, Yuki
Genre: Drama, Seinen
Volumes: 2
Published Date: Feb, 2006- Sep, 2006
Survival to save oneself or others sometimes can really make a character change. Mishima is about to learn that all too well as he goes from weak willed to leader. Having been a repairman for Exopolis Tower, a very well to do business building, Mishima is used to being pushed around. Despite having to break a promise with his son to be there for his birthday, Mishima continues to be pushed around like a trained dog. However, when Mishima finally rides the train home a sudden earthquake destroys the tower and traps him and several others inside the train. Mishima must now take up the mantle of being a leader or else the patrons of the train may end up going berserk.
Characters evolving and rising to the task is a really important element to a true survival story. Thus why Metro Survive is such an impressive story of seeing a man become a leader to save himself as well as others. Mangaka Fujisawa Yuki did a great job incorporating various elements in Metro Survive such as character development and strong dramatic tones. Why a lot of earthquake stories exist in the survival manga genre, Fujisawa's work stands as being less focused on the disaster and more on surviving the situation. You will really enjoy Metro Survive if you want a quick but strong tale of a parent wanting to make sure he survives for his child's sake.
---
6. 51 Ways to Save Her (Kanojo wo Mamoru 51 no Houhou)

Mangaka: Furuya, Usamaru
Genre: Action, Drama, Romance, Sci-Fi, Seinen
Volumes: 5
Published Date: May, 2006- Aug, 2007
A job, a chance encounter and a horrendous earthquake really lead to an interesting story that's about to unfold. Jin Mishima just finished college and is looking for work. Jin's job hunt leads to a famous TV station in Odaiba where he has a chance to get a dream job. Meanwhile, Nanako Okana is in grief thanks to her friends playing a mean trick involving tickets to a nonexistent concert. Suddenly the two bump into each other--ironically they knew each other in Junior High--it seems like a destined romance story in the making right? Unfortunately for both Jin and Nanako an earthquake that is measured as an 8.1 on the Richter scale hits leaving the two reunited friends in a terrible situation of surviving.
It's bad enough that Jin and Nanko will have to survive the terrible damage caused by the earthquake but throw in some humans who are less than kind and you have mangaka Furuya Usamaru's work by the name of 51 Ways to Save Her. A tragic tale filled with the dredge of humanity and the theme of survival which make 51 Ways to Save Her a must read to anyone who love the survival genre. Readers will enjoy the romance elements as well but the true take is the psychological elements that are embed in 51 Ways to Save Her. You'll find yourself more disturbed with seeing the cruel nature of mankind at times than the actual earthquake's aftermath.
---
5. Jisatsutou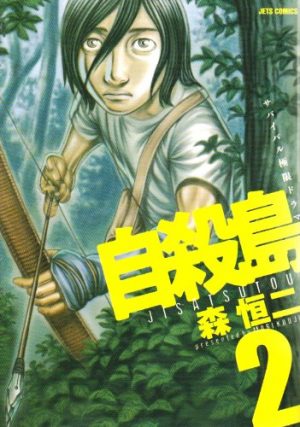 Mangaka: Mori, Kouji
Genre: Mystery, Drama, Psychological, Seinen
Volumes: 17
Published Date: Nov, 2008- Aug, 2016
In Jisatsutou, our story deals with surviving dark thoughts. The Japanese government realizes that dealing with those who wish to commit suicide takes too much time and bleeds resources. Thus a new rule is implement, a doctor will ask if a patient wishes to live or not. If the answer is a no, the government has a surprise in store for said patient. The patient, such as our main character Sei, will be sent to an island…
Suicide is a dark theme that really is in itself a battle to show one can survive anything thrown at them in the world. Jisatsutou aims to bring that reality to light using some unexpected means. Mangaka Mori Kouji provides a tale of what ifs and if someone who has lost it all can find a means to want to survive. The impressive art style brings readers into a bleak like world with great background effects and emotional faces shown on the various characters of Jisatsutou. We recommend anyone to give Jisatsutou a try if you want to see what a human will do once they realize death is a possibility.
---
4. Cage of Eden (Eden no Ori)

Mangaka: Yamada, Yoshinobu
Genre: Action, Adventure, Ecchi, Fantasy, Shounen
Volumes: 21
Published Date: Nov, 2008- Jan, 2013
Akira and his class are just having fun on a plane that's heading to their school field trip. Everything is normal until the plane falls out of the sky and lands on an odd island. Akira and his friends now face the reality that this strange place is not normal as various things lurk around every hill and in every forest. Where in the world is Akira and his class? Find out in Cage of Eden by Mangaka Yamada Yoshinobu.
Cage of Eden does many things right. Not only does it have a great art style, but it also has such an interesting take on a fantastical tale of survival. The situations that begin to befall Akira and his friends are sometimes so outrageous but even when they are readers will be hooked. From the very first page of volume one to the last in volume twenty one, we here at Honey's Anime know you will not want to stop reading Cage of Eden once you start it. Sometimes an island can be so deceptively calm and tranquil…
---
3. Battle Royale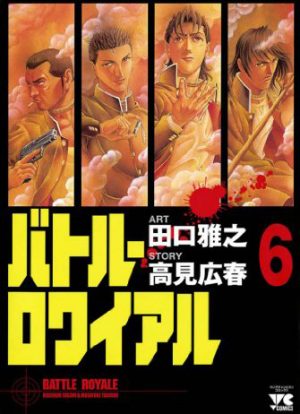 Mangaka: Taguchi, Masayuki and Takami, Koushun
Genre: Action, Adventure, Drama, Horror, Psychological, Seinen
Volumes: 15
Published Date: 2000-2005
Why is this happening? This is a question that is asked by every single student of Class B from Shiroiwa Junior High. While enjoying a regular bus ride leading to a supposed surprise class trip, Shuuya and his class notice something is amiss. Drugged and brought to a strange island, Class B is told they are now participants of a game called The Program. 42 Students must become only one in order for this game of survival and death to end. The horrors of a true testament to survival begin on page one of Taguchi Masayuki and Takami Koushun's Battle Royale.
If Battle Royale wasn't on this list, then we at Honey's Anime didn't do our jobs right. This is the quintessential survival story and it shows with each violent but dramatic page. While you're loving the amazing artwork that Takami Koushun brings to the table, you're also hit with an epic story crafted by Taguchi Masayuki. Battle Royale is a famous tale in the world of media for a reason and you'll understand once you take the first step into the program yourself.
---
2. Psyren

Mangaka: Iwashiro, Toshiaki
Genre: Action, Adventure, Game, Romance, Sci-Fi, Shounen, Super Power, Supernatural Psychological
Volumes: 16
Published Date: 2007-2010
Some hate the student Ageha Yoshina. While Ageha is always willing to help out others, he doesn't do it for free. He requires payment. That will soon change when Ageha is ripped from his world and thrown into the world called Psyren. Here Ageha is forced to use a gained power called PSI if he wishes to return home, alongside a girl he knows from his class. Ageha may have been a selfish person before but in Psyren if he wishes to live, he can't rely on getting paid.
Psyren is a good example of a survival story that is wrapped in a supernatural game. Created by mangaka Iwashiro Toshiaki, readers will enjoy a cool adventure story with a large heaping amount of battle against others if you wish to make it home alive. Those who partake in Psyren will also love the cool characters such Ageha who really might be a bit of a jerk but kicks a lot of butt. Psyren is a great mash up of multiple elements leading to a great tale of survival and that's why we can't recommend Psyren enough. Seriously, learn from Aegha don't make phone calls to strangers.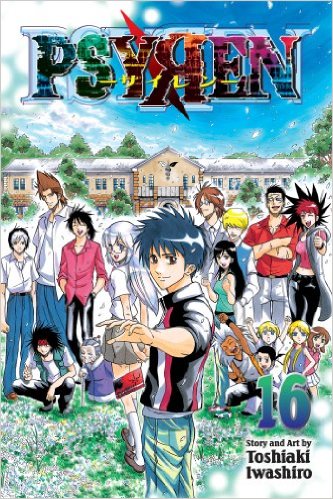 ---
1. Alice in Borderland (Imawa no Kuni no Alice)

Mangaka: Aso, Haro
Genre: Action, Horror, Shounen, Supernatural, Psychological
Volumes: 18
Published Date: Nov, 2010- Mar, 2016
Alice in Borderland stand at the top of our survival list for a reason. When Alice Ryouhei finishes school for the day he just wishes to hang out and stop thinking about what awaits him in the future. When Alice decides one night to hang with friends Karube and Chota, things become strange. Watching fireworks, all seems normal until one extremely bright light blinds the trio. Upon realizing they passed out, Alice and friends realize they aren't home anymore. The group has been transported to a place called The Borderland, here you choose two options, play deadly games or face death. Can the trio get back home? Even more so, can Alice and his friend survive to go back home?
First let's just say it Alice in Borderland looks amazing. Mangaka Aso Haro blew us out of the water with stunning art and really cool themes. Besides just the art those who pick up Alice in Borderland will enjoy a survival game that will change your outlook on any game in general. Alice in Borderlands is what we call the perfect package. That being said we wish you to pick up this great survival story to witness to an incredible well done story.
---
Final Thoughts
Finding a good manga can be a game of survival. While there are so many choices it can be difficult to find a good one indeed. Hopefully we at Honey's Anime were able to make that battle a bit easier with our recommendation list. Survival is a tough thing to do even with making lists like this so let us know down below if we missed a good manga about survival out there. As always stick around to Honey's Anime for even greater recommendations like this one.
---