INTRODUCTION
Love can be a sport in of itself. Similar to any sports game, there is always a mix of hard work, some wins, some losses and a myriad of challenges based on who the person you're dealing with is. In Suzuka by Mangaka Seo Kouji, we definitely get a romance story that feels like a sports game. Each moment between Suzuka and Yamato feels like a mixture of palm sweating and heart racing events before the final buzzer sounds. That feeling we at Honey's Anime wanted to find in other manga stories. Our battle made us run around and do some interesting stunts to find that means of making such a list. In the end, just before the last second counted on the clock, we feel we accomplished that feat. Welcome to 6 manga like Suzuka.
As we read various series we made sure to adhere to what made Seo Kouji's Suzuka so great. In many ways all of the manga below have couples who are involved with sports and their loves or romances bloom from the games they play. As you will see some stories are comedic romance tales all while others are just as drama filled as each volume of Suzuka was. We at Honey's Anime have made sure to get a good mixture so you can find one that will satisfy you, or maybe all of them will. Anyways let's start this love filled manga race now.
Similar Manga to Suzuka
1. Inu Neko Jump!

Mangaka: Hattori, Mitsuru
Genre: Comedy, Romance, Seinen
Volumes: 5
Published Date: Apr 2000- Dec, 2001
Takahiro Ozu was well known in the world of Track and Field since middle school. Being dubbed the long jump specialist, Takahiro seemed to have a chance at becoming big someday. However, a loss in the finals during high school made Takahiro give up on his dream and decide to just become a normal student. Now in college, Takahiro smokes and just wants a girlfriend. Oddly enough a girl named Noriko Watsuki, who's had a thing for Takahiro since she witnessed him jump back in middle school. Reentering Takahiro's life, Noriko seems to really be very odd indeed claiming that she is his property and even making the statement they had sex at an early age. Is this how Takahiro's wish comes to fruition?
Suzuka was about serious natured romance but at times had good comedy peppered in. Inu Neko Jump by Mangaka Hattori Mitsuri makes an attempt at comedy first, romance second, and let sports be the starting point for our main characters. Don't let the goofy antics of Noriko dissuade you though, Ino Neko Jump has some pleasant fun with her interactions with Takahiro and every page gives for some good laugh out loud moments. Having solid art that fills each page with vibrancy also adds to the overall enjoyment of Inu Neko Jump. If you felt Suzuka was a little too serious at times and needed more of the comedy that infused in its romance tale, look no further Inu Neko Jump has you covered.
---
2. Gun-Jou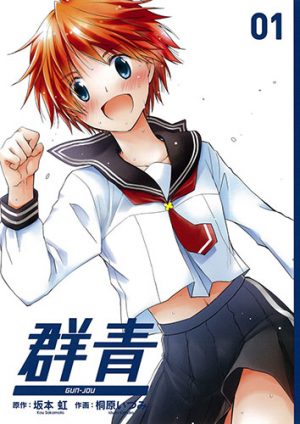 Mangaka: Kirihara, Idumi- Sakamoto, Kou
Genre: Sports, Slice of Life, Seinen
Volumes: 5
Published Date: Oct, 2011- Jul, 2014
Gun-Jou will please the fans of Suzuka's more track and field orientated main girl Suzuka. Michi Yomogihara runs and she runs very fast. According to most, Michi can outrun even motorcycles. Having been outside of Japan, Michi wishes to pursue two goals. One is to restart her running passion and the other is to meet her favorite Idol. Yet, things don't go as planned when she finally does return to Japan and runs into her favorite Idol.
Gun-Jou focuses less on romance in the literal sense and instead the romance of a sport. Mangaka Kirihara Idumi does a tremendous job bringing to life the sport of track and field with beautiful scenes that make you almost feel like you're running alongside Michi. While it may have a mostly female focused group of characters, each is filled with life and personality thus you'll be sure to find your favorite character in little time flat. The reality of loving a sport means hard work and persistence both of these elements captured wonderfully in Gun-Jou.
---
3. Cross Over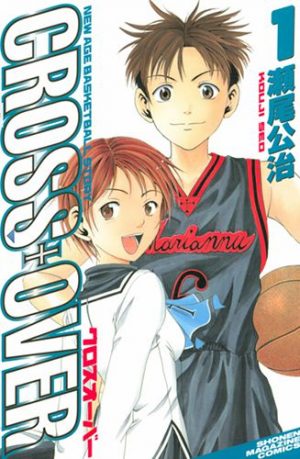 Mangaka: Seo, Kouji
Genre: Comedy, Shounen, Sports
Volumes: 7
Published Date: May, 2002- Sep, 2003
From Seo Kouji, creator of Suzuka comes Cross Over. Ogata Natsuki is one of the best players of Basketball for the Kakuchi Junior High Basketball Team. While that may sound impressive to most, seeing as how they can't even win in the Prefectural Tournament Third Round. Despite that, Ogata's best friends all wish he would try for the prestigious Fujiwara Academy Basketball team. However, Ogata has a lot going against him, more so his incredibly short frame, so despite his skills most don't see him as a good player. Then one day Ogata joins St. Mariannu High in a practice game against Fujiwara Academy, what awaits next you'll have to read Cross Over to find out.
Suzuka at one point becomes fully invested in the romantic elements, foregoing the sports element all together. Cross Over leans to make a balance of sports and romance for a truly fun experience. Ogata's character harkens to those who feel left out in a sports world because of their height or stature and it makes him a good role model in never judging a book by its cover. That being said Cross Over does a fantastic job thanks to Seo Kouji's skills at crafting a good story with great art. You'll really enjoy reading Cross Over, especially if Basketball is more your speed than track and field.
---
Any Manga Like Suzuka ?
4. D-ash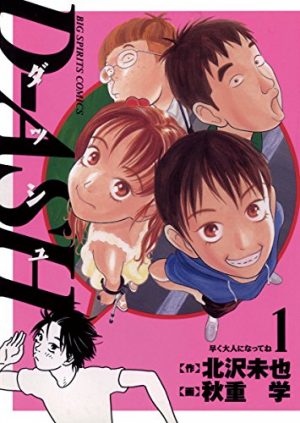 Mangaka: Akishige, Manabu- Kitazawa, Miya
Genre: Drama, Romance, Sports, Seinen
Volumes: 5
Published Date: 1997- 1998
Kids will be kids, right? The Perverted Boy's Club led by Tsukasa, Tajima, Katsu and Sae all share perverted passions it seems. However, time halts for no one, even in manga and the boys grow up and find their passions drifting towards other ideals. The story of the growth of a group of kids starts on page one. Don't you want in on the adventure?
D-ash is a pretty interesting story of the growth a kid goes through. While Suzuka focuses on the latter years of high school and into college, D-ash goes from elementary school all the way to adulthood and all the while it never loses the essence of sports and romance. D-ash art is pretty unique as well, each page is handled incredibly well thanks to Akishige Manabu's style. The only thing you'll wonder about D-ash by the end is why isn't there more? You'll feel as if you dashed reading through it because of the fun manga this just happens to be and no, we're not sorry for the dash pun either.
---
5. Smash!

Mangaka: Saki, Kaori
Genre: Drama, Romance, School, Shounen, Sports
Volumes: 18
Published Date: Jul, 2006- Apr, 2010
Sports can truly bring people together in both camaraderie and sometimes romance. Shouta and Miwa both love the same game, Badminton and it has been their love since they were kids. Miwa tries desperately to get her love Shouta to enroll in the Badminton school she is attending but Shouta is more about playing the game of Badminton as just that, a game. Enter a Badminton player by the name of Yuuhi, a mute but amazing player of the sport. Without meaning to, Yuuhi makes Shouta seek to become a legitimate player of Badminton.
Smash by Mangaka Saki Kaori really makes a sport that is not as well-known interesting. Using romance and a good mix of drama, each page of Smash makes the reader really feel invested in the story of these three characters. Suzuka had a lot of drama filled romance elements and Smash mimics this all while using a few twists and turns in its plot to keep the reader interested. It also helps that Smash looks incredible. Each page and scene both on the court and off look incredible and that truly makes your eyes very happy indeed. Overall Smash will definitely be a manga you'll come to love if you were a huge fan of Suzuka.
---
6. GE: Good Ending

Mangaka: Sasuga, Kei
Genre: Drama, Ecchi, Romance, School, Shounen, Sports
Volumes: 16
Published Date: Au, 2009- Jan, 2013
Utsumi Seiji has a chance encounter with a woman from his school's Tennis Team named Kurokawa Yuki. Utsumi wishes to tell Yuki how he feels about her but there's a catch. If Utsumi wishes to confess his love for Yuki and get a good ending, he will have to become a star player of the Tennis Team. How far is Utsumi willing to go for the love of his life? Just like Utsumi, you will have to take the plunge and enter the sports romance that is GE: Good Ending.
GE: Good Ending truly got a good ending in the long run. Thanks to a lot of popularity and good response from fans of the one shot version of GE: Good Ending, they ended up making a full series which is what we're currently focused on. Characters really are strongly shown in GE: Good Ending, they scream as real life like people and it is that nature that makes the story hard to put down once you begin it. When GE: Good Ending focuses on Tennis pages feel as if you're watching a game of Tennis being played despite this just being a manga, that's a strong feat in our opinion. GE: Good Ending does an incredible with every faucet it focuses on thanks to Mangaka Sasuga Kei and thus why it wraps up our list nicely.
---
Final Thoughts
Indeed the game of love is a truly hard thing to win especially in the world of manga. As the various couples could attest to if they could speak in the real world, which would be terrifying but cool at the same time, like any sports game there is no clear cut way to assume you'll win in romance. However, by reading this list we hope you won by finding some great manga to read. As always we here at Honey's Anime aren't perfect and probably missed a good manga in between the tears we shed during some of the more dramatic scenes. Let us know down in the comments if you have a manga you feel could have been on this list and be sure to have us bookmarked for even greater manga recommendations.
---