También puedes leer este artículo en:Español
This summer has been quite spectacular as Rio 2016 exploded onto the scene, and created a lot of wonderful memories for the Olympic Games. There were moments of triumph, laughter, and the emotional feeling of loss. In the end, the Olympics proved to be a monumental showcase of talent, skill, and prowess that no other major sporting event can compare. With the burning excitement still burning through our veins, Honey's Anime thought it would be great to pay homage to the historical event by listing our top ten sports manga for you to check out. These are some of the finest hand picked manga that we feel would certainly earn a gold medal in their respective sports category, so now we shall present to you, our ten contestants for the top spot for best sports manga.
10. Diamond no Ace

Mangaka: Terajima, Yuuji
Genres: Sport
Volumes: 47
Published: May 2006 - July 2015
Eijun has a dream to take his team well beyond qualifiers and make their way to the famous Koushien Championships. He starts off his journey in a small rural town, pitching for his middle school and is then paired up with a skilled catcher who resided from a very elite baseball team. After much thought and consideration he decides to pack his bags, move out of the countryside and attend the school that this very same catcher came from to improve his pitching skills. Together these two work hard to achieve more than just team chemistry, but to bring home the title where it belongs.
Baseball manga is hard to come by at times, since much of the story is either really solid or lacking in various areas. Diamond no Ace demonstrates how a story should pan out, and gives the reader an in depth look at the growth of Eijun and his team. You're always left with a great impression once you finish a volume because you know just what to look forward to in the next one, and are excited to see just how far Eijun can take his talents.
---
9. Yowamushi Pedal

Mangaka: Watanabe, Wataru
Genres: Sport
Volumes: 46
Published: February 2008 - Present
Yowamushi Pedal stars passionate otaku Sakamichi Onoda, who dedicated his life to all things pertaining to anime, games, and Akihabara. All he wanted to do was find other individuals who shared the very same passions as he did, so that his school experience would be more fulfilling. He discovers an anime club but is disappointed when he finds out it's been dissolved and no longer in service. One day on his way to pick up items in Akihabara, Shokichi notices Onoda's talents on his mamachari, a bulky bike mainly used for short distances, and gets to know him . The two come to realize that they attend the same school, and from there Onoda's new adventures begin.
Yowamushi Pedal is an excellent manga to pick up because it tells a story about a boy with untapped potential, and he's completely unaware of it. His dream to find friends who love the same hobbies he does comes true, but these very same individuals help to change his life forever. Not only is Onoda passionate about the otaku life, but you discover how talented he his on the bike and you're immediately drawn into his excitement as he moves forward. Every race that he encounters is a rush and you're always treated with brotherly love, as these cyclists work together to create a spectacular team.
---
8. Giant Killing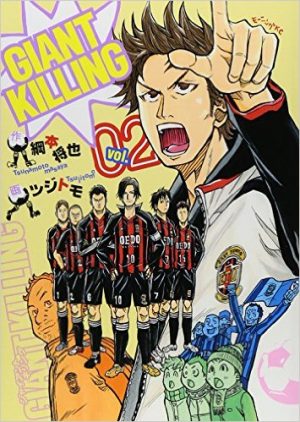 Mangaka: Tsunamoto, Masaya
Genres: Sport
Volumes: 41
Published: January 2007 - Present
Giant Killing is all about the passion of soccer, and Takeshi will do what it takes to get his East Tokyo team out of the slumps. Being a former member of the squad, Takeshi knew a lot about the team and how to manage it. He decides to become the coach of the new squad who at the moment is at the bottom of the league, and needs an answer to come back. The fans aren't pleased with recent performance and they want to see progress, so Takeshi uses his exceptional skills to take the East Tokyo team to victory, and to become the giant killer in the league.
Giant Killing is a fantastic story because of how much passion you feel from team once their team morale increases. In the beginning, you felt their pain as they continuously found themselves in a slump, and just couldn't dig themselves out. Takeshi comes in and turns this team into a force to be reckoned with. Takeshi masterminds tactics on the field helped to rejuvenate the team and help them stand toe to toe with some of the league's killer players. This is surely a must read if you love the story of how the underdog works extremely hard to fight their way back to become one of the best in the league, and the hunger to get to the top.
---
7. Kuroko no Basket

Mangaka: Fujimaki, Tadatoshi
Genres: Sport
Volumes: 30
Published: December 2008 - September 2014
Kuroko Tetsuya isn't your typical student in school. He isn't very popular around others, is quite plain in his demeanor, and somehow doesn't stand out in any significant way. Somehow on the court however, this unexpected talent somehow shines in his own unique way, using this edge to his advantage against other players. Kuroko's goal is now to take this untapped potential to the big leagues, as his sole purpose is to take down each member of the elite middle school team called the Miracle Generation, and make a name for himself on the courts.
Kuroko's passion for the game is unmatched, as he uses his skills to strategically undermine his opponents. Most claim that he's nothing but a rookie and lacks true talent, but when the ball gets into his hand his opponents are left standing as they have no clue how to stop him. He strives hard to not only prove to himself that he's the greatest, but the entire league that he's the wrong person to underestimate when he's in possession of the basketball.
---
6. Chihayafuru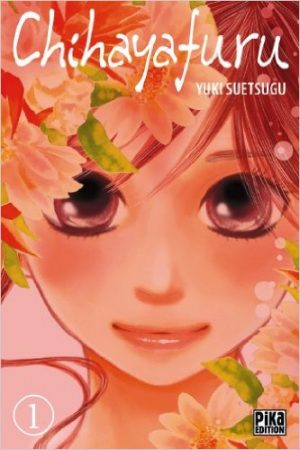 Mangaka: Suetsugu, Yuki
Genres: Sport
Volumes: 29
Published: December 2007 - present
Chihayafuru is a competitive Japanese card game manga that stars Chihaya, who dreamed that her sister would become triumphant in the one thing she loved. This view changes however, when Arata walks into her life and tells her that this dream is something she must develop on her own. Arata is a well known competitive player in Hyakunin Isshu, and Chihaya is completely surprised at how different the way he's playing it. After observing the master at work, her passion to play comes out and she now dedicates much of her time to become the best at the game, or rather the queen of karuta.
Card games are serious business, especially when you see high rollers at the poker table or in this case very intense Hyakunin Isshu. The game is very well known in Japan, having been played since the late 18th Century and even till this day. While you might not ever see this at an Olympic event, if you ever get a chance to travel to Japan you'll see just how intense this game can be. It's a game of focus, speed, tactic, and passion as you have to outpace your opponent to rid of their cards as swiftly as possible. Chihaya demonstrates this very well, so if you want to see the game in action be sure to check this one out.
---
5. Baby Steps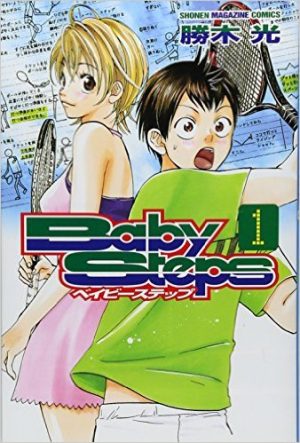 Mangaka: Katsuki, Hikaru
Genres: Sport
Volumes: 39
Published: October 2007 - Present
Tennis is all that matters to the young Eiichirou, that is once he discovers how good he is at the game. He wonders to himself if he'll ever be in tip top shape, seeing that he lacks the ability to really exercise consistently. His mother sees his concern and hands him a flyer for the local Tennis club nearby, and so he decides to check it out. With no previous experience to the game, he promises himself to dedicate all of his time to the game, to ensure that his determination doesn't go to waste. Using his knowledge and strong work ethic, Eiichirou will take baby steps in order to become the best.
The story of Baby Steps is an inspirational one, for the mere fact that we've all been in Eiichirou's position before. We find something we really love, but just don't have the confidence or push to provide the fuel to go forward. Eiichirou's strong work ethic outside of the court is what really gave him the drive to do better, along with his mother behind him as his motivation. It's truly a remarkable story of how one boy discovers something out of curiosity, only to become one of the best on the court just by following his heart.
---
4. Haikyuu!!

Mangaka: Furudate, Haruichi
Genres: Sport
Volumes: 22
Published: February 2012 - Present
Shoyo Hinata only has one purpose in his mind and that's to become the best at what he loves, and that's Volleyball. His inspiration came from a player known as the Little Giant, who he watched during the national Volleyball finals, and since then he's been determined to get to the top. He decides to enroll in the very school team that Little Giant played on, and aims to surpass him at all costs. In this action packed sports manga, we see as Shoyo and his team persevere together through many odds, striving to make their way to the top to become champions.
Shoyo has an incredible talent which is to pretty much jump higher than anyone else on the court, which puts him at a huge advantage when serving the ball. Shoyo's persistence and commitment to the love of the game puts him ahead of the rest, as he devotes every moment of his free time to making sure his skills continue to improve. His only purpose is to surpass Little Giant, but over time you start to notice that Shoyo is in a league of his own, and that his passion to succeed is what truly carries him to the top.
---
3. Slam Dunk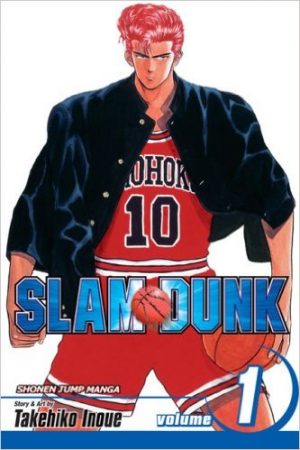 Mangaka: Inoue, Takehiko
Genres: Sport
Volumes: 31
Published: September 1990 - June 1996
Sakuragi has more than just a love for basketball but also a love for girls. Unfortunately for him this part of his life is full of disappointment as he's constantly rejected by them, and just can't seem to find his stride in order to catch the right one. That is until one day he encounters Haruko, a girl who not only changes his life around completely, but is actually not intimidated by him. When the two come together everything changes for Sakuragi as now he's discovered something he never knew he had, which was the ability to rule the court with exceptional talent.
Slam Dunk is arguably the greatest basketball manga out there, and there's no question as to why it has made the top three on our list. Sakuragi's dreams to find the right girl were met, but now destiny showed him a much brighter path that leads him to a spectacular future. His unawareness of his inner talent for basketball is what makes this manga inspiring to read, because you're right there alongside him on his journey to the top. Every battle he encounters, you're always cheering him on making sure that he not only wins the game but wins the hearts of everyone around him. Takehiko's gripping story of a man on a mission to prove himself to the world is a powerful message to those who fail to realize their own potential, and it all it takes is persistence to get what you want out of life.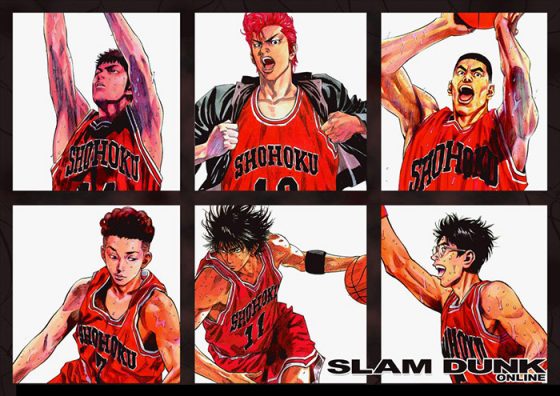 ---
2. Initial D

Mangaka: Shigeno, Shuuichi
Genres: Sport
Volumes: 48
Published: June 1995 - July 2013
Takumi never really understood the whole premise behind street racing, all he cared about was just driving and supporting his father Bunta's tofu shop. This all changes however when one of his close friends is challenged by another street racing team, and he gets defeated but almost loses his life due to cheating. This angers Takumi and so he decides to take on the very same team in hopes to seek retribution for his friend, and from that day the beast in the AE86 arises from the ashes to become the most feared racer in the game.
Takumi goes on to race against numerous street racing teams from various prefectures, and the more he races the more passionate he becomes. His extremely skillful driving from always riding down Mount Akagi at night pays off, as every battle he encounters he completely destroys the opposition, leaving them scratching their heads. This manga is such an exciting ride because you're always in for a surprise every time Takumi gets behind the wheel, demonstrating incredible talent, and teaching the reader about various jargon pertaining to performance racing. If you're a fan of street racing, then be sure to race to the nearest bookstore and gear up for some high octane action.
---
1.Hajime no Ippo

Mangaka: Morikawa, Jyoji
Genres: Sport
Volumes: 114
Published: September 1989 - Present
Makunouchi was bullied all throughout his school years and really had no friends to back him up. That is until one day as he was being bullied under a bridge, an unknown individual comes through swinging and knocks out everyone around him. At that moment, Makunouchi knew this was a sign and he immediately realized that boxing was what he needed to survive. He decides to continue helping his mother at the fishing shop on the side, while dedicating most of his life to becoming a boxer in this inspirational manga that has won many awards for it's incredible story, and detailed boxing scenes.
There's really no denying how popular Hajime no Ippo is because of how much energy you get while reading. Every time that Makunouchi lands a punch you feel his energy, as he swings forward towards his opponents jaw leaving them motionless on the ground after his Dempsey Roll. You're constantly left with chills and tears of joy because of how hard Makunouchi worked to ensure that he would never have to be bullied in life again. His determination and willingness to never give up is what makes this so thrilling to read, so if you want to be truly uplifted by a wonderful story then pick up Hajime no Ippo!
---
Closing Statement
Rio 2016 is over but the passion that each of these players left behind is something to be admired. Much like our top ten, each player demonstrated just how much passion they had for the sport and their strive to greatness is what truly made them shine. We certainly hope you enjoyed our top sports manga, so be sure to let us know how you feel in the comments section down below! And also follow us on twitter for the latest article updates and tweets!
For all of your sweet manga needs, keep it locked here on Honey's Anime.
---