Shizuku Mizutani aims to get the top grades in order to enter a reputable university. Dedicating her life to studying, she forfeits the social aspect of a high schooler. This caused her to be viewed as someone that is distant and aloof. That was all to change however when she was asked to deliver lesson notes to Haru Yoshida. Haru was well known to be a delinquent and did not have many friends. So it came as a surprise for Shizuku when Haru proclaimed himself as her friend and immediately confessed to her upon their first meeting. Join these 2 in their quest for understanding social interactions and relationships while at the same time discovering their true feelings for each other!
Tonari no Kaibutsu-kun tells a story of two rather awkward individuals finding the meaning of social interactions and love. It becomes a challenge for the both of them as one would rather study while the other put attention on the relationship. Tonari no Kaibutsu-kun explores the social situation of a high school setting through the eyes of the socially awkward with hints of romances to spice it up enough to make it a fine slice of life manga. So if these elements are what you are looking for in a manga, join us as we find 6 other mangas like Tonari no Kaibutsu-kun!
Similar Manga to Tonari no Kaibutsu-kun
1. Last Game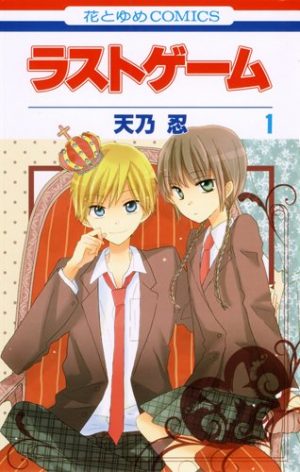 Author: Amano Shinobu
Genre: Comedy, Romance, Shoujo
Volumes: 11
Publication Dates: Aug 24, 2011 to Jun 24, 2016
Naoto Yanagi is probably living the best high school life that any high schooler would ever dream of. He's popular, heir to a highly successful business, smart and athletic. His charm and wealth also made him the target of numerous girls. Then enters Mikoto Kujou. She is plain, gloomy and came from a poor background. Yet , Mikoto was the only person that ever bested him in academics and athletics. It was the only time when Naoto ever suffered true defeat and he vowed to beat her eventually. Ten years down the road, they are now students of the same college and Naoto vows to win her heart and then break it. Instead, he found himself loving her even more...
In Last Game, you have the apathetic girl and the charming boy. The apathetic girl has little social skills and can be quite an airhead as well. Spending most of her time studying in order to support her mother in the future, doesn't Mikoto remind us of a certain someone? Both female heroines are incredibly alike in terms of personality and behaviour as well. Of course, it is up to the protagonist to make his move on them and it can be quite a challenge! Though their pursuits may be different, they face the same challenge of piercing the veil of their female heroine counterpart amidst a high school setting!
---
2. Horimiya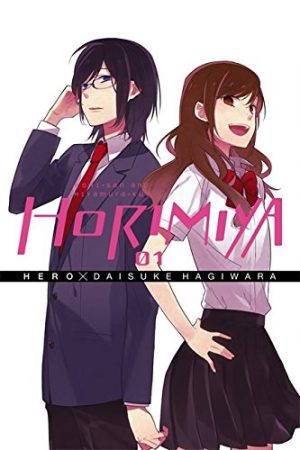 Author: HERO
Genre: Comedy, Romance, Shounen, Slice of Life
Volumes: ???
Publication Dates: Oct 18, 2011 (ongoing)
Hori Kyouko is admired due to her friendly nature and her strong academic qualities. She appears to possess the queen of the school persona. Despite appearances, however, Hori is actually a family loving woman who has to take care of her brothers at home due to her workaholic parents. On the other side of the spectrum, Miyamura Izumi appears to be an otaku with his bookish personality and glasses. Outside of school, however, he has a tattoo and many piercings. A chance encounter between the two of them throws them both into a new chapter of their lives together.
Both mangas portray polar opposite characters that seemingly got together quite well. Both are set in a high school setting, a common environment for both characters to interact. As both progress along their relationship, we find out just how hard it is to maintain a relationship with polar opposites. The comedy elements are also light and warm in both series which makes it a perfect slice of life/romance manga. In short, both mangas are perfect if you're looking for something simple, fun and light!
---
3.Dengeki Daisy

Author: Kyousuke Motomi
Genre: Comedy, Drama, Romance, Shoujo
Volumes: 16
Publication Dates: May 12, 2007 to Dec 24, 2013
Before Teru's older brother passed on, he left his beloved little sister a cell phone and a mysterious contact known only as DAISY. He promised her that DAISY will always look over her. Since then, DAISY had always been Teru's beacon of strength whenever she has any issues since she was alone most of the time. After bullies were mysteriously driven away and Teru breaks a school window, Teru was forced to work for the grumpy school janitor Tasaku Kurosaki. It was through their interactions that Teru starts to question the identity of DAISY as she slowly starts to fall in love with the mysterious and enigmatic school janitor.
Dengeki Daisy has the same elements of two unlikely characters meeting. Coming from different worlds, these characters eventually developed feelings for each other but have trouble reciprocating it. At certain moments, it may even look as if as the love was unrequited as they battled the internal struggle with their own feelings and the relationship. Both mangas have similar settings and light undertones of humour. These elements make both mangas a definite good read for a lazy afternoon!
---
Any Manga Like Tonari no Kaibutsu-kun ?
4. Beast Master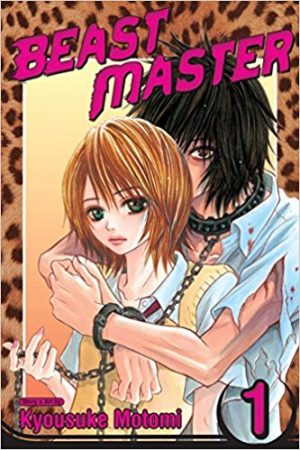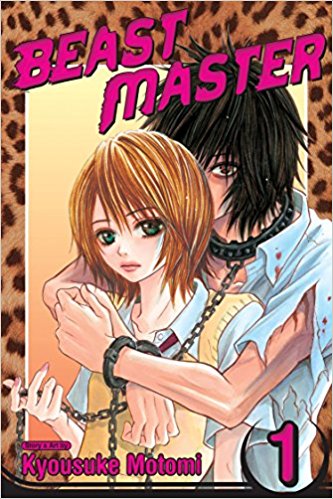 Author: Kyousuke Motomi
Genre: Comedy, Romance, Shoujo
Volumes: 2
Publication Dates: Sep 13, 2006 to Feb 12, 2007
Yuibo Kubozuka loves animals. Unfortunately for her, every animal seems to hate her and flee upon seeing her. Dejected, she happened to chance upon Leo Aoi. Leo resembles an animal due to his horrendous appearance. Despite shunning away from him like most people, Yuibo took a liking to him. Once while they are attacked, Leo revealed his animalistic side, turning violent and aggressive. Now begins a tale of romance between this odd pair.
Beast Master features a male protagonist that is somewhat weird but sweet on the inside. Carefree and happy go lucky, their female counterparts also resemble each other. In the process of getting accustomed to them, they eventually start to develop feelings for the other. As the story progresses, you will note the similarities of both mangas. The similar themes and setting of Beast Master ought to intrigue you if you enjoyed Tonari no Kaibutsu-kun!
---
5. Yankee kun to Megane Chan


Author: Miki Yoshikawa
Genre: Comedy, Drama, Romance, Shounen
Volumes: 23
Publication Dates: Oct 18, 2006 to May 18, 2011
Shinagawa Daichi is a high school delinquent and he is feared by his classmates. He has already been classed as a yankee and no one wanted anything to do with him. Adachi Hana, on the other hand, is the class rep who seem to believe in him. Unknown to him, however, he had crossed path with Adachi before. The nerdy school rep is not who she appears to be. Just who is Adachi Hana and what is her connection to the high school delinquent?
Both mangas feature polar opposite characters who seemingly do not get together. Yet however, through circumstance and exposure, the characters in both series grew to appreciate the other. While Shinagawa is unsociable for obvious reasons, Adachi is just your typical klutz which makes her socially awkward as well. Being able to only speak to each other, it is no wonder that romance blossomed between the two of them, just like Tonari no kaibutsu kun. If polar opposite personalities and sweet moments are your thing, then please give this manga a try!
---
6. Kimi ni Todoke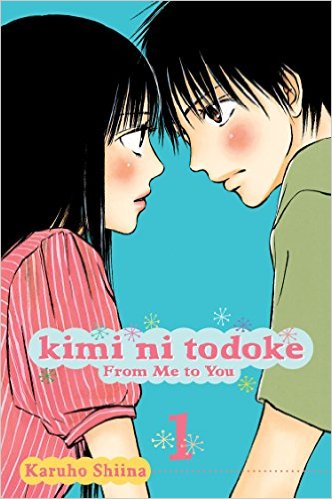 Author: Karuho Shiina
Genre: Slice of Life, Drama, Romance, Shoujo
Volumes: ??
Publication Dates: Aug 11, 2005 (ongoing)
Kuronuma Sawako is a misunderstood girl at school. Her name referenced that of Sadako, the popular ghost figure in Japanese films. It doesn't help that she possess the same iconic long, flowing black hair. In truth, however, she is actually a sweet girl who is actually quite timid in nature. While she longed for friends, her advanced are usually reciprocated with fear. When Kazehaya Shouta, the most popular guy in school talks with her one fine day, her future was just about to change. Little did she know that instead of a friendship that she yearned for, it will instead advance a step further with romance just on the horizon. Things are about to change for the better for her...
Socially awkward heroine meets outgoing guy. That is perhaps the summation of the manga. Between the two mangas, both share similar storylines with remarkably similar characters. Albeit in this variation, the male protagonist is a popular guy instead of a social outcast. Expect adorable moments, random funny moments and iconic characters that are sure to leave a lasting impression on you. If you truly loved Tonari no Kaibutsu-kun, we recommend giving this alternate storyline a try!
---
Conclusion
With that, we've come to the end of the manga countdown. Tonari no Kaibutsu-kun is filled with adorable characters with even sweeter moments, making it endearing for those that have read it. Do these mangas fill your expectations? Have you read any of this manga prior to Tonari no Kaibutsu-kun? How does Tonari no Kaibutsu-kun differ from the average shoujo, slice of life high school manga and what makes it endearing to you? Leave a comment below and we will see you next time!
---