También puedes leer este artículo en:Español
A girl who is only committed to studies and a guy that can only be described as eccentric to chase after someone than that; Tonari no Kaibutsu-kun tells the story of a mismatched couple that eventually made it happen somehow. It is atypical from a usual high school romance anime in the way that progression in the relationship is often involuntary or unexpected. If you've watched the anime, you would know the complex and complicated situation between the protagonists. With that said, if you're a fan for mismatched couples, unlikely relationships or into watching what makes a relationship flourish, check out the following 6 anime like Tonari no Kaibutsu-kun! 
This is an updated article. Please scroll down for the previous list.
Similar Anime to Tonari no Kaibutsu-kun
1. Kimi ni Todoke 

Episodes: 13
Aired: Oct 2, 2012 to Dec 25, 2012
Kuronuma Sawako has a terrifying expression that scares away just about everybody she meets. It does not help that her name is just one character away from the popular horror figure - Sadako which coincidentally, is her nickname. Deep down, however, Sawako is just a shy high school girl who really just wants to make friends. Isolated and deprived of friends, this was to change when she happened to meet the most popular guy in the school - Kazehaya Shouta. They happened to click and started hanging out more often than not which started to spur some rumors of a relationship between them. This relationship might just be the break that Sawako has been looking for in her whole high school life.
 
Just like Tonari no Kaibutsu-kun, both female heroines are somewhat weird or social outcasts. The relationship formed between them started off awkward and interesting to watch at first but eventually developed to one that is bittersweet and cute. Both heroines learn more about being more sociable with the male protagonists. Of course, the romance factor progresses at a consistent pace that never makes you feel bored if you're someone that likes the romance and high school genre. Kimi ni Todoke might just be the show like to Tonari no Kaibutsu-kun so if you liked the latter, do give this anime a try!
Kimi ni Todoke Official Trailer
---
2. Golden Time 

Episodes: 24
Aired: Oct 4, 2013 to Mar 28, 2014
Freshly entered college, Tada Banri happened to witness a quirky encounter between two individuals. One of them will  become his best friend and the other, a potential love interest. It doesn't take him long to enter into a relationship with Koko Kaka. However, with the meeting of his childhood friend in college, the repressed memories of his past starts to surface. Might Banri have made a wrong decision in his soulmate? Who is his childhood friend and what was the one memory that he seemingly forgot that might change his whole relationship? 
If you're into the romance genre, then this anime is one that you should not give up! Golden Time has many similar themes like Tonari no Kaibutsu-kun. Both have a hard-to-describe relationship going on. Both also has characters that constantly evaluates their relationship, having their ups and downs. With Golden Time, however, the existence of an unknown prior relationship adds spice to the anime, something that Tonari no Kaibutsu-kun lacks. It's an added bonus if you ask us! 
Golden Time Official Trailer
---
3. Sakurasou no Pet na Kanojo

Episodes: 24
Aired: Oct 9, 2012 to Mar 26, 2013
The Sakura Hall in Suimei High is well known to house the gifted and talented savants of the school. However, when his good conscience of not abandoning kittens takes over him, Sorata Kanda has to move into the famous dorm. There he finds many eccentric individuals who have been the dorm residents for quite a while now. Things did not end there. With the inclusion of a genius painter, Mashiro Shiina, Sorata now has to take care of her. Due to her eccentricity, Shiina can't perform normal tasks alone and as the title suggests, Sorata's job is to care for the pet girl at Sakurasou.
 
Quirky, weird and inconceivable, the premise of this romance anime is just that. This anime highlights just how 2 very different 'different' people can get together just like Tonari no Kaibutsu-kun. Both have their fair share of comedy and romance. Both occur in the high school setting. The colorful cast adds substantial humor and develops the plot, because, who needs a normal relationship when you have quirky characters running around?
Pet Girl of Sakurasou Official Trailer
---
Any Anime Like Tonari no Kaibutsu-kun?
4. Kaichou wa Maid-sama 

Episodes: 26
Aired: Apr 2, 2010 to Sep 24, 2010
Ayuzawa Misaki is the first female president of the school council after a merger with an all boys school. Her prowess in Aikido promptly earned her the nickname of Demon Princess. However, even the intimidating president of the school has a dark secret. To aid the financial stress on her household, she works part time at a maid cafe. All was well until Usui Takumi walks in on her while at her job. He could end her tyranny with the revelation of her job or he can use this opportunity to become closer with her. Get ready, the tale of Usui and Misaki is just starting.
Like Tonari no Kaibutsu-kun, Kaichou wa Maid-sama has similar vibes with the female protagonists both being somewhat distant and aloof. The male protagonists are somewhat playful and cheery in contrast with the stiff personalities with the female protagonists. Both are somewhat light hearted romance comedy that is sure to get you laughing. Development of the story is neither too fast nor too slow. So if you're looking for an anime that is not romance heavy to the point of a melodrama like Tonari no Kaibutsu-kun, definitely give Kaichou wa Maid-sama a try!
---
5. Ookami Shoujo to Kuro Ouji

Episodes: 12
Aired: Oct 5, 2014 to Dec 21, 2014
Erika Shinohara is a single high school girl. Like every high school girl, she really wanted to impress her friends with romance. The only way that she knows how however, is to lie about her romantic pursuits. It would have been smooth had her friends not asked for a picture. Desperate, she took a picture of the next guy that she thought was cute and showcased it to her friends. Unfortunately for her, the guy was identified to be Kyouya Sata, an immensely popular guy whose appearance beguiles just about every high school girl. Explaining her situation to him does not help, as she realizes soon enough that he is not the kind hearted person that everyone painted him out to be. Now, he has her at his fingertips unwillingly. Will their relationship ever develop to be one of romance?
Both anime have very sweet moments despite the characters bumbling attempts to make sparks happen. Although extremely complicated, the efforts that both characters take will make you appreciate the pace and development of the story. Ookami Shoujo to Kuro Ouji, like Tonari no Kaibutsu-kun, truly highlights the ups and downs of teenage romance in an easy setting. Both female protagonists struggle to come to terms with their feelings, working hard to accomplish their goal. In that way, both animes are strikingly similar despite having characters that are different so do definitely give this one a try!
---
6. ReLIFE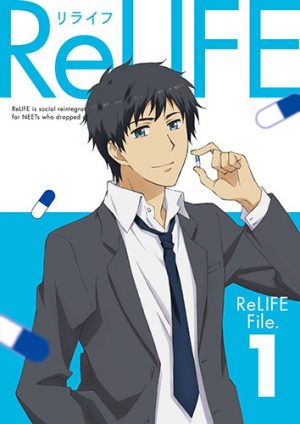 Episodes: 13
Aired: Jul 2, 2016 to Sep 24, 2016
This is a story of an adult who has the chance to relive his youth. Not everyone is given the opportunity to relive their  life and go back to high school. As Kaizaki Arata re-enters high school, he recalls his high school days but his perception as an adult makes him an eccentric kid but nevertheless a sociable one. Arata resolves the problems of his fellow high school mates while at the same time, catching the attention of Chizuru Hishiro. This could very well be a new life for but his journey is set to expire in 1 year so he has to make full use of the time he has left. 
ReLIFE is also a high school romance anime like Tonari no Kaibutsu-kun. Likewise, the characters in both series can be a bit awkward. However, they try their best to overcome their social differences and improve themselves. For ReLIFE, it is more focused on self-improvement whereas for Tonari no Kaibutsu-kun, it is more on how the couple develops each other. Expect your daily dose of high school interactions and innocent love in both series! 
ReLife Trailer
---
Conclusion
So how about it, how did you find the updated list? Have you watched any of the animes already? What about Tonari no Kaibutsu-kun do you like the most or even your favorite moments from the show? Does the anime fulfill the criteria for a good romance anime? Let us know what are your thoughts on the choices and the 6 other anime in the comment box below and we will see you next time. 
---
---
My Little Monster was really one of the greatest anime I've ever seen. I'm a little biased because I'm in love with Haru's voice actor, but, well, you can't deny it was a pretty amazing series. For having seen a lot of rom-coms, I can easily say that this one was really interesting and catchy, with an omnipresent humor.
The story flowed natural and each character was unique and different, with their own story and troubles. Each episode has its gags and melodramas well presented and the character design was beautiful.
If you loved My Little Monster and claiming for more anime like it, check out the list below. You will surely find what you're looking for!
Similar Anime to Tonari no Kaibutsu-kun/ Similar Anime to My Little Monster
1. Sukitte ii na yo (Say I love you)

Episodes: 13
Aired: Oct. 2012 – Dec. 2012
Mei Tachibana is a reserved and shy high school girl. After some events happened to her when she was younger, she is now living closed off to any friendship. She doesn't talk to anyone at school. The only contacts on her phone are her home number and her part-time job number.
Yamato Kurosawa is the most popular boy in whole high school and for some reason, he gets interested in Mei. That is why he tries to get closer to Mei, giving her his phone number and talking to her every time he sees her.
Mei ignores him all the time, until she gets in trouble. Indeed, one night after her part-time job in a bakery, she's followed by a man and has no other choice than to call Yamato for help. He saves her, giving Mei her first kiss.
Mei's betrayed in the past, so she decided she no longer needs friends. Because of that, you can assimilate her to Shizuku. Much like in My Little Monster, each character has their own wounds. It's pretty interesting to see them growing up and getting through their past.
---
2. Ao Haru Ride (Blue Spring Ride)

Episodes: 12
Aired: Jul 2014 – Sept 2014
When she was still in middle-school, Futaba Yoshioka was in love with Kou Tanaka, a boy from her school. Before she could tell him her feelings, Kou left without telling anyone in school. Futaba is cute and liked by boys, she used to be hated by other girls. As she enters high school, she changed her character and became a real tomboy.
One day, in the school corridors, she runs into her first love. Who reappeared with another family name and a completely different personality. As she tries to get closer to him once again, she will get back to her own personality and change her attitude towards other people. Futaba will also learn the truth beyond the sudden disappearance of Kou in middle-school.
I really love the story. Futaba and Kou were sharing a mutual love during middle-school, but separated before knowing each others feelings. Like in My Little Monster, the main characters have a deep past and a burden which prevents them from moving forward. However, comedy is still there and I really think you will feel the same atmosphere as My Little Monster !
---
3. Lovely Complex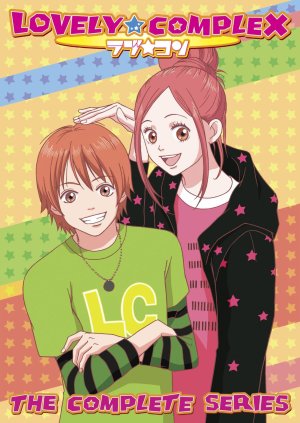 Episodes: 24
Aired: Apr 2007 – Sept 2007
The story is about two high school student, hung up about their height. Risa Koizumi is about 170cm and Atsushi Ôtani is only 156cm. Because of their quarells, which makes everyone laugh, they're called All Hanshin Kyojin. Referring to a famous comic duo.
Risa and Atsushi fall in love with two of their classmates. They decide to help each other, as one of them is Risa's friend. In order to succeed in love, both of them will have to fight against their complex. But their mutual support will soon go a completely different direction.
This one is surely the funniest of the list. Lovely Complex is not as deep and serious than My Little Monster, but I can assure you will have a lot of fun watching it! This anime deals with complexes in a soft way, but shows you that everyone can get rid of them. I think it's really interesting because Risa and Atsushi's complexes are the reason why they cannot be confident. You can assimilate this to Shizuku and Haru's past.
---
Any Animes Like My Little Monster / Any Animes Like Tonari no Kaibutsu-kun ?
4. Toradora!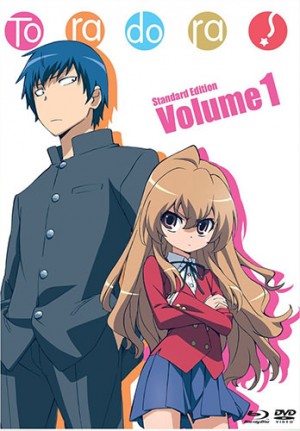 Episodes: 25
Aired: Oct 2008 – Mar 2009
Ryûji Takasu is a normal highschool boy who lives alone with his mother. Because of his looks inherited from his father, everyone is afraid of him and a lot of bad rumors are spreading around about him, saying he is a delinquent.
On the first day of the new school year, he's confronted by Taiga Aisaka, called Pocket Tiger, because of her bad temper and her aggressiveness. After being defeated by her, people begin to think Ryûji isn't as bad as he seems to be.
On the same day, Ryûji is confronted by Taiga again, because she put a love letter in his bag by mistake. As she decides to kill him to shut his mouth, Ryûji proposes to help her by becoming Taiga's dog, cooking her meals and cleaning her room.
Ryûji's hung up by his looks and Taiga is a real tsundere. They will help each other in love at first, but fail every time they begin to have feeling for each other. The development of their relationship is really cute and interesting. As in My Little Monster, the characters have their own wounds and the way they support each other is really touching.
---
5. Gekkan Shoujo Nozaki-kun (Monthly Girls' Nozaki-kun)

Episodes: 12
Aired: Jul 2014 – Sept 2014
Chiyo Sakura is a normal high school girl who is in love with her classmate, Umetarô Nozaki. As she plucks up courage to confess her feelings, he misunderstands her and gives her his autograph instead, because he thinks she is his fan.
Then, Chiyo discovers that Umetarô is actually a shôjô manga artist under the name of Sakiko Yumeno. Who publishes his work in a famous magazine. And this is how Chiyo finds herself becoming one of his assistants for his manga.
In their school, some other people are also helping Umetarô for his manga, as his activity is a secret for the rest of them. Umetarô used to find inspiration in other people and does a lot of researches by looking at his classmates.
Umetarô doesn't see anything except his manga and his research, and Chiyo is really trying to get his attention. This anime is really funny and you can easily assimilate Umetarô to Shizuku because of his temper. Even if Umetarô is writing manga about love, he's still a novice about it. Misunderstanding a lot of things which are becoming some strange situations in his manga that are completely opposite to what you usually find. But this is why it's funny and catchy!
TV Anime Gekkan Shoujo Nozaki-kun PV 2
---
6. Isshukan Friends (One Week Friends)

Episodes: 12
Aired: Apr 2014 – Jun 2014
Yûki Hase is a pretty ordinary high school boy. In his class, he notices Kaori Fujimiya, a girl who is always alone and doesn't seem to have any friends in the school.
One day, Yûki decides to become her friend, but Kaori isn't interested and rejects him. But Yûki doesn't want to give up so he will ask her the same thing every day until she agrees to become his friend. On Friday, Kaori tells Yûki that she will forget about him. Even if he doesn't want to trust her, she actually forgets about him when they meet again the following Monday.
Because of some events from her past, Kaori memories force her to forgetting her friends' every week. So this is why she doesn't want to become friends again with anyone. Yûki feels depressed at first, but decided to keep going and wanting to be her friend. Giving her some advice in order to not forget her memories.
I think this is the cutest series of the list. The two main characters are really cute and lovely and so is their relationship. Because of Kaori's trauma, she keeps forgetting about her friends every week. Yûki will help her the best he can to remember, without knowing the reason of her trouble. Like in My Little Monster, you can once more face someone who's been betrayed by a close friend in the past.
One Week Friends - Official Trailer
---
If you loved My Little Monster, this list will help you find other interesting, refreshing, and touching anime as we like them !
With all the existing rom-coms, it should be easy to find an anime like My Little Monster, and I hope this will help you find what you want! As for some other series like it, you can find Hiyokoi, Special A or also Kimi ni Todoke. So don't hesitate to check it out !
---