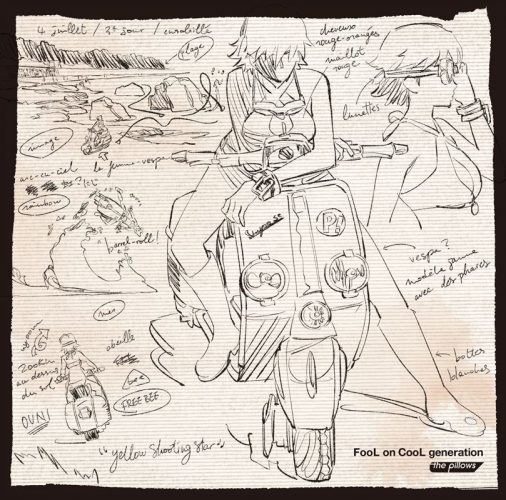 Made famous in America for providing the music for Gainax's cult-hit OVA series FLCL, the pillows have been a major force in the Japanese alternative scene since the 90s and continue to produce fantastic music and tour to this day! In this volume, we're going over the famous band's formation and major milestones leading up their involvement with FLCL and following international success.
Beginnings - The Coinlocker Babies

The band that would become the pillows formed in 1987 in Hokkaido, Japan with frontman bassist Kenji Ueda, drummer Shinichiro Sato, vocalist Sawao Yamanaka, and guitarist Yoshiaki Manabe. Ueda and Sato had played together in a punk rock band called Kenzi & The Trips, which had broken up the year before, and Manabe previously was the guitarist for hair-metal band Persia. In their early years, the group performed as The Coinlocker Babies, a reference to Ryu Murakami's surreal novel of the same name. During this time they made their first recording, a 5-track demo tape titled Pantomime.
Dear, My 'First' Step! - Becoming the pillows

On September 16, 1989 The Coinlocker Babies would officially become the pillows. The name was allegedly inspired by an English post-punk compilation album called Pillows & Prayers which Sawao Yamanaka saw hanging on Yoshiaki Manabe's wall.
They would continue touring unsigned for a year until being picked up by Captain Records who published their first commercial release, a redone version of Pantomime, in May of 1990. Five months later, the band would release another EP with Captain Records called 90's My Life, shortly after signing with larger label Pony Canyon.
With Pony Canyon, the pillows would release their debut single, "Ame ni Utaeba" in 1990 and first full length album, MOON GOLD, in 1991. They followed up with WHITE INCARNATION a year later which was recorded in Britain. WHITE INCARNATION would be the pillows' last record with Kenji Ueda, who left the band shortly after recording due to friction with other members over their musical direction. Out of respect, his position has never been officially replaced but Tatsuya Kashima joined as support bassist in 1992. Following Ueda's departure, Sawao became (and remains) the frontman of the band.
Something Like a Romance - Sound Experiments

In 1994, the pillows would sign with KING RECORDS, making their major label debut with KOOL SPICE that same year. This period of time was a hugely experimental phase for the band, exploring smooth jazz, blues, and jangle pop in KOOL SPICE and retro-pop, reggae, and more in their 1995 release LIVING FIELD. Their subsequent single, "Girlfriend", was used in the critically acclaimed romance movie Love Letter, which helped them achieve their first Oricon chart appearance at #99 in 1995.
Ride on shooting star - Breakthrough & Fooly Cooly

After a series of successful singles, the pillows finally found their groove with the release of grunge-fueled alternative record Please Mr.Lostman in 1997. With a sound inspired by popular American bands like Nirvana and Weezer, this album rocketed the pillows to mainstream success, hitting #59 on the Oricon charts. Riding this wave of popularity, the band would enjoy a major tour across Japan and go on to release even more successful albums over the next two years: LITTLE BUSTERS, RUNNERS HIGH, and HAPPY BIVOUAC, the latter being a tribute to The Pixies as well as the first to feature bassist Jun Suzuki as the replacement for Kashima.
In 1999, the pillows were approached by legendary anime studio GAINAX to license their music for use in their upcoming OVA series, FLCL. Director Kazuya Tsurumaki was a personal fan of the pillows, his favorite group in fact, and thought that the unusual choice of using a contemporary rock band to provide the soundtrack fit in well with the offbeat feeling of the show and its themes of rebellious youth and coming-of-age. Along with tracks taken mostly from their last three albums, the pillows wrote "Ride on Shooting Star" and "I Think I Can" for the series, the former being used as the ED. Needless to say, the pillows' involvement with FLCL is a huge reason for the success of both the anime and the band itself, particularly in America, as we'll find out later.
All the Way to the Edge of this World - the pillows Hit America

For two years, the pillows would not release an original album but remained successful with their first compilation album Fool on the Planet and robust sales of the three volume FLCL OST. In 2000, the pillows released mini album Ride on Shooting Star in America, their first international release. Back in Japan, they followed up with Smile in 2001 and later Thank You, My Twilight, Penalty Life, and Good Dreams; all of which were in top 45 of the Oricon charts. Penalty Life also received a U.S. release.
When FLCL hit Adult Swim in 2002, the pillows gained considerable notoriety outside of Japan, culminating in their first U.S. live in 2005 at South by Southwest in Austin and following concerts in New York City and San Francisco. The band would return in 2006 to promote their album My Foot.
---
Not-So-Final Thoughts

Thankfully, this would not be the end for the pillows by a long shot. Look forward to our follow up volume focusing on the band's modern endeavors and their return to FLCL! Please leave us a comment below with your thoughts!
---