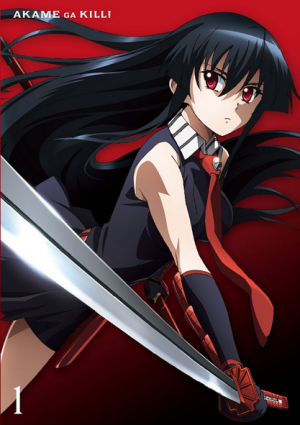 Episodes : 24
Genre : Action, Adventure, Fantasy
Airing Date : Jul. 7th, 2014 - Dec. 15th, 2014
Producers : Square Enix, TOHO Studios, White Fox
Akame ga Kill Preview / Plot (No Spoilers)
Tatsumi has ambitions of succeeding in life in order to provide for his starving village. He and two friends from the village set out to the Capital to do just that. After being separated along the way, Tatsumi finds out the Capital isn't as glorious as people make it to be. He quickly sees the corruption that exists in the city and becomes victim of said corruption.
Not only, he finds out his friends weren't so lucky as they were killed by those who influence corruption. An Assassination group seeks atonement for the corrupt and recruit Tatsumi in the process. This begins the adventure of fighting against corruption and avenging those who have suffered.
Who does Akame ga Kill! cater to?
This anime is for those who like intense action sequences and a great use of weapons. In this action/fantasy series, the scenes in this anime are pretty intense and can be very entertaining. The setting for Akame ga Kill is somewhat of a well developed, mid-evil era that has an advanced military. The character development in the series is pretty crazy with everyone of them having a very unique quality in their own way.
What's so appealing about this piece of work.
Akame ga Kill is very appealing in different ways when it comes to the action pack fighting scenes and bloodshed created in the goriest way possible. The creativity illustrated by the advanced weapons produced from the military of The Empire, in the Capital, is very interesting and imaginative. I personally liked how the depiction of the weapon and its user was presented in this series. And I'm sure, those who haven't seen Akame ga Kill yet, will be pleased by this.
Akame ga Kill Trailer
Akame ga Kill Main Characters List
Akame
Voice Actor : Sora Amamiya
Akame is a member of the assassination group, Night Raid, and is first introduced in the series by being confronted by Tatsumi. She is a very serious and somewhat cold hearted individual who is actually caring and worries about those who are dear to her.
She is considered to be one of the strongest members in Night Raid, for she was trained at a young age to kill by the The Empire. This makes her the ideal candidate to fight against them. Her weapon of choice is a katana known to be coated in a very deadly poison that can kill anyone with a single cut in a matter of seconds.
Tatsumi
Voice Actor : Soma Saito
Tatsumi was an innocent traveler who strived to succeed in life in order to earn money for his starving village. One way of knowing he can earn money was by joining the military, which he was denied entry. With nowhere else to go to, Tatsumi is taken by a family where he learns the true corruption of The Empire and the Capital by nearly becoming a victim to a very sadistic act of torture.
If it wasn't for Night Raid, he would be dead, much like his comrades from his village. He then joins Night Raid who fight against The Empire and the corruption that lies within. He is considered an individual with a hidden potential that is recognized by others around him.
Akame ga Kill Review
What was ultimately presented in Akame ga Kill, was your usual group of individuals who were considered to be the enemy, but in fact, were the heroes. In this sense, it shows you the amount of corruption in The Empire and how one individual can manipulate those in power for their own deeds. What I really liked about the series is the great usage and interpretations of the weapons created.
Imperial Arms, as they were referred to, had some very significant usage in battle and with them, some very exciting visuals. The storyline is pretty strong in the sense of Good vs. Evil and the character development is equally the same. It kind of irritating that in almost every episode, your beloved character gets killed off. But in order to have a believable the plot, it has to happen. The one thing I have against the series is, it probably should've ended on a different note.
With one of the main characters left alive, and continued to be hunted, is not really believable unless there's a bigger picture to it all. In that case, I expect a second season to come in to play in the near future. If not, then I will remain displeased.
1. Corruption
What you see sometimes isn't what you expect, in fact, it could be worse.
Just when you think you're being treated fairly, someone takes advantage right when you let your guard down. Leaving you with no money, no shelter, or even dead.
2. Weapons
The creativity and depiction of the weapons is original and you should never underestimated your opponent.
When you go against an opponent and he's fighting you with a little knife, be careful because he could be very skilful and very deadly with it.
3. Death
Always make amends with those dear to you, you never know when they will be gone.
Even if you're taking a strole in the park or walking down the streets shopping, something can take a turn for the worse, leaving you in a situation no one wants to be in.
---
Overall, Akame ga Kill is a great anime series to get into. It has very good character development that makes every death in the series heart breaking, Not to mention, again, the excellent use of weapons and action scenes in the series. If Akame ga Kill were to begin a second season, I will most likely be there to see it through thick and thin.
What did you think of the series? If a second season came out, would you watch it? Let us know in the comments below!
---