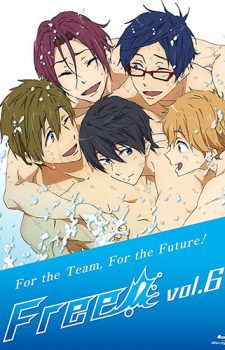 With three seasons and a couple of movies under its belt, Free! is an exhilarating tale of comradery between friends, both new and old, as they vie to become some of the top swimmers in Japan. In the spirit of all-boy sports teams, we want to highlight some gems from the 2018 Fall anime season that you should look out for if you enjoy anime like Free!
Liked Free!? Watch Tsurune: Kazemai Koukou Kyuudoubu
Episodes: 7+
Aired: October 2018 – January 2019
Minato Narumiya, a former Japanese archery prodigy, is trying to make the best of a fresh start as he begins high school. Upon attempts by his friends and teacher to reel him back into the world of archery, Minato can't help but recall the terrible moment that made him stop competing in the first place. Can his friends come together and convince him to compete in the prefectural tournament as a team or is Minato really done with archery?
Major Similarities Between Free! and Tsurune: Kazemai Koukou Kyuudoubu
1. Prodigy Returns
Much in the same way that Haruka Nanase, the prodigy from Free!, was at first incredibly reluctant to move beyond his style or way of swimming, Minato Narumiya is challenged to move beyond his own preconceived notions of what he can and can't do when it comes to a sport he so clearly loves. He sees himself dragged back in, even reluctantly, to a world he thought he left behind.
2. Friendship
If you are a fan of Free!, there is one key theme that you cannot go without in an anime about all-boy sports, that is the bond of friendship between the teammates. Even better is seeing relationships form between individuals of varying personalities and characters. While shaky at first, the blossoming of friendship is core to seeing the main protagonists' goals achieved in Tsurune.
---
Liked Free!? Watch Kaze ga Tsuyoku Fuiteiru (Run with the Wind)
Episodes: 23
Aired: October 2018 – Currently Airing
Kakeru is a down-on-his-luck former high school track star who is approached by Haiji, a fellow Kansei University Student, on a bike as Kakeru attempts to make off with some food he stole from a shop. Haiji manages to convince him to stay with him at his dorm made up of eight other boys from other departments at the university. Kakeru soon discovers that Haiji has an ulterior motive that will see his dorm of complete novices competing as a team in one of the most competitive marathons in Japan.
Major Similarities Between Free! and Kaze ga Tsuyoku Fuiteiru (Run with the Wind)
1. Teamwork
Sometimes, friendship does not happen from the get-go, especially if you are as isolated as Kakeru. Yet, through working with a group of complete strangers, friendship and comradery can be formed. Much like in Free!, Teamwork and group cohesion is shown to be just as important in achieving one's goals as friendship is for increasing the day-to-day quality of our life.
2. Rivalry
With any good sports anime, one needs competitors to push the protagonists into new situations or new levels that they otherwise could not reach alone. Many times, we may find that the rivalry of other teams or individuals from the past, as was the case in Free!, can strengthen the bonds between members of a team to improve as a whole unit. In the case of Kakeru, as episodes progress, we see more unveiled about his past, particularly his not-so-stellar relationship with his former teammates and what led him to encounter Haiji. From this past comes Kousuke Sakaki, who emerges on the scene laughing at Kakeru's team's efforts to compete, which drives Kakeru to prove him wrong while fighting his own doubts.
Final Thoughts
As we are heading into the winter anime season, sports anime is a great way to stay riled up, motivated, and active when we just want to curl up in bed and read a book. We hope that this article helps you get in the right headspace and keep your spirits up in spite of the cold. Did this article help? Are there any similarities we missed? Let us know in the comments.
---