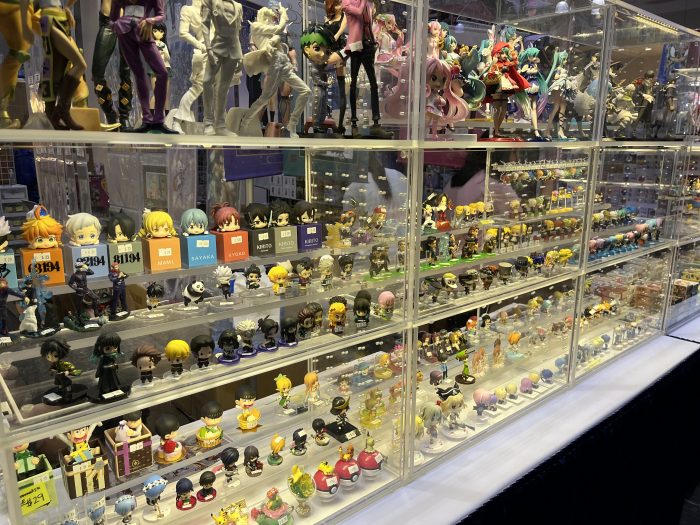 After three long years, Anime Boston has finally returned to celebrate its 20th anniversary! As the largest fan-run anime convention in the northeast, this event is a staple for New England nerds to celebrate their love of all things anime. We were beyond excited to come back this year, so here's our post-show report of Anime Boston 2022!
Basic Info
| | |
| --- | --- |
| When it Established | April 2003 |
| Length of Event | 3 days, with pre-registration ticket pickup the night before |
| Place/Location | John B. Hynes Veterans Memorial Convention Center and the Sheraton Boston Hotel – Boston, MA |
| Cost | Anime Boston sells full weekend passes for $95 online, and for $105 at the door (you can get discounts if you register several months ahead of time). There are also single day passes and family bundles available. |
| Hotels | As the Hynes Convention Center is inside of a large mall called the Prudential Center, there are several hotels connected directly to the whole complex. The Sheraton is closest to the con itself, and the Hilton, Marriott, and Westin are also accessible via indoor bridges. Other hotels can be found nearby. |
| Event Message for Attendees | Anime Boston's focus is to celebrate and promote Japanese animation, comics, and pop culture. More info here. |
---
What to Expect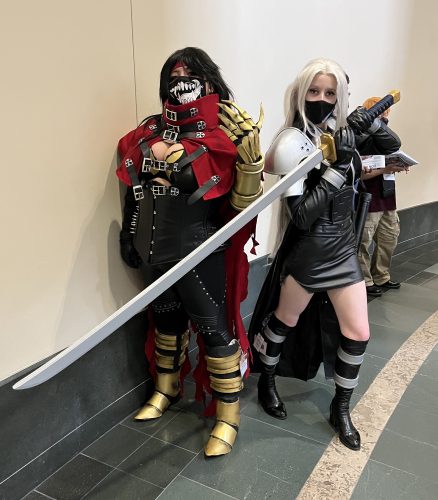 Strict Safety Protocols: Anime Boston doesn't mess around when it comes to safety. They've pretty much always had metal detectors and restricted the dealer's room from selling anything resembling a weapon, but this year, they've added Covid safety measures as well. Everyone entering the convention center and/or the Sheraton hotel must wear a mask at all times (unless eating or drinking), and you have to show a vaccination record or negative Covid test to receive your badge. We're really not complaining, though; with over 22,000 attendees, these measures are worth it to make sure everyone stays healthy.
All Anime (and Japanese Culture), All the Time: Many factions of geek-dom intersect with each other – the same people who love anime tend to also love video games, tabletop RPGs, Western comics, and the like. But unlike some more generalized conventions, Anime Boston focuses its programming entirely on anime and other Japanese culture related topics. There are, of course, gaming tournaments to play in and D&D supplies to buy, but don't expect any panels on the history of Moon Knight in popular media. However, this narrower focus allows for more niche panels like "A Plus-Size Lolita Style Guide" and the "Taiko Drum Performance & Workshop" by Odaiko New England that you might not find elsewhere.
What to Bring
Masks and Vaccination Records: As mentioned earlier, Covid safety is strictly enforced at this convention. This will likely persist at least through next year, so be prepared with several breathable face masks (stuffy ones could make you overheat) and your vaccination records/a recent negative Covid test. You can even have fun by theming your mask to your outfit!
Bags and/or Costumes with Pockets: Single-use plastic grocery bags are banned in the city of Boston, so most retailers in the Dealer's Room and Artist's Alley won't be able to give you anything in which to store your new figures and keychains. Bring along a bag, or at least an outfit/costume with pockets, and you'll be golden. There's also an item check counter outside of the Dealer's Room so that you don't have to lug your larger purchases around for longer than it takes to get to your hotel room.
Snacks: There are plenty of places to eat in both the convention center itself and the Prudential Center mall that surrounds it, but around peak mealtimes, everywhere is crowded. The Dealer's Room vendors also aren't allowed to sell food. Bring along some granola bars and water bottles to tide you over until you can get a full meal – you'll even save money this way!
What to Do
HoloMeet Panel: One of the most hotly anticipated events at Anime Boston this year was the HoloMeet panel with four Hololive VTubers: Kureiji Ollie and Pavolia Reine in the first half, and Ceres Fauna and Ouro Kronii in the second. We were able to attend Ollie and Reine's panel (where no photos or videos were allowed)... and it was glorious. Since this was both idols' first time appearing at a North American convention and it was one of the first HoloMeet events ever, it was sort of a shitshow – connection issues on the screen, running out of things to talk about, and Discord notifications pinging in the background – but it was the endearing kind of chaos that Hololive fans know and love. Be sure to attend next year, when they'll (probably) be more prepared!
Guest Panels and Concerts: If you're into live entertainment, this con has some fantastic offerings! Max Mittelman, Ray Chase, and Robbie Daymond performed their live improv show "Loud, Annoying and Very Annoying"; Matt Shipman, Brittany Lauda, and Greg Ayres played Whose Line Is It Anyway style improv games in "Anime Unscripted" (complete with a segment called PowerPoint Roulette, where they had to make up a keynote presentation based on weird stock images they'd never seen before); and both hip-hop artist EyeQ and Japanese singer ASCA held concerts.
Swap Meet: Most conventions have Swap Meets, but Anime Boston's size allows its merchandise trading event to be just big enough to host a wide variety of offerings and just small enough that you don't get overwhelmed. It's fun to trade your older anime merchandise for things you've never seen before, and after multiple rounds of trading, you could even end up with something amazing that would've cost tons of money otherwise!
Cosplay
We've seen cosplay trends come and go, and it seems that My Hero's Academia has been toppled from its place as the "most cosplayed property" by the twin forces of Demon Slayer and Genshin Impact. We saw plenty of MHA cosplays as well, of course (including a very cool Tokoyami with a light-up Dark Shadow puppet), but the increased accessibility of store-bought cosplays in recent years has made it much easier for anyone to dress up as a character that they love – even ones from series with very complicated outfits like Demon Slayer and Genshin Impact. We're just glad that more people are discovering the joys of cosplay!
Recent anime like Spy x Family and My Dress Up Darling also had significant cosplay representation, alongside staple franchises like Fire Emblem, Pokémon, and Final Fantasy. No matter where you are in your cosplay journey or how obscure or popular your character is, everyone is welcome at Anime Boston.
---
Final Thoughts
New England anime fans had been waiting three years for the return of Anime Boston, and we could absolutely feel the hyped-up energy in every facet of this convention. Everyone was happy to be there, happy to get out of the house, and happy to finally see their friends and idols again. We'll definitely be coming back next year for our fix of anime convention excitement in the heart of the northeast!
What did you think of our overview? Did you go to Anime Boston this year? Do you want to go in the future? Let us know in the comments, and thanks so much for reading!
---