Action Anime Spring 2015
Arslan Senki 2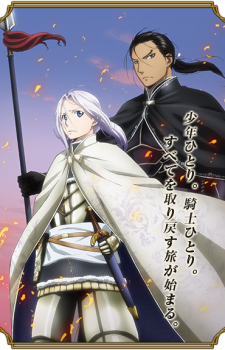 As an unnaturally heavy mist descends on the battlefield, King Andragoras and his most valued officers confer among the bodies of dead and dying soldiers. When Daryoon, a young but highly skilled officer, voices his reluctance to send men into battle under these conditions, the king, unstable and enraged, banishes him.
Now, Daryoon's new mission is to insure the safety of the King's only son, Prince Arislan. Daryoon and Prince Arislan set off on a quest of their own, but they can't succeed alone. They must convince both the Lord Narsus and his companion, the archer Elam, to join them in their quest to somehow help the soldiers win the war.
Now a group of only six they must somehow overcome an enemy of 300,000 soldiers! These unlikely soldiers have fate on their side, so anything can happen!
(Source: ANN)
Ninja Slayer From Animation
The 'cyberpunk ninja action drama' is set in the near-future city of Neo Saitama and follows Fujikido Kenji, a salaryman whose wife and children were killed in a ninja battle. Thus, he became a ninja slayer, devoted to killing all ninja to avenge his family.
(Source: ANN)
Saint Seiya: Ougon Tamashii
Sidonia no Kishi: Daikyuu Wakusei Seneki
Second season of Sidonia no Kishi.
A 'premium event' will be held on November 23 with a screening of the first two episodes of the new season. The TV start date is in spring 2015.
Baby Steps 2nd Season
Maruo Eiitirou (E-Chan), a first year honor student, one day decides he's unhappy with the way things are and lacks excerise. He finds a flyer for the Tennis Club and decides check it out. He's instantly captivated by it. With no prior experience and poor physical conditioning, join E-Chan as he embarks on a tennis journey using his smarts, dedication and work ethic.
Digimon Adventure Tri.
Fifteen years after the summer vacation.
If we didn't go to the Digital World. If I didn't make this trip with others. If we didn't change at all like this.
These Digimon were always with us. We've been friends all the time. We learned the importance of helping each other. All the things have made us what we are!
New stories for all the 'DigiDestined' in the world. Taichi, seventeen, high school days.
(Source: Official teaser trailer via MAL)
Kekkai Sensen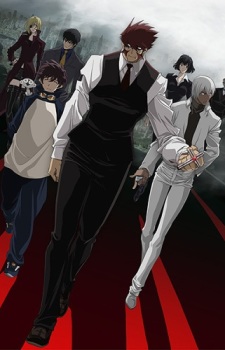 A breach between Earth and the netherworlds has opened up over the city of New York, trapping New Yorkers and creatures from other dimensions in an impenetrable bubble. They've lived together for years, in a world of crazy crime sci-fi sensibilities. Now someone is threatening to sever the bubble, and a group of stylish superhumans is working to keep it from happening.
(Source: Dark Horse Comics)
Plastic Memories
This story takes place in a future not too far away when androids that look exactly like humans begin to spread across the world. The android production company SA Corp. produced Giftia, a new kind of android that has the most amount of emotion and human-like qualities out of any other model ever seen. However, due to problems in technology, the androids have a service life, and once they pass that, they... Well, it gets pretty bad. For this reason, SA Corp. creates a terminal service in order to retrieve Giftia that have gone past their service life. A new employee at the terminal service named Tsukasa Mizugaki forms a team with the Giftia Isla to retrieve the other androids, but...
(Source: official website)
Koukaku Kidoutai Arise: Alternative Architecture
A TV anime version of Ghost in the Shell: Arise. The first eight episodes are an edited version of the four movies while the last two are new content.
Gunslinger Stratos: The Animation
An anime adaptation of Square Enix's gun-shooting action arcade game Gunslinger Stratos.
Fate/stay night: Unlimited Blade Works 2nd Season
The 2nd season of ufotable's adaptation of the Unlimited Blade Works route of Fate/stay night. Set to air in April 2015.
Girls Only Anime Spring 2015
Hello!! Kin-iro Mosaic
Second season of Kin-iro Mosaic.
Hibike! Euphonium
The original novel's story follows the Kitauji Music club, which used to always advance to national competitions. Ever since the adviser changed, though, it has not advanced past the Kansai tournament. However, thanks to the newly appointed adviser's strict instruction, the students are steadily improving. The club members' daily lives are full of ups and downs including fights over solos and the decision to resign club activities to focus on studies.
Source: ANN.
Houkago no Pleiades TV
The story centers around an afterschool club of magical girls who help recover fragments so that an alien from Pleiades can return home.
(Source: ANN)
Magical Girl Lyrical Nanoha ViVid
The manga takes place four years after the JS incident in Magical Girl Lyrical Nanoha StrikerS, and stars Vivio Takamichi, a fourth-year elementary student at St. Hilde Academy of Magic. Vivio has learned to conjure her adult form and has received her own Device — named Sacred Heart — from Nanoha, and has promised Nanoha to never use either for mischief. Then a mysterious magical fighter appears and targets Vivio.
Mikagura Gakuen Kumikyoku
The story of the original light novels and manga revolves around high school girl Eruna Ichinomiya, who enters the Mikagura Academy dreaming of a boarding school life filled with beauty. However, Eruna finds out that in the culture clubs, there is a rule that battles that are fought with special powers decide a club representative's treatment. Through various circumstances, Eruna becomes a representative of a club, and is thrown into the fray.
(Source: LN synopsis via ANN)
Nisekoi:
Second season of Nisekoi.
Re-Kan!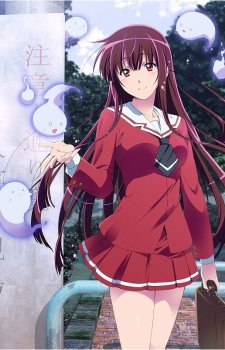 The manga centers around Hibiki Amami, a girl who can see ghosts and other supernatural phenomena in her surroundings. The stories follow her daily life with both her friends and the otherworldly.
Source: ANN.
Takamiya Nasuno Desu!
Teekyuu 4
Fourth season of Teekyuu.
Urawa no Usagi-chan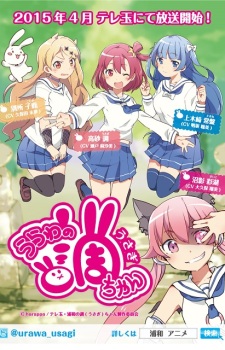 An anime to advertise Urawa City in Saitama, Japan.
(Source: MAL)
Show by Rock!!
Metropolis of music, MIDICITY. A kitty girl wearing gothic lolita clothing named Cyan is scouted by Maple Arisugawa, the president of a music agency. From there, she meets Chuchu (a pun off of the sound that rabbits make) the honor student rabbit girl, a net geek dog girl named Retoree (from Retriever), and an alien sheep (?) girl named Moa. Together, they form the band named Plasmagica, and aim for the top of the world.
However, the path there is long and tough, and keeping in high spirits is important. By battling against other strange bands, Plasmagica slowly grows toward a top-grade band. In the end, they'll be a band that becomes the driving force of MIDICITY's music industry... Maybe?
Gonna be a music millionaire!
(Source: Sanrio)
Ecchi Anime Spring 2015 / Harem Anime Spring 2015
High School DxD BorN
Third season of High SChool DxD.
Punchline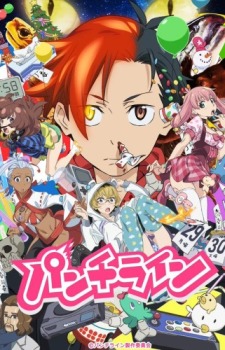 Shokutaku no Souma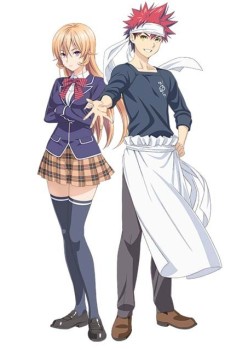 The manga centers on Souma, who works with his dad at his family's restaurant. His dad is a culinary master, and he often hosts cooking battles with his father. His father then enrolls him in an elite culinary school that is very difficult to enter, and the graduation rate is only about 10 percent.
Source: ANN.
Triage X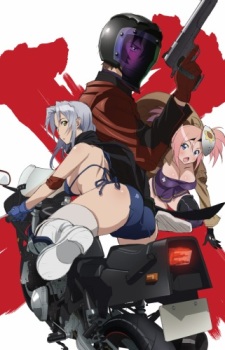 Dungeon ni Deai o Motomeru no wa Machigatte Iru Darou ka
The story takes place in the town of labyrinths, Orario, also called Dungeon. Bell Cranel is a newbie adventurer who admires having a fateful meeting with a person of the opposite gender.
One day during an adventure, he is attacked by a minotaur. Close to destruction, he is saved by a top-class female adventurer, Eyes Warenstein. He falls in love with her at first sight, and begins actions to become an adventurer that is on her level. He later encounters Hestia, a god called a Lolita god due to her stature who falls in love with him.
Source: ANN.
Yahari Ore no Seishun Love Comedy wa Machigatteiru. Zoku
Second season of Yahari Ore no Seishun Love Comedy wa Machigatteiru.
The Eden of Grisaia / The Labyrinth of Grisaia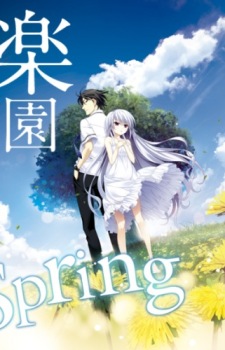 The Eden of Grisaia continues The Labyrinth of Grisaia's main route and concludes the trilogy.
Source: ANN.
Yamada-kun to 7-nin no Majo
The story of the original manga begins when Yamada, the high school's worst problem child, bumps into the beautiful honor student Shiraishi on the stairs, and their lips touch as they fall. When they regain their wits, they realize that they have swapped bodies. As time progresses, the two realize that this is not the only mysterious happening in the school.
(Source: ANN)
Comedy Anime Spring 2015
Etotama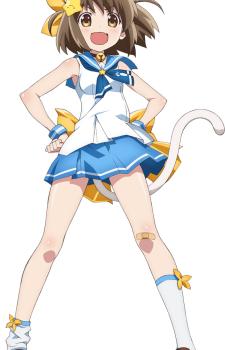 The manga's story revolves around Nya-tan, the cat of Chinese astrology who wants to become a member of the Chinese zodiac. Nya-tan is simple and suffers from memory loss, and she tries various foolish ways to become a member. She meets Takeru Tendo, a high school student who lives alone in Akihabara, and becomes a freeloader at his house. Little by little, she gets closer to her goal.
Source: ANN.
Gintama
Fourth season of Gintama.
Ore Monogatari!!
Takeo Gōda is a giant guy with a giant heart. Too bad the girls don't want him! (They want his good-looking best friend, Sunakawa.) Used to being on the sidelines, Takeo simply stands tall and accepts his fate. But one day when he saves a girl named Yamato from a harasser on the train, his (love!) life suddenly takes an incredible turn!
(Source: ANN)
Denpa Kyoushi
An anime adaptation of the manga which centers around Junichirou, a young man obssesed with manga, anime and games. He was a young genius who published papers in the journals Nature and Science when he was only 17. However, after graduating college, he became a NEET (Not in Education, Employment, or Training) absorbed in his anime blog. Unable to watch Kagami throw away his life, his sister Suzune gets him to work at the Ichou Academy she attends. The head of the school's board, Koyomi Hiiragi, assigns Kagami to his new life as a teacher.
(Source: ANN)
Yaoi Anime Spring 2015
Ameiro Cocoa
Due to various circumstances, college freshman Aoi Tokura begins part-timing at the café 'Rainy Color' run by Shion Koga and owned by Kouji Amami. Attending the café are the cool and handsome Keiichi Iwase and the confident Ryouta Sakurai. Aoi's life gets a lot more hectic, but fun.
(Source: ANN)
Seraph of the End
After a catastrophic epidemic kills every adult on earth, vampires arise from the shadows to enslave the remaining human population. Yuichiro and his friends are kept as vampire fodder in a creepy underground city. Yuichiro dreams of one day fighting back, and the first step is staging a daring escape from their vampire overlords...
Source: VIZ.
Vampire Holmes
An anime adaptation of the smartphone game that features a character named Holmes in London, but against his name, he is a private detective who dose not reason, or not even explain mysteries. However, he always solves the cases requested. He secretly undertakes a mission from the Metropolitan Police of London to search vampires.
Uta no☆Prince-sama♪: Maji Love Revolutions
According to reports by the attendees of Sunday's 'Uta no☆Prince-sama♪ Maji Love Live 3rd Stage' event, a third anime adaptation of the otome game 'Uta no☆Prince-sama♪' was announced for 2015.
(Source: MAL)
---