With social distancing and staying at home still a big concern for many parts of the world, there are few better times than now to get settled in to watch anime. You can be entertained from the safety of your home for hours with no chance of catching anything nasty. Especially for members of Crunchyroll, you can access tons of great anime without commercials or popups to bog you down. In case the choices are too overwhelming, here are what we think are the best Spring 2020 anime streaming on Crunchyroll right NOW from high-stakes adventures to supernatural slapstick comedy!
1. Yesterday wo Utatte (Sing "Yesterday" for Me)

Episodes: 12
Aired: April 2020 - ongoing
Rikuo is a convenience store part-timer despite having graduated college, which in his mind makes him an outcast. Rikuo, along with Shinako, Haru, Chika, and Kinoshita find their lives entangled, each with their own circumstances that separate them from respectable society. While initially Sing "Yesterday" for Me doesn't seem like a very interesting or original premise, anime fans in their late teens and twenties may find it extremely relatable in a way a lot of anime isn't. Especially as more and more young adults are working part-time jobs and not settling down to start families, seeing these characters go at life their own way feels very familiar. Not everyone is following their dreams and some don't even have any ambition to follow. They're just trying to live a life they won't hate. Even if that seems a little dreary, there's a generally light-hearted and hopeful feeling to this anime so you won't find yourself depressed watching it!
---
2. Hachi-nan tte, Sore wa Nai deshou! (The 8th Son? Are You Kidding Me

Episodes: 12
Aired: April 2020- ongoing
6-year-old Wendelin Von Benno Baumeister, once 25-year-old Shingo Ichinomiya, has to adapt to an unremarkable, poor life as the 8th son of a noble but destitute family. Seeing no hope in his current state, he takes solace in his aptitude for magic. On his journey to becoming a great mage, Wendelin meets many other impressive children searching to make a name for themselves. Some of these future comrades turn into potential wives as well! Harem anime is often super silly and the women just seem to fall for the first guy that's nice to them. This anime has a more mature approach where marriage is almost viewed as a partnership of those sharing the same goals. Hachi-nan tte is like a less goofy Another World with My Smartphone isekai.
---
3. Fruits Basket Season 2

Episodes: 25
Aired: April 2020 – ongoing
Honda Tooru has been staying with the Souma family for a year and has found herself growing closer to each of the members. Everyday life with Shigure, Kyou, and Yuki provides unending entertainment and mischief yet we are blessed with a whole host of diverse and interesting supporting characters. As it turns out, being possessed by zodiac animals and transforming when hugged by someone of the opposite sex isn't the only secret this family has. Tohru continues to dive deeper into this mystery and unravel the pain that haunts the members of the Souma family while not losing that gentle kindness we love her for.
---
4. Kami no Tou (Tower of God)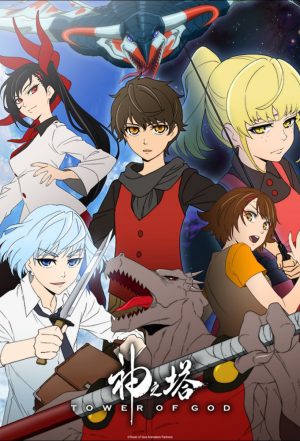 Episodes: 13
Aired: April 2020 – ongoing
Bam was saved from the lonely darkness by Rachael, a beautiful girl who dreamed of stars. One day, she can take it no longer and ascends the mysterious Tower of God to see the stars. This mysterious tower with its many perplexing levels ranging from battle royals to riddle-solving keeps at bay the many Regulars that attempt to ascend to the top to have their wish granted. The art is edgy and dark but still rich with color and the character designs are distinct and eye-catching. Each episode answers some questions and asks some different ones so there's plenty to learn and ponder!
---
5. Jashin-chan Dropkick' (Dropkick on My Devil!! Dash)

Episodes: 11
Aired: April 2020 – May 2020
The second season of Jashin-chan Dropquick comes with more dropkicks and more gags. We have our lovable demon hosts and pitiable fallen angels with a few new faces. The laughs continue as Jashin tries to defend herself against internet trolls and Pekora tries to ward off angel assaults. If you're not familiar with the first season, which you don't need to be thanks to a nice recap in episode 1, Jashin-chan may shock you with how cute the girls are yet how violent the show is. Dark humor and adorable demons and angels are a great combo.
---
Final Thoughts
How you spend your time now will be different from person to person. We hope that our readers can find a little escape and comfort in the various anime this season has to offer. We have admirable male and female protags to aspire to as well as hilarious characters of all genders to laugh at. Whether you're looking for something relatable or something fantastic to teleport you away, we hope you enjoy these best spring 2020 anime streaming on Crunchyroll.
---