Bishoujo Senshi Sailor Moon Eternal Movie

Genre:
Shoujo, Magical Girl, Magic
---
Airing Date:
Part 1 - January 8, 2021 / Part 2 - Feburary 11, 2021
---
Studios:
Toei Animation / Studio Dean
Official Images / Key Visuals
Synopsis
It's April in Spring and just days away from the big event, a total solar eclipse. Just as it gets dark and the crescent moon is about to cover the sun, Usagi and her friends hear a call for help from "Pegasus Helios". Helios is looking for the young maiden able to undo the seal of the golden crystal and one night appears in Chibiusa's dreams, where he asks for her help. At the same time the "Dead Moon Circus" appears in Tokyo. Their purpose is to let loose lemures - the personifications of nightmares - throughout the city and have them search for the silver crystal. With the crystal they would be able to dominate the Moon and Earth, and eventually the universe.
Chibiusa slowly starts to fall in love with Helios the longer he returns to her for help. Mamoru starts to feel as though he's burdening Usagi, and she blames herself for putting him in danger. In the midst of all this and a large scale battle, they have to come to terms with their dreams and their duty.
This movie is one about dreams that cross both time and space.
Characters & Voice Actors
Usagi Tsukino:
Kotono Mitsuishi
Usagi is in second year of middle school, with her trademark being the two buns on her head. She's a bit of a clutz and a cry-baby, but even so a carefree, cheerful girl who can befriend anyone. She can transform into Sailor Moon, a soldier protected by the Moon, and with her fellow soldiers she will fight to protect Earth, in the name of love and justice. Her catchphrase is "In the name of the moon, I will punish you!"
Chibiusa:
Misato Fukuen
Chibiusa is a young girl who just fell out of the sky one day. She has the same hairstyle as Usagi and they even have the same name, and thus she got the nickname Chibiusa. She's full of mysteries, but sometimes she can be really innocent.
Mamoru Jiba:
Kenji Nojima
Mamoru is a tall young man with black hair, and Usagi's boyfriend. He supports the sailor soldiers as Tuxedo Mask. In the beginning he and Usagi bickered a lot, but as they got reminded of their past lives, they became lovers.
Ami Mizuno:
Hisako Kanemoto
Ami is a genius with an IQ of 300. She's a quiet, gentle girl with a strong will. Her dream is to become a doctor. Her hobby is to read and play chess, and she attends Juban Middle School, just like Usagi. She can transform into Sailor Mercury and is protected by Mercury. She has the power of water and with her knowledge and calm attitude, she's the brain of the sailor soldiers. Her catchphrase is "Douse yourself in water and repent!"
Rei Hino:
Rina Satou
Rei is a beautiful, cool girl who attends "T.A Academy for girls". She has a strong sixth sense and she works at Hikawa shrine as a shrine maiden helping her grandfather. She can transform into Sailor Mars and is protected by Mars. As a soldier fighting evil her sixth sense is useful, but she also possesses the power of fire and is a very skilled fighter. Her catchphrase is "In the name of Mars, I'll chastise you!"
Makoto Kino:
Ami Koshimizu
Makoto is really strong and tall, she's a girl who can even beat the boys. But, her hobby is to take care of plants and she's a great cook - she's a typical girl. She falls in love easily, though. She can transform into Sailor Jupiter and is protected by Jupiter. Her strength combined with her power to use thunder and lightning makes her a strong fighter and someone who often protects her comrades. Her catchphrase is "In the name of Jupiter, I'll go hard on you!"
Minako Aino:
Shizuka Itou
Minako is a beautiful girl who's cheerful and great at sports. She's a little bit of a clutz and a fangirl, which makes her a little similar to Usagi. Her dream is to become an idol. She can transform into Sailor Venus, protected by Venus. She's something of a leader-figure for the group of soldiers, along with her companion the white cat Artemis. Her catchphrase is "In the name of Venus, I'll show you the miracle of love!"
Haruka Tennou:
Junko Minagawa
Protected by Uranus, Planet of the Wind and Guardian of the Heavens, Haruka is Sailor Uranus. She is a graceful and mature girl who is overly strict, willing to do anything for her mission ー even at the cost of her own life. When she's not fighting evil as Sailor Uranus, she is a high school student and an F1 test driver.
Michiru Kaiou:
Sayaka Ohara
Protected by Neptune, Planet of the Ocean, Guardian of the Deep Sea, Michiru is Sailor Neptune. She's a very cool and sophisticated girl, but not the friendliest person. In the midst of battle, Michiru always remains calm and collected while she searches for the key to victory. She can see through her enemies' feints and is never overwhelmed by the situation. When she is not fighting evil, she is a high school student and famous violinist.
Setsuna Meiou:
Ai Maeda
Setsuna is Sailor Pluto, the sole gatekeeper of the Space-Time Door. She breaks one of the three taboos and uses her power to stop the flow of time. As a result, her life becomes forfeit. Later, she is reincarnated as a space-time soldier under the protection of Pluto of the outer solar system. She is the eldest of the Sailor Scouts and watches over the others. However, many things about her remain a mystery.
Hotaru Domoe:
Yukiyo Fujii
Protected by Saturn, the outer Planet of Ruin. Hotaru is the Guardian of Silence ー Sailor Saturn. While fighting the Death Busters, she sacrifices herself to save the world. She is then reincarnated as a baby and raised by Haruka, Michiru and Setsuna. She has a mysterious air about her.
Luna:
Ryo Hirohashi
A black female cat which is a partner of Usagi. She is so diligent that she leads Usagi and other Sailor fighter.
Artemis:
Taishi Murata
A male white cat who is Minako's partner. He has a cool, serious personality, but sometimes plays dumb.
Helios:
Yoshitsugu Matsuoka
A priest of Elysion, a sacred place located deep within the Earth. He is captured by Queen Nehalennia, but appears before Usagi Chibiusa in the form of a pegasus, requesting her help.
Zirconia:
Naomi Watanabe
The ringmaster of the Dead Moon Circus, who serves under Queen Nehalennia. She is a manifestation of Nehalennia's psyche in the form of an old woman. She steals the Silver Crystal and plans to conquer the Earth and the Moon.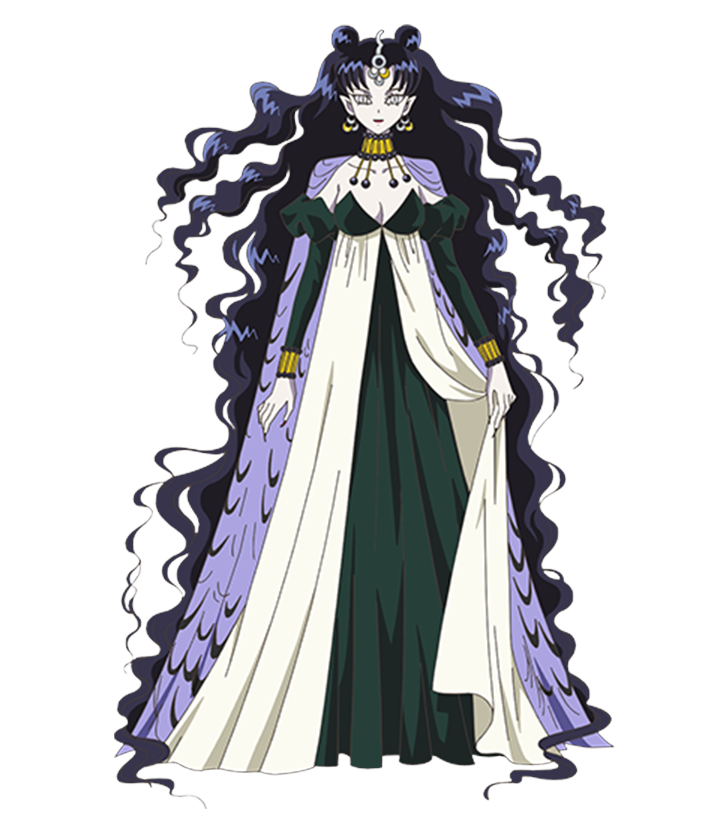 Nehalennia:
Nanao
The queen ruling over Dead Moon who plans to conquer the Earth and the Moon. Aeons ago, with the intent of bringing darkness to the Moon Kingdom, she paid a visit to their celebration of Princess Serenity's birth. However, Queen Serenity sealed her inside a mirror.
CereCere:
Reina Ueda
The flower magician of the Amazoness Quartet. She takes initiative and is like a big sister to the other members.
ParaPara:
Sumire Morohoshi
The ball balancer of the Amazoness Quartet. She uses her Amazon Stone to cast various magic spells.
JunJun:
Yuko Hara
The acrobat of the Amazoness Quartet. She's a tomboy with a naughty side.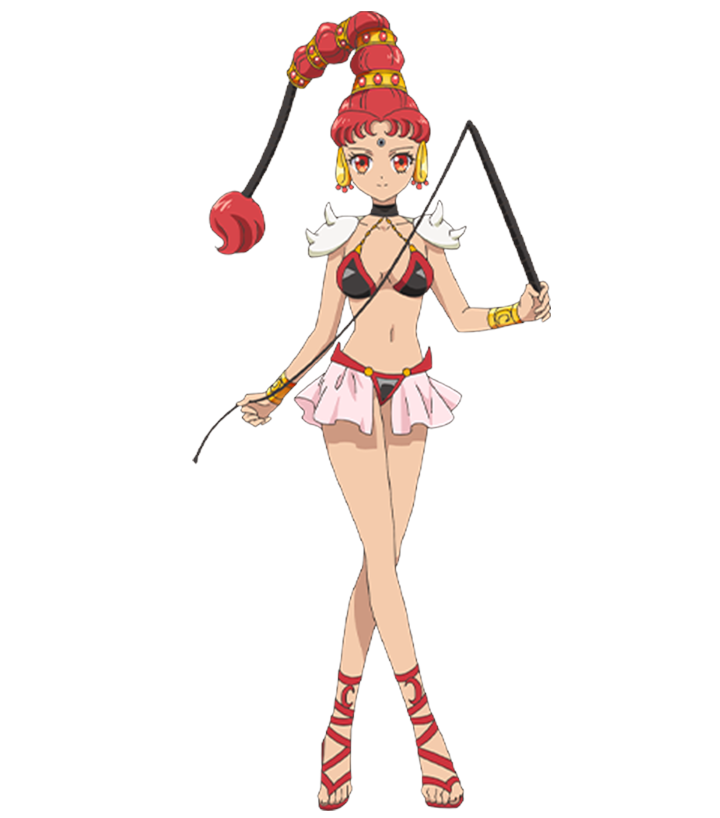 VesVes:
Rie Takahashi
The animal trainer of the Amazoness Quartet. She acts like a queen because her animals follow her like loyal subjects.
Tiger's Eye:
Satoshi Hino
The personification of a tiger. He was originally a pet tiger of the Dead Moon Circus, but was transformed into a human. He is a wild character who dreams of being an artist. He uses artistic clones of himself to fool the Sailor Scouts.
Hawk's Eye:
Toshiyuki Toyonaga
The personification of a hawk. He was originally a pet hawk of the Dead Moon Circus, but was transformed into a human. Although he invades the Sailor Scouts' dreams to seduce them, he has his own dreams which he hopes to fulfill someday.
Fish Eye:
Shouta Aoi
The personification of a fish. He was originally a pet fish of the Dead Moon Circus, but was transformed into a human. He takes advantage of the void in the Sailor Scouts' hearts and invites them into a sweet nightmare.
Theme Songs

Opening Song: "Tsukiiro Chainon" by Momoiro Clover Z with Sailor Moon & Mercury & Mars & Jupiter & Venus

Adaptation

"Sailor Moon" (Manga)


Main Staff

Original Creator: Naoko Takeuchi
Director: Chiaki Kon
Script: Kazuyuki Fudeyasu
Character Design: Kazuko Tadano
Music: Kouji Takanashi
(Credit Honey's Anime when you use our description.)
---