What You Need to Know:
Tokyo Otaku Mode has announced pre-orders for a duralumin card case based on motifs from the currently airing popular anime Cardcaptor Sakura. The card case features designs based on the Sealing Wand and magical circle that appear in the anime.
The card case is produced by GILD Design, a company that has manufactured many duralumin products. GILD Design produces high-quality products due to the level of care taken throughout the creation process, from the raw materials to the decision to make every part of the product within Japan. This is an item with a simple yet refined design, durability that comes from using
duralumin, and the smooth sliding action that comes from being handmade by an artisan. The bearings, each of which is smaller than a grain of rice, allow for easy opening and closing. This card case is designed to be extremely easy to use.
This design was made with the intent to create a card case that can be used in any situation, such as business situations or even fan events. This is an item for Sakura fans, old and new alike, to be able to carry around wherever they go. The pre-order period is from June 19th, 2018 at 10:00 a.m. to August 31, 2018, 11:59 PM JST. Shipping is planned to begin when production finishes in October 2018. To pre-order this beautiful case, be sure to check out the official website!
Source: Official Press Release
Product Details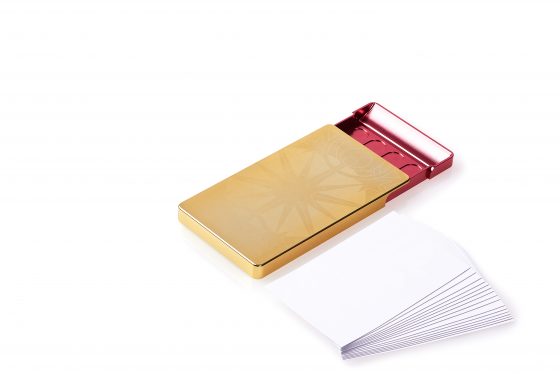 Price: 12,800 yen (excl. tax)
Materials: Duralumin alloy A2017S, stainless steel
Size: 9 x 110 x 62mm
Weight: 62g
---
Wow, I love the gold finish! Totally looks cute and professional!
Pre-ordering now, but damn I have to wait until October...Oh well, I'll be patient!
---