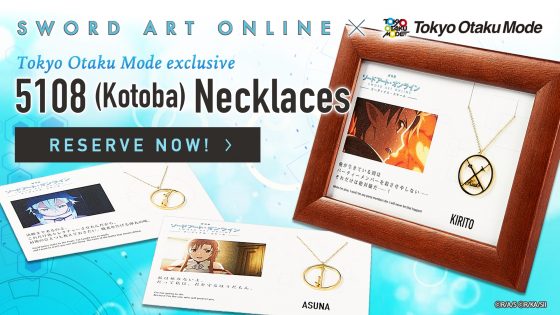 What You Need to Know:
Today, Tokyo Otaku Mode (TOM) has announced their next collboration with Sword Art Online! Next up are 5108 (Kotoba) Necklaces
The 5108 (Kotoba) necklaces are exceptional pieces of jewelry that use the power of words to improve their designs, all made in Japan. One for Kirito's Elucidator and the Dark Repulser, one for Asuna's Lambent Light, and one for Sinon's Hecate II. You can wear it as a personal accessory, give it to someone significant in your life, or frame it and have it on display. Relive the most remarkable scenes through the Sword Art Online 5108 (Kotoba) Necklaces.
With only 45 days in the campaign, if you are wanting one, now is the time! Check out the official site here. Catch the images below!
---
Ooooooooooooo. Look Bombon! Cute jewelry!
Mmmm I think it is time to go shopping. I got Bee-gendou's CC. Let's roll!
---