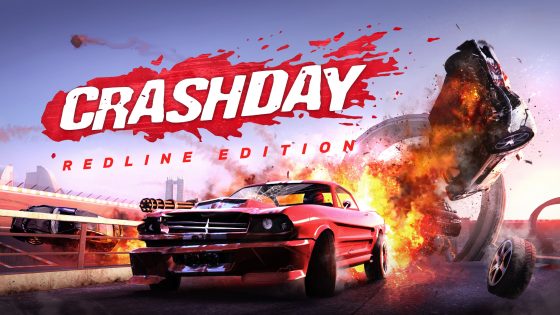 What You Need to Know:
Crashday -- the explosive cult classic multiplayer arcade racer -- is back! Retooled and remastered, Crashday: Redline Edition is set for a Steam launch this August for $11.99 featuring all-new and expanded features, including Steam Workshop support!
With an improved multiplayer mode, a wide variety of action-packed game modes, plus new modding functions and an integrated track editor, fans of blazing chain guns, blasting rockets and action-packed over-the-top racing can celebrate a true indie thrill ride when Crashday drops!
Originally released in 2006, Crashday garnered a die-hard fan base that remains loyal to this day. Thanks to their invaluable feedback and support, indie developer Moonbyte Games lovingly crafted the remastered Crashday: Redline Edition!
Source: Official Press Release
Official Trailer
Crashday: Redline Edition (Official Trailer)

Key Features
Steam Workshop Integration
Crashday: Redline Edition features sophisticated modding support to expand the capabilities of the existing in-game track editor. With full Steam Workshop integration, players are not limited to their own custom created tracks. Publisher 2tainment and developer Moonbyte Games anticipate that well over 100 mods will be available within the first few weeks of Crashday: Redline Edition's release!
Test Drive Mode
Crashday: Redline Edition wouldn't be complete without a Test Drive Mode, where the player can preview a track and hone their skills in perfect peace, preparing for upcoming races, breathtaking stunts and action-packed street battles on the numerous racetracks.
Hold the Flag
In Hold The Flag, the "flag bearer" must pass through as many checkpoints as possible and collect points before his or her adversaries run them down.
Pass the Bomb
Use skillful driving to ram your bomb-strapped vehicle down your opponent's throat before the timer runs out in Pass The Bomb.
Bomb Run
In Bomb Run, the bomb explodes automatically as soon as you fall below a predetermined speed limit.
Single and Multiplayer Races
Crashday: Redline Edition delivers gripping single and multiplayer races, really heating things up on the track. Unlike mundane racing games, Crashday: Redline Edition does more than just challenge the player's driving abilities. Ramming your opponents into a careening slide or "persuading" them off the track at gunpoint are perfectly acceptable ways to win. With a mood-setting progressive metal soundtrack, an arsenal of steel-shredding weapons, all-new power-ups, a sophisticated damage system and impressive replays that highlight the most spectacular action, Crashday: Redline Edition guarantees adrenaline-loaded fun!
---
Crashday seems to be fully loaded with a plethora of features for its devoted fanbase. I'd certainly like to try this out!
This reminds me of Twisted Metal and FlatOut for some reason.
---