An emotional mecha done right
Episodes : 24
Genre : Action, Drama, Mecha, Romance, Sci-Fi
Airing Date : Januar 2018- July 2018
Studios : A-1 Pictures, Trigger, CloverWorks
Darling in the FranXX Introduction
Humanity has been driven to near ruin thanks to a powerful threat dubbed the Klaxosaurs. However, due to advanced research and training, humanity has gained one last fighting chance in the form of young teens able to fight powerful mechs known as Franxx. Driven by a male and female team, the teenagers are the only thing left to protect their mobile homes dubbed Plantations. Hiro--code number 016--is one of these young teen pilots who finds himself struggling to sync up with a female pilot. Things change for Hiro though when he ends up running into a young girl with red horns protruding from her head. Can Hiro link up with Zero Two who is known for killing/injuring all who try to team up with her in the Franxx?
Why You Should Watch Darling in the FranXX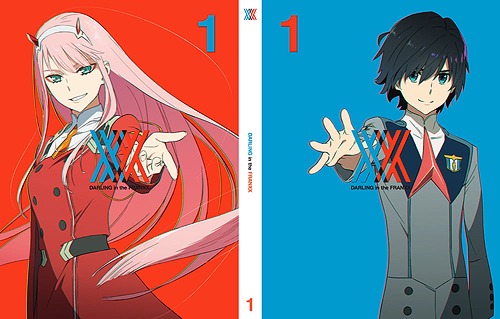 1. Awesome mecha animation
Trigger, A-1 Pictures and CloverWorks are all known for making amazing anime. Darling in the FranXX is no different with animation that stuns you from the first minute of episode 1 and till the end. Epic mecha battles, original art designs with the mechs themselves and crazed sci-fi themes keep your eyes literally focused on every image seen while watching Darling in the FranXX. Do you love the high intensity animation styles of shows like Gurren Lagann and or Neon Genesis Evangelion? If you are nodding your head yes, then you'll love Darling in the FranXX.
2. Deep story with tons of hidden messages/themes
Darling in the FranXX might trick you at first with its ecchi and stoic main character who you'll love to hate, yet, once Darling in the FranXX begins to unleash its true narrative, this series becomes anything but simple and obvious. There are a lot of hidden themes and messages within Darling in the FranXX that relate to humanity like what love is and about the lust with eternal life. These themes are kept hidden for a reason. Darling in the FranXX is at its absolute best when you're sitting down after a great episode and contemplating what you just witnessed. Any show that can stay with you every episode is a show we appreciate here at Honey's Anime HQ. That's why if there is one perfect element to Darling in the FranXX, it would have to be the story and how it's not extremely obvious at times.
3. Zero Two
Okay, all jokes aside, saying to watch any anime just for one character would be silly and a bit outrageous. We say watch Darling in the FranXX for Zero Two because her—and the rest of the cast—are intriguing characters that begin to develop and end up with a lot of relatability. Hiro, Ichigo, Goro and so on begin almost one dimensional in character plotlines but by the end, these characters are so deep and engaging, you begin to pray for their happiness and even find yourself in similar thoughts as some of them. So yes, watching Darling in the FranXX for Zero Two is definitely a good idea, but you're going to want to see where the others go in this thrilling mecha anime.
Why You Should Skip Darling in the FranXX
1. Rough beginnings
Most anime fans have there way of deeming if an anime is watchable and we understand why. Sitting through a series takes free time that you might not want to waste on a show that will start weak and possibly end the same way. We mention this because honestly, Darling in the FranXX has a rough start for the first several episodes and even if you're a fan of the series—like we are—you need to realize the reality of it. At first glance, Darling in the FranXX seems more focused on ecchi themes with how the pilots literally ride the girls in the cockpit and the cast just seem to be robotic young teens with no motivation. While this disappears by episode 5 or so, for those that judge anime on 3 episodes, Darling in the FranXX might be considered a skip and we could relate to that feeling as we didn't love the series initially either.
2. Takes a bit of time to mature
We just mentioned that Darling in the FranXX has a weak start. Thus, it should be also obvious that while the series does pick up quickly enough, it might take you a bit of time to feel like things really pick up. Just like fine wine or aged cheese—which are legit the only things we could think of for this comment—there is a time period of maturity to when Darling in the FranXX feels just right. By episode 8, you're going to like Darling in the FranXX but even then the love for it won't quite be there. We'd say by the middle point of Darling in the FranXX is when the show hits all the right notes in terms of story, romance and epic sci-fi battles. Till then, Darling in the FranXX shows only hints of what will be and that might be a turn off for those who expect instant gratification in their mecha series.
---
Final Thoughts
Darling in the FranXX is a mecha that honestly surprised us initially with some odd beginnings but steadily became incredible. Not only does this show have a ton of heart, but Darling in the FranXX oozes with originality in every form. We strongly advise to give Darling in the FranXX a chance and go beyond the typical "3-episode rule" to see how amazing this series can truly be. Did you love or hate Darling in the FranXX? Tell us your opinions in the comments below regardless of which way you leaned towards. Remember to also keep stuck to our hive for even more anime news, reviews and articles curtsey of us here at Honey's Anime.
---