También puedes leer este artículo en:Español
Spring 2016 is looking pretty varied in terms of ecchi and harem shows, with some shorts, a couple of your more standard deals, and some promising new light novel adaptations. There's been a surprisingly small amount of information released about some of the series so far, but it's always interesting to speculate on what we can expect to see in the next couple of weeks. As always there's a lot of fantasy themed shows coming up, with a sprinkle of sci-fi. Overall it's shaping up to be an ideal selection for any fan of cute girls and ecchi slip ups.
So we're here to give you the low down on the 6 main ecchi and harem shows for Spring 2016, and what you can hope to expect from them. So whether you have time to watch everything and just want some info, or you have no time at all and need to know which shorts you should keep an eye on, let us give you a hand and read on.
6. Gakusen Toshi Asterisk 2 (The Asterisk War: The Academy City on the Water)

Episodes: 12
Aired: April 2nd 2016 - ?
The second cour (or sequel) to Fall 2015's Gakusen Toshi Asterisk, and we're back following Ayato Amagiri and his harem for more fantastic fan service and inter-school battles. Although there's no solid information out yet, rumors suggest that the upcoming season will cover up until the end of the Pheonix Festa.
If you've watched the previous season of Asterisk War, you can expect to see more of the same, with some epic battles and cute girls. As a split cour, A-1 pictures will still be behind the production which almost guarantees consistency with the art and animation. One thing that hopefully also remains consistent is the quality of the soundtrack, after the unforgettable "Waiting for the rain" ending theme from the first season, and with Shiena Nishizawa returning to perform the opening theme again.
With a pre-established harem in place, the new season is likely to feature more detailed arcs for character development, as well as of course getting to see a whole lot more of our favorite girls acting all cute. Gakusen Toshi Asterisk 2 is likely to be a solid choice for anyone's watch list next season.
Gakusen Toshi Asterisk 2 Official Trailer
---
5. Wagamama High Spec

Episodes: ?
Aired: April 12th 2016 - ?
Based on an adult visual novel, Wagamama High Spec follows protagonist and ecchi romcom mangaka Kouki Narumi, a student at Ousui Academy. A secret known only to his best friend and younger sister, Kouki wants to keep his identity as a mangaka under wraps lest he be ridiculed at school as a pervert. But everything gets thrown up in the air when student council president Kaoruko Rokuonji finds out about Kouki's hidden life, and uses it to rope him into joining the student council.
Not much information is currently released regarding Wagamama High Spec, with little more than one key visual to tell us what we can expect the animation to look like. Although if it's anything like said visual, it's going to be a very pretty show. One of the upcoming season's short anime at 5 minutes per episode, honestly any ecchi or harem fan should have this on their watch list to get their weekly bite sized portion of cute girls.
Given the source material and length of the show's episodes, it's unlikely we'll be seeing heavy plot development in the show. But with the success of other ecchi short anime like Okusama ga Seitokaichou, this shouldn't be much of a problem. Hopefully we can look forward to some great and gorgeous girls, as well as some steamy ecchi scenes.
WAGAMAMA HIGH SPEC PV
---
4. Netoge no Yome wa Onnananoko Janai (And you thought there is never a girl online?)

Episodes: ?
Aired: April 7th 2016 - ?
An avid MMORPGer, Hideki Nishimura's dreams come crumbling down after the girl he confesses to online turns out to be a boy. Flash forward two years to the present day, and Hideki finds himself still unable to trust girls after the incident. But now a cute girl online is proposing to him, so with the tables turned, what will he do?
A fairly new studio, Project No.9 have produced a few ecchi shows prior to Netoge no Yome wa Onnananoko Janai, including Ro-Kyu-Bu! and Recently, My Little Sister is Unusual. Despite being such a new studio, from the trailer and key visuals the show is looking very nice, with some quality animation and a cute, bouncy art style. Adapted from a reasonably well rated light novel, we can expect a decent story with a focus on introducing the host of cute girls, along with some funny antics and inevitable misunderstandings.
Netoge no Yome wa Onnananoko Janai is looking to be one of the most fan service filled titles of the season, and likely the guilty pleasure of many. With big chests, lolis, teachers and kitty girls, Netoge no Yome is looking to have some of the sweetest female treats of the season as well. We can't guarantee it'll have the best storyline of the season, but if as far as ecchi, harem action goes, it's definitely one to watch.
Netoge no Yome wa Onnananoko Janai Official Trailer
---
3. Onigiri

Episodes: 12
Aired: April 7th 2016 - June 30th 2016
Based on the MMORPG by CyberStep, Onigiri features a world where the supernatural and mystical legends of Japan come to life, and players fight against the evil Kamikui alongside 8 powerful allies. The new anime focuses on the 5 allies that are female and their fight against the Kamikui, with magic battles, comedy and fan service.
Another short anime at 5 minutes per episode, much like Wagamama High Spec there isn't a lot of information out about the Onigiri anime. Due to the length of the story in the game, we still can't be sure whether they'll be covering the official story in the show, or going for a less serious, original plot to show off the characters. True to the name, 'Oni'giri features numerous oni characters, such as Ibaraki Douji, the red and black haired half cat girl, one of the most stand-out members of the cast. With this in mind we should be seeing a host of interesting and appealing characters, with some nice variety in design.
Given that it's being adapted from a game, and game adaptations have been notoriously questionable in the past, it may be a good idea to tread carefully and set your expectations for Onigiri too high. But with a short run time and come colourful fun looking girls, it's certainly worth giving it a shot.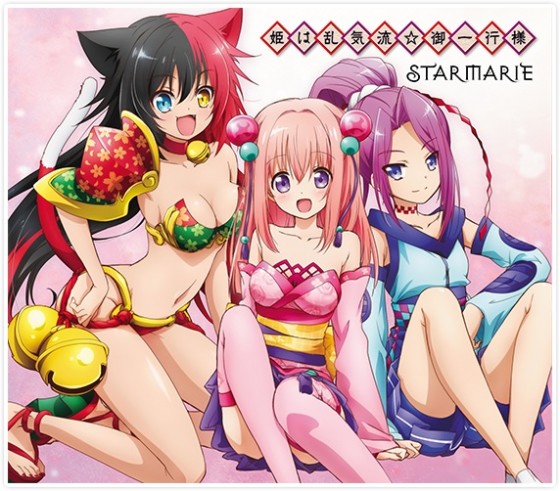 Onigiri Official Trailer
---
2. Hundred

Episodes: ?
Aired: April 5th 2016 - ?
Earth is under attack by an life form known as the Savage, and only one thing can stop them, weapons known as Hundred. Desiring to become a Slayer, one who can wield a Hundred, Kisaragi Hayato has begun attending Little Garden, a battle school. But not long after he joins, odd things start happening, like his roommate Emil Crossford who for some reason seems to know him, or the fact that the 'Queen' of the school is now challenging him to a duel.
From the synopsis alone, Hundred gives off a very similar vibe to Gakusen Toshi Asterisk and Rakudai Kishi no Cavalry from the Fall 2015 season, with the fantasy school setting, first episode duel, and of course the harem of cute girls. With that mind, we can probably expect to see some action packed fights, comedic misunderstandings, and delicious fanservice. The studio, Production IMS, have previously done other similar shows such as Shinmai Maou no Testament and Date A Live, so we can likely expect similar things from Hundred in terms of production quality and style.
Hundred is looking to be one of the 'safest' harem shows of the season, with a fairly similar feel to a number of popular shows that have aired recently, as well as girls with some fairly standard looking archetypes. On top of being a light novel adaptation, Hundred might not do anything particularly flashy or clever, but provide more of the standard ecchi harem goodness we've come to expect from a couple of shows each season.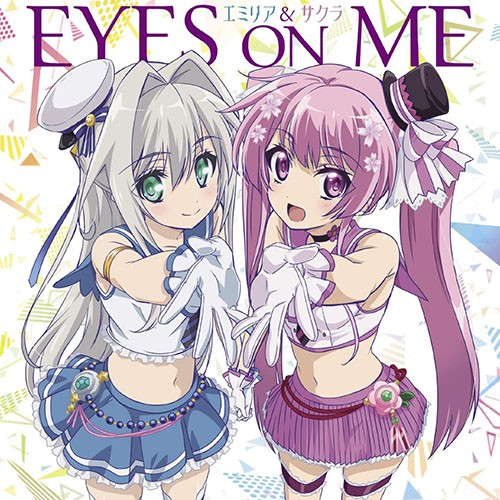 Hundred Official Trailer
---
1. Re:Zero kara Hajimeru Isekai Seikatsu (Re: Life in a different world from zero)

Episodes: 12
Aired: April 3th 2016 - ?
On the way back from the convenience store, Subaru Natsuki gets unexpectedly transported to an old fantasy world, a far cry from modern Japan. What's more, not long after his arrival he finds himself cornered in an alley, fighting for his life, only to be saved by a beautiful silver haired girl. But things don't get much better after that, with them both getting killed shortly after. However much to Subaru's surprise he wakes up in the exact same place as when he first arrived in the strange new world, time apparently reversed.
Re:Zero kara Hajimeru Isekai Seikatsu is on its way to being one of the best looking titles out of the new season's selection of ecchi and harem shows, with some very detailed animation and varied character designs. The main characters are voiced mainly by fairly new seiyuus, with Subara voiced by Yuusuke Kobayashi, Arslan from Arsland Senki, and the female lead voiced by Rie Takahashi, Megumi from Winter 2016's KonoSuba. With Megumi being such a popular character recently, it'll be interesting to see the performance they both give in Re:Zero kara Hajimeru Isekai Seikatsu.
From current trailers and visuals, the show seems to be more focused on plot and action rather than fan service, although there are of course still some very cute girls. Re: Zero Kara Hajimeru Isekai Seikatsu is looking to be a good recommendation for more than just ecchi and harem fans, and one to keep an eye on in Spring 2016.
Re: Zero Kara Hajimeru Official Trailer
---
Final Thoughts
Some excellent shows to look forward to this season, from the quality oozing Re:Zero kara Hajimeru Isekai Seikatsu, to the lower budget shorts which are certainly worth a shot. If you're after something new to try out, Re:Zero and Netoge no Yome wa Onnananoko Janai seem to be the best choices, both for quality and the more unique storylines. But if you're after something safe that's sure to leave a regular harem viewer satisfied, be sure to give the second cour of Gakusen Toshi Asterisk and Hundred a try.
So what are your thoughts? Are you getting hyped for Gakusen Toshi Asterisk's second cour? Looking forward to seeing what the Onigiri girls have in store? Or maybe all six are sitting on your watch list already. Let us know in the comments!
---