The long-running Precure franchise has been a staple of Japanese children's programming since 2004. It's less well-known in the West due to its lack of quality English releases, but this sparkly magical girl show is well worth seeking out. Along with its adorable costumes and cutesy themes, the Precure series stands out from the pack because of its heartfelt character moments and its surprisingly hardcore fight scenes.
So you want to check the franchise out; but there's a problem. Even though you can jump in at any point (since each series stars separate characters in different universes), how are you supposed to know where to start? Well, join us today as we run through some of the best Precure series to get you started on the sparkly path to Cure fandom!
Traditional Precure Style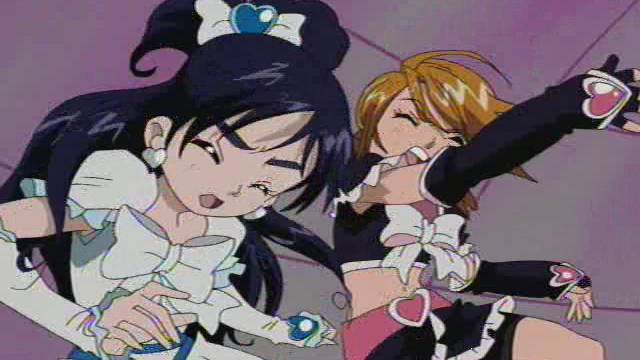 Futari wa Precure (Pretty Cure)/Futari wa Precure: Max Heart (Pretty Cure) (2004/2005) – The original Precure series and its second season, Max Heart, are still well worth watching today. Even though they don't have impressive CG transformations or tons of heroes, their fleshed out characters and entertaining battles make them a great example of the classic Precure experience. If you want a straightforward superhero show that ticks all the boxes of what makes Precure great, Futari wa Precure is a great choice.
Yes! Precure 5 (Yes! Pretty Cure 5)/Yes! Precure 5 GoGo! (Yes! Pretty Cure 5 GoGo) (2007/2008) – This series switched up the team structure from a duo to a full team, in the style of Super Sentai or Sailor Moon. It also has a much larger cast of supporting characters, including fairy companions who can transform into hunky boys. If you love following a team of heroes as they grow and learn together, give Yes! Precure 5 and its second season GoGo a shot.
Smile Precure! (Glitter Force) (2012) – Smile is themed around storybooks and fairy tales, so it has a warm and cozy feeling throughout the entire show. Using a similar five-person team as Yes, but without many of the side characters, Smile keeps a good balance between girliness and intense fight scenes. After all, this is a show where one episode can be about crashing the set of a historical film and the next can be a serious sword fight in the netherworld.
Sugary Sweet

Kirakira☆Precure A La Mode (Kirakira☆Pretty Cure A La Mode) (2017) – Not all Precure series have crazy fights, though. Kirakira has its share of tense conflicts, but it's mostly about cute girls making desserts (which have recipes on the official site) and saving the world with sweetness and light. The characters themselves are engaging, from a pastry chef prodigy and her estranged brother to a lesbian couple that rivals Sailors Uranus and Neptune in terms of romance. If you love the moe genre, Kirakira may be the best fit for you.
Mahoutsukai Precure! (Maho Girls Precure!) (2016) – Similarly to Kirakira, Mahoutsukai Precure has a softer tone than most of the other shows. It returns to the duo dynamic of Futari wa Precure, while adding many variant transformations to keep things interesting. It takes place in a world of magic and witches, harkening back to the "cute witch" genre of years past, and doesn't take itself too seriously. It would be a wonderful show to watch with a younger relative to get them into anime.
Punches and Passion

Heartcatch Precure! (Heartcatch Pretty Cure!) (2010) – When adult anime fans talk about Precure, they often single out Heartcatch as the best one. We wouldn't recommend watching it as your first Precure experience, but it definitely deserves all the praise it gets. With its highly stylized art style, its unusual team structure, and its much more serious tone, Heartcatch is a show for people who want more adult themes in their magical girl anime. It still has its girly moments, but its focus on hardcore battles and themes of loss and abandonment make it the most mature show that the Precure franchise has to offer.
Go! Princess Precure (Go! Princess Pretty Cure) (2016) – For a show set in a princess-themed boarding school, Go! Princess is a lot more serious than it first seems. It features possibly the best "villain turns into a Cure" storyline that the franchise has ever done, as well as showing off a wonderful combination of CG magic effects and hand-drawn melee fighting. And as a bonus, it has beautiful violin music that's deeply intertwined with the story! If you love the idea of Heartcatch but want a bit more traditional Precure girliness mixed in, give Go! Princess a shot.
---
Final Thoughts

There are so many other great Precure series we didn't mention here, but these seven should serve as a good starter set. Or, if you're feeling adventurous, just pick a series at random and try it out! They're all worth watching, no matter where they fall on the spectrum of spicy to sweet.
Have you seen any of these series? Which one would you like to try watching? Let us know in the comments, and thanks so much for reading!
---