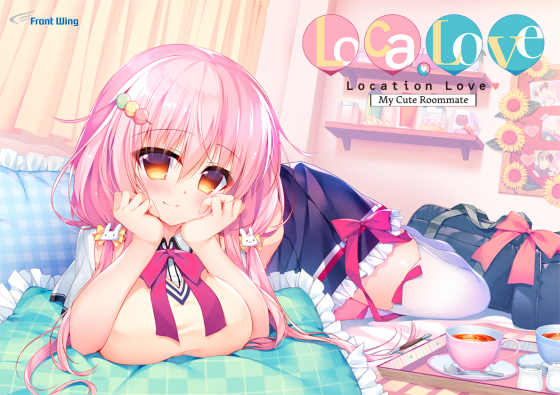 What You Need to Know:
Visual novel fans will have more to look forward to in the near future, as Frontwing has officially has begun a preorder campaign on Kickstarter for its new title "Loca-Love: My Cute Roommate". The campaign makes physical copies and other goods for the game available directly to fans around the world, and has a funding goal of $30,000. "Loca-Love: My Cute Roommate" is scheduled to release on Fall 2018, and the campaign page can be accessed at the official Kickstarter page.
"Loca-Love: My Cute Roommate" is the first installment in the Loca-Love series of mature visual novels, with further installments planned for release in 2019 and potentially beyond. This first entry follows the exciting but slightly awkward love life of protagonist Aoi Ichitaro after he moves in with Kojika Hiwa, the dreamy and sexy girl he's had a long-time crush on...
The title features artwork and character design from artist nanaca mai, known for her work in the Corona Blossom trilogy and the SD art for the Grisaia series, and a story by Kei Hozumi. The game's opening song, "Summer Amulet" is sung by Duca, while Tamaki Hiiragi is in charge of the ending theme, "Marry Me!".
"Loca-Love: My Cute Roommate" was localized in English by Frontwing's experienced in-house translation team, the members of which are proficient Japanese to English translators who possess JLPT N1 certification or equivalent. It also features a brand-new system allowing simultaneous display of English and Japanese text during gameplay, as well as language switching at the press of a button.
Source: Official Press Release
Screenshots
Officiail PV
Loca-Love My Cute Roommate OP | Vocals: Duca

---
OOOO MY!! I'm already in love with the game and it isn't out yet! The visuals are stellar!
I'm so ready for this game. I'd better support it!
---