Fruits Basket Prelude - Kyouko to Katsuya no Monogatari

Genre:
Drama, Romance, Slice of Life
---
Airing Date:
February 18, 2022
---
---
Studios:
TMS ENTERTAINMENT
Promotional Videos / PV
Official Images / Key Visuals
Characters & Voice Actors
Kyoko Honda:
Miyuki Sawashiro
A frivolous middle school student who has only been to school a few times. However, she meets Katsuya and gradually gets attracted to him.
Katsuya Honda:
Yoshimasa Hosoya
Moved to Kyoko's school as a trainee teacher. He calls Kyoko "Ms. Eyebrows" and spends lunch break with her.
Tooru Honda:
Manaka Iwami
Tooru is a student at Kaibara Municipal High School. She lost her father early on in her life and ever since her mother passed away, she has lived in a tent by herself. She comes to live together with her classmates Yuki Souma, who hires her to do housework, and Kyo Souma, who views Yuki as his rival. She's a bit naive and quirky, but she is earnest and has a kind heart.
Yuki Souma:
Nobunaga Shimazaki
Yuki is Tooru's classmate. On top of being handsome, he is excellent at sports and he even has a fanclub. Even though he is referred to as a prince in his school, he's absolutely awful at cleaning and tidying up, and he has no cooking skills at all. He currently lives with his relative, Shigure Souma.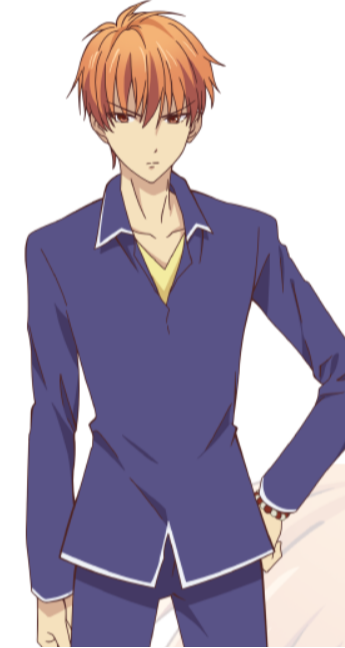 Kyo Souma:
Yuma Uchida
Instead of going to the high school he was accepted into in his hometown, Kyo went to the mountains for training. His reason was that he wanted to become strong enough to beat his rival, Yuki. However, at the order of the head of the Souma family, he goes to live as a freeloader at Shigure's house. He is then forced to attend classes with Tooru and the others at Kaibara Municipal High School. He is short-tempered, but he has a kind heart.
Adaptation

"Fruits Basket" (Manga)


Main Staff

Original Creator: Natsuki Takaya
Director: Yoshihide Ibata
Script: Taku Kishimoto
Character Design: Masaru Shindou
Sound Director: Jin Aketagawa
Music: Masaru Yokoyama
General Director: Natsuki Takaya
(Credit Honey's Anime when you use our description.)
---