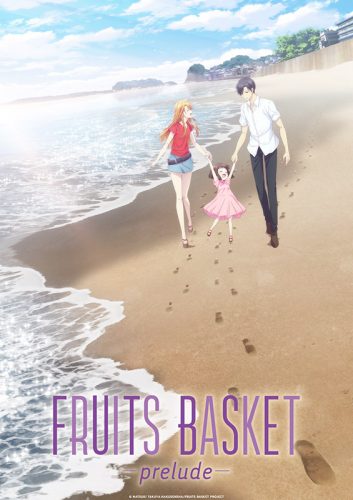 Fruits Basket's revival in 2019 by recreating the entirety of the manga series was genuinely one of the better romance anime of the year and that trend continued as the series entered its second and final season over the next few years. Genuinely, Fruits Basket will always be a series we adore here at Honey's Anime and we'll always understand why it's considered one of the better shoujo romance tales made. Color us surprised when we heard studio TMS Entertainment planned a movie for Fruits Basket that would act as a recap of all three seasons and contain an epilogue for Tohru Honda and Kyo Soma's story. Is this summary/prequel/finale movie worth your 1 and a half-hour time or should Fruits Basket just end on the high note of the 3rd and last season? Let us find out in our review of Fruits Basket -prelude-!
Recap, Prequel, and Finale…All These In One Movie!?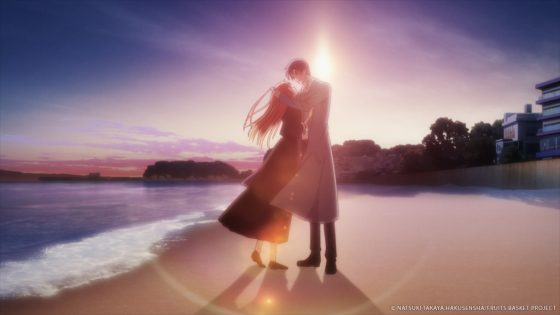 It's not uncommon for anime movies to be half recap and then original material, and we do have issues with that theme. Realistically, most who are going to see an anime movie based on their favorite show already know what happened in past seasons so a recap seems pointless. Despite that, Fruits Basket -prelude- has one of the more impressive recaps and that isn't all this movie has. There is also a prequel story and even a finale!
Let's first talk about the recap. Fruits Basket -prelude- is a recap not of the original anime but the 2019 revival focusing on all three seasons. Kyo is the main narrator for the recap, narrating his experiences as he falls in love with Tohru and deals with his failures in life, like feeling responsible for Tohru's mom's death, and his own insecurities. The narration is a perfect way to enjoy the three seasons without having too much being thrown at us viewers who probably watched the three seasons more than once.
At about 30+ mins in, Fruits Basket -prelude- switches gears and focuses on Kyoko Honda and her past, which is the prequel portion of the movie, and this was where we gripped our seats tight. Seeing Kyoko's past was a thrill ride and how she ended up getting married to the older Katsuya Honda and how they had Tohru. Kyoko is a flawed human being but watching her deal with her trauma and seeing how she fell in love with Katsuya could have been its own anime series! All we can say was this alone made watching Fruits Basket -prelude- worth watching.
The Final, Final Part of Fruits Basket

We left out the finale part of Fruits Basket -prelude- from our earlier section on purpose. Without a doubt in our mind, we know most viewers wanted to see the true finale of Fruits Basket and this is what they waited for from the opening of the movie. The epilogue of Fruits Basket -prelude- is…extremely short. At only 8 minutes, it almost feels like half of an OVA episode. Yet, it's still super cute seeing Tohru and Kyo mirror her mother and father's relationship but with its own uniqueness. It really might be annoyingly short but we were left happy with how it played out despite the length.
Tearfully Beautiful OST

An anime OST can really set the pace for a series and even more so in a movie. With a weak OST, even the most beautiful anime films will just falter to grab the audience and lock their emotions in. Thankfully, Fruits Basket -prelude- has a powerful and heart-grabbing OST that makes every scene, even the recaps, feel more powerful despite them being scenes we've seen in the series already. The latter half of the prelude also has an amazing OST that just fills the heart. It's okay if you cry a bit while watching Fruits Basket -prelude-, we did and we're proud to admit it.
Who Else Existed in This Story

Do you remember the other members of the Soma family? Well, keep their memories in your hearts because they get kind of pushed out of the picture in Fruits Basket -prelude- aside from the Honda family and Kyo/Tohru, the remainder of the zodiac Soma family members are basically only briefly seen in the recap portion and mentioned by Tohru at the end. This hit us a bit hard as we liked the others as well but again, the prelude is trying to put an end to Kyo and Tohru's tale by rekindling the past series drama between the various other members of the Soma clan.
---
Final Thoughts

Fruits Basket -prelude- could have axed the recap element and just have Kyoko/Katsuya's romance tale but honestly, this was a good way to conclude the Fruits Basket narrative. It feels like a true epilogue by having the past mirror the future but with a brighter future for our two new love birds. In the end, we left Fruits Basket -prelude- with a smile on our faces and felt this couldn't have been done any better!
Are you excited to see Fruits Basket -prelude- later this June after reading our review? Comment below to let us know! Keep stuck to our romantic hive here at Honey's Anime for more anime reviews and other anime news/articles!
---