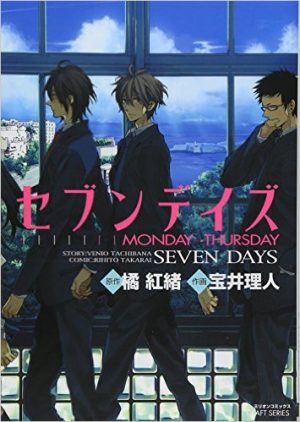 Seven Days is certainly one of those shounen-ai manga that no one ever gets tired of, even years down the road. Those who had read it would always fondly recall the memory of reading how Shino Yuzuru and his junior in Archery club, Seryou Touji, slowly fell in love in the span of seven days as they went on a one-week relationship.
While the premise of the story is fairly simple, Seven Days gives you the story of not-quite-pretend lovers in such a way that it doesn't feel suffocatingly painful. Instead, it's delivered in a lighthearted, day-to-day normalcy way, with just enough touch of angst. Originally serialized in Craft, Seven Days has also been licensed by June, and last year even had a live-action movie. There was even a bonus of an extra chapter of the manga that came with the live-action movie DVD!
If you miss Seven Days (like a lot of others do), we've tried compiling a list of shounen-ai manga titles that are quite similar, in many ways, to Seven Days. Check out the list and see if any of them could catch your interest!
Similar Manga to Seven Days
1. Senpai

Author/Mangaka: Bikke
Year Published: 2010
Genre: Drama, School life, Shounen-ai, Slice-of-life
Volumes: 1
When Fujinami Kou, on the anniversary of his boyfriend's death, dragged himself towards school even as he thinks of skipping, he didn't expect to stumble into Kakitsubata Saki—a junior of his who is almost the spitting image of Kou's late boyfriend. The chance meeting brought the two together, as Saki learned of the emotional baggage Kou carries: since their relationship had been a secret, Kou had never been able to fully and publicly mourn the loss of his boyfriend. Not to mention the fact that his late boyfriend even had a girlfriend in order to hide their relationship. Growing closer to Kou, Saki can't help but want Kou's attention and eyes to really look at him, and in the process, he helps Kou relieve himself of the pain left by his boyfriend's death.
Senpai was originally serialized in the magazine Opera back in 2010. While the summary might seem rather heavy and dark, Bikke wrote Senpai in such a light slice-of-life way that it doesn't suffocate the readers. Like Seven Days, it's a rather innocent piece of high school boys realizing their feelings for one another, and it also depicts a senpai-kouhai relationship. Kou's inability to fully move on, even when he no longer loves his late boyfriend, would probably remind you of how Seryou can't completely detach himself from the female Shino. Both manga has this quiet sense of how a character—in Senpai's case, Saki, and in Seven Days, Yuzuru—strongly wants their other half to look at them properly and in the process actually realized that they have fallen in love.
---
2. Koimonogatari

Author/Mangaka: Tagura Tohru
Year Published: 2013
Genre: Drama, School life, Shounen-ai, Slice-of-life
Volumes: 1 (Ongoing)
Yoshinaga Yamato is gay, and is crushing on Hasegawa Yuiji's best friend. Yuiji, having accidentally found out about this and perhaps pities Yamato a little bit because his best friend is as straight as they come, somehow finds himself lending an ear as well as a shoulder for Yamato, reassures Yamato that he'd keep Yamato's sexuality a secret. As they slowly drift closer from total strangers into good friends, Yuiji slowly learns how feelings are the same for everyone no matter what their sexuality is, while Yamato explores more about his sexuality and how other homosexual people live their lives. Unlike most shounen-ai manga, Koimonogatari doesn't dive straight into romantic relationship between its two main characters. Instead, it focuses on something else: self-acceptance, coming out of the closet, unrequited love, and above all, making friends. The underlining male/male romance is there, but Tagura Tohru is certainly really taking their time in making this story a wonderful slow-burn for the readers.
Koimonogatari is still ongoing, serialized in the manga magazine Rutile since 2013. It has a really similar day-to-day normalcy atmosphere that Seven Days has, especially with the slow-burn romance (though Koimonogatari takes it up another notch, considering Yamato and Yuiji still haven't looked at each other as more than friends). And like how Seven Days touched on Seryou and Yuzuru's past relationship with other girls, Koimonogatari did the same with Yuiji and his former girlfriend as well. What makes it more similar to Seven Days, though, is that in Koimonogatari, we can't really tell who is going to be the seme or the uke, just like we can't really tell with Yuzuru and Seryou. What's more, in the latest chapter, we actually got to see a Yuiji and Yamato pretending to be a couple for a short while. In short, if you really loved Seven Days, Koimonogatari is really a manga you should check out!
---
3. Blue Sky Complex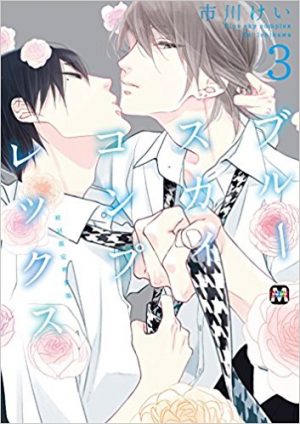 Author/Mangaka: Ichikawa Kei
Year Published: 2013
Genre: Drama, Romance, School life, Slice-of-life, Yaoi
Volumes: 3
Narasaki Motochika never actually expected he'd fall in love with the delinquent Terashima Natsuki when he was stuck supervising the empty school library along with him. He really just had wanted to have some alone time, considering his house is always super noisy with his younger brothers. Except it turned out they could get along, and Narasaki finds himself increasingly drawn to the delinquent who is slowly opening up to him. Terashima, on the other hand, who'd known for a long while that he's gay and has secretly had a crush on Narasaki, is just excited and happy that he gets to spend more time with his crush, even if sometimes he gets too excited and kisses Narasaki out of nowhere. After all the confusion resulting from that, Narasaki realized his feelings for Terashima and they both began a relationship—but is it really smooth sailing from there?
Like Seven Days, Blue Sky Complex presented an exciting get-together story of two high school boys who, even though at a glance seems extremely different, are really not that much different from one another. Reading Narasaki's baseless jealousy and how he tries to not let it bother either himself and Terashima would remind you of how Yuzuru keeps lowkey getting jealous at the girls around Seryou. The confusion, misunderstanding, and silly insecurity presented in Blue Sky Complex is also really similar to what Seven Days presented, even if Blue Sky Complex tackled it in a more dramatic atmosphere. If you like Seven Days for its get-together plot, you'd enjoy Blue Sky Complex a lot, too.
---
Any Manga Like Seven Days ?
4. Mizu no Haru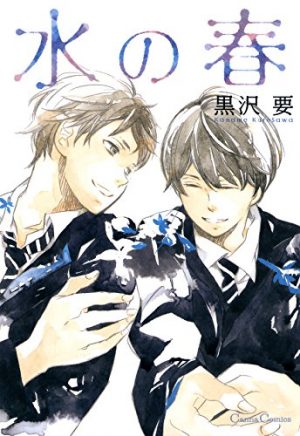 Author/Mangaka: Kurosawa Kaname
Year Published: 2016
Genre: Drama, School life, Shounen-ai, Slice-of-life
Volumes: 1
Another one with a quiet, subdued atmosphere, Mizu no Haru is one of the few works by Kurosawa Kaname. Mizu no Haru tells the story of Sunohara Sumi, who slowly falls in love with his classmate Shinomiya Shino, and several misunderstandings that they go through before finally getting their happy ending—including the situation with Sumi's family, and later Shino's female friend. Readers would also get a peek at Sumi's dad and his male lover, happily living together in Sunohara residence. The balance between daily life normalcy and simplified fiction is drawn quite well, in Kurosawa Kaname's soft, pretty artwork. The manga's premise is a simple, expected one that you could find in any shounen-ai manga with a high school setting, but Mizu no Haru brings the touch of reality that's still executed in a hopeful, light-hearted way.
The simple premise and the soft touch of reality in Mizu no Haru is really similar to Seven Days. They are both cute without being overly sweet, with a touch of realness that still feels hopeful even if simplified, and manages to blend in drama with normal life without making it too unreal. All conflicts presented in both in Mizu no Haru and Seven Days revolve around teenagers' insecurity and the misunderstanding that resulted from that, all set in high school daily life happenings. If you loved Seven Days for its warm, fuzzy feelings that it gives you, you'd definitely love Mizu no Haru as well.
---
5. Endou-kun no Kansatsu Nikki

Author/Mangaka: Hayakawa Nojiko
Year Published: 2010
Genre: School life, Shounen-ai, Slice-of-life
Volumes: 1
Originally serialized in Hertz and written by Hayakawa Nojiko, Endou-kun no Kansatsu Nikki is the story of two high school boys, Tsuda and Endou, and how the distance between them slowly grow closer. When the new seating arrangements in their class put him to sit behind Endou, Tsuda begins to notice the quiet and expressionless Endou in a different way—details he'd never paid attention to before seems to jump at him: Endou's soft hair, or the mole and Endou's slender nape, or the subtle changes of Endou's expression. While they slowly grow close together, Tsuda still can't shake the feeling of how the distance between them never changes, slowly growing impatient without knowing that Endou had noticed him in such a way, long before even Tsuda realized his attraction to the other boy. Endou-kun no Kansatsu Nikki is so popular it now has a spin-off and two sequels as well, which would be a must-read if you like the first volume!
Hayakawa Nojiko's drawing style is perhaps very different from Seven Days' Takarai Rihito's style, but the atmosphere it has is very similar. Quiet, day-to-day normalcy combined with sweet, almost unexpected gestures of affection between the main characters is really the best part of Endou-kun no Kansatsu Nikki. Both manga are set in the lives of high school boys and delivers the story in the same simplicity and awkwardness that we associate with those high school boys. Most notable similarity that you'd find in Endou-kun no Kansatsu Nikki with Seven Days is the underlying sexual tension between the two main characters—which would probably makes you want to lock them both in a closet until they properly kiss and get together.
---
6. Dousaibou Seibutsu

Author/Mangaka: Sumomo Yumeka
Year Published: 2001
Genre: Drama, Fantasy, School life, Shounen-ai, Supernatural
Volumes: 1
Written by Sumomo Yumeka, who, despite being more well-known as a shoujo mangaka, also wrote several BL works, Dousaibou Seibutsu is a compilation of four short, cute love stories drawn in Sumomo's airy, pretty artstyle. Originally serialized in Craft in 2001, this manga has also been licensed in English by June. The volume has three different stories, but what we'll be recommending to you is the first three chapters titled Dousaibou Seibutsu, which tells the story of the happy-go-lucky Yokota and his quiet, shy but cool boyfriend Nakagawa, focusing on how their feelings are the same even if they have different ways to express it—from silly doodles and imagining their futures together, getting embarrassed when they talk about feelings, to finally moving in together.
Dousaibou Seibutsu might feel even more teeth-rottingly sweet compared to Seven Days, but it's similar to Seven Days in how it depicted the silliness of how high school boys deal with their feelings. Dousaibou Seibutsu has Yokota, the outgoing and happy-go-lucky guy who is more open about his feelings, just like Yuzuru, as well as Nakagawa, the cool and popular guy who is rather quiet but more withdrawn when it comes to showing his feelings, just like Seryou is. Dousaibou Seibutsu mostly tells love stories between high school boys, in a quiet, slice-of- life atmosphere that makes this manga a great read on rainy days. And while Yokota and Nakagawa's story is so fluffy and sweet, you'd also get to read the sad, but still warm story between Kana and Yuuji that might bring you to tears in the next chapter. And you'd be healed once again as you read the sweet love story between Sakaki and the angel Yuki, as well as Sora and Midori on the last chapter!
---
It seems like no matter how much time passes, Seven Days would still be in the top rank of shounen-ai manga in people's hearts. When nostalgia comes and rereading it is not enough, reading similar manga to Seven Days might help you stave off the same wish we all have: "I wish Seven Days is longer!" The relationship between Seryou and Yuzuru, presented in slice-of-life of high school boys, awkward at times and always insecure but nonetheless hopeful. Though it is a simple premise that many shounen-ai manga has, not all of them could deliver it the way Seven Days had. But the six manga we mentioned above might just be the closest!
Have more suggestions, or simply wanted to comment that you've read one of the titles above? Let us know in the comments!
---