También puedes leer este artículo en:Español
What is even the appeal of the shounen-ai genre? Some judgmental people would be quick to dismiss it as gross just because of the genre, but really, it's not that much different than your usual love stories. Shounen-ai isn't the genre that depicts realistic homosexual relationship, of course, but that is also why it's all fiction. So yes, the appeal of the shounen-ai genre is really the same with other romance genre: stories of love and the strength of the bond it creates, only depicted through male and male relationship.
Shounen-ai, according to popular knowledge, is a genre that best known to depict non-graphic romantic and sexual relationships between males. While further, deeper research into the history of the term would provide you with more complicated (and perhaps confusing) explanation, we have chosen the popular definition to go with and provide you with ten shounen ai manga titles that would be worth your time to check out!
10. No Color

Mangaka: Natsume Isaku
Genres: shounen ai
Volumes: 1
Published: 2001
Iida Shoukichi's habit of blasting out music and being loud in the middle of the night is driving his next-door neighbor, Sakamoto Youji, insane. Having a full-schedule, a lot to study, and are majoring in law, Sakamoto does not need a loud neighbor who keeps him awake at night! Except then Iida's room sort of explode, and the landlord decided that the best course for everyone is to let Iida live in Sakamoto's place for a while. As Sakamoto learns more about Iida, including his passion for photography, he also learns more about himself, and about the feelings that have begin to grow between the two of them.
No Color is originally serialized in Dear+ magazine, and is one of the early works of Natsume Isaku, who is most known for his other work, Tight Rope. Both main characters of the manga are so loveable—Sakamoto's dorkiness is really adorable and while Iida looks rough and careless most of the time, his attentiveness and caretaking side makes a rather powerful moe gap! No Color is a light-hearted but thoughtful manga, which would make you not only smile at Iida and Sakamoto's budding relationship, but also cheer them as individuals.
---
9. Dousaibou Seibutsu

Mangaka: Yumeka Sumomo
Genres: shounen ai
Volumes: 1
Published: 2001
Tired of reading manga with dramatic reveals and plot twists? If you ever want to just look at two boys being sweet and fluffy over one another, Dousaibou Seibutsu would be a really great read for you! Written by Yumeka Sumomo, who, despite being more well-known as a shoujo mangaka, also wrote several BL works, Dousaibou Seibutsu is a compilation of four short, cute love stories drawn in Yumeka Sumomo's airy, pretty artstyle. Originally serialized in Craft in 2001, this manga has also been licensed in English by June.
Dousaibou Seibutsu mostly tells love stories between high school boys, in a quiet, slice-of-life atmosphere that makes this manga a great read on rainy days. The first three chapters depict the story between the happy-go-lucky Yokota and his quiet, shy but cool boyfriend Nakagawa, focusing on how their feelings are the same even if they have different ways to express it. There's also the sad, but still warm story between Kana and Yuuji that might bring you to tears, but then that would be healed once you read the sweet love story between Sakaki and the angel Yuki, as well as Sora and Midori on the last chapter!
---
8. Positive-kun to Negative-kun

Mangaka: Hideyoshico
Genres: shounen ai
Volumes: 1
Published: 2011
Possibly the cutest work of Hideyoshico ever, Positive-kun and Negative-kun is about the relationship between two high school boys who are the opposites of one another in basically everything. Tachibana Shin is the ever-grinning, optimistic if a bit dumb high school boy, who is in love with his childhood friend Fujiwara Jun, a gloomy, pessimistic, but extremely smart bookworm. It's a fluffy, light, extremely adorable shounen-ai story that doesn't focus on anything but cuteness, as it follows how Shin and Jun spends their daily life. The manga itself was serialized in Gateau manga magazine in 2011 by the publisher Ichijinsha.
If you're looking for a dreamy, cute romance, then this manga should be one of your first pick. Hideyoshico's artwork style is unique amongst other BL manga works—sketchy and loose, but also neat successive panelings—and is perfect for the atmosphere of this manga. The unrealistic depiction of out-in-the-open love relationship between boys in this manga, oddly, feels refreshing and cute instead. Perhaps it's also Hideyoshico's sketchy-style artwork, but reading this manga feels like it's taking you to a dream-like world where everything is okay and perfect. It's a good read when you're in emotional pain after reading angst!
---
7. Shinkuu Yuusetsu

Mangaka: Bikke
Genres: shounen ai
Volumes: 3
Published: 2005
Shinkuu Yuusetsu is set in a particular country where you are paired up with another person for your whole life, decided by doctors when you were three or four, based on your wavelengths. One person would be the 'receiver' and the other would be the 'supplier', in which the 'receiver' has to periodically charge up their energy by kissing their 'supplier', who generates excess energy and needs someone to take them away. While commonly a pair is made up of male-female pair, Rael and Alexi are one of the rare pairs who are both male. Shinkuu Yuusetsu follows them as they grow up and discovers feelings lurking behind their usual 'charging up' kisses.
The manga is originally serialized in B's-Lovey Recottia in 2005 and was later re-serialized in 2007 by Magazine BexBoy. Bikke is rather known for her adorable shounen-ai set it fake universes with a touch of fantasy elements to them. Her artwork is very clean and nice, simple but with a really good flow. In Shinkuu Yuusetsu, you can enjoy both Alexi and Rael's cute romance-but-not-quite-yet relationship, and those who love angsty stories would definitely love story of Alexi's father and his pair, which could even render you into a sobbing mess. Of course, the best thing is that Shinkuu Yuusetsu doesn't only focus on romantic feelings and relationship, but also friendship, familial love, and platonic life-partners. For those who love the shounen-ai genre, this manga is a must-read!
---
6. Yoake ni Furu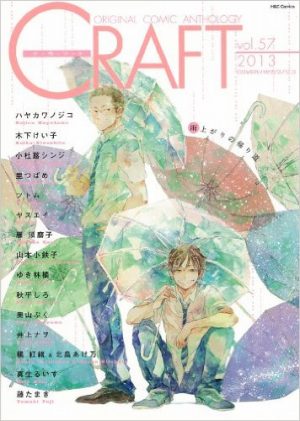 Mangaka: Hayakawa Nojiko
Genres: shounen ai
Volumes: 0-Ongoing
Published: 2015
Yoake ni Furu is a sequel of a manga by Hayakawa Nojiko, titled Yozora no Sumikko de, which focused on a love story between Sudou and Hoshino, a single father and his son's elementary school teacher. While it's a very cute and moving story, Yoake ni Furu gives a new dimension to it as it began the story with a focus on Yozora no Sumikko de main character's son, Sudou Shouta, and his childhood friend (and former bully) Daiki. Shouta, still happily crushing on Hoshino, is now really good friends with Daiki, whom he used to fight with all the time. Daiki, on the other hand, keeps his feelings for Shouta a secret because he knows Shouta doesn't look at him the way he looks at Hoshino. As they get even closer and high school days pass, how would their story unfold? Yoake ni Furu is still ongoing, serialized in Craft, and is currently keeping their readers on the edge of their seats!
A rising mangaka with works such as Endou-kun no Kansatsu Nikki and Kurayami ni Strobe, Hayakawa Nojiko is known for their unique and almost-messy panelings and beautiful imageries that give sort of a poetic, surreal feeling to their artwork. If you're in the mood of not only enjoying shounen-ai stories but also really simple but beautiful art, Hayakawa Nojiko's works should really be your first pick. Different from Yozora no Sumikko de's heavier, more mature atmosphere, though, Yoake ni Furu offers a lighter look on its characters' relationship, showing the growth of the characters who were just elementary school kids in the prequel while also giving us a peek on how Sudou and Hoshino's lives have become.
---
5. Links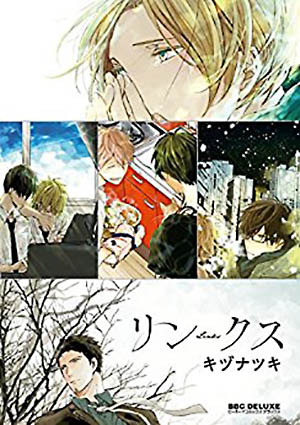 Mangaka: Kizu Natsuki
Genres: shounen ai
Volumes: 1
Published: 2013
Enough with the cute and adorable manga, let's get down to the sad ones. Links is a manga that compiled stories of four romantic relationships, where the characters are somehow interlinked in a busy, bustling Japanese society. There's Sekiya, a man who works as a radio personality, who got together with Shibata, a shop manager who has a voice fetish. There's Akiha, the café owner, who, despite being unable to move on from his past lover, is now in a relationship with his secretary and bodyguard Yahiko. There's Akiha's friend Sado, a yakuza who is dating one of Akiha's regulars, Shinobu, in which their relationship surprisingly dated back a long time and is quite painful to read. And lastly, there's Shinobu's friend and bodyguard, Aoi, who accidentally 'adopted' Ogikawa as his cat. Links follow the lives and relationships of these four couples as the season makes a full-round, and brings its readers into both tears and joy.
Kizu Natsuki is perhaps not only well-known as a BL mangaka, but also an active doujinka for Haikyuu!! and Kuroko no Basket under the name Gusari. Their sharp lineart, beautiful artwork, and emotionally-engaging stories already gather a rather avid fanbase, and they're currently working on an ongoing series titled Given. Links itself was serialized in BexBoy Gold in 2013. You can definitely expect powerfully emotional scenes drawn in Links, as well as heartwarming endings even if they're rather bittersweet. For those who want a break from teeth-rotting stories, Links is definitely a must-read. Don't forget to prepare some tissues though, at least before you dive into Shinobu and Akiha's stories, because those would take your heart into a death grip and squeeze painfully!
---
4. Mizu no Haru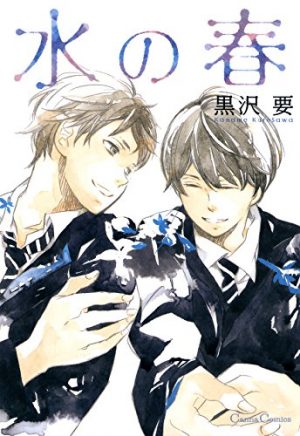 Mangaka: Kurosawa Kaname
Genres: shounen ai
Volumes: 1
Published: 2012
Another one with a quiet, subdued atmosphere, Mizu no Haru is one of the still few works by Kurosawa Kaname. While most of the shounen-ai manga that focus on high school students are either sort of dramatic or teeth-rotting fluffy sweet, Mizu no Haru gives off a different feel in delivering its story—cute without being overly sweet, with a touch of realness that still feels hopeful even if simplified, and manages to blend in drama with normal life without making it too unreal. The balance between daily life normalcy and simplified fiction is drawn quite well, in Kurosawa Kaname's soft, pretty artwork.
Mizu no Haru tells the story of Sunohara Sumi, who slowly falls in love with his classmate Shinomiya Shino, and several misunderstandings that they go through before finally getting their happy ending. The manga's premise is a simple, expected one that you could find in any shounen-ai manga with a high school setting, but Mizu no Haru brings the touch of reality that's still executed in a hopeful, light-hearted way. Readers would also get a peek at Sumi's dad and his male lover, happily living together in Sunohara residence. The sense of normalcy that doesn't feel too unreal, and yet isn't taken-for-granted either, makes this manga a good choice for those who like hopeful tones in their shounen-ai stories!
---
3. Koi Monogatari

Mangaka: Tagura Tohru
Genres: shounen ai
Volumes: 1 - ongoing
Published: 2013
Yoshinaga Yamato is gay, and is crushing on Hasegawa Yuiji's best friend. Hasegawa, having accidentally found out about this and perhaps pities Yoshinaga a little bit because his best friend is as straight as they come, somehow finds himself lending an ear as well as a shoulder for Yoshinaga, reassuring Yoshinaga that he'd keep Yoshinaga's sexuality a secret. As they slowly drift closer from a total stranger into good friends, Hasegawa slowly learns how feelings are the same for everyone no matter what their sexuality is, while Yoshinaga explores more about his sexuality and how other homosexual people live their lives. Koi Monogatari is a slow burn, realistic story about high school boys fumbling and learning about sexuality, relationships and themselves in the process, and is still ongoing, serialized in the manga magazine Rutile since 2013.
For a shounen-ai manga, Koi Monogatari doesn't focus on the romance part of the story. Instead, it focuses on something else: self-acceptance, coming out of the closet, unrequited love, and above all, making friends. While the underlying male/male romance is still there and the chemistry between Yoshinaga and Hasegawa is already established, Tagura Tohru takes their time in fleshing out the characters and stories in bringing everyone together. For once, those hoping for a slow-burn, rather realistic without being too painful, and careful storytelling in their shounen-ai manga are getting their wish!
---
2. Golden Days

Mangaka: Takao Shigeru
Genres: shounen ai
Volumes: 8
Published: 2005
Spanning over nine volumes, Golden Days is the shounen-ai manga that brings their readers over to the Taisho era as the main protagonist, Souma Mitsuya, somehow experienced time-slip and is now stranded in 1921 Tokyo, where everyone thinks he's his great-grandfather. He meets Kasuga Jin, whose family had taken in his great-grandfather and his sister after their parents' death, and Mitsuya realizes that the reason he was sent back in time was to fulfill his great-grandfather's wish to 'save' Jin. As he figures out his place and life in an era he's lost in, Mitsuya slowly discovers what exactly he needs to protect Jin from, as well as finding out the mystery of his great-grandfather's family's death, and perhaps, also falls in love all over again with the world.
Golden Days doesn't bring you a love story between two boys—it brings you a story of a boy who learns to love again: the people around him, his family, the world, himself, and maybe his best friend. But that is also exactly what makes this manga extremely beautiful and well-written. Takao Shigeru has a way of weaving images and dialogues that make you feel like watching a movie, poetic and yet dynamic. You'll fall in love with Mitsuya's persistence, Jin's rather skewed personality, Aiko's adorable naivete, and Yuriko's elegance. You'll also be crying a lot over not only Mitsuya and Jin's bond, but how everything unfolds, so prepare a lot of tissues!
---
1. Seven Days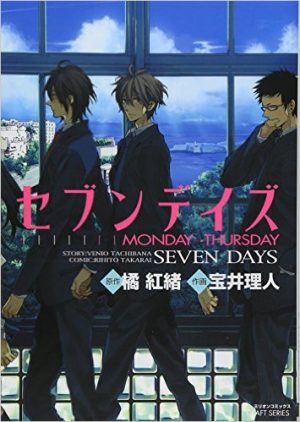 Mangaka: Takarai Rihito & Tachibana Venio
Genres: shounen ai
Volumes: 2
Published: 2007
Who hasn't heard of Seven Days? If there's any shounen-ai manga that people would love enough to read over and over again and recommend even years after, Seven Days would be the answer. Shino Yuzuru, a high school student who is quite popular thanks to his good looks, is getting dumped a lot because his former girlfriends couldn't stand his habit of being blunt. One day, stumbling into his junior in the Archery club, Seryou Touji, who is known for changing girlfriends every Monday and accepting whoever it is who confessed first to him that day, Yuzuru playfully asked him out. Surprisingly, Seryou took him seriously, and they began their one-week relationship—except when they both realized that one week is actually enough time to fall deep in love.
While the story is fairly simple, Seven Days brings you the story of pretend lovers in such a way that it doesn't feel suffocatingly painful. Instead, it's delivered in a lighthearted, day-to-day normalcy way, with a touch of angst, and watching Seryou and Yuzuru slowly understand and love one another makes you really want to root for them! Originally serialized in Craft, Seven Days has also been licensed by June, and last year even had a live-action movie (the DVD came with an extra chapter of the manga, which was a really nice bonus for the loyal fans of this series!).
---
Conclusion
Of course, other than the ten titles we have on this list, there are still countless shounen-ai manga out there that are special in their own way! Some of the classics that everybody has probably read at one point in their lives (and even got anime series of their own) include Kouga Yun's Loveless, Nakamura Shungiku's Hybrid Child, and Murakami Maki's Gravitation. If you're in the mood to try older classics, trace the history of genre back until Takemiya Keiko's Kaze to Ki no Uta, or even Hagio Moto's The Heart of Thomas!
Most of the shounen-ai manga easily depict sweet and cute love stories between males. Choosing which ones to read is a lot of hit-and-miss, so hopefully for those who are thinking of trying to read shounen-ai manga, the list we provided you would at least give you a ground to start with. For those who love shounen-ai manga, though, did you find your favorites, or perhaps the list managed to give you several titles that tickled your fancy? Or do you perhaps have more recommendations? Let us know in the comment!
---