Gintama: The Final

Genre:
Action, Comedy, Drama, Historical, Parody, Samurai, Sci-Fi, Shounen
---
Airing Date:
January 8, 2021
---
---
Studios:
Bandai Namco Pictures
Official Images / Key Visuals
Synopsis
"This is all I ever wanted to protect..."
The countdown until the end of the world has started, and before it's over we - the samurai - must take back our land!
The sworn friends Gintoki, Takasugi, and Katsura are overwhelmed with their various feelings as the countdown to the end of the world is getting closer. However, they come across a figure with a bond too sad to grasp...
They face Shoyo Yoshida, the man who had taught Gintoki and his friends everything they knew. However, he appears before them with a completely different personality and name - Utsuro.
Shinsengumi, Shinpachi, and Kagura - all formerly Gintoki's rivals - now come together to help to defeat this new enemy! Utsuro's power grows as more time passes, and Takasugi is willing to fight him even if it means he has to give up his own life.
What will be the last thing Gintoki will see...!? Will he be able to get everything back to normal...!?
What is Utsuro's true identity...!!?
Characters & Voice Actors
Gintoki Sakata:
Tomokazu Sugita
Gintoki is the leader of Yorozuya which will undertake any request made to them. Gintoki has a sweet tooth that is so bad, if he does not get sweets in a certain amount of time, he becomes irritated and angry. Usually Gintoki is apathetic and lethargic, but actually he is a go-getter samurai. He is a former warrior from the Joui war who was known as the "Shiroyasha" or "White Demon" and was greatly feared for his extensive swordsmanship. However, now he only carries around a wooden sword. His favorite vehicle is his scooter.
Shinpachi Shimura:
Daisuke Sakaguchi
Shinpachi is the son of a kenjutsu dojo master who had to effectively halt all swordsmanship due to the ban on swords. Not only has all of that transgressed, Shinpachi's father passed away as well. He is a freeter but he cannot even be satisfied by working behind a cash register. Due to the fact that he was able to save his sister with Gintoki's help, he has begun to work under Gintoki at Yorozuya to learn his ways. However, he quickly begins to regret that decision… He is a fan of the popular idol Terakado Tsuu and is the leader of her fanclub, Terekado Tsuu's Imperial Guards.
Kagura:
Rie Kugimiya
Kagura is a member of the strongest and most evil space tribe, the Yato Tribe. She heard that by coming to Edo she could become rich, but she was coerced into becoming a bodyguard for the Yakuza. However, she hated the job, so just as she was about to run away, she met Gintoki. She yearns to return home, but needs money to do it, so she has joined Yorozuya as an uninvited part-time worker.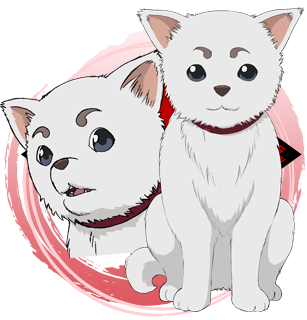 Sadaharu:
Miakako Takahashi
Sadaharu is the slightly large pet of the Yorozuya. Right when he was about to be thrown away, Kagura saved him. Through his large body and superhuman power, he is constantly putting the lives of his owners in danger. At first glance, he looks like a dog, but actually he is an Inugami or "dog god" who is tasked with the defending and protecting the Ryuuketsu or "Dragon's Lair" on Earth. With strawberries and goat's blood (milk is also possible), his original power can be awakened.
Kotarou Katsura:
Akira Ishida
Katsura is also known as "The mad noble man" and is a rebel wanted by the shogunate. He's a childhood friend of Gintoki and fought with him in one of the wars against foreigners. His nickname is "Zura." He's a very serious person, perhaps to a fault, and can accomplish bold things no one sees coming. Some people call him "Running Kotarou" because of his speed, and his ability to disguise himself.
Shinsuke Takasugi:
Takehito Koyasu
Takasugi thinks of everyone on earth as his enemy. He is the leader of several groups planning to commit attacks on the country. He used to be friends with Gintoki and Katsura, but they went in different directions after the war. Just like Gintoki and Katsura, he is very charismatic and charms people easily.
Isao Kondou:
Susumu Chiba
Kondou is the leader of the shogunate's special police force Shinsengumi. His nickname is "Gorilla." He's a very friendly person and is liked by his subordinates, but isn't popular among women. He always rushes recklessly into everything, including being fast to fall in love when he visits hostess bars. He's very pure and always takes action on his feelings - but he is just millimeters away from becoming a stalker.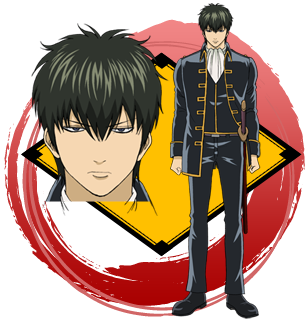 Toushirou Hijikata:
Kazuya Nakai
Hijikata is the deputy head of the Shingengumi, though more than anything he absolutely loves mayonnaise. He puts it on everything he eats. Despite being the most normal man in Shinsengumi and even the straight-man to Kondou and Okita, his mayonnaise love is outrageous. He's not really the scary deputy head nor feared by his peers, but rather very unsociable and belligerent. But if you watch a movie with him he'll be the one who cries his eyes out when everyone else is unaffected.
Sougo Okita:
Kenichi Suzumura
Okita is good looking, has a very pretty face, and is extremely sadistic. He's the captain of the first division, but he has a tendency to slack off. Whenever he's thought of himself as doing a good day's work, there will be a wave of complaints from the locals that a bazooka has been carelessly fired and made a mess of the town. People say that Okita is the one ruining the Shinsengumi's image. He has a grudge against Hijikata and thus he always tries to go for him, regardless of place or time. He loves to watch female martial arts matches, as his sadistic side gets a kick out of watching women fight.
Utsuro / Shouyou Yoshida:
Kouichi Yamadera
Theme Songs

Opening Song: "Wadachi" by SPYAIR
Ending Song: by DOES

Adaptation

"Gintama" (Manga)


Main Staff

Original Creator: Hideaki Sorachi
Director: Chizuru Miyawaki
Script: Chizuru Miyawaki
Character Design: Shinji Takeuchi
Animation Director: Shinji Takeuchi
(Credit Honey's Anime when you use our description.)
---