A Goblin Slaying Time
Episodes : 12
Genre : Action, Adventure, Fantasy
Airing Date : October, 2018- December, 2018
Studios : White Fox
Goblin Slayer Introduction
Anticipating a grand adventure on her first mission, a new priestess joins a rookie team to defeat a lower level enemy, goblins. Unfortunately, what should have been an easy mission turns horrifying when the goblins ambush the rookies and leave the team all for dead. Thinking the end is nigh, the priestess is luckily saved by a mysterious knight. Known simply as the Goblin Slayer, this man clad in armor is known for only one thing: killing goblins to rid the world of every last one of the beings. Now teamed up, these two adventures will begin a journey that will both bring them closer and equally test their resolves.
Why You Should Watch Goblin Slayer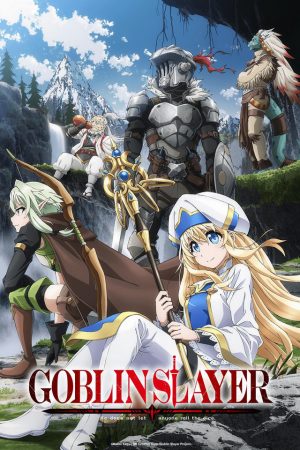 1. Goblin Slayer's Main Character
Aside from the fact that the show—Goblin Slayer—also matches the main character's name, Goblin Slayer himself is truly a beast of an MC. Not only does the goblin eccentric killing machine just focus on the task at hand, but he does so while never showing any sign of weakness. While the mask on Goblin Slayer's face does make one wonder if he is grimacing during the tougher moments, it equally gives him the absolute perfect level of mysteriousness. No wonder why several of the main girls in Goblin Slayer love the dude so much. We love Goblin Slayer ourselves just because he's just so darn strong!
2. Simple but effective characters
With names like Priestess, Elf, Lizardman and Goblin Slayer, you'd almost worry that Goblin Slayer's cast of heroes and characters would be very one dimensional. Luckily, Goblin Slayer's arsenal of warriors is fleshed out over the course of 12-episodes quite nicely. You come to learn Goblin Slayer's dark past and feel for the warrior clad in armor, the same for Priestess who was initially so innocent but became stronger as she was put through numerous trials alongside Goblin Slayer. Nevertheless, these simply named heroes and heroines truly are deeper than they seem and while we don't get full back stories on each—though we can assume the future seasons will do that for them—we get just enough to be satisfied with them.
3. Dark fantasy done well
We can't lie and say Goblin Slayer nails the dark fantasy genre—that title goes to Berserk in our minds—but we can say without a doubt that it does just enough to do the genre justice. At times, Goblin Slayer doesn't hold back with some rather R rated content but it doesn't constantly slam you with unnecessary violence or nudity either. It melds just enough regular fantasy and dark fantasy to keep fans of both genres happy. The first episode alone shows the darker moments of what to expect with Goblin Slayer and the episode following dims down the darkness with a more laid-back episode. We do hope season 2—whenever it airs—is a bit darker in tone, but season 1 was perfectly fine and that's all that matters for now.
Why You Should Skip Goblin Slayer
1. Speaking of violence…
Goblin Slayer isn't for the faint of heart readers. At times, there are some truly dark moments with rape, sodomy and sexual assault sewn into the narrative. If you watched the series on Crunchyroll, you probably saw the warning of adult-like content that wouldn't be suitable to all ages and that wasn't a warning to skip over. We met numerous anime viewers who were appalled by episode one of Goblin Slayer and we understand that for some, this kind of content might bring back repressed memories/experiences. If you aren't into very mature content, you might want to skip on Goblin Slayer.
2. Not White Fox's best animation
Goblin Slayer isn't a bad looking anime, let's make that clear first. Though, we have seen a lot better from studio White Fox and that's why we know some won't particularly care about Goblin Slayer's animation style. While there are a lot of truly well animated sequences with some stellar fights—especially against the hobgoblin—Goblin Slayer tends to look pretty average at best. We also noticed a lot of strange CGI moments involving the main character himself which threw us off against the usually solid backdrops. If you're critical of animation—which we try not to be—then you might find some weakness in Goblin Slayer as a whole.
3. Needed more episodes
We know it's not an easy feat to animated any series in this current generation. Most studios have to take on several series at the same time and divvy up their teams into smaller units to handle the workload. Unfortunately, that means most series get delegated to only 12 or so episodes and we feel that does ruin Goblin Slayer a bit. With the light novels already at 8 volumes—as of writing this review—Goblin Slayer has a bit of story it could still go into. Yet, we now have to wait for a hopeful season 2—even though we did get an ending card saying Goblin Slayer would return—to release sometime in the near future. That just means now we have to wait…and waiting kind of stinks when it comes to anime with uncertain futures.
---
Final Thoughts
Goblin Slayer isn't a complicated dark fantasy series and it truly isn't the best we've ever seen. Despite all that, Goblin Slayer still has a lot more going for it positively than negatively due to its wicked main character, the cool fights that take place in the series and the overall feeling it invokes while watching. We are so happy a possible sequel of Goblin Slayer might be released in the near future, but for now, we are fine soaking in what we witnessed from its 12-episode run. Did you love or hate Goblin Slayer? Comment below to share your thoughts with others and let us chat about all things Goblin Slayer. For more articles about anime—including anime reviews—be sure to keep stuck to our hive here at Honey's Anime.
---