También puedes leer este artículo en:Español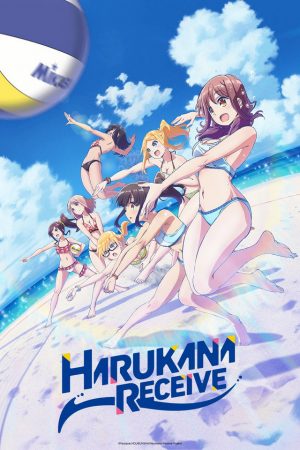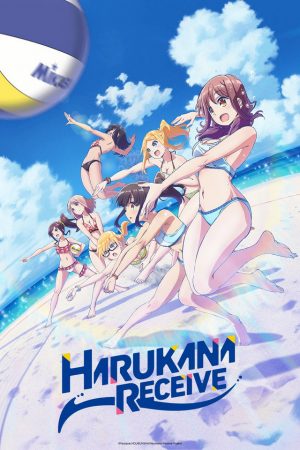 Honey's Highlights
The summer ecchi gods are on first this year. There is so much to enjoy.
How now! This is a sports anime like All OUT!!
Yeah yeah. Keijo!!!!!!!! was too technically, but there was so much fanservice that it really doesn't matter. We are going to love the bouncing boobs and sexy thigh shots.
I wonder how it will turn out though with this story and premise. Fans of Keijo will love this.
Official Images / Key Visuals
Synopsis
Haruka Oozora has moved from Tokyo to Okinawa. She may be cheerful and positive all of the time, but she actually has a certain complex - her tall height.
Then there's Kanata Higa, Haruka's cousin of the same age, who came to meet her at the airport. She's worried about the fact that she had to quit her beloved beach volleyball due to her short height. This mismatched pair end up forming a beach volleyball team…
On the wide, sandy court, you have only one ally. What kind of play will these two show us in beach volleyball, where your partner is more important than anything?
Three Episode Impression
Fan service, bathing suits, and some possible girl x girl relationships? Well, if you want it all, you've got it in Harukana Receive, which is a sports anime revolving around the sport of beach volleyball. Need we say more? Yes, there's a good amount of fanservice, but it's not as blatant as anime like Keijo!! All the same though, it's there, but the plot is so much better with lots of girl drama in the background. At first, we thought the anime revolved around Narumi, but in fact, it's more about Kanata and how she reconciles herself with her past and her love of beach volleyball. Most of the episodes revolve around Kanata addressing each problem she had in the past while Narumi slowly learns how to play beach volleyball. You'd think this would play out like a lot of shounen anime that show one character taking it all, but it's more like a self improvement story of a girl who lost all confidence in herself before and slowly gets it back. It's similar to Kuroko no Basuke or Free! when it comes down to melodrama, but it isn't suffocating the series in anyway. Who doesn't want to learn more about what is going on in Kanata's life? Plus, with the references to Okinawan culture is a breath of fresh air from all the Tokyo centric anime. So far, I'm enjoying Harukana Receive and cannot wait for the next episode!
Characters & Voice Actors List
Haruka Oozora

Voice Actor: Kana Yuuki
---
Haruka has just moved from Tokyo to Okinawa and is a second-year high school student. She has a cheerful and bright personality. She's much taller than girls her age so she's constantly worried about finding shoes that fit her as well as clothes that suit her. She's great at sports, but she's a total newbie when it comes to beach volleyball.
Kanata Higa

Voice Actor: Saki Miyashita
---
Kanata is Haruka's cousin who lives in Okinawa and is also a second-year student like Haruka. She used to play beach volleyball, but since she didn't grow taller like she thought she would, she gave up. She has a quiet, introverted personality. She was dragged into it by Haruka, so she will restart playing beach volleyball with Haruka.
Claire Thomas

Voice Actor: Atsumi Tanezaki
---
Claire is also a second-year student like Haruka and Kanata. Both her and her twin sister Emily have always got excellent grades, and now, the two as a pair also currently hold the 2nd highest scores across all of Japan. Claire doesn't sweat the small stuff and has a bit of a sloppy personality. Thus, she immediately found a kindred spirit in Haruka whose personality is similar to hers.
Emily Thomas

Voice Actor: Rie Suegara
---
Emily is also another second-year high school student like Haruka and the others. She has a serious, quiet personality and is always quarreling with her older twin sister, Claire. As well as putting her all into beach volleyball training after school, she is also a member of the student council. She has always looked after the relationship between Kanata and Narumi as a friend.
Narumi Tooi

Voice Actor: Miyuri Shimaburuko
---
Narumi is a second-year high school student at Fukuchiyama Academy. She was formerly paired up with Kanata, but after Kanata's setbacks, the pair gradually came to a natural end. Currently, she is paired up with Ayasa and they are the current high school champions. Due to the sequence of events in the past, there is still some ill feelings between Katana and Narumi.
Ayasa Tachibana

Voice Actor: Kanae Itou
---
Ayasa is also a second-year student at Fukuchiyama Academy and Narumi's current partner. When she was visiting a beach for practice, she was invited by Haruka to play, and that was what originally got her into beach volleyball. With her bright and open personality, even those who are meeting Ayasa for the first time find her easy to talk to.
Akari Ooshiro

Voice Actor: Chisaki Kimura
---
Akari is a first-year student at Haruka's high school. She's in showbiz, so because of that, she's out of place with those around her and is isolated in school. After being challenged to a beach volleyball match with Kanata, she joined the beach volleyball club. She's trying to also get the hang of being a manager as well.
Episodes
12
Theme Songs

Opening Song: FLY two BLUE by Kana Yuuki and Saki Miyashita
Ending Song: Wish me luck!!!! by Kana Yuuki, Saki Miyashita, Atsumi Tanezaki and Rie Suegara

Adaptation

Manga


Main Staff

Original Creator: Jizai Nyoi
Director: Yoshiyuki Kubooka
Assistant Director: Hidetoshi Takahashi
Script: Touko Machida
Series Composition: Touko Machida
Character Design: Takeshi Oda
Animation Director: Takeshi Oda, Yoshiaki Tsubata, Tetsuya Matsukawa
Sound Director: Akiko Fujita
Music: Rasmus Faber
(Credit Honey's Anime when you use our description.)
---