También puedes leer este artículo en:Español
Intro
Youji Itami is a multifaceted character who is as strong and reliable as he is lovable. He's dorky in some ways but also intelligent and full of surprises. Not to mention, he's a hardcore otaku! If you watch GATE, crushing on Itami is unavoidable.
Episodes : 12
Genre : Action, Adventure, Fantasy, Military
Airing Date : July 2015 – September 2015
Producers : Genco, Warner Bros.
Youji Itami Preview (No Spoilers)
Youji Itami is a Japanese Self-Defense Force officer and otaku who happened to be present when a portal to a parallel world (GATE) opened in the middle of Ginza in Tokyo. The Third Reconnaissance Team, headed by Itami was sent to the world beyond the Gate, dubbed the Special Area, in order to learn as much as possible about it. And so, the Japanese Self-Defense Force (JSDF), along with Itami, an elf, a demi-goddess and a sorceress continue to gather knowledge, allies and getting involved in conflicts between nations in our world as well as in the Special Area.
Youji Itami Bio
Itami was an average student at an average college. He did the bare minimum in order to pass and then became a Second Lieutenant for the JSDF. He ranked second to last in his officer training and was generally known for being kind of a slacker. His attitude got him put through the Ranger Course which he completed, albeit reluctantly. He was also married for a while after college.
When the Gate opened in Ginza, he was quick to act and saved numerous lives so he was entrusted with leading the Third Reconnaissance Team into the Special Area. After encountering a rampaging fire dragon and defeating it he received commendations from all over the new world as well as a couple of noble titles which prompted a punishment by the JSDF to be revoked and instead he got promoted to captain and was put in charge of investigating resources in the Special Area.
Seiyuu: Junichi Suwabe
Youji Itami Highlights
1. Otaku Lieutenant
The only reason Itami was in Ginza the day the Gate opened is because he was there for a doujinshi convention and he's more worried about the repercussions this event will have on his doujinshi purchases. He is a fan of anime, manga, doujinshi, video games and despite his many abilities and constant rank climbing, Itami has mentioned in more than one occasion that his job with the JSDF is only a way for him to make money to feed his otaku habits. He was even married to a mangaka at one point!
Itami often comments on the anime-like characters they come across in the Special Area and uses much of his otaku knowledge to deal with these unusual situations that to him seem completely rational. He also often bonds with his otaku subordinate, Takeo Kurata, over the living anime tropes they come across in the new world. Takeo is really the only one who accepts Itami's otaku side in the JSDF without judgement though Itami doesn't really care if others don't agree with his interests.
2. He's a Ranger and Part of the Special Forces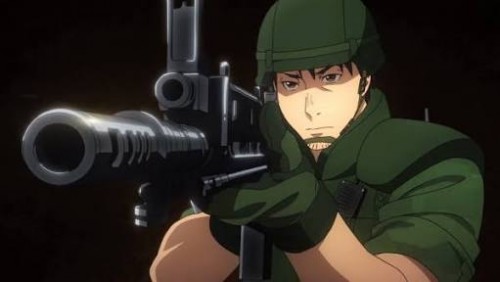 Itami begins the series as a Second Lieutenant on his day off shopping for doujinshi. Right after the Ginza Incident, he gets promoted to First Lieutenant because of his brave actions. But that's not all! Despite his reputation as a slacker and otaku, Itami has gone through Ranger training. While he was forced to undertake the training precisely because he lacked discipline, he completed it.
Later on in the series we find out that Itami is also part of the Special Forces which sends Shino Kuribayashi into when she finds out because she can't believe a laid back otaku could possibly have such achievements. Itami is able to easily and quickly climb the ranks; not because he aims to, but because he does what he must in each situation. While he did acquire these ranks with the bare minimum requirements, even that is quite a feat.
3. Compassionate Tactician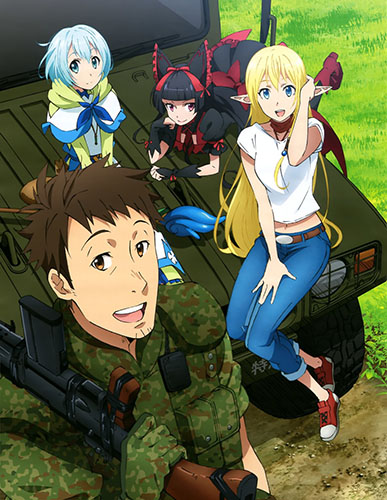 The reason why things have worked out so well in the Special Area, and Itami has done nothing but acquire praise and promotions, is his ability to quickly come up with and carry out plans. He always prioritizes saving lives, helping others and avoiding confrontations if at all possible.
Itami shows both his abilities as a tactician and his kindheartedness when defending Italica from bandits. When Rory asks why he is defending his enemy's city, Itami replies that he wants to protect the citizens and show the JSDF's might to Princess Piña Co Lada so as to discourage her from opposing them. And the first time he helps rescue villagers from the dragon, he turns off his radio so he can just bring all the refugees to camp without reporting it first so he can shelter them. Later, he goes AWOL to slay the dragon!
4. Superior Intelligence
Itami takes advantage of his quick wit and general intellectual abilities at all times. He can read any situation and predict what will happen and is able to act accordingly. When the Gate first opened, he quickly jumped to action and organized the local police. And when he helps the refugees, he decides to accompany them to a trading town to let them provide for themselves since it would be better for everyone.
Later, Itami was aware of the fact that when Piña asked to join forces with the JSDF to use them as suicidal decoys but went along with her plan anyway. When things didn't go as Piña imagined and the bandits attacked in a different area, Itami waited for her call and even called in helicopters as backup in order to continue building strong, trusting relationships with the locals by saving them, as well as showing Piña they're better off as allies .
5. His Aloof Personality
If there's something that allows Itami to get away with everything he does is his nonchalant attitude. He doesn't take himself too seriously, he doesn't let things bother him and he's far from being a worrier. He doesn't hide the fact that he's an otaku, even though he knows a lot of people look down on it. And when Kuribayashi gives him grief about it, he doesn't really care.
He's had a door slammed in his face, been taken as a POW and tortured and he was surprisingly calm during the whole Ginza Incident. On top of all that, he is not usually surprised by the new situations he encounters and stays cool and collected. He's been married and divorced and is still in good terms with his ex-wife. Few things really seem to bother Itami, but he doesn't let things get to him. While this could all sound like he's apathetic, the fact that he cares so much about others and protecting them shows that he's just a chill guy.
---
Youji Itami has been described in the show as a bland man but like Rory mentions at one point, there is something captivating about him. He's an unexpected type of hero and defies all the otaku and military guy stereotypes. He really makes GATE what it is! Itami is the glue that sticks it all together and makes it the interesting, surprising and refreshing anime it is even with all the tropes. And that's why Youji Itami is our crush of the week!
Tell me, tell me! What do you love about Itami? If you haven't seen GATE yet, did this make you want to watch it? Let's have a chat in the comments section!
Nya~!
[ad_dfp position="bottom1" unit_pc1="true" unit_pc2="true" unit_sp1="true" class="mt40"]
---