También puedes leer este artículo en:Español
This is an updated version of an original article here at Honey's Anime. When you are done reading this update, be sure to read the original article below and check out what was previously recommended as well!
Few anime come around like GATE did and weave a wonderful tale, at least the first season that is, that captivated audiences around the world. A multitude of people fell in love, so to speak, with Youji Itami as he went from your everyday JSDF soldier to conqueror of a foreign and unknown land. Of course, though, he has help from various individuals through the series, but he serves as the binding glue to bring them all together.
One day after a portal opens up in Ginza, monsters pour out and begin attacking modern day Tokyo. Youji is just another soldier who is a giant otaku and works merely to feed his hobby. Youji however, is quick on his feet and his actions save thousands of lives. Jump to three months later, and he is now a special member within the JSDF that is going beyond the gate that has appeared to explore the new world. Going through they find a world that is much like Youji's dream fantasy, magic users, dragons, elves, and more abound everywhere! Youji is not here for pleasure. He has to establish contact and then politically play a role in establishing peace between the two countries; each on a different side of the GATE. Let's take a look at six big shows that are similar to it!
Similar Anime to Gate: Jieitai Kanochi nite, Kaku Tatakaeri / Similar Anime to GATE
1. Outbreak Company

Episodes: 12
Aired: October 2013 – December 2013
Shinichi Kanou is the poster child for growing up and becoming an otaku. His father is a light novel writer, and his mother, an illustrator for erotic games or "eroge". The fun train does not stop there, he has no real talent other than he is well versed in anything related to Moe and his hobbies. This otaku of a character does not exactly live peaceful days though anymore and he is sent to another world – a magical one! Now in this new world, the government puts him to work as an "Ambassador of Moe". He sets up a school that is really just more for laughs until real social issues pop up. Then, his own home government, the Japanese, begins to interfere! Suddenly it is up to him to not only be the harbinger of moe but also politically key to establishing peace? He has got his work cut out for him.
Starting out, both Youji and Shinichi are suddenly sent to fantasy worlds. Both are an otaku and both are exceptional otaku dedicated to their hobby and craft. Of course, there can be no peace after going to the new world as some strife has to appear in order for the story to progress. Peace, or rather, establishing and maintaining it, are suddenly handed to two individuals who in real life, especially with Shinichi who is a hikikomori, probably would not be able to deal with it. Of course, the fantasy world aspects also parallel each other with things like different races, magical creatures, and even magic appearing. Take a look at the trailer below and then go check it out!
---
2. World Trigger

Episodes: 73
Aired: October 2014 – April 2016
World trigger opens in the same vein as Gate does. A portal opens up, and from it spill foreign and unknown foes. Now what makes these monsters, known as "neighbors", more dangerous is the fact that they are unable to be hurt by modern day weapons. The government, however, has set up a type of special weapons called triggers through which people fight back against the neighbors. Even now, though time has passed, the world is still threatened by this foreign menace. So, the government sets up a Border Defense Agency whose job is to prepare triggers to fight back against the neighbors. However, triggers can only use their powers inside headquarters. When a new student is ostracized and neighbors suddenly appear to attack them, Osamu Mikumo has to help and uses his trigger to defeat the neighbors. This is when fellow student, Yuuma Kuga, reveals that he too is a neighbor, but he has trigger powers?! What is going on?
Portals opening that spew forth new and unknown enemies is a starting point when it comes to similarities between these two series. Both series involve a young boy or man who has to handle what has been dealt to him and fight for his country/humanity. Militaries are another central theme as both shows are militaristic even though World Trigger tries to present itself as a school.
---
3. Log Horizon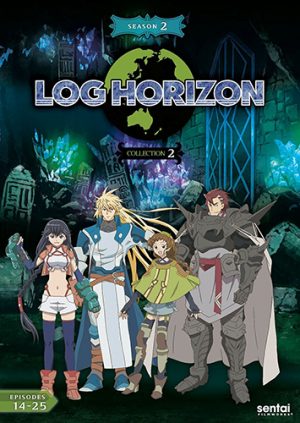 Episodes: 25
Aired: October 2013 – March 2014
Shiroe is a bit of an awkward gamer who is obsessed with an online game called Elder Tale. One day, the super trope of not being able to log out is invoked, and Shiroe finds himself trapped along with all of the other players. Forced to figure out this new and fantastic world, he sets forth since he already knows the game. Now, Shiroe has to go and not only make nice with the natives aka NPCs, he also has to figure out where the other real life players are, and establish some sort of order or laws or something! Joined by Akatsuki, a fierce and loyal assassin, they set forth to discover and understand this world of fantasy, magic, and more.
Suddenly both characters are sent to a fantasy world. Youji is ordered more so while Shiroe is forced to go, but the concept still stands. While existing in this fantasy world and re-learning how things like logic work, they also focus heavily on the need to band together with others to figure what they are really facing. Both Log Horizon and Gate also focus on political aspects of two different societies colliding. However, that does not impede them nor make them hostile. Both Youji and Shiroe are otaku. The list of similarities goes on and on, so be sure to check out Log Horizon below!
---
Any Anime Like GATE / Any Anime Like Gate: Jieitai Kanochi nite, Kaku Tatakaeri?
4. No Game No Life

Episodes: 12
Aired: April 2014 – June 2014
We heard you like the being spirited away to another world trope! Great because here is another! Shiro and Sora are two shut-in NEET siblings. What makes them different from hikikomori is that they have no issue talking to each other. Furthermore, when these two elite net gamers go to another world at the behest of Tet, the god of games, they have no issue communicating with others. Suddenly, Shiro and Sora find themselves in Disboard where multiple countries are in conflict. There is no war, though, but high stake games where both sides must wager something of major value in order for it to be considered valid. Suddenly Shiro and Sora have found their raison d'etre: to keep playing games with higher and higher stakes that are more thrilling than online games. The best part? Winning all games will ultimately allow them to become gods themselves!
Between GATE and No Game No Life, you again, have characters who have whisked away to fantasy worlds where they have the upper hand due to their hobbies, and it allows them to negotiate and bluff their way through critical events. Politics come into play here as well as a conflict between worlds/kingdoms. Both worlds too while being highly advanced in magic, are in the stone age of science. No Game No Life has also announced a movie adaptation coming soon, so be sure to check it out before the movie comes out so you can join in on the fun!
---
5. Kono Subarashii Sekai ni Shukufuku wo! (KonoSuba: God's Blessing on this Wonderful World!)

Episodes: 10
Aired: January 2016 – March 2016
Kazuma Satou is a loser, hikikomori NEET. He dies in a hilarious manner and is sent to judgement by the goddess Aqua. She offers to let him go to heaven or be reincarnated into a fantasy world. He thinks about it and she offers to sweeten the deal by giving him a handout in the new world in the form of some sort of upgrade. She says he can have anything he wants, but only one thing. He points to her and says "okay. I choose you." Screaming in frustration, she is sent to the new world with Kazuma who assumes that she is going to basically make it super easy for him to defeat the Demon King. The joke's on him as Aqua is as useful as using a pile of wet paper towels to soak up the water in a flooded basement. Suddenly, they learn that they have to work to get money and nothing comes easy. This is no video game anymore, this is now a reality for him!
KonoSuba and Gate, Youji and Kazuma, both otaku in their own respective manner suddenly have to go to a new world full of fantasy. New races, magic, and struggles abound. KonoSuba is a lot more on the humorous side of things compared to GATE, but do not let that scare you. Kazuma, like Youji, has three women around him at all times after a certain point. KonoSuba may be lighthearted but it has its moments as well. Get ready for a good adventure between these two!
---
6. Re: Zero Kara Hajimeru Isekai Seikatsu (Re:ZERO –Starting Life in Another World-)

Episodes: 25
Aired: April 2016 – September 2016
One more final spirited away trope in the form of Re:Zero! Subaru Natsuki is another character right off the shut-in/otaku trope who suddenly is whisked away one night to another world right after he purchases dinner. He is in a strange world where there is more than the human race, and he can't buy anything because he has no money. After being jumped, he is saved by a girl who says her name is Satella, and she is searching for a thief who stole her insignia. Subaru offers to help selflessly and goes to search. When he finds it, he tries to get it back with her, but both are brutally murdered. Subaru wakes up with a jolt and his eyes show him the same scene from earlier in the day where he was saved by Satella. What is going on? He starts from Zero again…
Welcome to yet another world where magic has flourished and magical creatures are everywhere, but in reality things like science have taken a back seat. Subaru and Youji are both some sort of shut-in/otaku while still having enough determination, Subaru eventually finds his, to work to help themselves. They both become quite selfless while being surrounded by what essentially is a harem. Young women are all around them. The longer that they exist in these new fantasy worlds, they continue to disturb that which was. Youji is able to become the government itself at first but then finds his hands tied with red tape as he reports back to Japan. Subaru is restricted by the same politics as the people of his world attempt to find a new ruler.
---
Final Thoughts
GATE is a classic for us when it comes to looking at 2015. Heck, even in the trope itself, it may not have been the first to establish it by a character being transported to a fantasy world, but it sure notched itself a spot in the movement by being not only unique but also engaging. While it may seem like just another alternate world fantasy, it is anything but and you, the reader, know it. There you have it! An updated list for your perusal. Be sure to let us know in the comments if there are any other shows that you think also are like Gate?
---
---
Adapted from the novel, Gate is a great anime right now, even if we cannot say much since only a handful of episodes have been aired. The show is a well done mix of fantasy, action, otaku and military, so everyone should have something they like in this show.
A lot of genres are mixed together, it could be quite difficult to find another show which are similar to Gate, especially for those who do not follow the manga or read the novel. However, with our list of recommendations, you should be able to enjoy other great series while waiting for the next episode of Gate!
Enjoy !
Similar Anime to Gate : Jieitai Kanochi nite, Kaku Tatakaeri
1. Z/X Ignition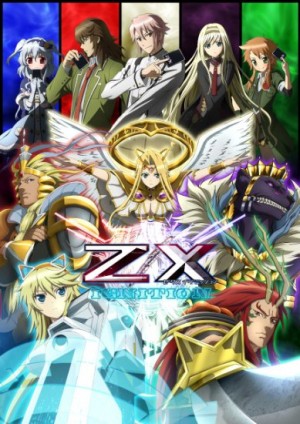 Episodes: 12
Aired: Jan 2014 – Apr 2014
Five "Black Points," have suddenly appeared on Earth which are gates to other worlds. From these gates, mysterious creatures arise and attack each other, as well as the population of Earth. Coming from five different worlds, these creatures are fighting each other in order to rule over the opposing worlds. Some of the humans can control these creatures with a Card Device and enter the battle.
Like in Gate, mysterious creatures enter the human world and attack. The difference is that the action is only in the human world and not in another world. However, there are a lot of action and fighting scenes, which can seem similar to the Self Defense Force in Gate and its military aspect.
---
2. Zipang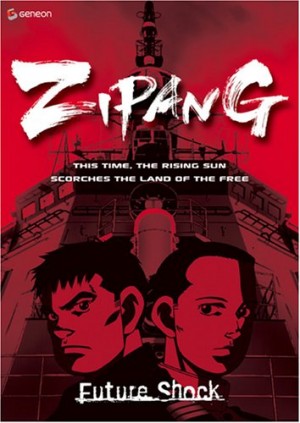 Episodes: 26
Aired: Oct 2004 – Mar 2005
The Mirai is a brand new model of ship for the Japanese Self Defense Force and its crew is going to take part in a training out in the Pacific with the US fleet. Caught in a magnetic storm, the navigation system fails for a few minutes and the crew loses contact with the other ships. When the system operates again, they realize that the ship and has been transported into the past during World War II, in the battle of Midway, on June 4, 1942.
If Gate is taking place in another world, Zipang is about time travel. In both anime, the characters find themselves in a totally different place and are mostly about military situations. Even if Zipang lacks fantasy, the atmosphere is quite similar to Gate which should be enjoy it!
---
3. Log Horizon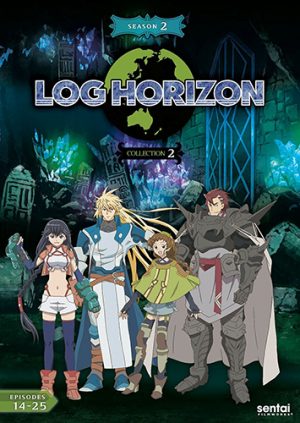 Episodes: 25
Aired: Oct 2013 – Mar 2014
Elder Tale is a popular MMORPG played by thousands of gamers. While the eleventh expansion pack of the game was released, a system error occurred and 30,000 players are transported into the virtual world. Trapped in the game, Shiroe, the main character, and all the others have no choice than to adapt in this new world.
Even if in Log Horizon the characters are stuck in a game, the atmosphere and the genre of the world they're in is similar to Gate. The main character also has similar aspects in both shows, one being a lolicon and the other an otaku. In addition, both anime have a lot of action and strategic aspects.
---
Any Animes Like Gate : Jieitai Kanochi nite, Kaku Tatakaeri ?
4. Hataraku Maou-sama! (The Devil is a Part-timer!)

Episodes: 13
Aired: Apr 2013 – Jun 2013
In a fantasy world, the Devil King Satan is about to conquer the world when he is defeated by Hero Emilia. In order to escape, Satan and one of his generals travel to another world and find themselves in a modern day Tokyo. Compelled to live like the other humans, Satan begins to work part-time, when other characters of his world arrive in the human world.
The situation is the opposite of Gate, as the characters of a fantasy world come to the human world. Like in Gate, the characters have to adapt themselves to this new world as their powers are completely useless. With a lot of fun and some action, you will enjoy this show!
---
5. Outbreak Company

Episodes: 12
Aired: Oct 2013 – Dec 2013
Kanou Shinichi is a perfect otaku and a hikikomori. One day, he answers a list of questions on the Internet for a mysterious job and is hired without knowing what the job is about. Then he finds himself in another world, full of fantasy and mysterious creatures. There, Shinichi's job will be to transmit the otaku culture in order to strengthen the links between the humans world and the other world.
As in Gate, a brand new world full of fantasy has been discovered and the main character has to consolidate the relationships between the two worlds. Both anime have an otaku main character and even if there is more moe and otaku aspects in Outbreak Company, they are still similar between each other.
---
6. Zero no Tsukaima

Episodes: 13
Aired: Jul 2006 – Sept 2006
Hiraga Saito is a 17 year-old ordinary boy. As he was going to Akihabara, a strange circle of light appears in front of him and he finds himself transported into another world. Summoned and despite his will to be the Familiar of a girl named Louise, he will have to follow her, living in the magical academy she attends.
The story is really different, but the concept is pretty much the same, as the main character is conveyed in another world, full of magic and of mythical creatures. Even if the story is not as serious as Gate, this show should be enjoyed by most of us.
---
That is all for our list of recommendations for Gate! So, do you agree with it, or is there another series you would like to add? If there is a show that you think should be on this list, let us know with a comment below!
---